By Louis Smith.
The final evening of Matchday 1 in the Copa Libertadores 2020 provided a fairytale story for a small club in Peru.
Binacional, a club formed in 2010 in the Peruvian city of Juliaca, conquered one of the biggest clubs in South America — São Paulo.
The result has helped put the city on the map, not just in Peru, but across the whole continent.
"The media often focus on the Lima-based clubs since they have the largest followings and are based in the capital," Peruvian football journalist, Peter Galindo, told WFi.
"However, Binacional defeating a South American giant got everyone's attention.
"It was featured prominently in major newspapers like El Comercio and was a major talking point on Peruvian sports networks such as Movistar Deportes, GOLPERU, and others."
— World Football Index (@WorldFootballi) March 6, 2020
Binacional stunned the nation last year by winning the Peruvian Primera División, something which they could only dream of at the start of the season.
This qualified them for this season's Copa Libertadores, which is a story in itself. Conmebol rules meant that Binacional almost had to play their matches at a neutral venue, which would have given them a massive disadvantage.
"There were concerns over where they'd played since the Estadio Guillermo Briceño didn't meet Conmebol requirements because of the poor lighting," adds Galindo.
"Thankfully, the owners and City of Juliaca reached an agreement to improve the lighting to allow them to play in their home stadium."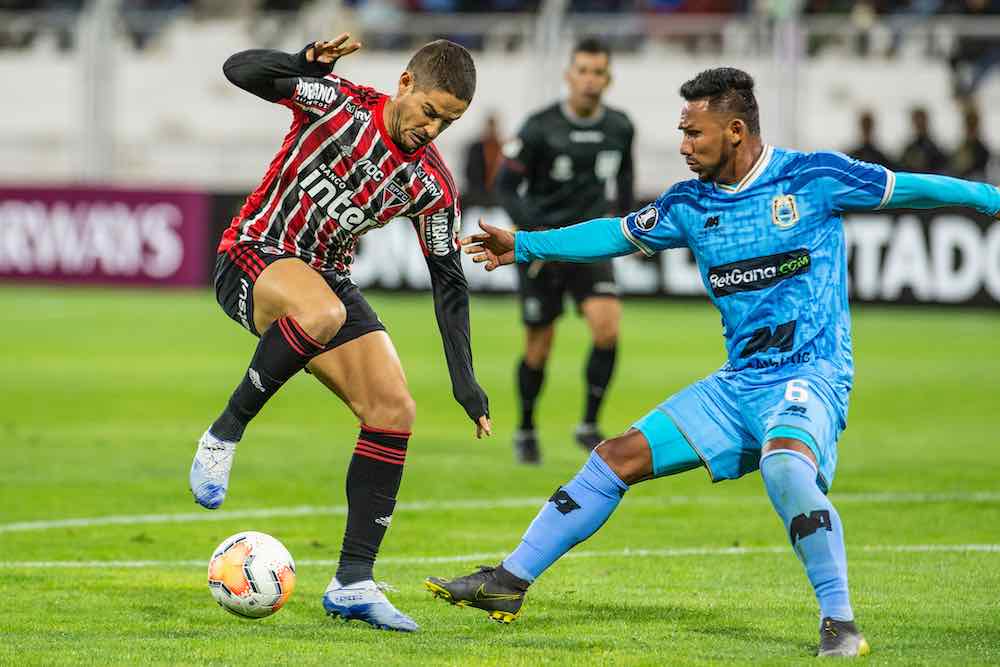 The Libertadores groups were drawn, and the Peruvians were handed a nightmare group alongside some of the competitions regulars, São Paulo, River Plate, and LDU Quito.
For this reason, there were no real expectations on Binacional to raise any eyebrows.
A 1-0 at half-time in favour of a São Paulo side featuring experienced players such as Dani Alves and Alexandre Pato, plus the talent of Tchê Tchê and Antony, made it seem almost certain that São Paulo would almost certainly go on and win, but Binacional had other ideas.
"Binacional tend to capitalize on teams in the second half," says Galindo. "That's been the case in the league for the past year.
"When São Paulo went into halftime up 1-0, despite how poor Binacional looked, I figured they could still get a result if they pounced quickly, which is exactly what happened.
"You could see the likes of Alexandre Pato, Pablo, Antony and others were gassed when the half-time whistle blew. I also feel like Andy Polar's introduction unsettled the Sao Paulo defence. He was winning tons of fouls and was a handful for Tchê Tchê, who was having a solid game up to that point.
"Combined with Johan Arango's dribbling abilities, Binacional had two players who could drive the play, which was something they lacked in the first half. Combine that with the altitude, that's how the comeback was completed.
🤩⚽🇵🇪 History! Johan Arango picked his spot and curled home the winner for @BinacionalFC tonight against @SaoPauloFC_eng! #Libertadores pic.twitter.com/gFoBqUjZXW

— CONMEBOL Libertadores (@TheLibertadores) March 6, 2020
"Binacional lost a few key players before the season, including the reigning Peruvian player of the year Donald Millán, and were drawn in a tough group so few expected them to even get a point, let alone win a match, even with the altitude advantage.
"It's even more impressive considering Binacional was trailing, could've gone behind by at least three goals in the first half and still managed to recover"
A result of this calibre is something which all football fans love to see and one that shows Binacional they not only can they compete with the best, but that they can also beat them.
Peruvian clubs don't usually have many reasons to get excited during continental competitions and only one team has ever won such a trophy. This makes victories like Binacional's more special, enough to get Peruvian football fans excited.
"Peruvian clubs don't have a great history in continental competitions. Sporting Cristal and Universitario have played in Libertadores finals, while Cienciano captured Peru's first and only continental title in 2003 when they won the Copa Sudamericana.
"Usually the provincial clubs do well abroad, especially Melgar and the Cusco-based clubs (Real Garcilaso, for example) thanks to the altitude," adds Galindo.
"Seeing another club earning a result like this, especially one that was formed just a decade ago and was playing in Copa Peru three years ago, is truly significant. It shows that anything is possible.
"By winning their opening game, Binacional has already exceeded expectations. Getting another point, likely from River at home, is feasible at this stage. Away from home, however, Binacional could be in for a rude awakening."
With the 2020 season only just starting, it can be easy for Binacional to get carried away, so they must focus on the challenges ahead,  building on what was a historic evening for not just the club, but for the Copa Libertadores competition generally.
"The next step would be to maintain this consistency in the league," concludes Galindo.
"Many clubs who earn promotion from the Copa Peru either get relegated in their first season in the top flight, or they establish themselves as mainstays. Real Garcilaso, UTC or Sport Huancayo would be recent examples.
"Binacional qualified for the Sudamericana in 2018 by finishing eighth out of 16 teams in the aggregate table.
"They tweaked their squad for 2019 and dominated the league last year, however, the departure of Javier Arce as coach midway through last season was huge. He was responsible for a lot of their success. That will be crucial to them being one of the contenders in Peru for the next few years."