James Rowe spoke to Telstar midfielder Charlie Gilmour for WFi. They discussed adapting to life in the Netherlands, his move from Arsenal to Norwich, working with Freddie Ljungberg, and his plans for the future
---
You are currently on loan at SC Telstar here in the Netherlands from Norwich City. How are you enjoying your first spell abroad and how are you enjoying life in the Netherlands so far?
"I have enjoyed pretty much every minute of my time in the Netherlands so far. When I first arrived here I literally came from Arsenal to SC Telstar, and I had been at Arsenal all my life.
"At Arsenal you get the best treatment and everything is of the highest quality, and because they are one of the biggest clubs in the world you get everything handed to you on a plate in terms of best facilities and coaches.
"Arriving at SC Telstar was very different but it taught me the real world really, and I did not realize it was like this I feel that I have learned a lot more here in the Netherlands than I would have done if I had stayed at Arsenal.
"I have also learned a lot about myself and I will always be grateful what you get in life, both in and outside of football in that aspect.
"We have been doing well as a team and I had also been playing well as an individual. I have been getting game time and playing every week. At the end of the day, I just want to play football, wherever that is.
"Overall it was definitely worthwhile coming here. I am delighted with the pathway I have chosen and I would definitely return to the Netherlands in future. To be able to live 20 minutes from Amsterdam is really nice because when my family come over to visit me we can go and explore new places and do different things to what we would be in London or in Brighton.
"I would recommend the country of the Netherlands. It is very clean and feels similar to England apart from the driving. It is a nice country to live in and I would not mind living here again in future."
SC Telstar's Charlie Gilmour got himself an assist last night in a 2-1 win. He's not necessarily in the side to do that, but that's 2 in 4 games now for the former Scotland u19 international. 🇳🇱🏴󠁧󠁢󠁳󠁣󠁴󠁿 pic.twitter.com/lPEx5pufKL

— Byron Hutchison (@ByronHutchison) February 22, 2020
---
You came through the youth setup and making your debut for Arsenal. How do you look back on your time at the club and did you learn anything in particular that stood you in good stead as a professional footballer?
"Being at Arsenal from an early age was a privilege, and you get to see so many players coming through and you see it all from the start, from the under-6s to the under-23s.
"It is a great experience to go on tour and play different tournaments all over the world, playing in countries such as Qatar, Singapore and also many trips to the Netherlands and Germany.
"I would never have experienced these trips if I was not at Arsenal. If I was at a team in the lower leagues I would never get such opportunities. I made many good relationships with players and coaches and I still speak to many coaches at Arsenal, and also many players too, and also players that have moved on to other clubs. We keep in contact and my time at the club was just a crazy experience from start to finish.
"I started out at Arsenal with the under 6 team, and I remember I used to travel up from Brighton once a week on a Friday night. I remember it like it was yesterday. Then I went on to the under-7s and 8s teams, and we would go up two or three times a week.
"At the age of nine you were allowed to sign for the club. I signed straight away and I left the club when I was 20, so I spent 14 years at Arsenal in total."
---
After leaving Arsenal you signed for Norwich City. Did you have many different options when you left Arsenal, and if so, what made you chose to sign for Norwich?
"To be honest, I did not have a handful of options. It is also a difficult age in terms of my development when I got let go by Arsenal, and it was tough because I thought I am at one of the best clubs in the world and that I would have options on the table.
"Because I have not played in the 'real world' as they say, 'men's football' it sort of does not benefit me in one way, being at a big club where it is harder for you to get into the first team. If you were going to a lower club you would have more chance of playing men's football and, at the end of the day, most clubs worry about people playing men's football, whatever standard it is, so I think they value that more than an under 23 team.
"There are pros and cons to everything in life, but that is the biggest difference between the bigger and smaller clubs. I had good vibes about Norwich City because I just love football and I love watching it, and I knew that they bring in players from a young age and they do not spend a lot as you can tell this season in the Premier League.
"They have spent practically nothing on players, which is good for young players coming through because they know that the club will not go and spend millions of pounds on a player and that they will give young players a chance. So that was the main reason I signed for the club and I am grateful to them for putting an offer in, and I was excited to get started.
"When I signed for the club and after training for a week or two I went straight to SC Telstar and hopefully I have done enough get a chance for next season."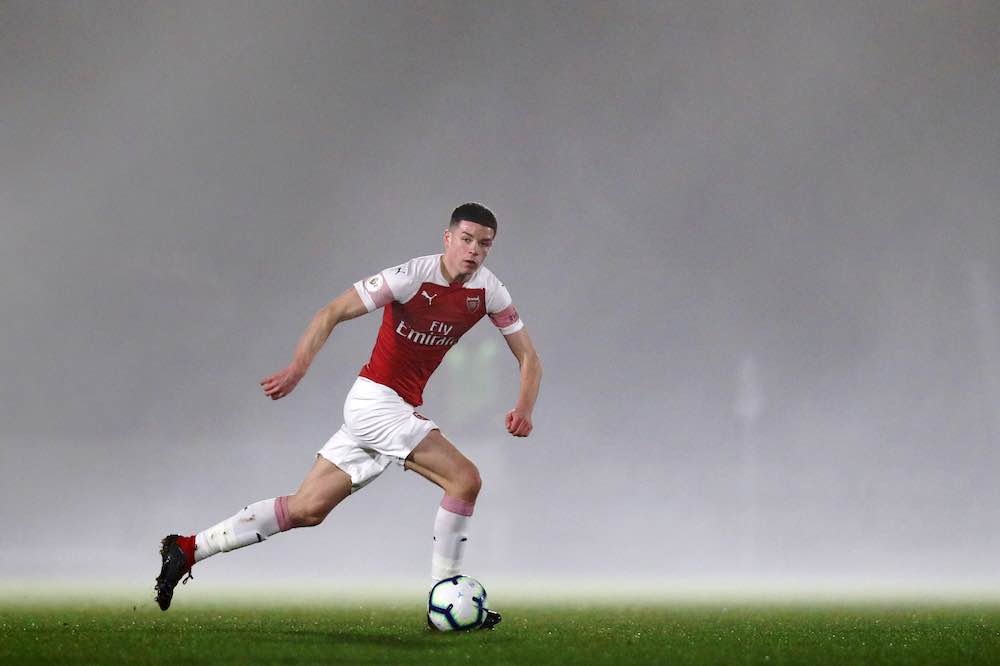 ---
Could you say which coaches and managers have been the most influential in your career so far? Was there a coach that showed a particular belief in you, or has given you particularly good advice?
"Well you remember the most recent coaches and managers and at under-23 level, and in my last year at Arsenal my manager was Freddie Ljungberg, and I still keep in contact with him now.
"He was the person to deal with in terms of man-management. I could always talk to him and he is just so detailed in everything that he does. You just love talking to him because he is so into football, like you. He is definitely up there.
"Also, Kwame Ampadu, who was the assistant manager to Thierry Henry when he was manager of AS Monaco, and I still keep in contact with Kwame. He is a very nice and honest man, and his man-management was also very good.
"Kwame Ampadu also came through the youth setup at Arsenal as a player. When he first arrived at the club from Exeter City he became my manager at under-15 and under-16 level, and then he went on to become under 18s manager. As we moved through the ranks as players we had a stronger relationship with him than at any other age group.
"I like people that speak to you and want you to improve as a player and are very detailed in their work. I find that to be more beneficial for me, and I think that those sort of coaches get the best out of me."
---
I can imagine with your experience at Arsenal and SC Telstar that you have played alongside some very good players. Could you say who are among the best you have played alongside so far in your career?'
"If I look at players that I have played with at first-team level, I trained with the Arsenal first team and I was lucky enough to go on a summer tour to Dubai. I managed to play with players like Mesut Özil, Alexandre Lacazette and Denis Suárez in a match in Dubai, and that was a great experience.
"It is alright watching them, but when you play with them you realize how good they are and how easy it is to find them on the pitch.
"As for the youngsters, I would say Chris Willock. I always say to people that it is only a matter of time before you see him shining because he has got so much ability. He has got too much ability not to get to the top in my opinion, and he is a player that definitely stands out.
"Obviously there are also so many players from down the years such as Reiss Nelson, Joe Willock, Marcus McGuane, Josh Dasilva, to name a few."
OFFICIAL: Norwich have signed former Arsenal midfielder Charlie Gilmour on a two-year contract. pic.twitter.com/ciOIoUgYnw

— Transfer News Central (@TransferNewsCen) July 8, 2019
---
Finally, Charlie, you are still very young and you have a great career ahead of you. Is there anything in particular that you would like to achieve during your professional football career?
"A good question! I sit down every year with my Dad and set goals, and I set some for this year and going forward.
"I hope that those goals will come true but my goal is to hopefully get an opportunity at Norwich City and get as much game time as I can for the first team.
"I want to keep improving as a player and play at the highest level that my ability tells me I can. That is what I strive for."