James Rowe spoke to Brighton and Hove Albion defender Danique Kerkdijk for WFi. They discussed her move from Bristol City to Brighton, being part of the Netherlands squad at the World Cup, and stand-out players Vivianne Miedema and Stefanie van der Gragt.
---
You signed for Brighton & Hove Albion in 2019. How are you enjoying your time there so far and how would you describe the club?
"First and foremost I am really enjoying my time at Brighton & Hove Albion so far. Last summer when I signed, I was welcomed by my teammates having signed from Bristol City.
"At Bristol City the women's team was completely separate to the men's team, and here at Brighton both the men's and women's team use the same facilities and we see one another in and around the stadium. There is no division between the men's and the women's team and that is still quite unique in women's football.
"They are trying to change things to that way but it is very difficult and money plays a role. When you arrive at a club like this and you are received in such a positive way, you can only be happy as a player that you play your professional football here.
"Brighton have a great vision for the future and you must also take into account that the women's team have only been in the top division for two years, but we have managed to perform better than some teams who have been in the top division longer.
"Sometimes we miss that little bit of experience when it comes to being decisive in matches. I believe in the first half of the season we should have won more points and could have done so if we were just that little bit smarter and more relentless in the closing stages of matches.
"For example, we were leading in some matches and we chose not to take the ball to the corner flag — that may be viewed as unsporting, or gamesmanship, but that is how you can close out matches and win.
"Brighton & Hove Albion are a great club and I am proud to be part of this team."
---
You signed for Bristol City in 2017. How do you look back on your time at the club and your first experience playing abroad?
"I believe that it was a great step for me personally to sign for Bristol City. To leave the Netherlands and go to play my football abroad was not easy because you leave your life behind and you start again somewhere else.
"It is positive in the fact that you are doing something that you love in playing professional football, but at the end of the day you are no longer living in a house where your family lives.
"Bristol City was a smaller club with a smaller vision whereby getting points was not the most important thing. Your own development as a person and footballer was the most important thing, and that was also similar to what I was used to in the Netherlands when I played for FC Twente. They were also a club that would stimulate your development as a person and a player.
"I really enjoyed my time at Bristol City and I have fond memories. It was a great introduction to English football and also a very positive experience."
---
You have been capped by the Netherlands. How do you look back on representing your country?
"It is a massive honour to represent the Netherlands. It makes me very proud. Even though I have made a few appearances and I have been included regularly in squads the last two years I still get nervous on the day that the squad lists are released.
"It is something I look forward to, meeting up with the squad and training with the best players in the country. We are a really close group and we have a lot of fun together. It is like playing football with your friends.
"We played really well at the Women's World Cup in France last summer. There was a lot of pressure on us because we were European Champions in 2017 and there was a lot of expectation. We ended up losing the final to the United States and getting a silver medal, which was a great achievement given the fact that it was only the second World Cup we had taken part in.
"It is always special to represent the Netherlands and I get a nice feeling when I see my name on the back of the shirt. It is a true honour to play for my country and I enjoy every moment of every game, whether that be a friendly or a competitive match."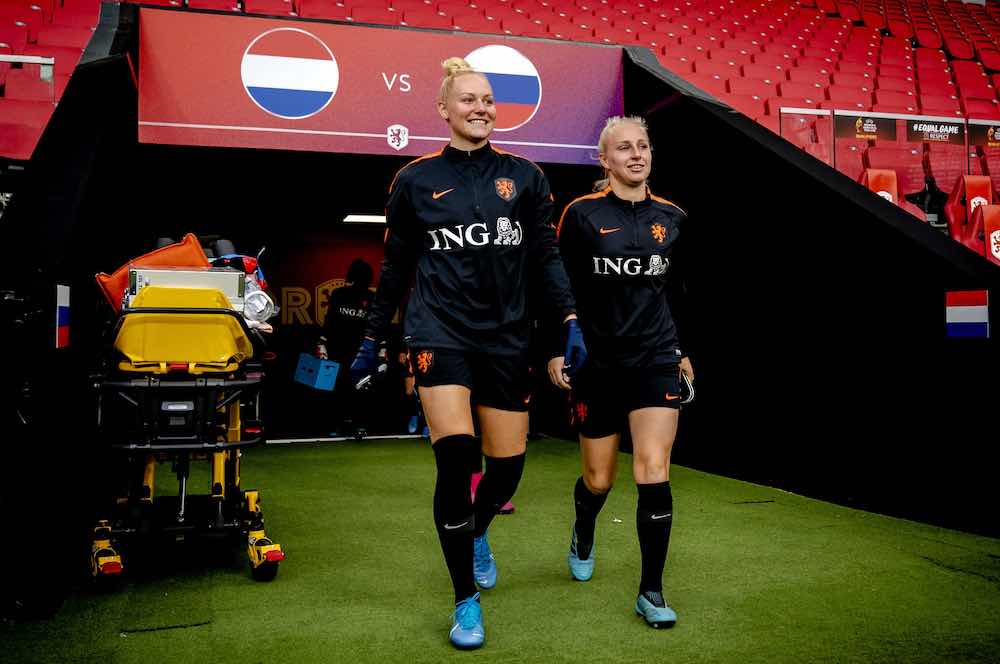 ---
You have accrued a lot of experience at club and international level. Could you say who are among the best players that you have played alongside in your career?
"One player that really stands out for me is current FC Barcelona defender Stefanie van der Gragt. We played alongside one another at FC Twente and at the time I was very young defender.
"She was so stable in the way she defended, and the way our defence worked together, that it made me a better player in my position.
"She is an example to me and someone that I look up to and I have told her that. In my opinion, she is the best Dutch defender in women's professional football at the moment."
---
I can imagine in your position as a defender that you have come up against many good opponents through the years. Are there opponents that stand out for you?
"Playing in the top division in England there are many good strikers, and that can be frustrating! One stand out player is Vivianne Miedema. Nine times out of ten when you think that you have her, the one time that you do not pay attention or fully focus will be the time that she will score.
"She has such good movement and a tremendous eye for goal. It can be sometimes strange facing her as an opponent in England and then meeting up as teammates at international level.
"Vivianne Miedema is a great striker who always finds a way to score."
---
Finally, Danique, could you say who are the coaches and managers who have played a key role in your development as a manager?
"When I was at FC Twente I had a manager in Arjan Veurink and he has been [key] to my development as a professional footballer.
"I was 14 when I starting training with FC Twente and he was the one that decided I would move to the academy at 16, and that ensured that I would go on to play more matches and improve as a footballer.
"He has a fantastic eye for detail and would pay individual attention to players and provide videos with images and advice about how they could improve.
"My current manager Hope Powell is also similar in the respect that she also likes to help the individual player to improve. She also has a similar way of working in which the goal is to make the player and also the team better."