By Chris Smith.
The coronavirus pandemic is having a marked effect on clubs and leagues all around the world of football, but what about on the individual players?
By now, you'll have heard all about how the Premier League is struggling to come to a decision on how to finish the 2019/20 campaign, or how the Belgian season has been cancelled with Club Brugge crowned champions.
But how does an individual player stay sharp, focused and in shape amid so much uncertainty?
For Lewis Hilton, midfielder for USL Championship side Tampa Bay Rowdies, the first step is all about putting things into perspective with what is going on around you and remembering that, no matter how much it means to everyone, football really is just a game.
"Although football is my job, my passion and it's what I love doing most, my priority during this crazy period is to play my small part in preventing this situation getting any worse," he told WFi.
"If there's one benefit of this horrible circumstance, it's that it's given me perspective on what is truly important. It's a frustrating time as all I want to do is to be back on the football pitch, competing every week and hopefully winning matches. But my frustration isn't nearly comparable to what a lot of people are going through. Playing my role in helping get life back to normality is the most important thing right now.
"That being said, it's extremely easy to have a negative mindset during this time or to complain about the restrictions that are put upon us, so I am determined to turn this situation into a positive. I've found myself with a lot of free time on my hands so I'm trying to use it as productively as possible and hopefully come out of this a better player."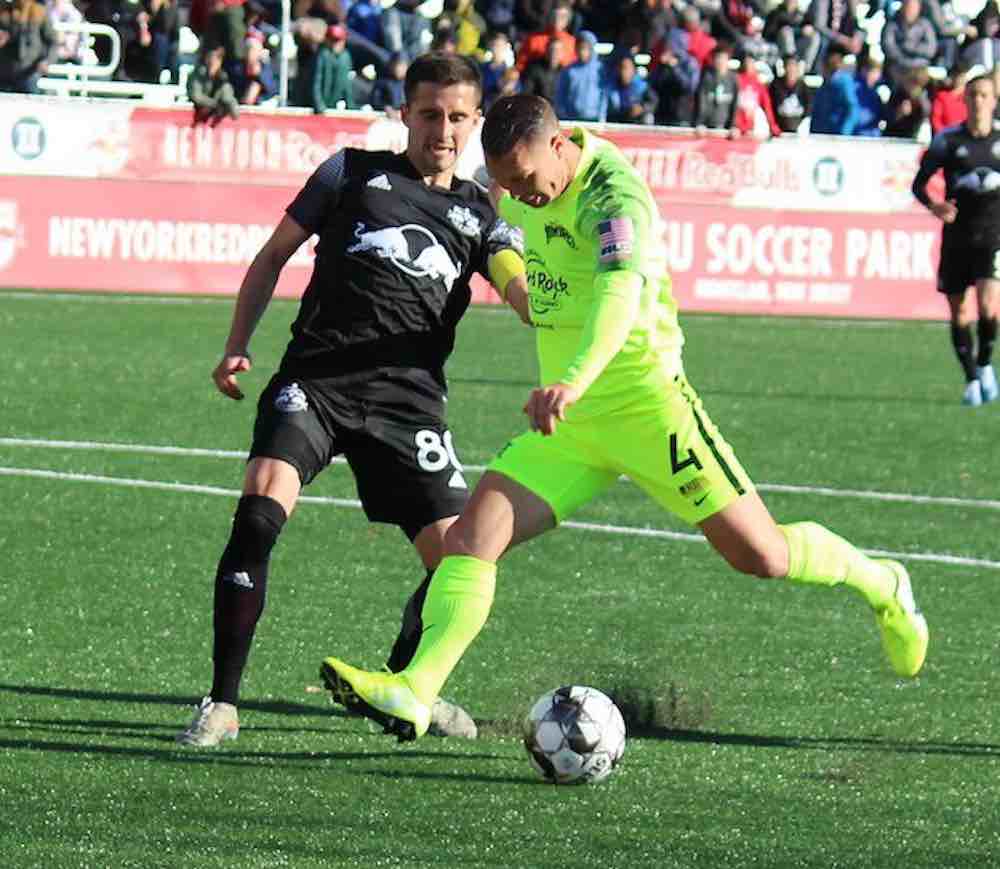 Working toward being a better player can prove quite tough under the current circumstances. In the UK, restrictions are so tight that players are limited to training alone, working with their clubs to come up with the best regime possible from home.
However, in the USA, things aren't quite as strict and so far — since play was suspended in USL, MLS and other leagues around the world — Hilton and the rest of his Rowdies teammates have been able to continue morning training sessions in groups of two, with club staff helping with schedules, routines and equipment.
The 26-year-old added: "For the past four weeks, I've been able to train with another teammate. Although all of the club's facilities are closed, the staff have offered up other facilities to us and provided us with a training schedule to follow. The club has also provided me with a stationary bike to workout from my apartment.
"The schedule is mainly different types of fitness runs, ball-work drills and strength sessions. I'll train most mornings with a teammate and be back in my apartment for 12 PM, where I'll be for the rest of the day by myself."
Although this is a far cry from the usual routine of match preparation, Hilton admits there is also a positive side to training in pairs, using the freedom of stepping away from tactical planning to focus on specific assets of his individual game.
"I'm using this time as an opportunity to work on details of my game that I typically don't focus on as much during a normal period," he said.
"A regular training week would focus on the big picture of preparing to win a game on the Saturday. A lot of attacking, defending shape drills, possession and pattern play exercises with the theme of preparing the team to win the upcoming game.
"There's a certain limit of stuff you can work on when training with two players, so I'm using this time to focus on developing different tight turns, my first touch and ball control which typically takes a back seat in a normal week of training. So I've actually enjoyed focusing on those parts of my game. But nothing will compare to playing on a Saturday in front of a full stadium or even competing in five-a-side against teammates!"
Arriving home at 12 PM and being alone for the rest of the day can present a whole array of personal issues, not least avoiding the temptation to fill the time eating food that wouldn't usually be on the menu for a professional footballer. Many office workers, electricians, journalists — including ourselves — and people of all trades can attest to that daily battle.
However, despite admittedly struggling to fight off the cravings at first, Hilton, who spent time with the Plymouth Argyle and Exeter City youth academies during his formative years, has so far managed to stick to a strict diet, buying in rations to make sure his cupboards are only filled with what he needs to stay healthy.
"I'm usually pretty disciplined with my diet, but I really struggled during the first week of the quarantine period," Hilton admitted.
"When I'm spending hours on end in my apartment with cupboards full of food, it's hard work not to keep eating all day! I found myself demolishing 700 calories worth of chocolate almonds after dinner!
"When I put my next grocery delivery order in, I made sure not to make that mistake again. I don't have any unnecessary foods in my apartment, that way, I'm not tempted to overeat.
"I usually try to eat fresh foods but during this time, I mainly have frozen vegetables, canned proteins and grains like rice and quinoa that usually store for long periods, so it saves me having to order groceries and not make any unnecessary trips the stores. I've been doing shakes with frozen fruit, vegetables and different seeds as an easy way to make sure I'm hitting all the nutrient groups too."
"There are a lot of people worse off than I am"
Being able to train every day and keeping track of his diet gives Hilton, who grew up in Newquay, England, plenty to focus on at a time when others might feel lost.
However, the effects of social isolation can be a lot more profound for someone living thousands of miles away from their hometown and family.
But Hilton is remaining positive, telling us how he's been in regular contact with family back home, while looking out of his apartment window at his surroundings in Florida allows him to truly realise just how lucky he still is.
"Living by myself during this time hasn't been too bad at all considering," he said. "I've been able to video call my parents, three sisters, and three wonderful nieces most days, which makes things easier, knowing they're all healthy and happy.
"There will be times where I feel a bit of boredom or frustration, but putting things into perspective has been so important. I'm healthy, I'm living in a beautiful place, with incredible weather, and still playing football every day for a living. There are a lot of people worse off than I am and I should probably do a better job of reminding myself of that."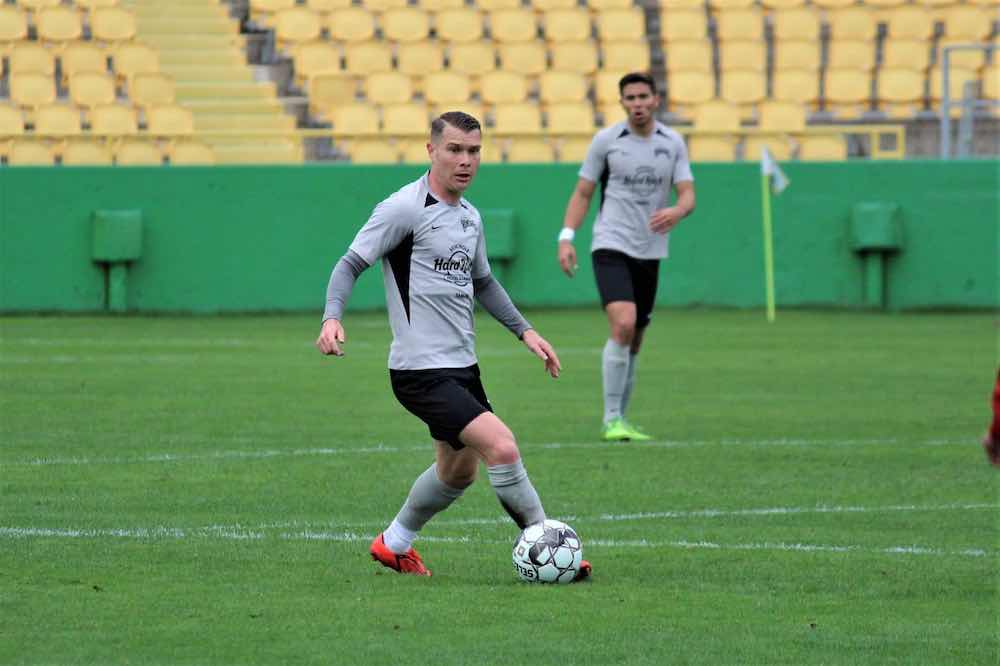 The subject of mental health in football was already under scrutiny before the COVID-19 pandemic and will need to be taken even further into consideration during the current lockdown.
Despite his love of the game, Hilton admits the sport has brought just as many lows as it has highs.
That said, he is still able to use football as something to gravitate toward in these troubling times, saying the "feeling of improving every day" gives him a "sense of achievement", while he and his teammates continue to lean on each other for support and camaraderie.
"There has been a lot of talk about mental health in football and I think it's important for everyone to be aware of it," he says. "Football has definitely provided me with the highest highs in my life and the lowest lows.
"Being able to train with a teammate every day has been massive for my wellbeing. The feeling of improving fitness levels or technique every day is satisfying and gives me a sense of achievement for the rest of the day. I'm sure I'd have a tougher time coping if I wasn't able to train.
"The staff here have been great too. I'll get a call from the coaching staff a couple of times a week just to catch up. We did a team quiz night via Zoom and the WhatsApp group has been busier with banter which helps!"
"I don't think it would be fair if football returned but supporters were to miss out"
Of course, fans, players, coaches and journalists around the globe would love nothing more than to see football return as soon as possible — there is only so far FIFA tournaments and re-runs of classic matches can go toward filling our appetite for the game.
How to resume play has been widely debated among individual leagues and governing bodies for some time now, with the Premier League considering finishing the season behind closed doors.
However, Hilton stresses that, despite being hugely motivated by a return to action, he'd only be comfortable doing so once it's safe for the fans to come along too, insisting it would be "unfair" for supporters to miss out or have their health put at risk.
"The prospect of returning to action is something that excites me and is my motivation to get up each morning," said Hilton, who only signed with the Rowdies in December 2019, having spent the previous two seasons with Saint Louis FC.
A new chapter and a new challenge. Delighted to be joining @tampabayrowdies. Can't wait to get to work and to be playing the game I love! https://t.co/5oWpd31tOa

— Lewis Hilton (@LewisHilton4) December 17, 2019
"This is my first season with the Rowdies and I'm hoping to make a big impact here. So for everything to be delayed after only one game is frustrating as we were just getting started.
"However, my opinion is that football should only return when it's 100% safe to do so. Football is extremely important to me but nothing is more important than an individual's health.
"I don't believe football should be played behind closed doors. What I've learned through my short time here in Tampa Bay is the supporters are just as passionate about the game as the players are. I don't think it would be fair if football returned but supporters were to miss out.
"Although it's really tough not playing every week, I'm happy to wait as long as it's needed for football to return for everyone when it's safe to do so."