By James Nalton.
Europe's biggest and most prestigious continental club competition had been going for 36 years, but Barcelona were yet to win it.
On the continent, Spain's second most successful club had lived in the shadows of their dominant rivals, Real Madrid, and to some extent they still do.
By 1992, Real had already lifted Europe's most lauded trophy on six occasions, but as the Catalan side went into this final, no Spanish team had won it since Los Blancos' last triumph in 1966.
Barcelona's only previous European Cup final appearances came in 1961 when they were beaten 3-2 by Béla Guttmann's Benfica, despite the best efforts of Magical Magyars Zoltán Czibor and Sándor Kocsis, and in 1986 when they lost on penalties to Steaua București, failing to score a single spot-kick in a 2-0 defeat from 12 yards.
It was the first final for Barca's opponents, Sampdoria, and their appearance came as Italian football was enjoying a purple patch and an ever-increasing profile in world football after the 1990 World Cup.
Vujadin Boškov's Samp side qualified for the European Cup thanks to their 1991 Serie A title win, their first and to date only Scudetto.
They boasted a team of eye-catching players including 1991 Capocannoniere (top scorer) Gianluca Vialli, who by this time had already agreed to join Juventus for the 1992/93 season.
The 1992 final was hosted by England at Wembley Stadium, which bore more significance as it was the first season an English side – Arsenal on this occasion – had taken part in the competition following their ban after the Heysel Stadium disaster.
As the game kicked off, Barcelona were instantly Cruyff-like. Players exchanged positions, drifted into space, and swapped assignments with ease as Pep Guardiola and Ronald Koeman tried to pick a way through the tight Sampdoria defence.
Guardiola patrolled the middle of the park, his style making him instantly recognisable even now, even with hair, as he regularly popped off considered passes to the more dynamic attackers around him. The midfielder ambled around the pitch but somehow managed to evade opponents and find space to receive the ball ahead of anyone else.
He was the embodiment of Cruyff's comment that "you play football with your head, and your legs are there to help", a mantra which Guardiola has taken with him as a manager. Even the Marcelo Bielsa-inspired running and pressing carried out by his sides today is done as intelligently and economically as his midfield passing 28 years ago.
Despite his deep position, Guardiola wore the No. 10 shirt. Cruyff's playmaker, regardless of his station.
Sweeping behind Guardiola and regularly joining him in the side's creative hub, Koeman sprayed passes around the field from the back.
The Dutchman acted as a playmaking sweeper, receiving the ball from goalkeeper Andoni Zubizarreta before feeding a short pass to midfield or going long to wide-forwards Hristo Stoichkov and Julio Salinas.
One through-ball just before half time was the pass of which the most visionary creator would have been proud. Were Koeman playing today, it's easy to imagine him, with a little added athleticism, playing a similar role to Kevin De Bruyne.
Ronald Koeman: sweeper and playmaker 🇳🇱⚽️ pic.twitter.com/H8hbPY3Uv0

— James Nalton (@JDNalton) April 1, 2020
He had the whole canvas on which to paint his outline of the game, while Guardiola filled in the details.
Sampdoria had a taste of things to come early in the first half when Koeman smashed a free kick straight at Gianluca Pagliuca, which the Italian keeper was able to punch clear. Koeman stepped forward to take a variety of set-pieces throughout the game with his trusty right boot.
While Guardiola is still recognisable, it takes a while to pick out Vialli beneath his unfamiliar locks as he led the line alongside Mancini for the Italians.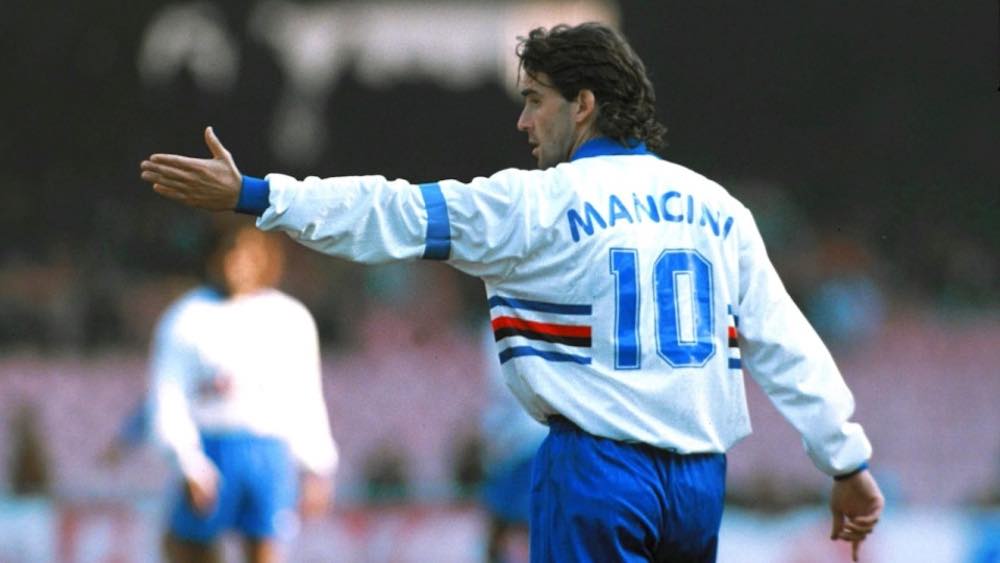 Up top for Barca, Michael Laudrup operated from the centre forward position but regularly dropped deep to receive the ball in midfield. If average position data were available for this game, his position would look similar to that which Roberto Firmino currently plays for Liverpool.
The goal return is similar, too. In the season leading up to this final Laudrup scored 18 goals in 49 appearances. In the season prior to Liverpool winning the European Cup in 2019, Firmino scored 16 goals in 48 appearances.
The real, direct attacking play came from Stoichkov and Salinas, who drifted into the centre from their starting positions on the touchline.
Looking at the bigger picture, this Barcelona side lined up in a very wide 3-4-3 diamond. The outside centre-backs were almost full-backs, and the wing-backs operated as wingers might in a 4-4-2, but all were alert to their defensive duties and this expansive shape was able to quickly contract when required.
On one occasion in the first half, Vialli attempted a Cruyff turn as he tried to beat Juan Carlos down the right wing, but he didn't quite pull it off. It was as if, for a split second, he remembered who was watching on from the opposition dugout and gave up midway through the move.
The unmistakable noggin of Attilio Lombardo breezed down the right wing for Samp, and his left-footed shot from the edge of the six-yard-box forced a good save from Zubizarreta. Shortly after, Stoichkov was testing Pagliuca with a header from Eusebio's cross at the other end.
Though the record books may show a 0-0 draw in normal time, the game was anything but dour and there were chances aplenty for both sides.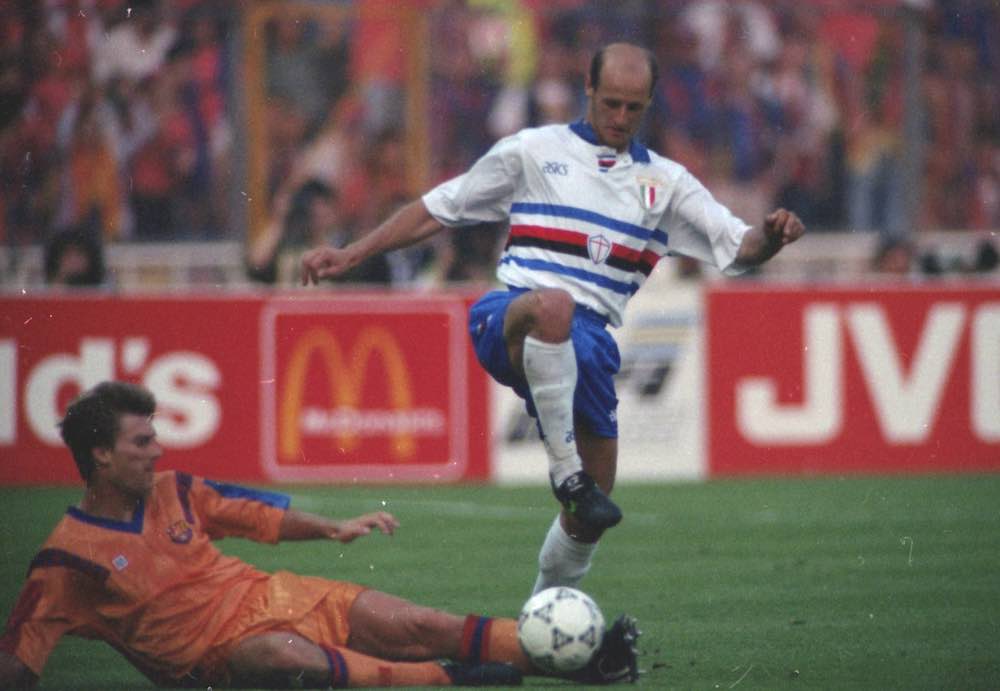 Vialli missed the best opportunities, and possibly the best chance of the game when he misjudged the bounce on a Lombardo cross and sent his shot over the bar from close-range.
Sampdoria used their disciplined defensive platform from which to launch counter-attacks. Vialli had another effort saved by Zubizarreta and saw another trickle agonisingly wide after he was put through on goal by Mancini.
Stoichkov hit the inside of the post from Laudrup's through-ball and when Juan Carlos found José Mari Bakero in the box, the attacking midfielder could only poke his shot into the arms of Pagliuca.
It was apt that Koeman won the game. Barcelona in their orange shirts with a Dutch legend in the dugout and a tempo-setting playmaker at the heart of their defence. One who could also strike the ball with considerable venom.
Samp substitute Giovanni Invernizzi was adjudged to have halted Eusebio as he battled for the ball on the floor, so an indirect free-kick was awarded. Stoichkov touched the ball to Bakero who stopped it for the onrushing Koeman to hit. The shot arrowed into the far corner past the outstretched Pagliuca.
Now with more space, Barcelona could have scored a second, but Stoichkov shot wide of the near post and forced a two good interventions from Pagliuca.
Before lifting the trophy, Barcelona's players changed from the orange away kits they'd worn during the match into their traditional blaugrana home shirts.
This might have symbolised the transfer of Total Football from the Netherlands to Catalonia, but though the roots were now in place, Barca wouldn't win the European Cup again until 2006 under another Dutchman, Frank Rijkaard.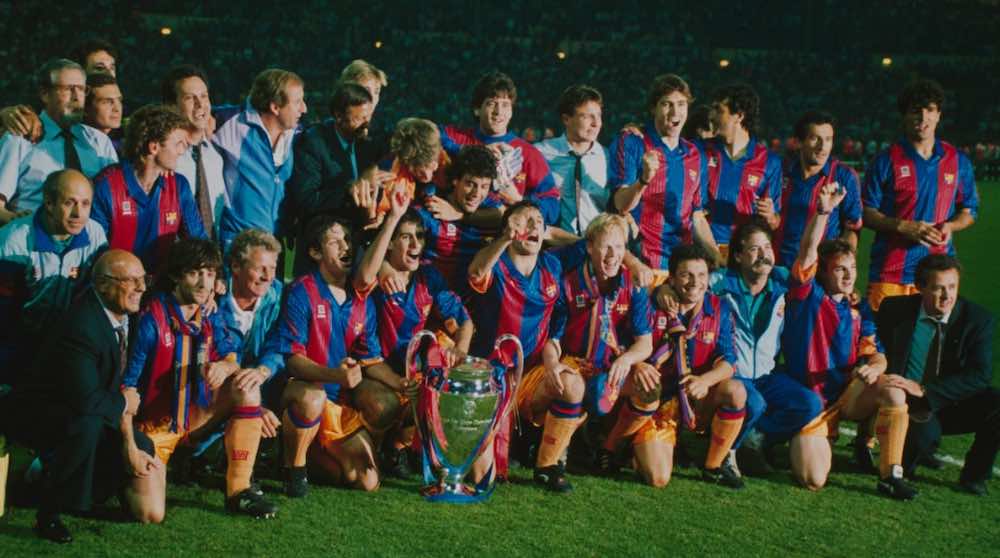 "For Leeds United and other English teams hoping to reestablish the monopoly of the late seventies and early eighties, the match set awesomely high standards," wrote David Lacey in his match report for The Guardian.
"Thousands of Catalan and Genoese supporters brought colour and vibrancy to the occasion, and eventually saw the riches of European football at the old stadium."
In an era where winning the league is not enough for many Barcelona fans, this is a reminder of how far this club, now with six European Cups to its name, has come in recent decades.
Should Barca win the 2019/20 league title, it would be their 27th, putting them six behind Real's 33. In 1992 the total league title tally was 25-12 in favour of the side from the capital; since then, Barcelona have won La Liga 15 times to Real's eight.
For Sampdoria, it was the culmination of their glory years which had seen them win three Italian Cups between 1985 and 89, a Cup Winners Cup in 1990, and their league title in 1991. Boškov left to manage Roma after the final, and though the club from Genoa went on to win another Italian Cup in 1994, they have won nothing since and have also spent time in Serie B.
This 1992 final saw the Barcelona Dream Team under Cruyff, in the midst of their four consecutive league title wins, come up against another side who were in a dreamland of their own, one which was playing out in reality.
It was one of those moments football throws up, where the greats of the game assemble in the same stadium for an event which showcases an era, providing a convenient snapshot of football history — this final didn't disappoint.