James Rowe spoke to AaB's Dutch striker Tom van Weert for WFi. They discussed his time playing in the Netherlands, moving to Denmark, and the best players he's encountered in his career to date.*
---
You signed for Danish side Aalborg BK in 2018. How are you enjoying your time there so far and how would you describe the club?
"I signed for Aalborg BK in 2018 just as the summer transfer window was closing, and I am really enjoying myself and I have experienced many new things.
"It was the first time that I played my football abroad and that brings a lot of new things with it, such as living in a new country with a different culture and language.
"I felt that I had seen everything in the Netherlands in terms of opponents and playing in different stadiums, and the Eredivisie itself.
"Last season Aalborg BK had five foreign players in their team and that has been put back to three including a Swedish and a Norwegian player who are viewed as Scandinavian, so I am the only non-Scandinavian playing in the team.
"That is due to the fact that Aalborg BK are a club that wants to produce its own players, and they are known for that.
"They have one of the best youth setups in Denmark and have many players at different levels within the club that play for the national team in their category. They want to continue to invest in that, in terms of training up and eventually selling players on, or having a player return to Aalborg BK later in his career.
"A lot of players feel at home here and there are some players that have already played for the club for ten seasons. They never left because they have everything they could ever need and wish for here at Aalborg BK.
"Aalborg is also a great city where you can do lots of things. They are not viewed as a top club in the county but they won the Danish Superliga five years ago and they have also played Champions League football in the past, too. So they are a club with history and a family culture."
---
You came through the youth setup and played six seasons for FC Den Bosch in the Netherlands. How do you look back on your time at the club?
"I look back on my time at FC Den Bosch with a really nice feeling. I started in the youth setup at the age of ten and at that point, you have only one goal and one dream, and that is to be a professional footballer.
"After coming through the youth setup I managed to debut for the club at the age of 18 against FC Zwolle in the then Jupiler League [Dutch first division]. You never forget those moments as they are your first steps in professional football and to do it for the club that trained me up, and near to the area of the Netherlands where I am from, was very special.
"I still have contact with players and people at the club. If I am in the Netherlands I like to return to the club to say hello to the people I know, as it is the club that I have spent the most time in my career so far and where everything started for me, so I will always have a soft spot for FC Den Bosch."
---
You also played two seasons for FC Groningen. How do you look back on your time there and do you have any highlights or special memories?
"I played two seasons for FC Groningen at they were somewhat inconsistent. I arrived at the club and they suffered a very poor start to the season. I was on the bench eventually I managed to work my way into the first team and I was I playing regularly, but just before the winter break, I got injured, and I only returned at the end of the season.
"In my second season I was in and out of the team up until the winter break. After the winter break I managed to go on to score 12 goals and managed to become top scorer of the club, but looking back on the first part of that season our results were not great.
"All in all my time at FC Groningen was mixed. Becoming club top scorer in my second season and scoring against the likes of Ajax and Feyenoord, which is always nice, but I did not manage to play two regular seasons for FC Groningen due to injuries and competition for places within the squad."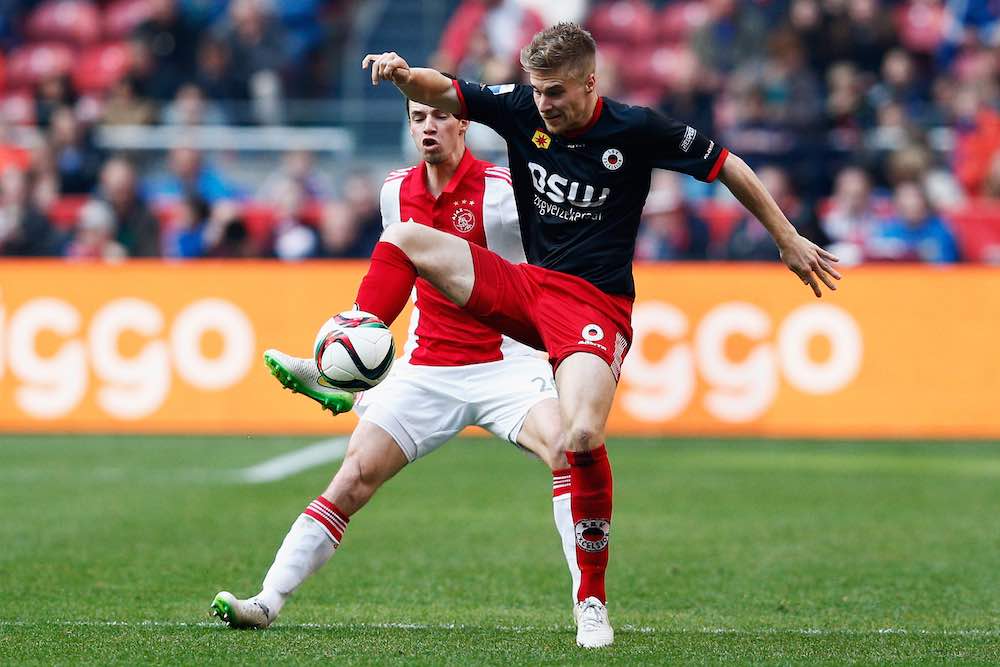 ---
You have accrued a lot of experience at different clubs in the Netherlands and now in Denmark. Could you say who are among the best players that you have played alongside so far in your career?
"During my time in the youth setup at FC Den Bosch I played with Patrick van Aanholt, who has come a long way and via PSV Eindhoven is now playing in the Premier League for Crystal Palace.
"At FC Groningen I played with Ritsu Doan who went on to sign for PSV Eindhoven and is a very good player.
"The goalkeeper of FC Groningen, Sergio Padt, is an excellent goalkeeper who has been called up by the Dutch national team, and who in my opinion is one of the best goalkeepers in the Netherlands.
"At Excelsior Rotterdam I played with Luigi Bruins who is also a very good footballer who also played for Feyenoord in the past.
"Here at Aalborg BK I now play with Lucas Andersen who played for Ajax and won the Eredivisie title and played Champions League. He has also played in Switzerland for Grasshoppers."
---
I can imagine in your position as a striker that you have come up against, many good opponents. Are there opponents that stand out for you?
"I always thought it was difficult when I came up against Karim Rekik who is now playing for Hertha Berlin. I played against him when he played for PSV Eindhoven. He was not the biggest defender but he was very strong and quick over the first meters and was very hard when going into headers and tackles. I played some tough games against him.
"Davinson Sanchez, when he was playing for Ajax. He is now playing for Tottenham Hotspur in the Premier League. He would give you room but the moment you would become dangerous he would be breathing down your neck and not giving you a yard.
"I also played against Matthijs de Ligt when he was playing for Ajax. A player that I would like to mention is Nick Viergever who I believe is a little underrated. He's quicker than everybody thinks and he is also strong and good on the ball, so it was always difficult to play against him because he had a lot of good defensive qualities."
---
Finally, Tom, could you say who are the coaches and managers who have played a key role in your development as a professional footballer?
"It may seem cliche but you learn something from every manager. Also, things that you may think as a player that you would do differently and you learn from that.
"For example, managers at the start of my career were very important. Theo Bos gave me my debut at FC Den Bosch and he showed the confidence me and that is something that will remain special for me. When you are a young player you need managers that believe in you, and as a young player you are dependent on such managers.
"Also I played under Alfons Groenendijk at FC Den Bosch and Excelsior Rotterdam, and that was my best season at FC Den Bosch and he is another manager that showed confidence in me. He also had a very relaxed manner that I can appreciate. He does not shout and he is a calm talker.
"During my first season at Excelsior Rotterdam I played under Marinus Dijkhuizen and that was my first season in the Eredivisie. He also had a very calm character and someone who was also very respectful. He also played as a striker and I knew that because of his experience that he could help me improve as a player. These are the managers that have helped me along the way in my career."
---
*This interview was conducted prior to the suspension of football seasons across Europe due to the coronavirus crisis.