By Jerry Mancini.
Kai Havertz scored his fifth goal in four games since the return of the Bundesliga to give Bayer Leverkusen a 1-0 victory against Freiburg. The young German remains one of the most outstanding young players in European football.
To reach this level at just 20 years old has taken hard work and dedication. Many players begin playing at a young age in anticipation of one day playing for the best clubs in the world, but this desire and devotion doesn't always mean a player will reach the top of the game.
As a youth, Havertz started playing with Alemannia Mariadorf before signing with Alemannia Aachen. He spent one season with the second division club before signing for Bayer Leverkusen, aged 11.
Kai Havertz the hero for Bayer Leverkusen again, who move up to third in the Bundesliga ⬆#SCFB04 pic.twitter.com/ckLkTgTDHB

— Goal (@goal) May 29, 2020
While in the Leverkusen academy he also played for the U16 and U17 German National teams and by that time was already showing promise. As the years passed the teenager continued to develop his skills and the mindset of an elite attacking midfielder.
The hard work paid off as on October 15, 2016, he found himself making his first-team debut, coming on as a substitute replacing Charles Aranguiz. At the age of 17, Havertz saw his dream of playing in the Bundesliga become a reality, and he hasn't looked back, becoming one of the most talked-about players in world football.
While Jadon Sancho and Timo Werner's performances this season have led to numerous transfer rumours, Havertz has also been generating interest. In four seasons with Leverkusen, he has made quite the name for himself with his exciting brand of football and ability to read the game.
Even at a young age, Havertz developed skills which many other players have yet to establish. Starting off as a No. 10, he has become a versatile player who can play across the midfield and even up front as a striker or false 9.
He can both create and score goals, and is also a very good technical player, strong on either foot. He is a threat to the opposition defence with his quick one-touch passes in tight areas and has good decision making.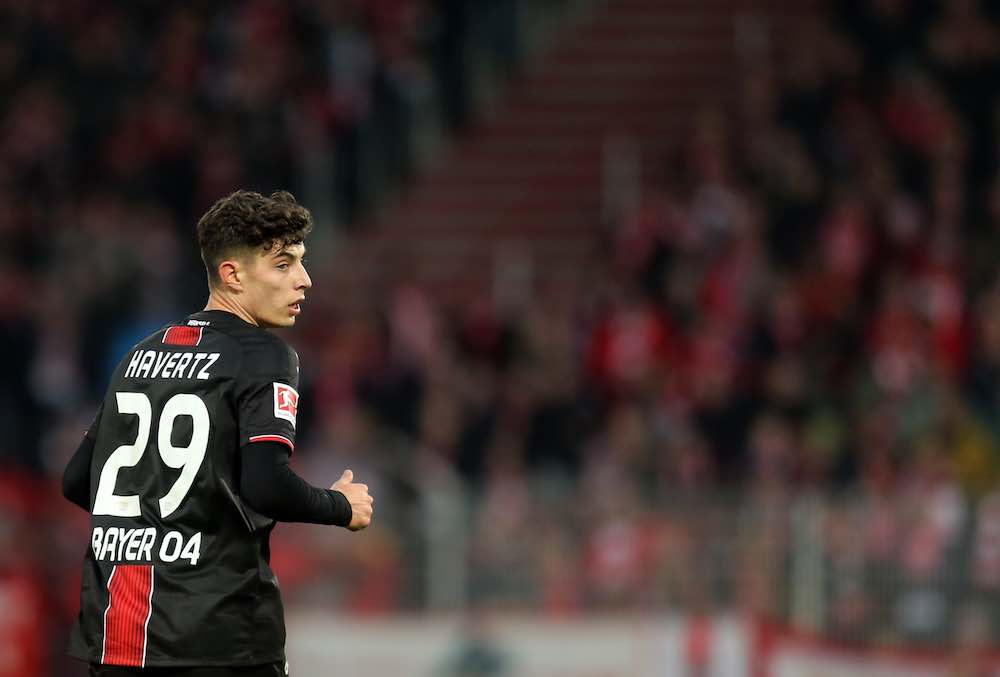 Havertz has not missed a beat since the return of the Bundesliga with three of those five goals being game-winners, and perhaps the most important trait he has developed is the ability to play at a consistent level and also grow into his new responsibility as a star player.
The midfielder has taken his game to the next level this year, which has caught the interest of several clubs across Europe.
It's no wonder a player this rare has top teams such as FC Bayern, Real Madrid, Barcelona, and Liverpool in pursuit of his signature, but Leverkusen will rightly demand a high price.
Last year was a career season for Havertz as he scored 17 goals in 34 Bundesliga appearances. This season he has followed-on with another strong campaign, with 11 goals in 25 appearances.
Additionally, no player has scored more than the 35 goals that Havertz has amassed in the Bundesliga before the age of 21, and he has shown no signs of slowing down, as demonstrated by his goal against Freiburg.
35 goals at the age of 20.

Kai Havertz is the highest scoring Bundesliga player EVER before his 21st birthday.

The Crown Prince of German football 👑 pic.twitter.com/gQvZGkjomt

— B/R Football (@brfootball) May 29, 2020
"You look at his profile, his experience already and the regularity with which he performs at a high level, you can have great confidence that he is the real deal," recruitment expert David Webb told The Independent's Melissa Reddy.
"He has been consistent and established himself as one of the best young players in the world at Leverkusen, which is also a good sign because he's had to shoulder a lot of responsibility there and take the lead.
"He's obviously got a maturity about him, which comes across not just in his performances but in his character."
Havertz is destined for a bigger club in the near future but for now, is shining for Leverkusen where his hard work and determination is paying off.