Bundesliga Zeitung, by Andy Wales.
The final Englische Woche of this Bundesliga season has almost brought the campaign to a conclusion.
A defining week of football has seen Bayern Munich crowned champions for an eighth successive season and Paderborn's relegation confirmed. These were both expected and there was no miraculous turn of events to prevent either, but not everything was so predictable. 
Indeed, like any good drama, this Bundesliga season still had plot twists left in it and we haven't had the final chapter yet. 
Under Niko Kovac, Bayern were dysfunctional and inconsistent. They could be brilliant and did win the title after Dortmund choked last season, but their vulnerabilities were all too apparent.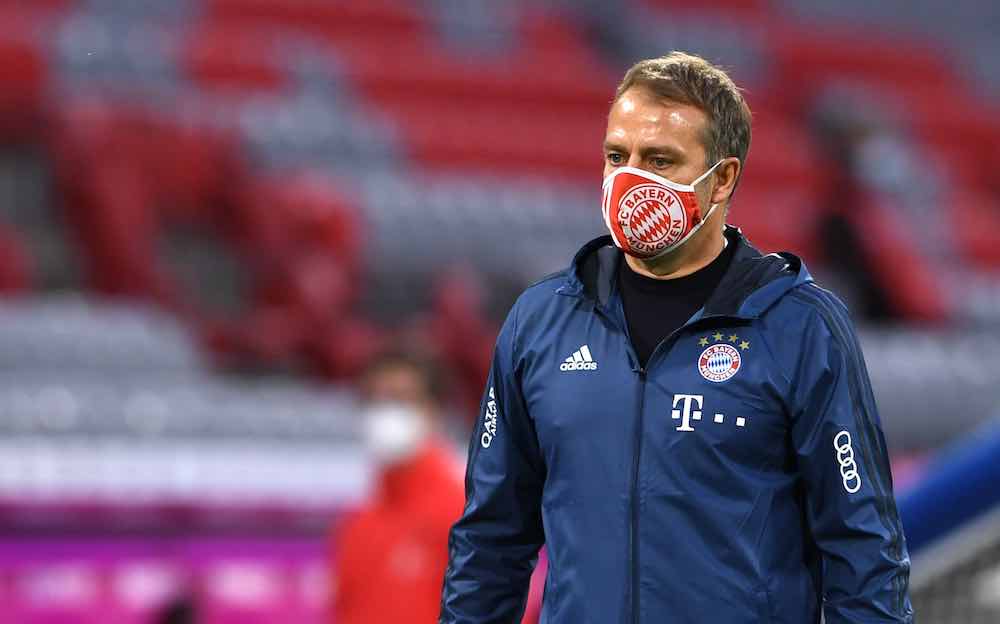 Hansi Flick has not only galvanised Bayern as a club and improved the team's consistency, but also reinstalled mettle. This was evident over the past week as they scrapped their way over the finishing line. 
A narrow 1-0 win in Bremen was enough to clinch the title. It wasn't the goal glut that some expected, and perhaps feared for Bremen, but it was an example of their grit and mentality. It also provided Bremen with hope. With no serious damage done to their goal difference and a battling display, perhaps the great escape was on. 
Meekly succumbing 3-1 to a reinvigorated Mainz on Saturday dampened those dreams. Instead, a big club with a rich history is staring down the barrel. The fate that befell their northern rival Hamburger SV a couple of years ago is now a looming reality for Werder. 
As a long-time follower of German football, I can recall an Otto Rehhagel led Werder Bremen that contained the likes of Karl-Heinz Riedle, Wynton Rufer, Marco Bode and Mario Basler. A friend of mine was a Werder fan in that late 80's – early 90's era. It was a time of success, from the Bundesliga and DFB Pokal to a European Cup Winners' Cup triumph.
Under Thomas Schaaf, they won the double in 2003/04 and were in regular contention for trophies, including a Pokal win in 2009. However, the past decade has seen them slip further away from contention, but relegation would still be considered a shock. 
Werder have stuck by head coach Florian Kohfeldt when other clubs around them pulled the trigger on theirs. Kohfeldt may yet go on to reward the faith the club have put in him. Equally, it could prove costly, however admirable it may be. 
It's easy to see why most clubs look for the 'new manager bounce' when things are going wrong.
Fortuna Düsseldorf took the tough decision to replace the much-loved Friedhelm Funkel with Uwe Rösler in January. It wasn't exactly a transformative change, but it did stem the bleeding. Fortuna became a more difficult opponent, picking up points along the way. 
In midweek, they demonstrated resilience by fighting back from two goals down in Leipzig to snatch an unlikely draw. Another draw on Saturday, this time with Augsburg, means their fate is in their own hands. They hold a two-point lead over Bremen, with a four-goal superior goal difference to boot. 
Düsseldorf go to Union Berlin on the final day, in all likelihood only needing a draw to finish in the relegation play-off spot. Meanwhile, Bremen host Köln needing a win and a favour if they are to avoid automatic relegation. 
At the other end of the table, there's also some unfinished business to be concluded on the final day. The battle to be playing Champions League football next season took an unexpected twist over the weekend. 
Last weekend, Bayer Leverkusen had moved one point ahead of Borussia Mönchengladbach and into fourth place. In midweek, Gladbach accepted the challenge and put down a marker of their own with an impressive 3-0 drubbing of Wolfsburg. Onto Leverkusen the following night and they responded in kind by defeating local rivals Köln 3-1. 
Despite missing the star attacking trio of Alasanne Plea and Marcus Thuram, Gladbach were able to beat relegated Paderborn 3-1 at the weekend. Whilst this was happening, Leverkusen were in Berlin taking on Hertha. On paper, starting with an attacking front four of Leon Bailey, Kai Havertz, Moussa Diaby and Kevin Volland suggested goals for Die Werkself. As the cliche goes, football isn't played on paper and Hertha emerged surprise 2-0 winners.
Leverkusen will be kicking themselves because we could have had a three-way fight for two places on the final day. Leipzig's midweek draw and 2-0 defeat at home to Borussia Dortmund on Saturday would have left them looking nervously over their shoulder had Leverkusen won. 
As it stands, goal difference means Leipzig can be overtaken by Gladbach, but not Leverkusen. So, Julian Nagelsmann will get Champions League football, but will be disappointed by his side's lack of consistency. 
It all means Leverkusen have to beat Mainz on the final day and hope Gladbach slip up at home to… Hertha Berlin. It seems unlikely, but as we've seen throughout this season, you just never know.