By Dharnish Iqbal.
It is the grandest stage of them all. The UEFA Champions League is football's biggest club competition where careers are made, separating boys from men to see who can really cut it with Europe's finest.
If the league is the bread and butter, the Champions League is a silver platter on which it is served. It is something football's elite crave, and have poured millions into trying to achieve success in the tournament over the years.
English teams over the years have had a knack for winning Rocky-style. Perhaps it is something to do with the bombastic, highly-physical style of the Premier League that players become accustomed to.
Dramatic comebacks and memorable performances are a frequent occurrence for Premier League teams in the competition.
Here we take a look at some of the most breathtaking individual performances that shook European football to its core.
Roy Keane vs Juventus (1999)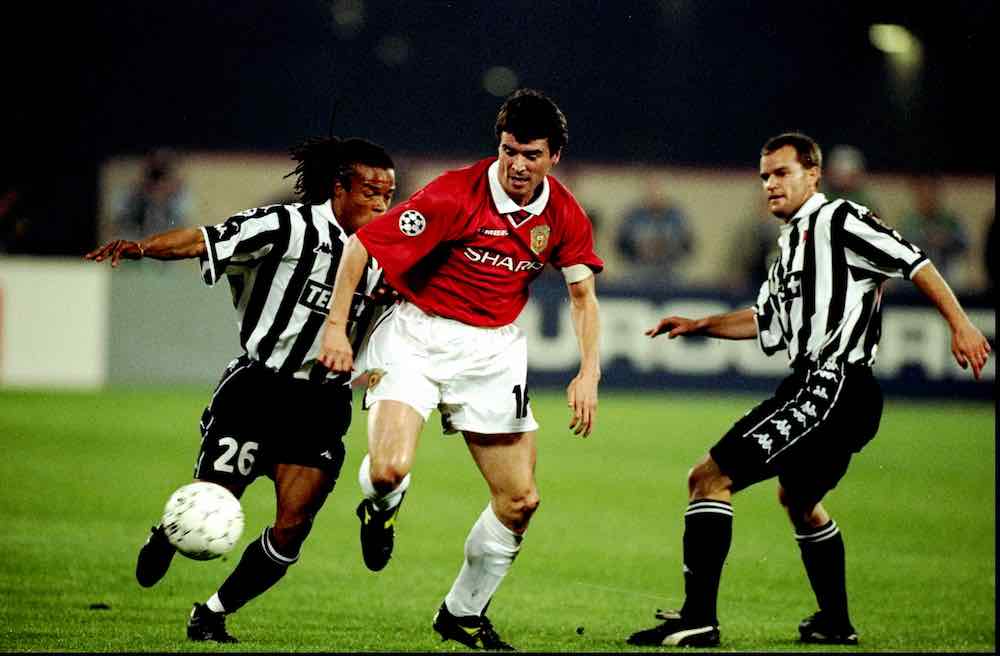 It is now the stuff of legend. Roy Keane dragging a treble-chasing Manchester United back from the brink after two early hammer-blows delivered by Filippo Inzaghi.
As soon as you saw the title above, I'm certain Clive Tyldesley's famous words rang in your ears:
"In towards Keane! Roy Keane with the captain's goal for Manchester United."
Soaring like an eagle with a late run into the box to stun his marker Zinedine Zidane and head the ball home in Turin, lighting up the tie.
It was not just the goal that made his performance so special. From that moment onwards, Keane set out to drive United forward constantly, all the while systematically distinguishing the Juventus fire. Outshining the greatest midfield in the world at that time containing Zidane, Edgar Davids, Didier Deschamps and Antonio Conte, while the rest of Europe watched on.
The tide had turned. Keane's dogged presence was all over the pitch. His drive and seemingly endless determination were not to be contained, no matter the circumstances.
Once again Keane's expectant drive to be the best had led to the rest of his teammates upping their game in that treble season, as United scored again in the first half, eventually going on to win the tie.
So much has been said of Keane's performance on a smoky night in Turin. It is football folklore. His intensity both on and off the field scared his peers into giving nothing but the best. A complete embodiment of what made that '99 team so special — a never say die attitude.
Alex Ferguson's famous quote mentioned how he felt honoured to manage a player giving such a performance. Inevitably Keane played this down, perhaps because of the falling out that ensued.
But there was always an element of Keane's temperament that he never played that way because he enjoyed it, he simply expected to give his all always and it would be madness if anybody else didn't.
This is perfectly exemplified in the dressing room celebrations after the Juventus game. Dwight Yorke is dancing, Denis Irwin questions whether there is any beer going. As his team-mates were joyous, Keane sat quietly in the dressing room sipping water, unflappable without a hint of emotion.
In his mind, this was just another day at the office.
Steven Gerrard vs Milan (2005)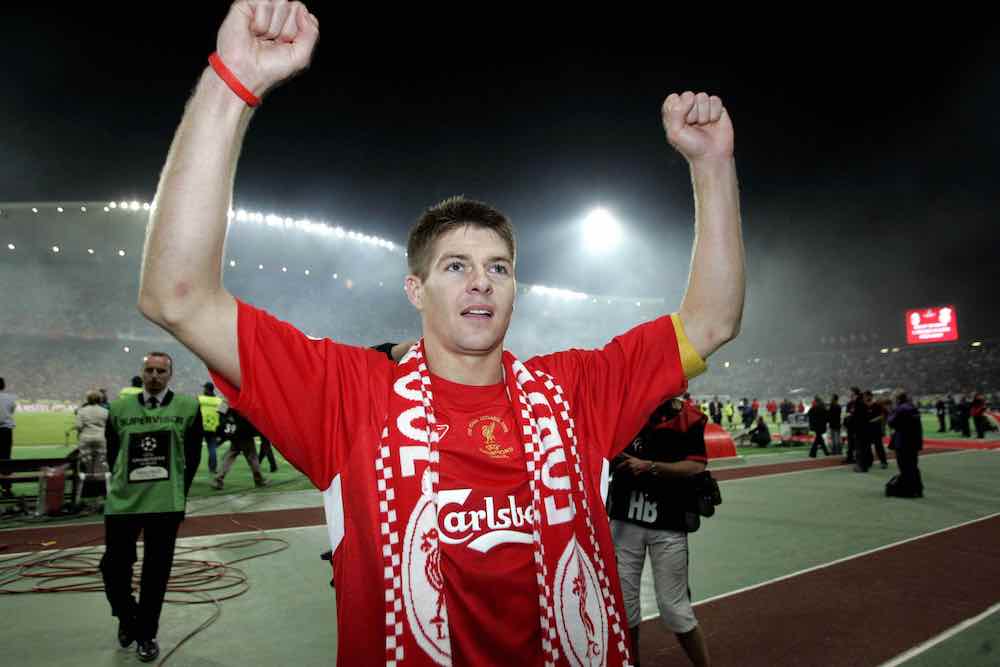 If Man United fans have the Roy Keane semi-final, Liverpool fans have The Miracle of Istanbul and the herculean performance from Steven Gerrard.
Once again, an Italian side was involved, and once again it boasted of one of the greatest sides assembled in European football.
Alessandro Nesta, Paolo Maldini, Andrea Pirlo, Andrij Shevchenko, Kaka to name a few. It could very well be argued Gerrard had a less capable side, with left-back Djimi Traore always unfortunate to be cited as an example of that side's quality, or relative lack of.
Liverpool were blindsided first by a Maldini volley after 50 seconds, and then by the magic of Kaka who ran rings around Liverpool and was instrumental in creating two Hernan Crespo goals inside the first half.
Up stepped Gerrard spurred on after hearing an almost religious chant of "You'll Never Walk Alone" at half time for the club he loved and the club that adored him in return.
There have been different accounts of what happened in the Liverpool dressing room at half time. Djibril Cisse claimed Gerrard gave a rousing speech about what Liverpool what meant to him. Jamie Carragher denies.
Rafa Benitez was scrambling around making tactical changes, whilst Carragher wrote in his book how he was just wishing it didn't become embarrassing.
Gerrard wrote about Genaro Gatusso smirking as he headed to the tunnel, and some of the Milan players waving to their families infuriated him and spurred him on to try to convince himself, and his Liverpool team, that it wasn't over.
Didi Hamann was brought on to marshal Kaka and free up Gerrard as a result. On 54 minutes the change worked.
Rising like a salmon, Gerrard arrowed in a wonderful header past the helpless Dida, charging back to the halfway line raising his arms like a conductor asking more from his orchestra.
This began — to quote the terrible mockumentary made on the final — a mad '15 minutes that shook the world'. Milan's greats were shell-shocked. Vladimir Smicer's piledriver followed Gerrard's header, who then stormed into the Milan box. Now free of the shackles, he was a nuisance for Milan and was brought down, ironically, by Gatusso.
Xabi Alonso converted and Liverpool took it to penalties, holding on for the greatest comeback in Champions League history.
Gerrard ended up finishing the game at right-back, showing he was willing to do anything for Liverpool FC. How appropriate it was that his finest hour came in the toughest of circumstances in the greatest club competition. Liverpool's favourite son always showed up in the biggest of spectacles.
Didier Drogba vs Bayern Munich (2012)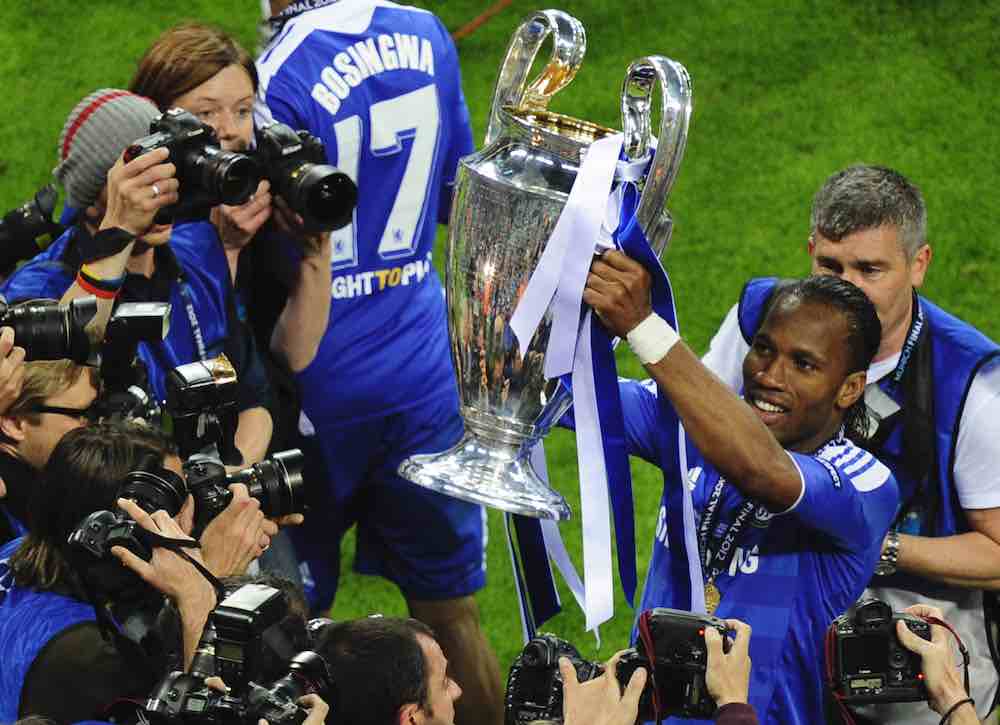 Drogba's Napoli, or even Barcelona performance over both legs, could have also been chosen as Chelsea's impossible run to the 2012 Champions League was characterised by the Ivorian forward.
Time and again he showed up in the big moments. Cometh the hour cometh the man. However, he cemented his legacy in Chelsea history forever just as it looked like all of Chelsea's David vs Goliath heroics in the European campaign that year were going to be for nothing.
As Bayern took a lead through an 82nd minute Thomas Müller header which is no less than they deserved.
Then, Chelsea won a corner in the 88th minute. Bustling past Jerome Boateng and Philipp Lahm, Drogba was outside of the 6-yard area when he jumped and glanced a bullet header into the top right corner that Manuel Neuer could only palm.
Neuer was in the perfect spot to save, but the header was too thunderous to stop. Drogba was on the verge of tears in his celebration as he yelled to the heavens. He believed it was destiny.
The drama was far from finished. As Drogba was helping out defending, he trod on Riberys foot and conceded a penalty, much like he did against Barcelona in the semi-final.
Surely Champions League history was not to offer another heartbreak for Drogba? It wasn't. Petr Cech intervened again, and it seemed like it was written in the stars.
The final went to penalties, coming down to the decisive Drogba kick. Four years earlier he had been sent off in the all English Moscow Champions League Final, unable to take one, dispelling Chelsea to misery.
Call it fate, it seemed befitting that Drogba was to step up and finally clinch the trophy Roman Abramovich had poured so much money into Chelsea in order to win. There was no question this was Chelsea's and Drogba's year.
Chelsea and Drogba had finally exorcised their Champions League demons. Torment in Russia, Luis Garcia's 'ghost' goal and the highly controversial 2009 Barcelona semi-final where he was left firing expletives, smoke coming from his ears, yelling disgrace to the camera. Drogba had endured it all.
To have the mental capacity to come back from those events, and additionally deal with the sacking of Andre Villas-Boas midway through the Champions League in 2012, other players would've wilted. Not Drogba, he believed he had a right to belong among the Champions League heroes. Able to concede two crucial penalties and still remain unflappable.
The go-to guy had delivered Chelsea's golden era its long-awaited prized possession.