By Dylan Baker.
Columbus Crew continued their electric start to the MLS is Back Tournament in a 2-0 win over New York Red Bulls that puts them all but through to the next round and likely group winners by the end of the week.
The Crew made four changes to their starting XI from the team sent out against FC Cincinnati late last week and didn't lose their impetus on Thursday against New York. Goals from Gyasi Zardes, only the second Crew player after Brian McBride in 1995 to score four goals in his first four matches in an MLS season, and Lucas Zelarayan were enough to see New York off on the night. 
Red Bulls, on the other hand, whose swashbuckling playing style is predicated by their intense pressing, couldn't get themselves out of second gear and sat back in a low block for the majority of the match. Crew's comfort in possession left Red Bulls spending most of the match trying to stifle attacking moves from the Ohio outfit, and they were unable to do so effectively.
6 goals, 6 points 🙌@ColumbusCrewSC secure their spot in the Knockout Stage in Group E. pic.twitter.com/bhJruhzEsv

— Major League Soccer (@MLS) July 17, 2020
Chris Armas sent out the same side that faced Atlanta United, and the energy levels just didn't quite match that of their first tournament performance. 
Whether that choice was made out of necessity or preference as New York faced the side currently most favoured to win this tournament is neither here nor there after Red Bulls' showing Thursday night — they simply weren't the team we saw at the beginning of the MLS season, and were a shadow of the side from earlier in the tournament.
Some thoughts to consider:
1. Zardes And Co. Unstoppable
For a guy that has received mostly negative press over the course of the last five years, Gyasi Zardes is a man on a mission in 2020.
Many have taken issue with his goalscoring record over the course of his career for both club and country, and once upon a time, there was good reason for that criticism. 
Barring an outstanding 2014 season when, aged 22, he put sixteen goals in for the LA Galaxy, Zardes has been below average in terms of output. He was only able to score seventeen goals in 85 matches from 2015-2018 and was largely played on the wing, a position which many believed to be his best position. For country, he was accused of spending too much time on the ball and killing attacks attempting to beat his man.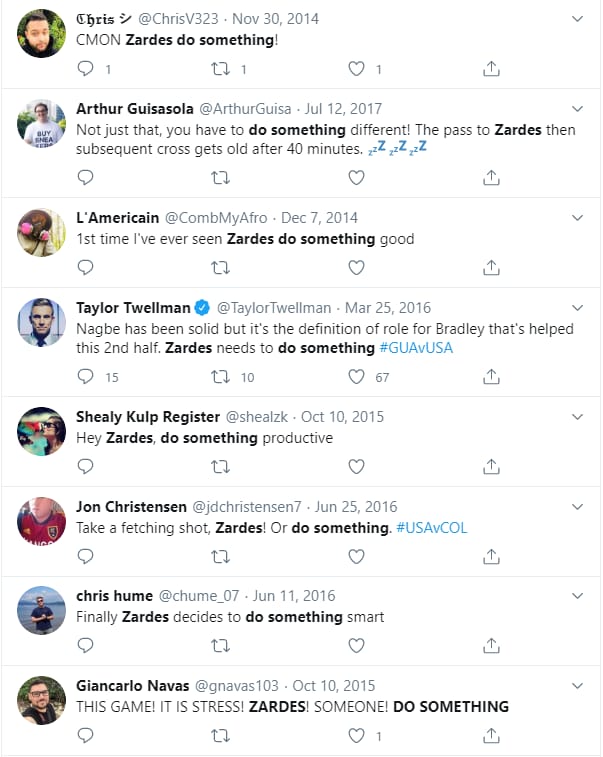 In most cases, admittedly, those accusations were accurate. 
His movement off the ball has always been intelligent, calculated, and efficient. Technically, Zardes is a wonderful dribbler even when he goes on a streak of trying to do too much with the ball. Crossing has always been an area of improvement for him, but when combined with his ability to carve out space for himself there was interest in his development of that part of his game. 
The end product from wide positions, despite the positive aspects of Zardes's game that should have proven advantageous for him, was always just a little lacking. And, not getting any younger since he broke onto the national team scene in 2014, fans had grown impatient with him. 
Since his move to Columbus in 2018, however, Zardes has been almost exclusively utilized as a striker with either two or three attacking midfielders behind him, and has flourished as a result. 
37 goals from 67 outings for Columbus over the last two-and-a-half years certainly quashes the notion that Zardes lacks output. The aforementioned qualities of Zardes can and have been nurtured as a centre-forward by putting the right pieces in behind him — give someone else the creative job, and Zardes can finish his chances.
In the last 18 months, players like Younes Mokhtar, Zelarayan, Derrick Etienne, and Luis Diaz have been brought in to bolster the squad's capability going forward. 
Each one of them, as well as Zardes, have scored or assisted a goal since the beginning of the 2020 MLS season. 
Output is definitely key in MLS. Columbus are determined to be both ruthless and clinical in the attack this year, and Zardes is the man leading them. 
2. Dulled Horns For Red Bulls
Someone left the matador back in the biosphere bubble on Thursday night. 
Against Atlanta last week, New York were incessant in their press almost to the point of annoyance from an opposition perspective. After netting in the fourth minute through a Florian Valot strike that was an encouraging sign of his return to full fitness — he spent most of last season out of contention due to a ruptured cruciate ligament — Red Bulls didn't allow Atlanta any room to think or move for the remainder of the match. 
Coming into this match against Columbus, a side that has showcased their ability to dominate possession, New York were expected to put in a similar shift from earlier in the tournament and try to force opposition mistakes. 
In the first ten minutes after kick-off, they were able to complete that task — only Darlington Nagbe, who WFI's North American editor Chris Smith claimed on the inaugural episode of the North American Soccer Show is MLS's closest comparison to N'Golo Kante for his press resistance, was able to avoid having the ball taken off of him. From Tom Barlow and Daniel Royer up front for New York back to Amro Tarek (who we'll touch on later) and Aaron Long in defence, Red Bulls were sprinting to cluster their opposition when out of possession and quickly move the ball forward in transition.
Nagbe is so good manpic.twitter.com/m28CdJH0hu

— Sanjiv (@USMNTvideos) July 17, 2020
Then that intensity just…died out completely, to put it bluntly. 
There was a small resurrection of their energy in added time, when Crew's Eloy Room went down on 88 minutes and was unable to be substituted, but despite their opponent's goalkeeper being largely unable to move, New York just didn't create quality chances. 
It's something Armas is going to have to seriously look at in the build-up to the final round of the group stages that pits Red Bulls against an FC Cincinnati side that earned their first win in 2020 against Atlanta early Thursday morning. 
Cincinnati are the type of team right now that can be easily bullied into submission, whether that be through a high percentage of possession or quality of chances created. It will be up to Armas and New York to prove they're up to the task and deserving of the chance to move on to the next round.
After Thursday's match, their entitlement to that place is in doubt.
3. A Tale OF Two Defenders — Mensah And Tarek
The difference in quality of performance between Johnathan Mensah and Amro Tarek tells the story of the match. 
Mensah on the night was immense for Columbus. He governed the backline with confidence and ensured stability from the Crew's defence. Composed and imposing in the air, he may have set the record for most aerial duels won in a match — he was constantly rejecting New York's advances, many of which tended to be hopeful-at-best lobbed balls to Royer and Barlow. 
Especially towards the end of the match, when Room was incapable of doing much goalkeeping due to injury, Mensah seemed to be the main man getting the ball out of his own penalty area. He showed determination, intensity, and intent to maintain the clean sheet.
Tarek, on the other hand, was at least a leading character, if not the main spectacle, in both goals conceded by New York on the night. 
When Pedro Santos let a throw-in run across his body, the ball had already passed Cristian Casseres JR and Alejandro Romero in midfield. Tarek, caught between two minds about what to do with Santos, took two steps forward and squared up.
The problem with that decision was that by the time Tarek had set his feet, Santos had already made his next move and proceeded to take the ball further infield. With no chance to catch up, Tarek was wildly out of position — an opportunity that Zardes made sure to take advantage of.
Aaron Long had Zardes in front of him and Etienne behind him — there was nowhere to go. A smooth weighted ball from Santos meant Zardes could take one touch and place his shot in the corner for the opening goal. 
slicin' n dicin'#Crew96 | #CLBvRBNY | 1-0 pic.twitter.com/iptNnBp52r

— Columbus Crew SC (@ColumbusCrewSC) July 17, 2020
For the second, the error is more simple to explain — after a misplaced flick from a Columbus throw-in landed at Tarek's feet, he attempted to hoof the ball forward to restart the attack rather than regaining and retaining possession. Under different circumstances, that wouldn't be a massive issue — except Derrick Etienne standing right in front of him. 
Tarek cleared the ball into Etienne and, when the ball went behind and Etienne went free, he was unable to stifle the attack after his mistake. A cut-back by Etienne allowed him to centre the ball to Zelarayan, who drove the ball hard and low for Crew's second on the night. 
Everyone has a bad day at the office, but Tarek looked the polar opposite to Mensah Thursday night, and the result aptly reflected the disparity between them.
Up next:
Columbus take on group-bottom Atlanta United on Tuesday, 21 July at 8:00 PM CST, while New York will fight FC Cincinnati for the right to move on to the next stage of the MLS is Back Tournament the following day.