James Rowe spoke to former Everton and Wales defender Kevin Ratcliffe for WFi. They discussed his life after playing football, his time at Everton, representing Wales, and his thoughts on the modern game.
---
You retired from playing professional football in 1995. You then had a spell in management at Chester City and Shrewsbury Town. How are are you enjoying retirement away from professional football?
"After retiring from playing at Chester City. I went into football management and I did that for eight and a half years. I felt after eight and a half years that I was not getting what I wanted out of it.
"I could see things changing and how the [role of] manager was slipping away. Football was changing and I was always brought up [to know] that the manager was the best-paid person at a football club and that is not necessarily so now. You lose the type of control over your players when they are earning big money and they don't mean to care as much sometimes.
"I am not referring to everybody, but if lose one player it is very hard to get them back whereas before it was a lot easier if you left a player out you could get him back on your side. These days when you lose a player or make a mistake with him or you leave him out the player does not want to play for you anymore or play for the football club, he just wants to move.
"I could see that creeping into the game more and more. I received an opportunity to do work for BBC Wales which I enjoy. I had a period of about six months to a year where I was looking to get back into football but then I thought to myself do I need that seven or eight days a week type of job where you leave the house at seven-thirty in the morning and getting back home between eleven and midnight."
Ex Everton captain Kevin Ratcliffe paying tribute to Howard Kendall on BBC output today. "He made training a joy" pic.twitter.com/RVsIj8oaBF

— Simon Davies (@simondavies45) October 17, 2015
---
You had a very successful 12 years playing for Everton. What are your highlights and memories and what does Everton mean to you?
"When you have grown up as an Evertonian, the one thing that you want is to play for them and I achieved that, going on to become captain, too. So winning things with them was just like a massive bonus.
"When you start off you have aspirations of playing regularly. Sometimes you do not think you are going to be that good to win things. It just seemed to happen for me. The ambitions I had were to play for Everton before the age of 19 which I did, and then play for Wales before I was 21 years old and I achieved that just after I turned 21 years old. I had got in the squad before that.
"From then on I don't think ambitions came into it, it just seemed to gradually happen before I could get my ambitions in my mind. The success I had at the club and winning the FA Cup in 1984 was a big thing for the squad, and in them days it was approached differently.
"These days they play the semi-finals at Wembley and that is a no-go for me. The biggest disappointment would be to lose a semi-final and not being able to play at Wembley. I think it is a bit too easy for players these days. You think of all the great players in the past that have never played there and these days it seems a little bit easy. You can be playing lower league football and getting the chance. Getting to Wembley should be something a little bit special.
"I also believe that international caps have also become a lot easier to come by these days, especially in Great Britain anyway. I do feel that international caps are given away a bit too cheaply. If a player has one little bit of a spell they are given a cap.
"There are players that receive one or two caps and then they are never seen again. I know that managers have to trial and select players. It just appears to be a bit too much for me in how many players are given caps on the back of nothing really."
---
You mentioned your time representing Wales from whom you made over 50 appearances. How do you look back on representing your country and do you have any special memories or highlights?
"It is the ultimate for you as a professional player. You want to put on that shirt and play for the country of your birth.
"The highlight for me was one of the first matches we ever played at Cardiff Arms Park. I was always a little bit envious of all the rugby players going out and playing there. We were playing at the likes of Swansea, Cardiff, and Wrexham and although they were decent grounds there were not anyway near the standard of Cardiff Arms Park. Once we got the opportunity to play there, that then became our national stadium for a while.
"That was a great honour to sing the national anthem along with the fans when you are standing there getting ready to represent your country. The highs and the lows. Not qualifying for a major tournament but we had some great wins along the way beating West Germany, Brazil, and Belgium which was my last cap and Ryan Giggs's first in 1992. In that game, we put in a great performance but subsequently lost to Romania.
"I always remember representing Wales when I played for Cardiff City after a ten-month absence of international football."
---
You played in the top flight throughout different football eras and represented Wales at international level. When you look back on your playing career could you say who were among the best players you played alongside?
"The big fella in goal. Big Nev. Neville Southall. There is no doubt that he was the best player I have ever played with.
"It is remarkable really, the players I played with and that I chose a goalkeeper, but he was by far the best goalkeeper in the world over six years between 1984-1990.
"Outfield players I would say Trevor Stevens, Kevin Sheedy and everyone who I played with at Everton was a quality player from 1984-1988.
"In terms of the Welsh national team, you have the likes of Ian Rush, Mark 'Sparky' Hughes, the rise of Ryan Giggs — going on to be what many would hope he would go on to become.
"A lot of players get labelled the next George Best or the next big name and then all of a sudden after three or four years they are not there. They get let go by their clubs and sign for somebody else and their talent does not really materialize. But he was one where you were thinking: 'this lad has got something,' and you wanted him to play first-team football and progress.
"He was playing for Manchester United which was a hard thing to do, and he went on to make Manchester United a great team in the nineties and beyond the year 2000, too."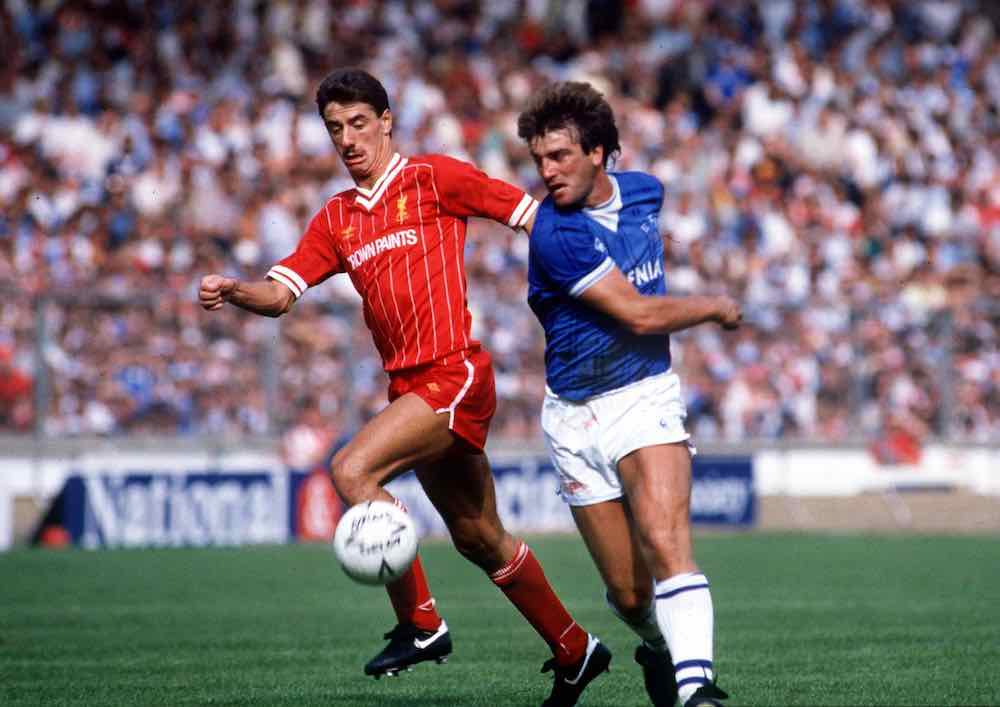 ---
I can imagine in your position as a defender that you came up against some very good opponents through the years. When you look back on your career could you say which opponents stood out?
"I played against all different types of strikers, and that is the one thing that you have to adapt to are the different types of players you play against.
"The big bustling centre forwards or the very small and nippy strikers up front. The technical players that come on and drag you into places that you should not be going to.
"I always thought Mark Hughes was a tough guy to play against. Mick Hartford was a different type of player, and Billy Whitehurst, who was a different type of target man shall we say.
"Then the likes of Kenny Dalglish and Peter Beardsley would like to drop off they could play as a number 10, even though they wore different numbers on the back of their shirts. They used to drop into areas that you did not want to go in as a centre-half, and they would try to draw you out. They had this great vision to pick out players such as Ian Rush who was a fantastic finisher.
"In terms of homegrown players, they would be the ones that I would say were up there with the best in Europe.
"I played international football against the likes of Rudi Voller, Jurgen Klinsmann, and Careca of Brazil. They were a different breed and a different style of play with their movement off the ball, so your concentration level has to be a lot sharper at international level because in them days the pitches were not great and the pace of the game never really stepped up until the final third.
"You could never switch off and you had to concentrate all the time during international matches."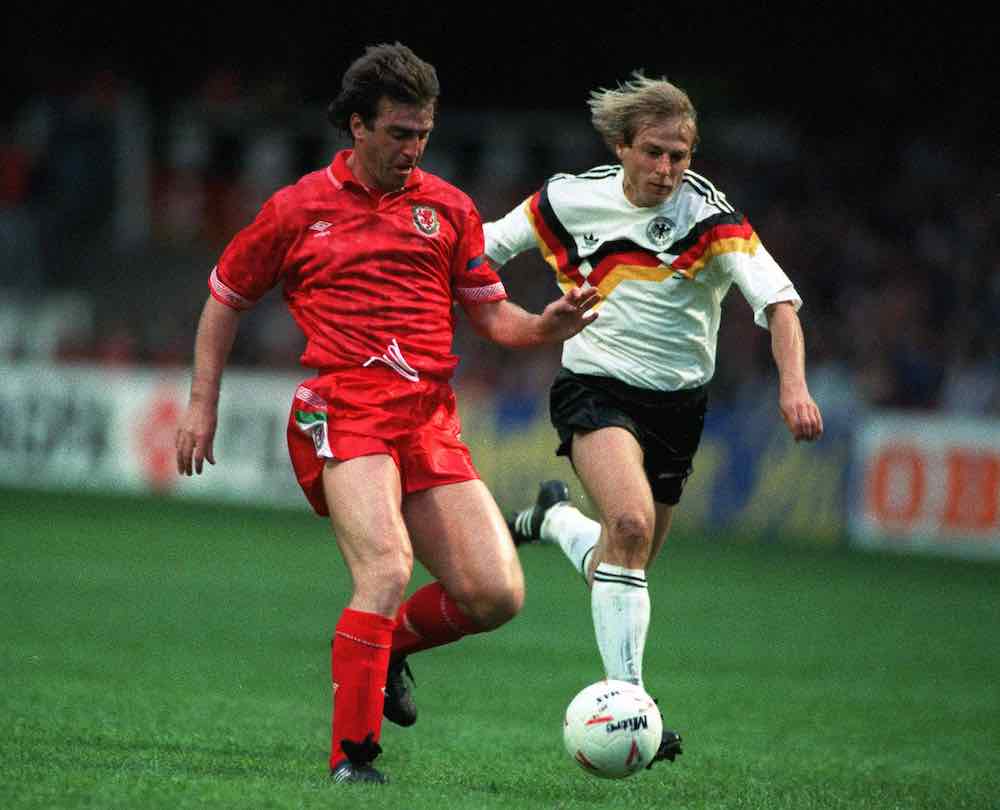 ---
Finally, Kevin, could you say looking back on your career which coaches and managers meant a lot to you and played a key role in your development as a professional footballer?
"When you train you want it to be enjoyable and Howard Kendall made it enjoyable along with Colin Harvey. The two of them were great and they also made training competitive as well.
"He made a fantastic team spirit and united players together. He made them feel wanted and he also gave them responsibility.
"The team that I played in under him at Everton were relatively young, but he treated us like adults and he expected us to act like adults. He gave us belief and his training sessions were modern too.
"At pre-season, he had a philosophy that players had five and a half weeks to get fit not five and a half days. We would play eight pre-season matches and he would give all the players a chance. He had great training methods.
"Whereas now people are quick to jump on the latest Spanish, German or Portuguese ideas of high press, we were doing that back in the 1980s.
"On international duty with Wales, Peter Shreeves was a great coach and I really enjoyed the sessions he put on.
"You learn through better players that you train with as much as you do with the coaches. Players that you play with usually coach you as well. It is amazing sometimes that a coach does not have to do too much work because the players are coaching themselves, and the high standards that they set themselves brings that through.
"The game has changed though, and I feel that is mainly down to the pitches. They say that the game is quicker but that is because of the pitches. I don't know if the players are fitter. I honestly do not believe that players are fitter than what we were. I think that players have had to be fit to play. Players have fitness coaches but they still get cramp so why do you need a fitness coach?
"I just think that football goes around in cycles and the football I have seen been played the last ten years has been 18-yard box to 18-yard box and that is a throwback to the 1960s, and then all of a sudden there is a high press game."