WFi's North America editor Chris Smith spoke to Paraguayan-American journalist Roberto Rojas about Erik Lopez's prospective move from Olimpia to Atlanta United, Miguel Almiron's journey from Major League Soccer to Newcastle United, and the wider perception of players from Paraguay.
---
Firstly, I'd like to ask what Atlanta United fans can expect from Erik Lopez based on his time with Olimpia (should the transfer happen, of course). What sort of player is he, what qualities can he bring to Frank de Boer's side and what is his best role in the team?
"I think what you're going to get with Erik Lopez is a player that is very quick, very technical and has an eye for goal. Even for a player who only made his professional debut a little less than a year ago, you can tell from the way he's been playing, he can be a useful player on all fronts.
"Despite not being a natural striker, he can play as a second forward and shift around when need be. He has the speed, vision, 1v1 ability in the box, strength to beat his man and always appears to have the ball with him.
"I think if you're able to play him either on the wing or as a second forward, you will get the best Erik Lopez who is able to have the freedom to move around the box and be in the position to either create or score."
---
Should the transfer go ahead, Lopez will be the 14th Paraguayan to play in MLS and the third to play for Atlanta United. Do people in the country see the league and, more specifically, Atlanta as a step up in quality and a pathway to Europe? What is the general perception of MLS given that since 2015, no fewer than 11 Paraguayan players have made the move there?
"Absolutely. Another example would be the move of Rodney Redes from Guarani to become Austin FC's first-ever signing.
"I think many young Paraguayans and even South Americans at this point, won't just look at seeing themselves playing in a top league in the region like a Brazil or Argentina but rather look to MLS and see it as a springboard to see their development as a player improve from a young age to hopefully make that jump to Europe.
"The perception has definitely changed with more Paraguayans coming in and becoming successful, which in part plays a huge role in their opportunities at the national level.
"I think the success of Miguel Almiron has opened a lot of doors for many young Paraguayans to hopefully achieve a similar success story that he did at Atlanta and so, just like the rest of the world has been trying to find out, that the league is continuing to improve and get the attention of eyeballs around the world."
---
For me, Miguel Almiron massively improved Newcastle United right from the start, but it's only now that he's beginning to score the goals and contribute the assists. Was he initially seen as a Premier League failure back home, or was there always the thought that he would come good?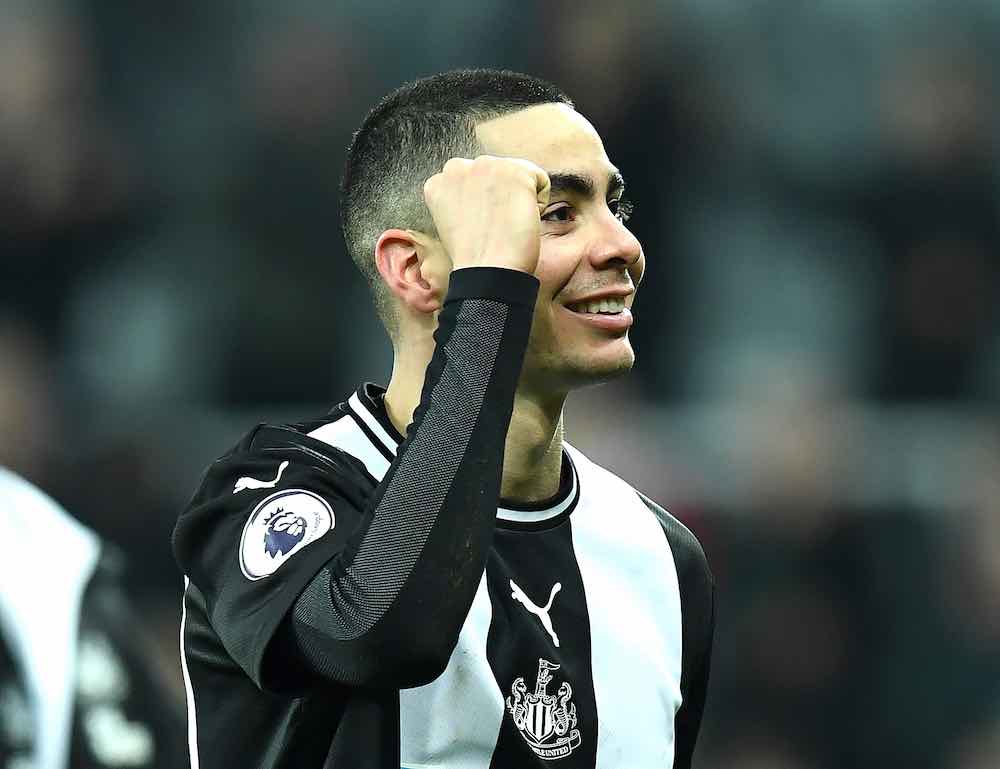 "I think just because of the expectation seen over there on how many Paraguayans have been able to go to the Premier League and how few succeeded, there wasn't a big fear with Almiron because of the reputation he had at Atlanta and solidifying his position as the best Paraguayan player in the world at the moment.
"Yes, while it was a bit fearful that he wasn't scoring goals, it was only a matter of time until he was playing in his best position that would allow him to perform well and now you're seeing the results of it with his performances since the start of the year. He's been a useful and important player at Newcastle ever since he arrived last year."
---
How important do you think Almiron's time at Newcastle — whether it be positive or negative — will be to the wider perception of Paraguayan players? Do you think he needs to be a success to open the pathway for more Paraguayans to move to major European leagues?
Very important. I think similar to what I've mentioned about Almiron opening doors for young Paraguayans to MLS, I think the success of what he's doing at Newcastle will hopefully allow for other Paraguayans to not only go and perform well in say, a Premier League club, but hopefully within the top five leagues across Europe.
"I think that is important to mention, especially since the success of how players do at their clubs can only help when it comes to national team duty, when the end goal is to become a consistent side in South America like they have done in years past qualifying for World Cups and performing well in Copa Americas.
"I think if we see more of that, just so there isn't that big reliance on Almiron, then that can only make the national team stronger."
---
What do you make of the reports linking Almiron to Atletico Madrid? Would he be a good fit there? Is he good enough for an established Champions League team?
"I think it's only fair to get why he's been linked to the likes of an Atletico Madrid because of the style of player that he is and how he's more suited to a more attacking side, which is what Diego Simeone offers to you. I think he still needs one more full season in English football to hopefully improve and do better at Newcastle.
"When he's been able to be that type of important piece consistently for them, then I don't see why he can't make that move when all the interest of Europe's biggest clubs are knocking at his door. It's all interest at the moment from what I'm hearing and so with respect to that, I think it's best to focus on what he does at Newcastle for the foreseeable future."