Thomas Nef spoke to Hamilton Academical's Canadian midfielder Charlie Trafford for WFi. They discussed his move to the Scottish Premiership, where he rates the league in comparison to others in Europe, his desire to get back into the Canada National team set-up, and more. 
---
You've recently moved to Hamilton Academical of the Scottish Premiership. Having played in the Scottish Championship with Inverness, how do you feel about your chances of being involved in the first team considering the jump in quality?
"I'm excited about it. It's a cool step-up to a really good league with a lot of history. I think there are a lot of top players here and everything. I'm going to come here to work and all that but from my talks with the manager, and how things are going, I'm coming in to play a lot. I want to get a lot of games under my belt this season and do what I can to help the team.
"We have a young team and a fairly small squad. It's a really energetic group and that's the way they play. I think that kind of suits me and it gives me a chance to come in and hopefully I can bring a little bit of leadership and bring a bit of experience. And from there, I can do what they need from me to get the job done. I have history with the coach here, so I know what he wants and needs from me.
"It's somewhere I can come in and work; to show my ability and get my foot into the door in the [Scottish] Premiership, so it's an exciting spot for me. Somewhere I definitely want to come in and have a big role here and play a lot, so that's the plan."
---
Coming over from Inverness Caledonian Thistle in the Championship, can you describe your three years at the club?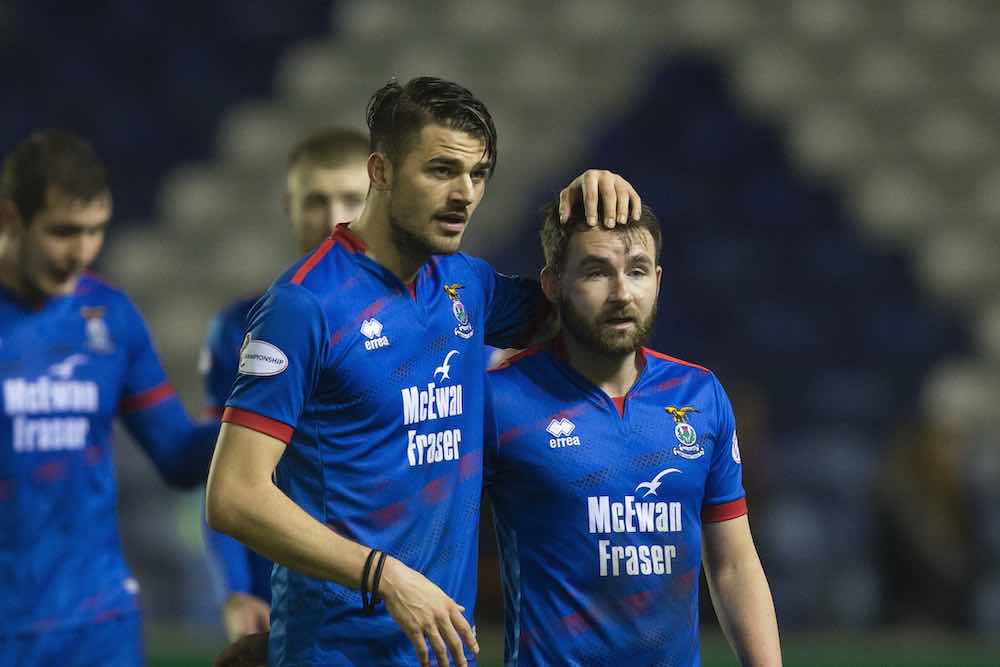 "Inverness, it was a fun one. First of all, It's a tough league to play in, the Scottish Championship. It's a physical league, high energy. You play a lot of games. It's somewhere that is not easy. With that, comes in a rollercoaster of things. I was joining a team that had been relegated, so there was turmoil at the club. No stability throughout my time there. It was a changing team every year, it was a lot of rebuilding at first. But we had a really good team so it was exciting.
"It was kind of a weird time for me, I had just come off some weird issues leaving Poland and my time there. I had a little bit of a falling out in football, so Inverness was an important place to go and rebuild. When I got to Poland, my career was on the rise, I was getting into the national team; I was going into a big league, a good club. I almost hit like a brick wall with what happened to me there, it's taken a bit of rebuilding for me. Although it's a lot of stuff behind the scenes, people don't see that and end up looking at it however it is. Going to Inverness was a way to get me back in love with football and go with a club with a lot of history.
"We got to win some trophies. I had a lot of fun there. I bought a house there. Had my girlfriend move in with me. It was kind of an exciting time, I guess. I had a lot of fun and it was a fantastic group of players and people. A beautiful place to live in. Like any job, and especially in football, it's a rollercoaster of emotions and ups and downs. But it was a brilliant place for me and a fantastic place to go.
"The plan in going there was to get myself into the Scottish Premiership and get myself back into the [Canadian] national team. Although it's taken three years, maybe longer than I thought but you can't put a time. Everyone's journey is a bit different. So at the end of it, I am where I want to be right now, heading forward, back on the rise and quite grateful for my time over at Inverness."
---
Where would you rate the Scottish Premiership among European leagues?
"I think it's just such a cool league if I'm being honest. You get to face so many clubs with a lot of history, Celtic, Rangers but beyond that going to Aberdeen, Motherwell, Kilmarnock, Hibs, Hearts, there are just so many cool teams in the league. Of course, you look at Celtic and Rangers who are doing well in Europe now. It's a very competitive league in Europe now, it's growing and it's starting to show.
"It's a country with absolutely incredible fans. Some of the best fans, fanatical and obsessed. It's a cool place to play. Especially when you get to play away at Celtic or Rangers in front of 60,000 people, it's just incredible. There's really no better feeling as a footballer. I think it's a cool league but also a hard league. Scotland is a tough place to play. People almost underestimate the league and don't realise how difficult it is to come and play in. There have been a lot of good players that have come [here] and maybe struggled. It's Physical, it's fast. It can be scrappy at times and there can be some incredible players. It's something I'm really excited to be a part of to see how I can match up and do here. It's exciting times."
---
The Canadian national team is as strong as it has ever been before, especially in midfield. David Wotherspoon plays in your position and Liam Millar has been called while playing in the Scottish Premiership. How do you feel about the challenge of getting back into the fold?
"What a really cool time for the Canadian national team. It's a program that is really on the rise. There is so much potential in it. There are a lot of really big players coming through now. That's what you want. It would be so much fun to be a part of it.
"At the end of the day, I'm also a big fan of it and I love watching it and seeing them do well. So, I think it's cool and like you said, there are some generational players that are will go on and inspire this next generation. You've named a few there like David Wotherspoon and Liam Miller, both got in there from the Scottish Premiership, but also Scott Arfield.
"There's a handful of younger boys here as well, quite a few boys here that are going to their national teams, you get to see them and learn from them. That's what this step was for me, you know, I had a few offers elsewhere but I thought this was a step that puts my face in the shop window to get back into the national team. There are a lot of other players playing here that are in there so there's no reason why I can't too, if I'm playing every game here. It's a challenge that I'm not going to shy away from and it's definitely a personal goal for me.
"Still, I'm a Hamilton player right now and that's where I'm putting all my focus, getting my head down and grinding there. I've been brought in there to do a job so I'm going to do it to the best of my ability. The stuff on the outside with the national team is stuff that I can't control but, of course, I have my goals and what I'm aspiring to, so I'm excited. There's lots going on and lots of possibilities so it should be an exciting year."
---
We're all excited about the prospect of growing the Canadian Premier League. What have you seen from it as a Canadian professional soccer player and your home town club, Cavalry FC, who your cousin Mason plays for?
"In terms of the league, I think it's great. If the Canadian national team and football in Canada want to go to the next level, you need a professional league so I think it's an incredible start.
"The last two years when I've gone home, I've been training with the Cavalry. I'm real close with Tommy Wheeldon and of course, my cousin [Mason Trafford] plays in the team along with a few friends I grew up with playing. The club's progress was such a cool thing to go back to, and to train with them and see what it's like. It's an incredible set-up at Spruce Meadows. I think there are a lot of other teams doing well, but you have to give so much credit to the Cavalry, they really are doing it so well and they had proven success on the field this year.
"What an incredible thing for young players coming up in Canada, you know, that they have now that to aspire to. Before that, I think we lost so many young players to other sports because they would just see they didn't have a possibility if they wanted to play soccer, whereas with ice hockey or basketball, it's there.
"There are so many more professional opportunities to make it in soccer now, so this is a way of keeping boys in it, and giving them that dream. I think it's brilliant.
"Already at Cavalry, there are a lot of young boys coming through. There are a lot of talented players so it's just paving the way and growing that pool of players and this how the national team is going to improve over the next decade or so. It's something that's so important. You have to give so much credit to Cavalry, Tommy and all the boys there."
---
After the move from Poland back to Finland you moved to Scotland after a month. Was the interest from Scotland already there when you signed for RoPS or did it happen during that short stint at RoPS?
"This whole thing was a bit of a debacle I guess, it was wild. I had a contract from Inverness on the table well before I signed with RoPS. I was off in the summer, so I was just there training with them and staying fit, figuring out what I was going to do with football. Inverness sold one of their players and then after a few weeks training, they started to pressure me to sign the deal.
"This went back and forth, I was speaking to Inverness, telling them I want to play football, so if this is not going to happen, I might just sign somewhere else, so I gave them a deadline. I said I'd give them three days to figure out what's happening here. If not, I'm probably going sign elsewhere so I can get playing games.
"They said, okay, whatever, and on the third day, I sent a message saying okay I'm signing the deal. I signed the contract in RoPS and within about two hours I think I got a call from the coach in Inverness saying okay the boys been sold and we're ready to sign the deal right now. And I thought it was a joke. I couldn't believe it.
"So I found the phone office of RoPS and tried to get them to revoke the deal I had just signed with them and they wouldn't do it. And that's how I ended up for about a month there we were kind of in negotiations, of how Inverness could get me.
"And that ended up paying like a small fee and that and I helped. I ended up actually helping bring another player in there to take my spot, almost so as crazy as it sounds, but other than that, the offer had been on the table for a little while, there were just a few things behind the scenes that were trying to be sorted before I could sign it; but again, I think it all worked out perfectly.
"I had an incredible time and up in RoPS. You know it's such a crazy place to live, but what an incredible group. I'm obsessed with the culture there, and just in terms of where I was in football. You know, like a bit earlier about kind of getting back in love with the game, that was another massive place that helped me out.
"Even though I was just there for a month, played six or seven games, but it was such a perfect step for me. Over the summer it got me some games and got me prepared before heading over to Inverness. It was brilliant and I've got nothing but good things to say about the club. So it was a cool one but it was just crazy, crazy stuff to kind of make it happen but in the end, it all worked out."