From mid-September onwards in the 2018/19 Championship, Norwich swept away nearly all before them in their march to the title.
They were tipped by many who had seen them regularly to be a surprise package in the Premier League, while other regular viewers questioned if their defence would be good enough.
Recent weeks have seen Norwich's relegation boiled down to a couple of simple factors such as those defensive problems and a lack of investment in the squad.
In truth, the issues were wide-ranging. Adam Brandon has taken a look at what went wrong and what needs to be fixed for East Anglia's leading club to make a return to the Premier League.
Recruitment Issues
In the summer months of 2018, just before Norwich embarked on their surprise title-winning Championship season, they had one of their greatest ever transfer windows.
Internationals Teemu Pukki and Tim Krul joined on free transfers while Emi Buendía and Moritz Leitner arrived for a relative pittance in relation to their respective talents. All four, together with some shrewd signings from the previous year, would play their part in a historic campaign for the club as they returned to the Premier League after a three-year absence.
Twelve months later, Patrick Roberts (loan), Josip Drmic (free), Ibrahim Amadou (loan), Ralf Fahrmann (loan) and Sam Byram (£750k) arrived by the start of the season.  Only the injury-prone Byram and Drmic made it past February. This time, Norwich's bargain hunt had gone wrong.
The January transfer window saw Norwich welcome another loanee in the shape of Slovakian international playmaker Ondrej Duda from Hertha Berlin, as well as German midfielder Lukas Rupp from Hoffenheim for an initial £500k.  Both were industrious, but they struggled to impact matches, and after the first game of Project Restart the pair were well on their way to becoming scapegoats.
As soon as Norwich's relegation was confirmed, Duda was allowed to go back to Germany, meaning every loan signing Norwich made this past season did not make it to the end of their original deal.
On paper, many of the signings at the time felt like they were enough to plug holes in the squad and strengthen positions that were considered weak from the promotion-winning campaign.
Amadou was expected to provide more physicality in midfield, Fahrmann was said to be an upgrade on Tim Krul in goal, while Patrick Roberts was meant to be further along in his development than Todd Cantwell. Duda was supposed to offer much more quality in the hole behind Pukki than Marco Stiepermann.
On the pitch, it proved a very different story. Krul and Cantwell are arguably the only two players that improved from last season and this is reflected by the fact they finished first and second respectively in Norwich's 2019/20 Player of the Season award.
Amadou ended up having to fill in at centre back for two months alongside the inexperienced (just six months Championship football at centre-back) Ben Godfrey. When the ex-Seville man finally did get a chance in his favoured defensive midfield role, he lasted just a match and half before being withdrawn at half-time away to Southampton in December having turned in one of the most ineffective 45 minutes of the season and was never trusted in that role again.
Despite a bright start to his Norwich career, Duda quickly faded, often looking like he was on a completely different wavelength to his teammates.
Few sides have invested less upon promotion in transfers than Norwich, who also have the second lowest wage bill in the Premier League. The Norfolk club preferred to invest in the future, putting money into infrastructure at the training ground, handing out new contracts to the key men who got them promoted as well as focusing on financing youth development as part of a long-term strategy of producing their own Premier League stars as a debt-free self-funded club.
Norwich finish 13 points adrift of 19th and yet finish 5th in a table based on 'points per wage bill'.

Sheffield United are way out in front who, surprisingly, have a wage bill £2m less than #NCFChttps://t.co/kwggkSwE0C

— Beyond The Byline (@beyondthebyline) July 28, 2020

West Bromwich Albion manager Slaven Bilic said in the days following his side's recent promotion that: "We have to do something similar to Sheffield United, not like Aston Villa, and definitely not like Norwich who haven't even tried anything."
Those words will not go down well in Norfolk and are ultimately misinformed as Norwich definitely did try to do something, it is just that something proved to be nowhere near good enough this time around.
Head coach Daniel Farke reflected about Norwich's transfer policy in recent days:
"We had to decide, do we use this season to pay for all our sins of the past, to invest in the current squad, to invest in the infrastructure and look to the mid to long term?" he said. "Or do we want to take a big risk to spend all the money on players?
"If I was selfish as a head coach I would have cried for more quality to improve our chances. Maybe our promotion was two to three years ahead of schedule.
"We have such a young side and we are a work in progress. We accept from a sporting point of view this was not the outcome we wanted. But we have not risked the future of the club. We can attack the Championship again."
It is to his credit that Stuart Webber has faced up to the fact Norwich's recruitment hasn't been good enough this season and he has assured fans that lessons have been learnt and a fix is in the pipeline.
"I appreciate that the supporters want someone to blame," he said. "What I'd ask is blame me, no problem.
"I'm in charge of the football strategy, I make the calls. Every player here, I've either signed or given a new contract to. Every member of staff, the same.
"If you want a scapegoat, then you're looking at him. I've got no problem with that."
With this season yet to be completed, it was important for the club to be seen doing what they can to reverse the backward momentum, and it is unlikely we will hear from Stuart Webber much until next season now.
Webber hasn't hung about in the transfer market. Back in January he had already sealed three deals. Left-back Sam McCullum was signed from Coventry, while Luxembourgish forward Danel Sinani arrived from F91 Dudelange and defensive midfielder Melvin Sitti was signed from Sochaux.
These have been joined by Danish defensive midfielder Jacob Lungi Sorensen and Polish flying winger Przemysław Płacheta, who arrived at Carrow Road at the start of the current window, the latter for more money than Norwich have paid for any player since 2017.
This week has seen USA U20 star Sebastian Soto arrive from German club Hannover 96 and right back Bali Mumba has signed from Sunderland. The former is set to go out on loan to Telstar if he impresses on trial, while Mumba has been added to Norwich's first-team squad, accelerating rumours that Max Aarons is on his way out.
Fans will be keen to see more defensive steel at both centre-back and defensive midfield, although the arrival of Sorensen and Sitti may prove to be the solution to the midfield issue if Norwich's transfer business ends up being every bit as good as 2018.
A lack of real pace was also a concern throughout the Premier League campaign and that is something the new Polish signing certainly can offer. Płacheta is lightning quick, but it doesn't take too much research to see his first touch and decision making will be something Farke and his coaching team will have to work on.
This week has seen Kieran Dowell sign from Everton. A 22-year-old attacking midfielder with a couple of years of Championship experience under his belt. He is exactly the kind of player Farke has specialised in making better in his time in charge of the Norfolk outfit, although it is the clearest signal yet that either Cantwell or Buendía could soon be on their way out.
Webber and Farke have both stated Norwich don't have to sell any of their talent, but both have also said the squad needs freshening up. Agents will be in the ears of Norwich's younger stars and it wouldn't be a surprise if Norwich end up selling at least two of Ben Godfrey, Max Aarons, Jamal Lewis, Cantwell and Buendía in this transfer window.
Norwich handed out new contracts to all five last year and Buendía has gone on record recently to Sky Sports saying he is happy at the club, but realistically it is unlikely they will able to keep him given how much positive press he has received this season for his chance creation and skillful play.
Finally tally of this seasons most prolific creators in the Premier League. pic.twitter.com/aLpkEVJk3k

— Peter McKeever (@petermckeever) July 27, 2020
Lack of Attacking Threat in 2020
At this point, it needs to be made clear that Norwich's defensive issues are also a key reason they had little chance of staying in the Premier League, and some of this is covered in point three. There is also a lack of physicality and power in midfield areas which meant the defence lacked the protection they often needed.
But Norwich didn't get relegated just because their defence isn't good enough — it is because they have stopped scoring goals. On paper, if you look at the talent and the stats of players such as Buendia (one of the best creators in the league) and Cantwell (impressive goal tally from midfield in a struggling team) then you'd expect Norwich to score more goals than they do.
Pukki´s 11 goals is a respectable tally, but he hasn't managed one in open play in 2020, and his miss against Manchester City on the last day of the season was a classic example of a striker completely lacking confidence in front of goal.
Norwich finished the season scoring twelve fewer goals than their xG suggests they should have. There was an over-reliance on Pukki to score the goals, with Cantwell being a surprise support act.
Most Norwich fans would have been shocked if at the start of the season they were told Emi Buendia would only score once all season.
Marco Stiepermann also failed to find the net, while Mario Vrančić scored just once too. All three were key to supporting Pukki last term and Norwich have become the first team in Premier League history to have no more than two players score more than two goals in a campaign.
Without the trio of Pukki, Buendia, and Cantwell firing this year, and often being dropped for players who offer very little attacking threat in comparison, it is not a surprise that Norwich's goal threat has been reduced to an average of less than one goal a game by March and has only got worse since.
During Project Restart, Norwich failed to score in five league matches in a row for the first time since 1929 (the first game in that run was pre-lockdown), and also became the first side in the Premier League to lose five consecutive home games without scoring.
5 – Norwich are just the third team in English top-flight history to lose five consecutive home games without scoring a single goal, after Sheffield Wednesday (April 1920) and Birmingham City (February 1922). Whimper. #NORBUR pic.twitter.com/26oKYVRagQ

— OptaJoe (@OptaJoe) July 18, 2020
Buendia broke that barren run with his strike away to Watford, which was his first of the campaign and just the second goal Norwich scored on the road in the first half of a match all season. It was the only league goal they scored during Project Restart, and no Norwich side has ever scored fewer goals in a league campaign.
These are pitiful statistics, but how did it come to this?
On the opening day of the season, Norwich went to Anfield to face recently crowned European champions, Liverpool. Expectations were low result-wise and the 4-1 defeat didn't surprise many, but the level of performance did with Norwich creating various openings. Jurgen Klopp called Farke's side "cheeky" while Liverpool fans and commentators at the game were very complimentary in general about the performance of the newly-promoted side.
Norwich's xG that day was over 1, something only Everton, Manchester City and Chelsea have managed at Anfield this season. Cantwell and Buendia looked incredibly bright on the ball, Pukki was sharp up front, while Stiepermann linked the play nicely even if his shooting left a lot to be desired.
The goal Norwich scored that day was one we would see repeated often in the first couple of months of the season. Slick and incisive football from Buendia and Pukki that had many tipping Norwich to stay up comfortably. A dominant and swaggering 3-1 victory over Newcastle the following weekend underlined their credentials further.
In 2020 though, after a promising January, the attacking play became slack and insipid. The belief and confidence with which they played with at the start of the season had been completely beaten out of them by the time Brighton turned up at Carrow Road to all but seal Norwich's fate in early July.
In the chart below you can clearly see a significant drop off in Norwich's xG output post-lockdown with them rarely getting close to their season average. Other attacking data reflects the same, with Norwich registering fewer shots and fewer touches in the opposition box during Project Restart compared to the previous periods of the season.
Opposition teams found it too easy to stop Norwich playing out from the back and they lacked the options to change the way they played. This issue became more obvious without the crowd to motivate the players, but had been an issue for much of the season with the players unable to create the angles to progress the ball successfully from back to front.
Kenny McLean was experimented with in the No. 10 role in place of Marco Stiepermann in late November to late December. This saw Norwich's performances (and, briefly, their results) improve as he offered an aerial outlet as they tried to go slightly more direct, but it was a lot to ask of the Scottish midfielder in a role he wasn't used to.
Delving deeper into Wyscout data, in addition to a lack of any real aerial threat, Norwich rarely used the full width of the pitch and when they did, it was ineffective. They were 20th in the Premier League for accurate crosses, and for all their possession (9th in the Premier League), in many matches they struggled to progress the ball to the final third (18th in the Premier League) other than from a Buendía through ball.
Norwich found it difficult to get the balance right in defensive midfield areas. Leitner linked the play well, but was far too often bullied out of matches. Tettey and McLean offered some physicality, but not enough quality to progress the ball. Mario Vrančić wasn't used as often as many fans felt he should have been, but when he was he was inconsistent.
Overall, it was too predictable and as the season went on it became easier and easier to combat. The Championship will undoubtedly offer Norwich more chances and more time to work on their style, but how quickly the belief and confidence can be restored to the levels we saw for most of 2019 is a much more difficult question to answer.
They will surely need to keep one of Buendia or Cantwell, as either's chance creation output would be difficult to replace on Norwich's budget, even at Championship level.
Defensive injuries
The enforced rotation at centre-back has, without a doubt, been one of the biggest factors behind Norwich's struggles this season. The injury problems that piled up in the days before the incredible 3-2 win over Manchester City seemed to be a blessing in disguise for that game, but at Burnley the following week many of the issues were exposed within the first half an hour.
The way Norwich were relentlessly pressed and forced into errors by Burnley at Turf Moor became a regular occurrence over the following weeks, and the belief in playing positively out from the back drained visibly.
It is no coincidence that the better performances, Manchester City aside, came when there was a semblance of a settled backline even if results didn't always follow.
Godfrey has especially had a great deal to cope with in his first season in the Premier League, and this is his first full season playing centre-back.
When many have evaluated his obvious defensive weaknesses, this is sometimes missed in the analysis of his season and Norwich's in general, the lack of cohesion was striking.
The 'Who Can Start The Most Consecutive Games As Ben Godfrey's Centre-Back Partner In 2019/20?' counter resets again…

Hanley 3
Zimmermann 1
Amadou 6
Tettey 2
Zimmermann 5
Zimmermann 1
Hanley 4
Klose 3
Tettey 1#ncfc 🔰

— NCFC Numbers (@ncfcnumbers) July 1, 2020
Godfrey started this campaign with Hanley as his centre-back partner before Hanley pulled a muscle. Christoph Zimmermann returned from injury then lasted just half an hour before being brutally cut down by a late challenge from West Ham's Sebastian Haller. Timm Klose was also on the end of a poor challenge in the League Cup away to Crawley in August that would end his involvement until June.
This all meant that Ibrahim Amadou, a defensive midfielder by trade, would play two months at the heart of the Norwich defence, while they also struggled for numbers and physical presence in defensive midfield roles.
The constant disruption to the defensive areas of the side meant they struggled to execute successful patterns of play out from the back while teams had worked out how to press them more effectively. The lack of balance and cohesion ultimately led to Norwich going through various barren spells in front of goal.
On their way to winning the Championship, Norwich looked the fittest side in the division, but at Premier League level they looked average at best despite all the running.
Physically, they were too often bullied out of matches and if their defensive issues are to improve they must look to add more steel and tenacity in central defensive areas to cover the way Farke liked to have his full-backs push on.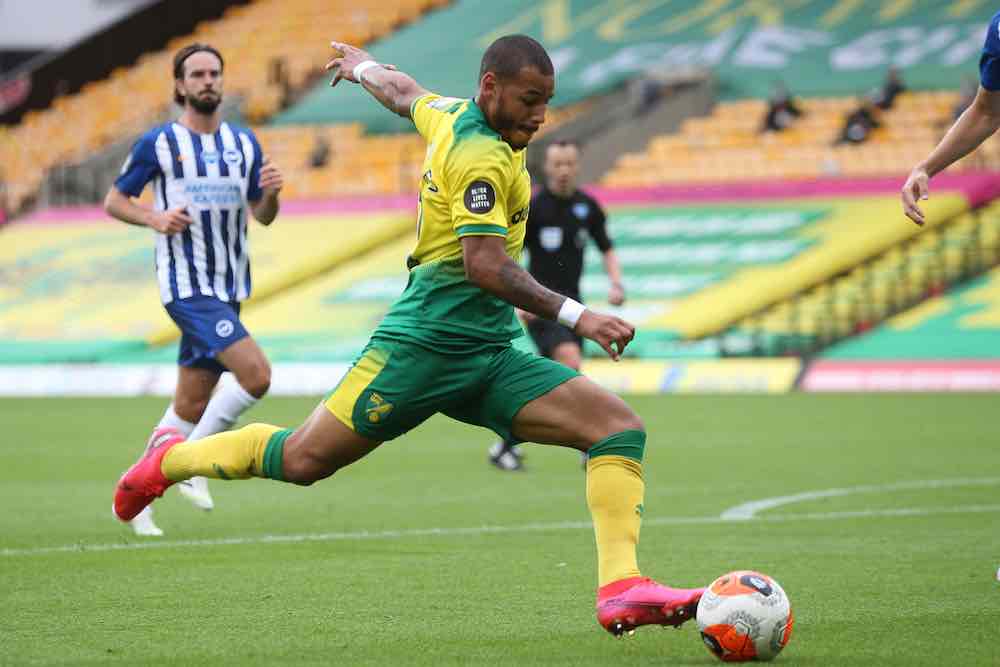 With Cuban winger Onel Hernandez (above) set to stay and Płacheta also signed up, it would not be a surprise to see Norwich change tack next season and diversify their attack by using more pace out wide.
Tactical Inflexibility
Norwich were the only side not to pick up a point from a losing position in the league this season, and are the first side in Premier League history to record this most unwanted of records. It is understandable that many supporters find this unacceptable, but there are some mitigating factors.
Farke has had a lot of the aforementioned injuries to deal with in defence, meaning he was rarely able to play or switch to a 3-5-2. That is almost certainly something he would have done in matches and it was a tactic he regularly used in the Championship, often to great effect, when Norwich were losing.
However, his in-game management has always been called into question even when Norwich were winning every week. It is possible that Farke could benefit from having a new number two beside him.
The German has proved to be an excellent head coach in terms of improving players and bringing through talent. Yet there is no denying he has been found wanting tactically at times, and a new assistant with more of an eye for tactical details could really help him.
This is something that worked spectacularly well for fellow countryman Jurgen Klopp who brought in Pepijn "Pep" Lijnders last year, while Alex Ferguson often changed his assistant to move with the changing tactical trends during his reign at Manchester United. A change in this department is also much cheaper than a huge squad overhaul or change of head coach, and adds some freshness to training methods.
Norwich have also struggled to deal with set pieces ever since Farke took over, and they were exposed on many occasions in their disappointing Premier League campaign.
Therefore, Norwich could do worse than look at clubs such as Liverpool and Brentford who solved their issues at set pieces by employing either a specialist coach or a specialist team to look into this area of weakness, as well as bringing in a more aerially dominant centre back.
Meanwhile Sheffield United and Liverpool both have a throw-in specialist coach, a marginal gain that helped the Blades turn the game around at Carrow Road in December.
Although the attacking effectiveness all but disappeared in the final weeks of the season, Norwich have effectively stuck to their principles of playing out from the back. But with belief dissipated, they looked like they were doing it half-speed compared to how they looked in that famous 3-2 victory over Manchester City last September.
Beating the press by sticking to our philosophy… 🤗👏 #ncfc pic.twitter.com/16bSPQI7r1

— Norwich City FC (@NorwichCityFC) September 16, 2019
December
This was the key month and moment in Norwich City's season. December is where the belief really started to drain. A month where the Canaries played well enough to get anywhere between nine to fifteen points, but ended up with just four. It was the month where Norwich produced some of their best football of the season and saw electric displays from Argentine sensation Buendia.
29 – Norwich City's Emiliano Buendía created 29 chances for his teammates in December, the most by a player in a single calendar month on record in Premier League history (2003-04 onwards). Wizardry. #OptaPLRefresher pic.twitter.com/8nAG9mPArp

— OptaJoe (@OptaJoe) June 12, 2020
Norwich deservedly led at half-time against Arsenal, Sheffield United, Leicester, Wolves and Tottenham. While Aston Villa away saw the Canaries dominate the whole game but switch off at a crucial time and not even collect a point for their endeavour.
In the majority of these matches, it felt like they had done enough to have won over the course of the ninety minutes, but a lack of a cutting edge combined with some naive play proved costly once more.
Pukki's disallowed goal against Spurs is the moment every Norwich fan will remember from this season as the point our spirit broke. That would have put Norwich 2-0 up, the four times Norwich were two up in a match this season in all competitions, they won.
New Year's Day against Crystal Palace and it was more of the same. Norwich took an early lead but were pegged back late on. Two more dropped points. Few sides have lost more from winning positions this season.
Negative Environment
'Ignore the noise' is a popular refrain from Webber and Farke when asked what they think of opinions from outside. It is admirable, and probably a wise move to pay little attention to the criticism and negativity of those who don't understand the project being undertaken at the club.
However, some of the 'noise' has arguably come from the head coach himself this season. Talk of Norwich needing a 'miracle' or just a '5% chance' to survive was repeated a little bit too often in the end.
In an interview with the club's in house media he directly addressed this criticism and played it off as realism, which in a sense is fair and he acknowledged that this is perhaps not something the fans want to hear. The bigger question is how did it affect the mentality of the players?
The demeanour of Farke in the early weeks of the season, even after defeat, was one of a man wholly proud of his team and he appeared quietly confident.
Over the course of the season, as the problems mounted that naturally dissipated and some fans and local media added to the negativity at times when perhaps the club, Farke, and the players needed more faith in them.
On social media especially, players were subjected to criticism and abuse, and it is this kind of noise that is increasingly more difficult for young professionals to ignore. The rate at which players can go from heroes to villains feels increasingly rapid, while there is an increasing culture among football fans online that a player/manager/team is either a superstar in the making or the worst player to ever pull on the shirt leaving little room for nuance.
It has often been said by Farke this season that Norwich's defence is especially young and it is their confidence that has been battered more than most, and it was a point reiterated by Webber recently, too.
The pass-and-move sequences the club boasted about on Twitter in the wake of the win over Manchester City are now a distant memory, not just to fans, but also to the players.
Confidence is a huge intangible in football and when a number of your key players lose it, it becomes especially difficult to effectively play the type of football Farke aspires to.
Next season the messaging will have to change and be more bullish and confident. For the first time since joining, Webber and Farke will be in the situation where Norwich will be expected to win most weeks. The men in yellow and green will be tipped for a return to the top flight by many and failure to challenge could see a more significant number of fans turn against them.
The squad should be at least capable of finishing in the playoffs given the club have stated they are confident of keeping hold of most of their stars, and the aim of the current stewardship is to keep Norwich in the top 26 teams in the country.
Project Restart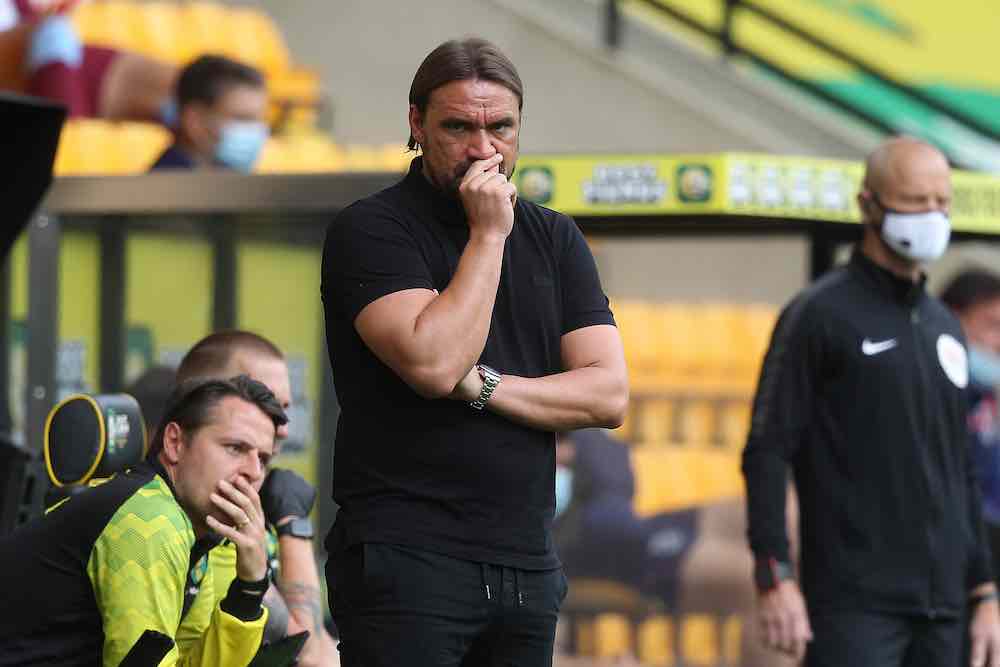 Just before Covid-19 paralysed football, Norwich had beaten Leicester in the league and Tottenham in the FA Cup to reach the quarter-finals for first time in almost three decades. Max Aarons and Daniel Farke have both been quoted in recent days that the feeling in the dressing room was that the long break came at a time when they were just building a bit of momentum.
There was still a sense of optimism coming out of the club in the days leading up to Southampton at home, Norwich's first game back in Project Restart. There was a perception in and outside of the club that Norwich had some 'winnable' fixtures against sides that either had more pressure on them, such as West Ham, Brighton, and Watford, or had little to play for – Southampton, Everton, and Burnley. Five of these were at home.
To have survived, it looks like Norwich would have needed to win all six of the games (the other three were Arsenal/Chelsea/Manchester City), which in hindsight really does seem fanciful given they recorded just five wins in 29 matches before Covid-19 brought football to a halt.
For the opening ten minutes against Southampton, this optimism looked well placed. Norwich were sharp, snappy, and bright, but for the final eighty minutes, they looked sluggish, stretched and crestfallen, as the Saints struck three times without reply.
Accusations of players not being fit enough followed, and although in some sequences of play it arguably looked like that, in reality, it was probably just a superior set of players tearing an inferior set apart, where the final strains of self-belief in an eerily empty Carrow Road had been drained out of them.
Until Covid-19 hit, only Brighton had run more than Norwich this season, and although it is difficult to quantify work-rate beyond that, it suggests the players weren't walking around accepting their fate as some harsher critics among the fanbase have claimed. It was a point Farke made before the Chelsea game, that sometimes a lack of belief and quality can be wrongly translated as a lack of desire and work rate.
Next season is likely to start either with a continuation of behind closed doors, or with stadiums at somewhere between 25% to 40% capacity. Whatever the situation, Norwich will miss their fans more than most. Carrow Road is one of the most intimate venues with a guaranteed full house every week, and missing that was without a doubt another factor to consider in their recent horrific run of form.
I'll just leave this here…taken from a piece on The Blizzard. #Carra #NCFC pic.twitter.com/IYQCnJ7n8U

— Adam Brandon (@AdamBrandon84) June 16, 2020
Inexperience
From the sporting director to the head coach to the players, Norwich City entered the Premier League lacking experience in the top flight of English football. Webber has already mentioned that he feels the club as a whole has learnt a lot from this year.
In some quarters, a lot of this inexperience has been portrayed as a lack of character, but for the majority of the season Norwich's back four has been the youngest in the league in terms of age and top-flight experience. Their young players were too often outrun and overpowered by superior athletes, something that Webber and Farke have both been keen to point out in recent days.
Few leagues if any are more forgiving than the Premier League and this proved the case time and time again with Norwich seemingly comfortable in a match before being hit by a sucker punch mostly of their own doing.
Norwich are unlikely to make significant changes to their transfer strategy, with experienced players often coming with high wages and potential baggage, but they will continue to develop their own. Ten academy graduates featured in the squad for the 5-0 defeat to Manchester City on the final day with eight of them playing a part.
Stuart Webber once again set out his strategy to sign young and hungry players in his interview with the club's official YouTube channel.
However, as the club discovered with Tim Krul, sometimes experience brings leadership and consistent performances at the highest level. Therefore they would be wise to keep searching the market for some older and wiser heads.
This would not only help guide them through more troubled waters that often await after relegation from the Premier League, but would also help them if they were to make a rapid return to the top flight.