By Andy Wales.
Many highly-rated teenage footballers will fail to fulfil what is seen to be their potential. For a time, it appeared Serge Gnabry was going to be amongst them. Anyone who witnessed his loan spell at West Bromwich Albion could be forgiven for expecting his career to tumble down the football pyramid.
When Arsenal signed him from VfB Stuttgart's academy in 2011, aged just 16, hopes were high for the young German. He was soon involved with the first team and made his Premier League debut in October 2012 as a 17-year-old with a quietly growing reputation among fans. His steady progress was curtailed by a serious knee injury in March 2014.
It proved to be an important turning point in his career. He spent much of the next campaign recovering and regaining fitness. With this in mind, he was infamously sent on loan to West Brom under Tony Pulis. Gnabry only made one substitute Premier League appearance there, failing to impress a manager whose style hardly suited that of Gnabry.
By now, critics had written him off as just another promising talent who failed to live up to his potential. Hhis loan spell at West Brom was cut short, and he decided a move back to Germany was what he needed.
Use your football knowledge to make bets on the football stock market – Football Index
A late call up to the 2016 Olympic team saw him grab his opportunity. He played a leading role in Germany winning a silver medal and finished the tournament as joint top-scorer. Arsenal boss Arsene Wenger wanted Gnabry to extend his stay at the Emirates, but his mind was made up. Arsenal reluctantly accepted a €5m bid from Werder Bremen at the end of August 2016.
Gnabry built upon his impressive showing at the Olympics by lighting up the Weserstadion. With his confidence high and opportunity afforded to him, he rewarded Werder's faith by hitting 11 goals. The club just missed out on European football, but Gnabry's performances had attracted attention. Bayern Munich took advantage of a contract clause to snap him for just €8m.
He was immediately sent on a season-long loan to Hoffenheim, where he continued his good form. The opportunity to work under Julian Nagelsmann and play regular football benefitted Gnabry. He again reached double figures in goals and helped Hoffenheim secure a third-place finish in the Bundesliga.
Gnabry was now ready to challenge for his place at Bayern. Those two years in Bremen and Hoffenheim had proved decisive in his development. His decision to leave Arsenal and return to his homeland had been vindicated. His blend of skill, pace, power and intelligence was now aided by the experience gained; the exciting potential was being realised.
By now, he was also a regular in the national team. Germany manager Joachim Löw professed to being a long-time admirer and told journalists: "Gnabry will always play under me."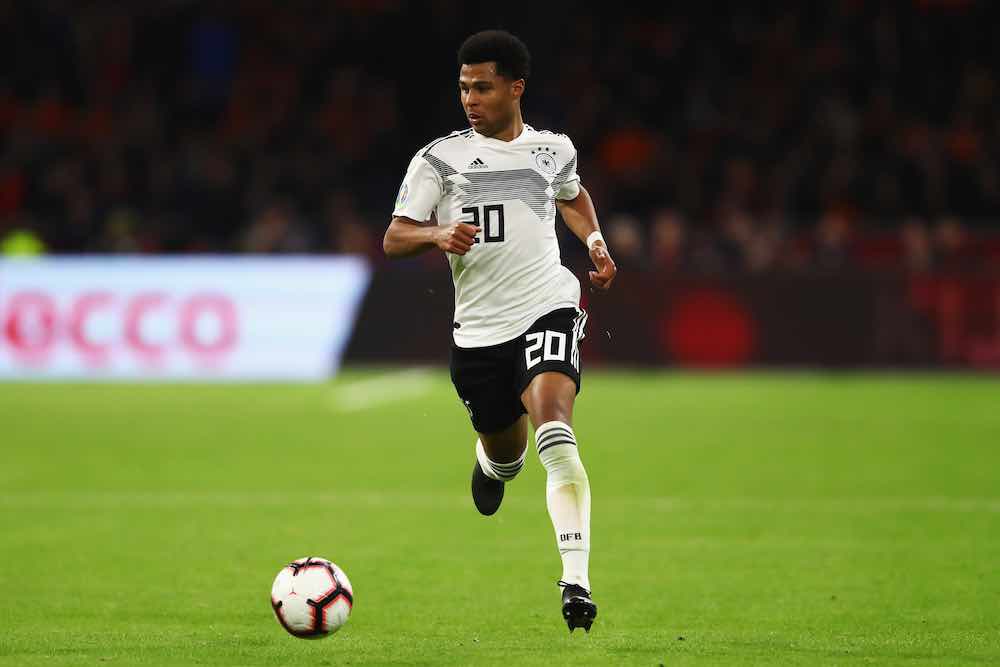 Gnabry's Bayern career began under Niko Kovac, who would have a difficult time as boss. Whatever the internal issues at Bayern, Gnabry was still able to make the step up and shine. His debut season at the Allianz saw him finish with 10 Bundesliga goals. It made him the first player to reach double figures for goals in three consecutive seasons for three different teams.
With Kovac replaced by Hansi Flick in November 2019, Gnabry has quietly become another player to flourish under the new boss. The season is not yet done, but the winger has already recorded his best-ever return. Not only did he again achieve double figures for Bundesliga goals, but he also did the same with assists for the first time in his career. Before Bayern's Champions League quarter-final showdown with Barcelona, Gnabry stands at 20 goals and 12 assists.
In an interview with The Athletic's Raphael Honigstein, Thomas Müller spoke of his role in the team changing to become more of a creator. He made particular reference to the direct threat of Gnabry and the importance of embracing it.
His ability to dribble and come inside from wide positions to score is somewhat reminiscent of what Arjen Robben offered Bayern during his illustrious career there. His four-goal blockbuster performance in the 7-2 demolition of Tottenham Hotspur in the Champions League earlier this season was a highlight of his growing influence.
Interestingly, although Gnabry is not averaging more shots per 90, he is dribbling more and has had significantly more touches in the opponent's box than ever before.
It appears his impressive skillset has married well with the tactical tweaks Flick has brought to the Bayern team.
With team-mates and his manager at club and international level so high on him, the sky really could be the limit for Gnabry and what he can go on to achieve.
Buy shares in Serge Gnabry on Football Index – bet on the football stock exchange
---