By Chris Smith.
Boavista completed their second transfer from Texas in less than a month, securing the signing of Alberth Elis from Houston Dynamo on Monday.
After years spent languishing in mid-table and the lower leagues, the 2000 Portuguese champions have been busy revamping their squad during pre-season, bringing the likes of Javi Garcia and Adil Rami to the club, as well as former Manchester United playmaker Angel Gomes on loan from affiliated club Lille.
The Panthers also secured the $3.5m signing of United States international right-back Reggie Cannon from FC Dallas earlier this month and having followed that up with the arrival of Elis, there seems to be a clear pathway from Texas — and MLS as a whole — to Portugal.
Boavista confirmed on their Twitter page that the Honduras international has signed a four-year deal at the Estádio do Bessa, with the fee reported to be in the region of $6-8m. The Dynamo will receive a percentage of any future sale.
Bienvenido, Alberth Elis!
A Pantera chegou!🐾🏁

✍️ Contrato até 2024
⚽ Avançado
👉 24 anos
🇭🇳 41 internacionalizações
🌎 Ex-Houston Dynamo #boavistafc #alberthelis #honduras #blackpanther pic.twitter.com/LxOJVQOFVL

— Boavista FC (@boavistaoficial) September 21, 2020
Elis — one of Houston's Designated Players — had managed 35 goals and 28 assists in 101 appearances for the Dynamo, helping them win the 2018 US Open Cup, and had arguably been their best player during 2020 as Tab Ramos' men fight to put themselves back into the MLS Cup Play-off conversation.
"First, I want to thank the fans for their support at every game over these last four years," Elis said following the conclusion of the transfer.
"You made this feel like home and I will always carry that with me. We have celebrated a lot of goals, winning the Open Cup, and you made those moments special.
"To the staff, you played a large role in preparing me for the next chapter of my career and I am eternally grateful for your confidence in me. This is a dream come true and I wouldn't be here today without the Dynamo.
"Hopefully, I can come back in the future. I'm excited to see what this team will accomplish under Tab and his staff. Again, thank you Houston."
Elis Transfer Another Step In Garber's Masterplan?
MLS commissioner Don Garber has been forthright in his stance that to compete in CONCACAF and globally, the league must become a serious player in the transfer market. To do so, he feels MLS needs to shed its perception as a retirement home for European veterans and become a "selling league".
"As a person who has been selling this league for nearly 20 years, I've always believed that you needed to have the players that resonated in your market to be those that could be aspirations for young kids who are peeking through the fence when they see them train," Garber said in 2018.
"We all need to get used to the fact that in the world of global soccer, players get sold. We have been buying for so long, and as we've gone through the analysis, it's hard to justify that investment and the investment that we have to make in player development.
MLS academy alums playing for Juventus, Bayern Munich, Borussia Dortmund & RB Leipzig this weekend. Probably Lille, maybe Man City as well.

Just another weekend.

— Matthew Doyle (@MattDoyle76) September 20, 2020
"We've got to have something that turns this model around or else it's going to be unsustainable. When I see Alphonso Davies get sold for what could be $22m, that's a positive thing for the league."
Elis not only joins Cannon at Boavista, but also the likes of Alphonso Davies, Chris Richards (both Bayern Munich), Weston McKennie (Juventus), Tyler Adams (RB Leipzig), Zack Steffen (Manchester City) and Miguel Almiron (Newcastle United) as players to come through the MLS system and earn a move to Europe in recent years.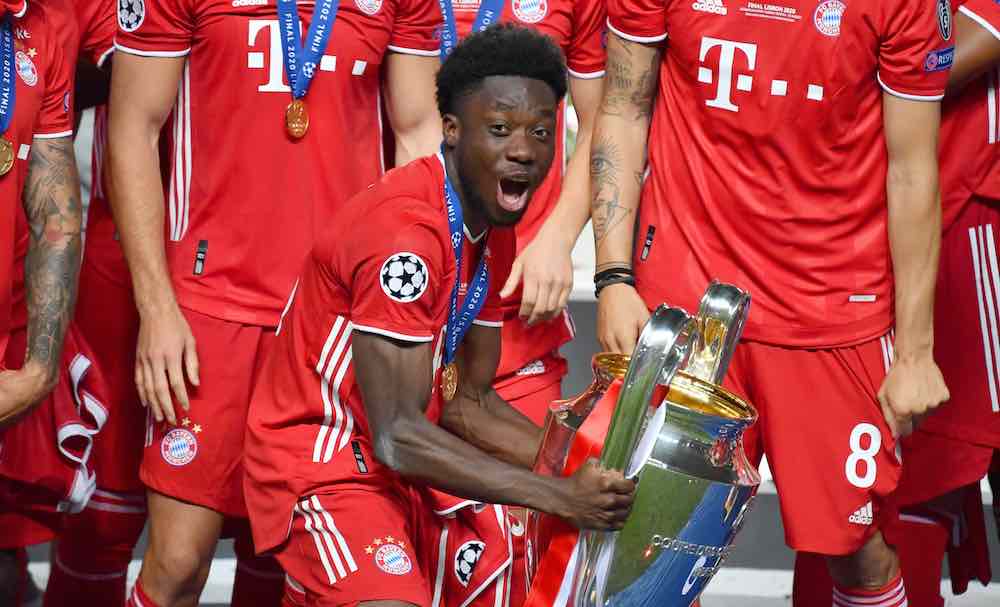 Although not as high-profile as the likes of Davies or Adams, Elis and Cannon moving to Boavista suggests more European clubs are now scouting MLS extensively in search of bargain transfers. The fact that there are now mid-sized moves going through alongside blockbuster deals can only be seen as a positive for the league from Garber's perspective.
Who Could Be Next To Cross The Pond?
Young NYCFC full-back Joe Scally is already confirmed to be moving to Bundesliga giants Borussia Monchengladbach in January 2021, despite the 17-year-old making just four senior club appearances so far. The pathway is well and truly open.
When thinking about who could be the next to move to Europe, a few names immediately jump to mind:
Brenden Aaronson and Mark McKenzie: The Philadelphia Union pair have done nothing but turn heads in 2020. Aaronson is a supremely gifted playmaker and this season, has been adding final product to his game in terms of goals and assists, he is deservedly linked with a host of Bundesliga clubs, as well as RB Salzburg. McKenzie, meanwhile, is showing all of the defensive attributes to be a solid European centre-back, while his ambitious, line-breaking passes are key to the way the Union play. Celtic have most recently been linked with him.
Diego Rossi and Eduard Atuesta: Despite their struggles in 2020 thus far, few can deny that LAFC are packed with players worthy of crossing the Atlantic. Rossi has not only picked up from where he left off in 2019, but effectively carried the Black and Gold this term in the absence of Carlos Vela, scoring goals for fun and proving a thorn in the side of defenders with his sheer pace. Meanwhile, Bob Bradley's midfield just doesn't seem the same without Atuesta and whether it's sitting in as a No. 6 or running box-to-box as a No. 8, the Colombian feels like the perfect fit for a number of European leagues.
James Sands and Gianluca Busio: Two less-talked-about talents. Sands has steadily established himself as a key member of Ronny Deila's NYCFC side, mopping up in front of his defence with intelligent, well-positioned defensive play, while the 20-year-old is a superb passer of the ball, able to break lines or keep it safe should the situation require. Over at Sporting KC, Busio has been on the radars of MLS fans for some time now having already notched five goals and four assists in 48 senior appearances for Peter Vermes, despite being just 18 years old. ESPN's Taylor Twellman claimed Juventus, AC Milan and Fiorentina were keeping tabs on Busio back in July, and it honestly feels like a matter of time for him.