By Jerry Mancini.
It wasn't the result Toronto FC hoped for as they fell short against the Vancouver Whitecaps on Saturday night.
Jakob Nerwinski's late goal in the 76th minute helped secure a 3-2 win over TFC and has given the Whitecaps a glimmer of hope as they aim to qualify for the finals of the Canadian Championship.
TFC followed up with a second straight loss, which hasn't happened since last May, after going undefeated in 17 straight regular-season matches. Yet, Greg Vanney gave credit to his team when asked if they were in a 'funk'.
"No, I don't think our performances are bad, but results are based off execution. So, in both games I thought our performances were good," Vanney said in regards to Toronto's last two losses.
"We were again in dangerous areas, in position to create goal-scoring chances, and to score goals. We need to score more and last game we gave up a goal that we shouldn't off of a set-piece.
"In this game, we gave up two goals on set-pieces. I think our performances are good, our ability to create chances is good, so I'm not concerned about that stuff. We need to defend better in set-pieces, 100%."
This was the Whitecaps' first win dating back to July 23 when they defeated Chicago Fire in the group stage of the MLS Is Back tournament. It was a crucial win for head coach, Marc Dos Santos, who has seen his side lose five of their last seven games.
TFC got the start they wanted as they dictated the tempo of the match in the first 15 minutes. Yet, it was the Whitecaps who made the most of their first opportunity. Near the 20-minute mark, Ali Adnan did a great job down the left flank and delivered a cross into box. Meanwhile, Lucas Cavallini timed his run accurately to beat Laurent Ciman and score his first goal as a Whitecap.
"As soon as the ball came, I just knew I'd have to smash it in the net. It was just a sense of relief but hopefully it's the first of many."#ElTanque #VWFC pic.twitter.com/wKsg5A3u4W

— Vancouver Whitecaps FC (@WhitecapsFC) September 6, 2020
The lead lasted just eight minutes, though, as Toronto's relentless pressure paid off. From just outside Vancouver's box, Alejandro Pozuelo delivered a cheeky pass to the left side of the goal towards Jonathan Osorio, who positioned himself well in the box. He hit his shot to perfection, found the back of the goal and tied the game at 1-1.
Vancouver regained the lead, this time off a free-kick from outside the box. Toronto's wall did their job to block Vancouver's initial shot, yet Michael Baldisimo pounced on the rebound. He released a quick, powerful strike towards goal and found the back of the net to restore their one-goal lead. It was the Canadian's first as a Whitecap and in MLS.
The lead was short-lived again, though, as with under 20 minutes remaining, Toronto tied the match. Pablo Piatti unleashed a beautiful cross into the box and Pozuelo executed his run towards goal and headed the ball, while goalkeeper Thomas Hasal was late to react.
TFC's inability to defend set-pieces once again came back to haunt them as, five minutes after equalizing the game, Nerwinski scored off a free-kick to restore the lead. This goal stood as the game-winner.
Piatti Looking Sharp For TFC Despite Defeat
Piatti finished with one assist and was one of Toronto's most effective players on the night.
"He was creating the most danger for us on the night [and] he hit the post a couple of times," Vanney said of Piatti's performance.
"When he had to look from some sort of a range to finish, he was the guy who was getting things off. I think again, just his ability at times tonight to create problems for them because he's darting through spaces and he looked like his legs were under him and still sharper than everybody else in his movements.
"I think his effort was good, his effort is always good, but I thought he was one of the most effective players on the field tonight."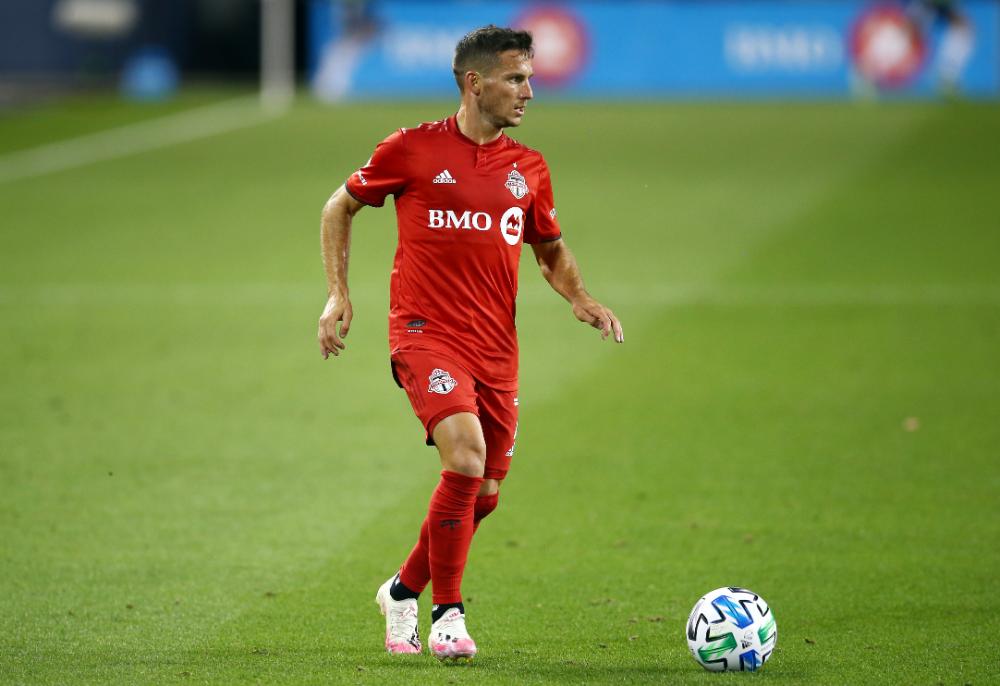 The forward had plenty of chances to score yet was unsuccessful with a bit of bad luck. Right before halftime, he sent a powerful shot towards the net yet Hasal made a quick and decisive save to deny the Argentine. In the first ten minutes of the second half, he had another chance from close range but struck the post.
The Whitecaps came into this match having been shut out in five of their last six games but made the most of their opportunities here. TFC finished the match with nine shots on target and held an advantage in possession of the ball with 66%, yet their inability to finish in the final third was what let the team down.
Pozuelo continued to show importance to his side and contributed on both goals, scoring one and assisting the other. The assist was his eighth this season — a league-high. The midfielder controlled the pace of the game and every time he had possession, he was a threat in the final third. He finished with four shots on target, three key passes and made his presence known defensively with one interception and one clearance.
Toronto are set to resume against Montreal Impact on Wednesday and this match has now become a must-win according to captain on the night, Jonathan Osorio.
"We've got to win that game, there's no ifs or buts. We can't tie it either," Osorio explained of the importance of Wednesday's match.
"We'll go there with a mentality to get three points and put ourselves in a good position to finish this phase in first place."