By Dharnish Iqbal.
It was all too much for Julien Lopetegui. As he hugged his staff tightly, the tears flowed freely from his face, emotionally liberating himself from the rollercoaster he had endured for the previous two years.
Just two years ago, in a staggeringly short space of five months, he had gained then lost two of the three most prestigious jobs in Spanish football.
After taking the reins of the Spanish national team and building a solid foundation of 20 unbeaten games and 14 wins, steering them to easily qualify for the 2018 World Cup, a day before the tournament started he felt the wrath of the Spanish federation, falling victim to poor situation handling and politics.
Luis Rubiales, president of the Spanish FA, was infuriated after being informed Lopetegui would be taking over at Real Madrid after the World Cup. Just five minutes later, a press release relayed the same information to the rest of the football world.
Rubiales acted quickly, firing Lopetegui two days before the start of the World Cup. He felt Lopetegui and Madrid had slapped him and the Spanish FA right in the face, right before the World Cup, as if Lopetegui and Real Madrid were only thinking of themselves and taking the focus away from Spain looking to win the tournament. But Lopetegui had actually whipped Spain into shape.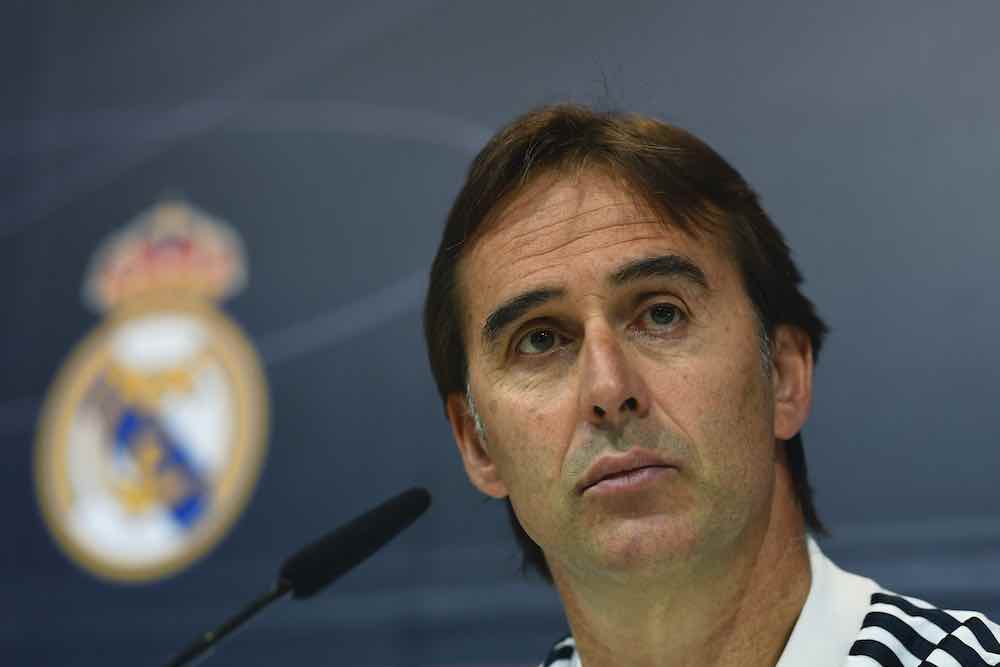 Rubiales was mostly irritated at the lack of communication, as the federation had been left in the dark about Lopetegui's next career move. The manager was fresh off signing a contract extension as Spain manager, and had now left them high and dry. It wouldn't have done any harm from someone from Lopetegui's camp to inform Rubiales earlier.
Nevertheless, a mere day after being sacked, Madrid hurriedly unveiled him as their new manager. Throughout this entire saga, Real exuberated irreverence and their behaviour was insouciant. It was almost like they were sending a subliminal message to the Spanish FA by announcing him to the world so quickly after he had been relieved of his national team duties.
Crying at the press conference, not able to process the fact he had been removed from Spain right before the biggest football tournament in the world, it was not how he had envisaged this part of his career.
So the Lopetegui era at Real began with him being removed by his own country, and going straight into managing one of the biggest clubs in the world, in arguably the toughest job in football management. It was not an ideal start, and probably affected his tenure.
Another sucker punch hit Lopetegui shortly after. After just 138 days as Real Madrid manager, his side were humiliated in a 5-1 Clásico drubbing at the hands of Barcelona. He was removed from his position as Real boss in the same ruthless manner he was from the national team just months earlier.
Real are an unforgiving club. Lopetegui was not given enough time, and as his father was quoted as saying he "had lost 50 goals" when Ronaldo was sold before his arrival, making it additionally strenuous to motivate a Real Madrid team who had fulfilled their Champions League obsession coming off the back of an unprecedented three-peat.
To have two dream jobs turn into a nightmare in such quick succession provides context and merit for what Lopetegui has achieved this season, turning his career around with Sevilla.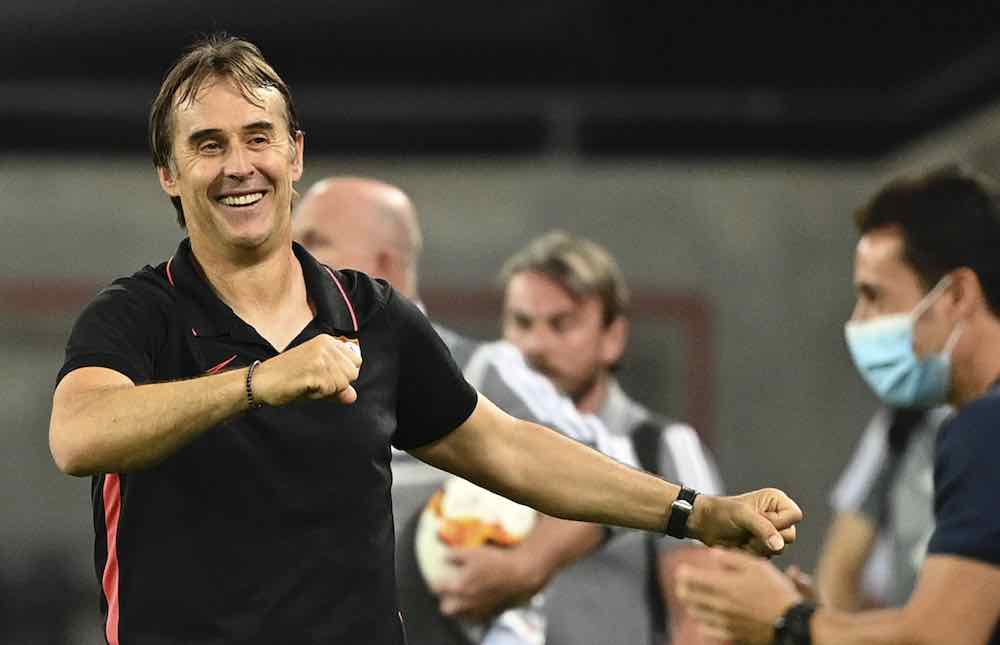 He was mocked and embarrassed. The Real Madrid machine had chewed him up and spat him out. Lopetegui took a nine-month break and was appointed at Sevilla under returning sporting director, Monchi. A club with an admirable model growing exponentially year on year, developing talent like Ivan Rakitic, and Wissam Ben Yedder before happily selling them for profit.
Lopetegui had to deal with Monchi ringing the changes. 11 players left, including key forwards Luis Muriel and Ben Yedder, and 15 new players came in. Incomings included very shrewd business for standout performers Diego Carlos and Lucas Ocampos. Lopetegui had to build his team and adjust quickly. No doubt he would have learnt valuable lessons from the situation he was thrust into in Madrid, and applied those lessons in Seville.
Sevilla had the third-best defence in La Liga as Lopetegui's influence led them to a 15-game unbeaten run towards the end of the season, and a first Champions League place in two years, not to mention only being denied third on goal difference.
Lopetegui has instilled a certain steel in Sevilla, which some of Europe's big clubs discovered in the knockout stages of Europa League — they are difficult to beat.
Sevilla rely on marauding attacking full-backs — veteran and club legend Jesus Navas and Real Madrid loanee Sergio Reguilon — to get them up the pitch and provide a key attacking outlet. The ever-imperious Ever Banega gives them terrific creativity and brilliant game management in the middle of the park, and also gives the Andalusians much-needed guile on the pitch.
Instrumental in the crucial phases of matches versus Inter Milan and Manchester United, Banega grabbed both games by the horns, barking orders and asserting control of vital situations, seizing any opportunity to break the game up and refusing to allow two of Europe's most dangerous attacks to build any sort of pressure.
He will be sorely missed next season along with Reguilon, but Banega epitomised Lopetegui's Sevilla in the latter stages of their Europa League win.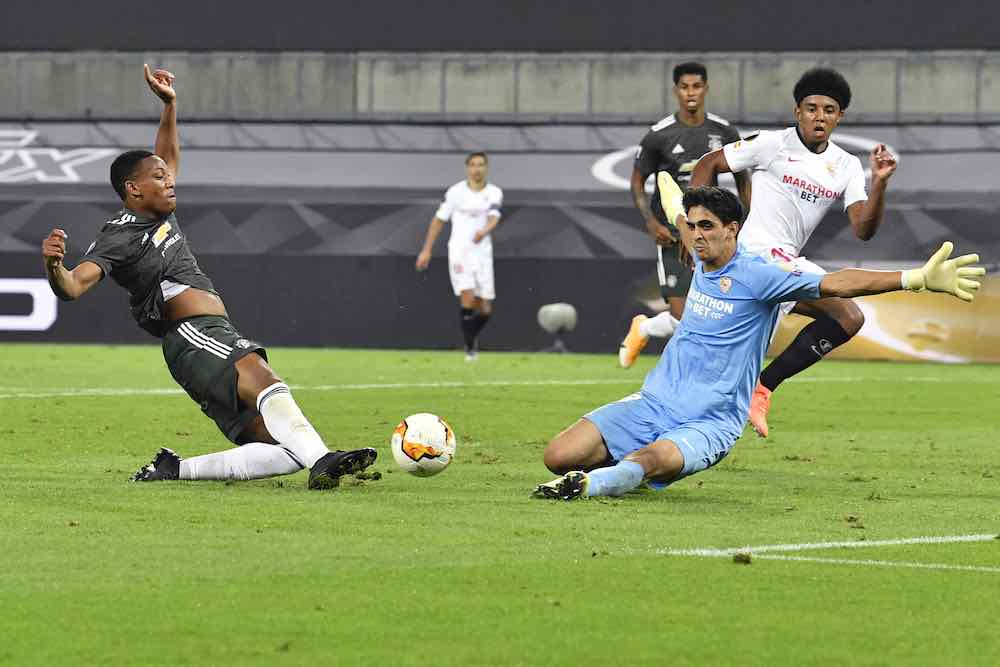 There was a crucial 15-minute spell in the second half of the semi-final win over Manchester United where United probably should have scored. In a quarter of an hour blaze, Bruno Fernandes and co. wreaked havoc in the Sevilla box, but goalkeeper Bono was fantastic and kept Sevilla in the game.
Sevilla's resilience and endurance helped them win them the Europa League. And 'endure' is exactly what Lopetegui has had to do, painstakingly and publicly. How appropriate it is, then, that this is his team's best trait — the ability to hang in there in the face of adversity.
Sevilla conquered some of the most lethal attacking players in the world on the way to winning the Europa League. Beating Roma, Wolves, Manchester United and Inter Milan is no easy feat.
A fantasy team of those four clubs would be good enough to challenge for a Champions League. United and Inter, in particular, are undergoing a renaissance and have not looked this promising in years. However, none were a match for the determined Nervionenses.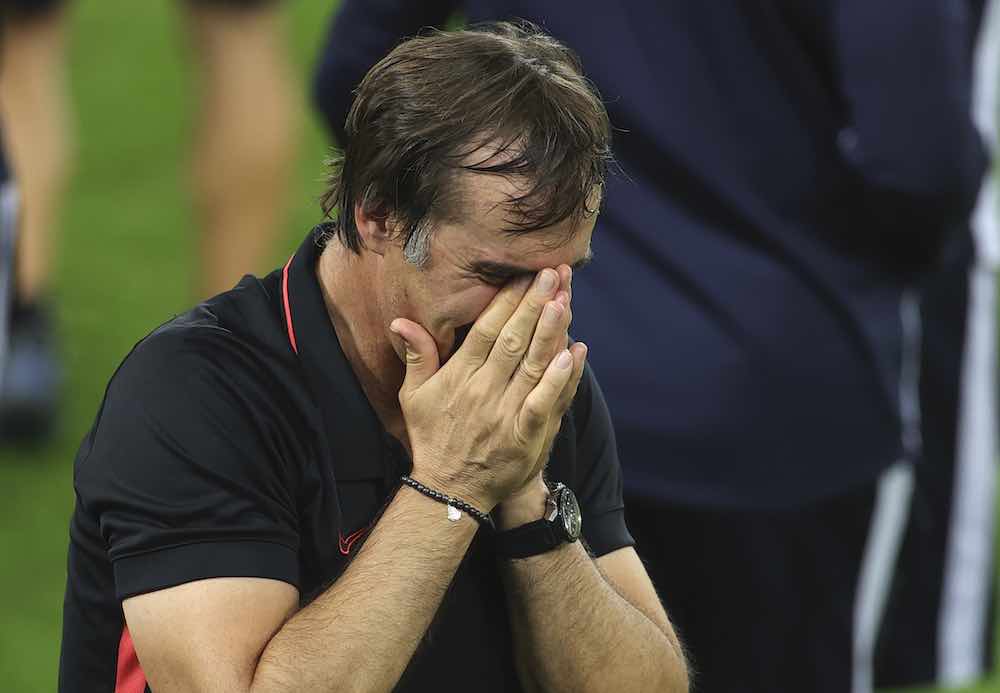 A club run as Sevilla are, have an immediate likability. The romantic stories of some of their veterans only add to this.
The returning Rakitic being one of many, who met his wife the day he was staying in a Sevilla hotel scheduled to sign that day.
A heart-wrenching image of Lopetegui exercising his demons, tears falling down his face can be added as another Sevillan anecdote.
In a year that has been turbulent and difficult for all, maybe we can take note of, and learn from, Lopetegui's ability to endure and emerge triumphantly on the other side.