Vancouver Whitecaps fell by a score of 4-2 against Canadian rivals Montreal Impact in an entertaining, end-to-end affair at BC Place yesterday.
Match Summary
Vancouver was hoping to build off their impressive 3-2 win against Toronto FC, while the Impact were looking to bounce back after dropping a 2-1 result at home against the same TFC team.
It wouldn't take long for Vancouver to find the breakthrough, as former Hearts midfielder David Milinkovic sent 21-year-old Canadian Theo Bair in behind the Montreal defence with a perfectly laid pass.
The youngster then finished from an incredibly tight angle to put away his third career MLS goal and his first at BC Place.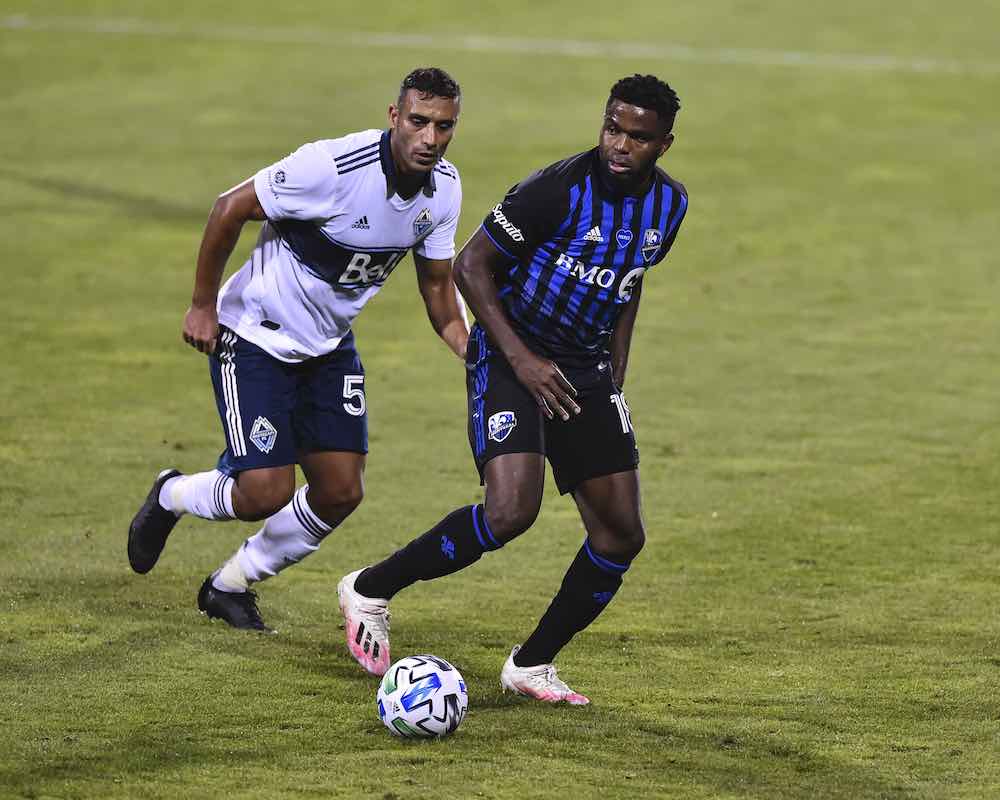 Plenty of chances continued to fall to both teams during the opening 15 minutes, but Montreal took advantage of yet another counter-attack, with Honduran international Romell Quioto outmuscling Derek Cornelius on the break and unleashing a powerful strike off the post, leaving striker Orji Okwonkwo with an easy goal at the back post.
The Whitecaps looked to regain their lead, with decent goal-scoring opportunities falling to Milinkovic, midfielder Leo Owusu and striker Lucas Cavallini, but none were able to find the back of the net.
Those missed chances would cost Vancouver, as Montreal won a penalty at the end of the half with yet another run in behind from Quioto.
The former Houston Dynamo man drew the penalty as goalkeeper Thomas Hasal came clattering into his back, allowing midfielder Saphir Taider to slot home the spot-kick, giving the away side the lead entering the break.
To sum it up quite simply, this game went absolutely bananas in the second half.
In the 51st minute, the Impact doubled their lead thanks to some great combination play from Taider and Okwonkwo on the near side, leading to a neat tap-in finish from Canadian international Samuel Piette.
It went from bad to worse for the Whitecaps, who saw their star striker Cavallini given a second yellow after accidentally following through with a kick to the face of Montreal goalkeeper Clement Diop.
Tempers flared in the aftermath of the incident, with some pushing and shoving being exchanged between the two sides.
Only a minute after the tussle, Montreal made it 4-1, thanks to another brilliant cross from out wide to find Quioto in the box for his fourth goal of the season and a deserved one as well.
The Whitecaps continued to push forward in hopes of finding a way back into the match and eventually forced the Impact into an own goal, with centre-back Rudy Camacho deflecting the ball into his own net after a quality ball into the area from Vancouver substitute Cristian Gutierrez.
The 20-minute spell of crazy, back-and-forth football didn't end there, as Impact midfielder Emanuel Maciel made a dangerous, studs-up challenge on Colombian winger Cristian Dajome, earning the Argentine a red card and levelling up the playing field at 10v10.
Vancouver dominated possession for the final ten minutes of the match, but weren't able to finish their chances, as Montreal clinched their second win against the 'Caps this season and gained some life in the race to qualify for the Canadian Championship.
There's a lot to breakdown from both team's performances, as they produced yet another instant classic in the long history of this Canadian rivalry.
Match Analysis
These were the starting lineups for both teams.
Did we just post last week's graphic? 🧐

Your #VWFC Starting XI for #VANvMTL, delivered with @DoorDash pic.twitter.com/2DlU5fVrgC

— Vancouver Whitecaps FC (@WhitecapsFC) September 14, 2020
For the first time since July 2019, Whitecaps head coach Marc Dos Santos named the same starting lineup in back-to-back matches, keeping the same formation that proved to be highly successful on the offensive last week against Toronto FC.
NOTRE XI partant face à Vancouver // OUR 11 tonight against the @WhitecapsFC. #VANvMTL | #IMFC pic.twitter.com/NtVED5OGD8

— Impact de Montréal (@impactmontreal) September 14, 2020
As for the Impact, Thierry Henry made one change to his eleven from last week's loss to Toronto FC, with the aforementioned Okwonkwo getting the start in place of Finnish international Lassi Lappalainen.
Impact Dominate Out Wide
For large periods of the game, the Montreal Impact dominated areas out wide on the offensive, as they whipped dangerous balls into the area and found the speedy legs of Quioto near the touchline on plenty of occasions.
Even Taider and Piette, who were being utilized in more central roles, drifted out wide at times to force overloads in the Whitecaps' half and ultimately take advantage of the space being given to them, while also whipping plenty of balls into the area.
Both the third and fourth goals are complete examples of this.
Take the third goal, where Taider and Okwonkwo played some nice combination play down the near side touchline, heavily outnumbering Whitecaps' RB Erik Godoy.
Samuel Piette nets his first MLS goal! @impactmontreal are up 3-1! #VANvMTL pic.twitter.com/BYDdHn5v6f

— Major League Soccer (@MLS) September 14, 2020
That simple, but quick combination out wide mixed in with the overload causes Godoy to go in no man's land, allowing Taider to drift in behind and put in a wonderful cross into the path of Piette.
Give lots of credit to the Canadian for taking a gamble on his run into the box, something Thierry Henry has asked him to improve on over the last couple of weeks.
As you can see in the graph above from Twenty3, most of the Impact's offence was generated out wide, especially on the right side where three of their four goals were created.
Expect the Impact to continue the trend on Wednesday, when both sides meet again in a rematch at BC Place to finish off the first phase of MLS' return to play.
ZGB & Quioto Step Up
Although Montreal had numerous standout performances on the night, the two that impressed most were Canadian international Zachary Brault-Guillard and Honduran speedster Romell Quioto.
Brault-Guillard, who was starting his seventh consecutive game for the Impact, showed a great tendency to get forward when the time was right, while also displaying his silky toolbox of skills in 1v1 situations.
The defender also showed his amazing qualities tracking back to stop promising attacks from Vancouver.
Many times throughout the match, Vancouver left-back Ali Adnan would find himself on the break after beating a couple of Montreal defenders, but Brault-Guillard always seemed to come in behind and smoothly take the ball away from Adnan, seemingly preventing quality opportunities for the Iraqi international.
Brault-Guillard ended up finishing the match with 53 passes (third-most from IMFC), two key passes, three successful dribbles, one block and one clearance.
As for Quioto, the winger-turned-striker threatened the home side's backline all night long, with numerous runs in behind causing plenty of problems for Vancouver centre-back Derek Cornelius.
Most of Quioto's chances to make runs came from Adnan pushing too far forward from his left-back spot, thus causing Cornelius to hug the touchline a little closer and ultimately stretching the backline.
The counter-attacking style Henry has implemented in Montreal suits Quioto very well when he's up top because of the combination of his pace with the ball at his feet and his strength to hold off defenders.
There's the equalizer for #IMFC! Okwonkwo taps it away! #VANvMTL pic.twitter.com/y29eWbg2pA

— Major League Soccer (@MLS) September 14, 2020
Montreal's first goal, as seen above, shows exactly what Henry's looking for from Quioto on a consistent basis, as he accelerates with pace towards goal while out-muscling Cornelius, all thanks to an inch-perfect through ball from Piette.
In the end, Quioto finished the match with a goal, 80% pass success rate, one key pass and again, lots of runs in behind.
If the Honduran can put in performances like the one on Sunday night, expect the Impact to cause lots of problems in behind for plenty of teams in the league.
Next Up
Both sides will square off once again at BC Place on Wednesday night, with Montreal looking to build off a statement performance in order to qualify for the Canadian Championship, while Vancouver hope to add another three points to bring them closer to a playoff spot in a tight Western Conference.