By Jerry Mancini.
Toronto FC extended their unbeaten streak to six straight games on Wednesday against New England Revolution.
Ayo Akinola's goal late in the first half was the difference-maker, sealing a 1-0 victory and putting his team top of the overall Major League Soccer standings.
Greg Vanney's side have now put themselves in a good position to win the Supporters' Shield this season, and remain one of the standout sides in MLS.
"Tonight is a different kind of proud with this group," Vanney said of his side's performance. "This is a tough place to play. It hasn't been friendly to us over the years and this was a tough game.
"This was a scrap-it-out, battle for every inch kind of a game. You have to protect your goal, protect your box, you're fighting for space just to move the ball.
"I'm proud of the guys, they stood strong and resilient. We created some good chances in their transitions.
"You have got to win like this, especially in places like this, and I thought it was an incredible effort."
It was a slow start to the match for TFC, which Vanney may have hoped was not the case after their strong finish against Philadelphia Union in their previous game, but they eventually took the lead through their in-form forward.
Just before the half-hour mark, Jonathon Osorio found Alejandro Pozuelo who then sent a beautiful through-ball upfield where Akinola used his speed, strength and awareness to win possession against Andrew Farrell.
The striker only had goalkeeper Matt Turner to beat and made no mistake to give Toronto a 1-0 lead.
Akinola continues to step up for Toronto this season and has done a great job filling in the absence of Jozy Altidore, who missed the game through injury.
This is Altidore's worst season with the club to date. He has been derailed by injuries and when he has been inserted into the lineup, he has managed just two goals in twelve games. Akinola has fared much better with eight goals in eleven matches, which has been a pleasant surprise for Vanney.
While Akinola has shown the ability to score, his defensive abilities were also in effect for Toronto against New England. He works hard on both sides of the ball.
As for the Revolution, their inability to finish and capitalize on Toronto's mistakes were their downfall. They won a penalty late in the second half to square the match at 1-1, but Buska failed to convert as his shot sailed over.
Buska also had an earlier chance to tie the game, yet squandered his opportunity. It was a disappointing night for the forward who struggled in front of goal.
TFC goalkeeper Alex Bono made his third appearance this season and struggled himself early on, especially when it came to the timing of claiming crosses and coming out to intercept the ball. But as the game progressed, he began to settle in and made the pivotal saves when he needed to.
By the end of the 90 minutes he had made important saves from DeJuan Jones and Lee Nguyen, and stayed composed and focused as the Revolution piled on the pressure in the second half.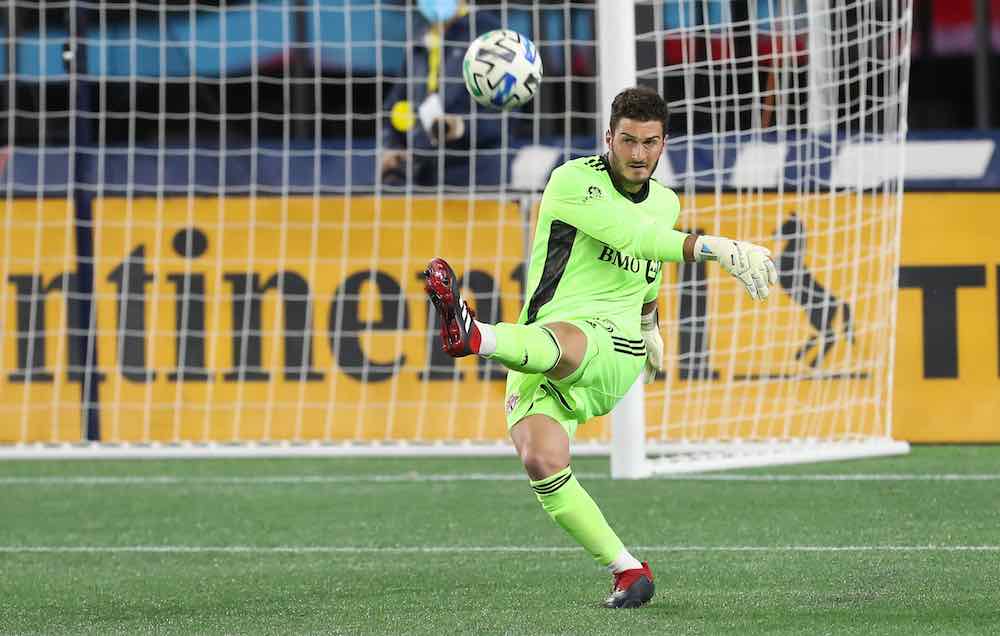 The game was a milestone for Bono as he was making his 100th start for TFC in all competitions. He now has two club records as he earned his 52nd win, and also surpassed Stefan Frei for most cleans sheets with 29.
As backup to Quentin Westberg, the American goalkeeper has seen limited playing time this season, but has done a great job in his new role and continues to help his team win matches.
"Alex… he came into the offseason, he went trained somewhere and he gained some experience in that trial," Vanney said of his goalkeeper.
"He also gained some perspective and he came back talking about how happy he is to be here.
"He saw things a little bit from a different perspective and he came back and ready to work every single day. I think he really now is confident and really believes in where he's at."
Toronto are playing great football at the moment and find themselves in a good position in the Eastern Conference as well as the overall standings. They will now move forward and hope to continue this in their next match against FC Cincinnati on Sunday.