By Jerry Mancini.
Adam Marusic returned to the Lazio lineup for their Serie A season opener, a 2-0 win against Cagliari, and was the club's best player throughout the game. But heading into this new campaign, the club faced many uncertainties in the left wing-back position.
In recent years, Senad Lulic has held that role and has been Simone Inzaghi's most trusted player. Last year, the Bosnian picked up an ankle injury that forced him to have surgery and miss half the season.
Lulic played a total of 27 games in all competitions in 2019/20, which was his lowest total in his nine years. He has been on a decline generally, and there is doubt as to whether he will return to the lineup.
Last season Lazio were heavily dependent on Jony, who arrived in the summer transfer window from La Liga side Malaga. It was a difficult transition for the Spaniard who is not regarded as a natural wing-back. He is accustomed to playing as a winger, and was seen as a liability in most matches as he looked slow and was caught out of position on many occasions.
Jordan #Lukaku not selected by Simone #Inzaghi despite being match fit. I've said it for the past little while: i'm almost certain #Lazio have been trying to sell him. Mohamed #Fares and Adam #Marusic will play on the left flank this season (and Senad #Lulic if/when he returns). https://t.co/9cBdPzabih

— Steven Moore (@S_K_MOORE) October 3, 2020
Jordan Lukaku has been another disappointment for Lazio since arriving from Oostende in July 2016. Aside from a successful campaign 2017/18 where he played a total of 30 games, he has failed to stay fit.
In the last two seasons, he has been in and out of the lineup and has played a total of 21 games in all competitions. Additionally, since his return in the latter part of last year, he has been withdrawn from the lineup for disciplinary reasons.
The signing of Riza Durmisi from Real Betis in June 2018, for a hefty price tag of €7.5m, hasn't worked out either. Durmisi signed a five-year contract with Lazio and quickly became an afterthought.
He played a total of 19 games in his first season and was sent on loan to Nice in Ligue 1 the following year. He has now returned from the French club and there are no signs Lazio plan to reinsert him into the team.
Given the lack of depth in the left wing-back position, the performance of Marusic in Lazio's season opener has provided some reassurance for Inzaghi.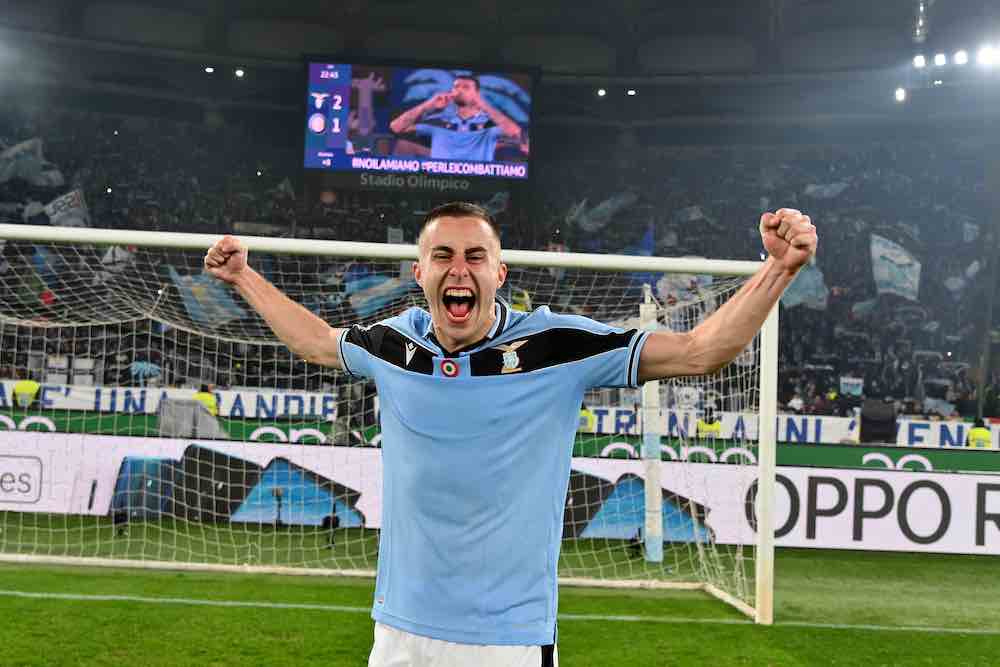 Since arriving at Lazio, Marusic has proven to be a vital player with plenty of upsides when he has been available. He is very physical, can make quick runs down the flank, and is decisive. He has shown to be strong on the ball with good awareness, patience, and the ability to deliver accurate crosses.
Last season, Marusic battled with injuries and played a total of 15 games. He was in and out of the lineup but would have been a preferred choice for Inzaghi had he remained fit.
In Lazio's season opener against Cagliari, he looked strong and determined to have a stellar season. He played a key role in the match as he assisted both goals.
What was most impressive from Marusic was his ability to play at a high level as a left wing-back. Prior to the arrival of Lazzari last season, Inzaghi had regularly elected to use him in his more natural position on the right, but at times last season the manager utilised him on the opposite side, which worked out well.
His decision to do so once again paid off as Marusic proved he could operate effectively as an inverted wing-back and could be instrumental to Lazio's season.
He could be used as a starter or substitute, which will provide Inzaghi with flexibility and options, and he has transitioned into the new role with ease.
Marusic followed the game against Cagliari with a less convincing performance against Atalanta, but the Bergamo side are not easy to play against. Nonetheless, the start to the season has been positive and has shown to be a blessing for Inzaghi.
While Mohamed Fares arrived from SPAL to occupy this role and replaced Marusic in the position when he left the field injured in the game against Inter, it will still be vital to Lazio's season that Marusic stays fit to provide support in this area of the team.