By Chris Smith.
Bayern Munich defender Chris Richards believes the success he is enjoying in the Bundesliga, alongside the likes of Tyler Adams and Alphonso Davies, can pave the way for more MLS talent to make the jump to Europe.
The United States youth international joined Bayern after a short trial in May 2018 having spent time in FC Dallas' youth system. Richards went on to make 30 appearances for the Bavarian club's second team in the German third tier last season, while also making an unexpected senior debut in the Bundesliga against Freiburg in June.
Richards was also regularly named on the bench for Bayern's UEFA Champions League success but given the stiff competition for places at the 2019/20 Treble-winners, it was widely expected for him to leave the club on loan to gain first-team experience.
Instead, Richards has remained at the Allianz Arena to fight for his place, already making two Bundesliga appearances this season — the first a 17-minute cameo at the end of Bayern's 8-0 win over Schalke and the second starting at right-back during a 4-3 win over Hertha Berlin with Richards even assisting a Robert Lewandowski goal.
Chris Richards' first start for Bayern Munich:

Touches – 62
Passes completed – 43
Pass success – 90%
Chances created – 3
Assists – 1
Aerial duels won – 1
Clearances – 1

A great day for the former FC Dallas youngster! 🇺🇲👏 #FCBBSC #DTID #USMNT pic.twitter.com/uiGnxBLsLN

— World Football Index (@WorldFootballi) October 4, 2020
"Chris Richards did a good job," said Bayern manager Hansi Flick after the match.
"It wasn't an easy game for him. You can be very happy with your starting XI debut. It can go on like this."
Richards joins the likes of Adams (RB Leipzig), Weston McKennie (Juventus), Giovanni Reyna (Borussia Dortmund) and Bayern teammate Davies as North American youngsters to excel in Europe having spent time at MLS clubs at youth level or beyond.
Speaking exclusively to WFi, Richards believes he and his counterparts are paving the way for future MLS products to continue the pathway.
"I think that us guys have a big effect on the potential academy kids making that jump to Europe [from MLS]," he said.
"I think they're seeing that it's very possible for us [Americans and Canadians] to do it and we have Americans at so many clubs around Europe that I think wherever they decide to go, they will be close enough to have an American there to comfort them or mentor them."
Richards also believes that bigger clubs investing in MLS players will act as a domino effect, with even more talent being pumped out as more investment comes.
He added: "I think that could help improve MLS as well because they're gaining revenue from these younger guys and then bigger clubs start looking to the US as a big talent pool. In my case, FC Dallas got compensation for me.
"So I think there's a big possibility that one day in the future, MLS could become a very big and respected league with the money they're receiving from young academy kids making the jump."
Richards' own move came about as the result of a partnership between FC Dallas and Bayern Munich and although no player has yet moved in the opposite direction, we've already seen the two-way benefit this sort of arrangement can have with FC Cincinnati recently acquiring Croatian forward Franko Kovačević on loan from their partner club, Hoffenheim.
Six goals & one assist in 11 appearances for Hoffenheim II in the German 4th tier & 5 caps at various youth levels for 🇭🇷#FCCincy have scored just 8 goals in 17 games this season, they can't get worse he can only improve them

Early signs this could be a productive partnership https://t.co/H8rAcGEiIm

— Chris Smith (@CJSmith91) October 12, 2020
But, more importantly for US Soccer, Richards believes there is still a deep well of talent within the FC Dallas system for Bayern to tap into. Right now, homegrown talents Bryan Reynolds and Tanner Tessmann are enjoying extended MLS minutes, while Paxton Pomykal is considered among the brightest midfield talents in North America right now.
Richards is urging more young players to move from Texas to Bavaria and out of their comfort zone.
"I definitely think the partnership can open the door to others," he said.
"There are many young kids in the FC Dallas academy that, when exposed to this environment, will no doubt become amazing players. It's just a matter of them getting out of their comfort zone and not being afraid to do it."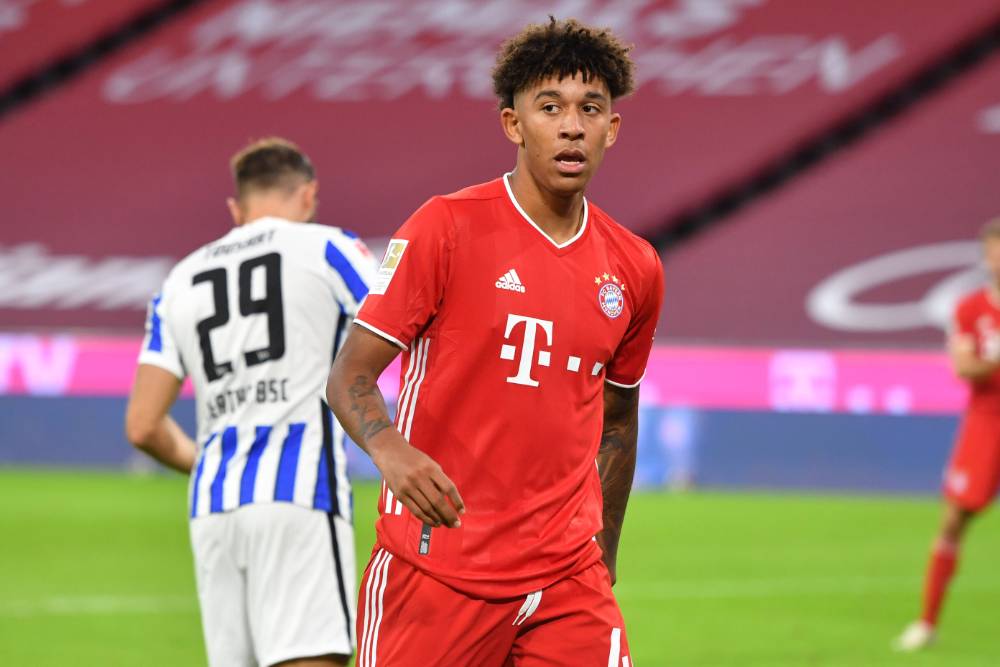 On the lessons learned during his Dallas days, he added: "At Dallas, I learned about how to be a young professional.
"That was my first experience with a pro club and all of the kids in the academy had a pro mindset because they grew up seeing kids from the U-17 and U-19 academy teams signing professional deals. So it definitely taught me that professional mindset."
Alongside the aforementioned names, we've also witnessed the rise of Christian Pulisic in the Bundesliga with Borussia Dortmund, while 17-year-old right-back Joe Scally is set to join Borussia Monchengladbach from NYCFC in January.
So, why Germany? What is it about their model which is so attractive to American youngsters?
Richards says the Bundesliga's style of play is, to a degree, similar to that which he and his compatriots are used to back home, combining elite physicality with top-class quality on the ball.
"I think the Bundesliga has become a good landing spot for us Americans because it's a certain type of playing style that's somewhat common to our system back home," he explains.
"A lot of running but also good quality on the ball and a very strong, physical league that us Americans can really succeed in."
Richards is currently sidelined with a minor calf injury but is fully expected to return to fitness and continue his upward trajectory in the near future.