By Raj Das.
Ronald Koeman's biggest mistake was to assume he had put together a team capable of mounting a serious challenge to Juventus.
As the Bianconeri ran out 3-0 winners at a windy Camp Nou, Barcelona looked like they had forgotten how to play.
For the first fifteen minutes, Barça struggled to string two passes together, and were unable to keep the ball in attacking areas. Only after conceding the first goal were they roused into action. But the defensive duo of Ronald Araújo and Clement Lenglet had an off-day, meaning that within the first twenty minutes, Juventus found themselves 2-0 up.
They could afford the luxury of sitting deep and waiting for a chance to counter, which they did.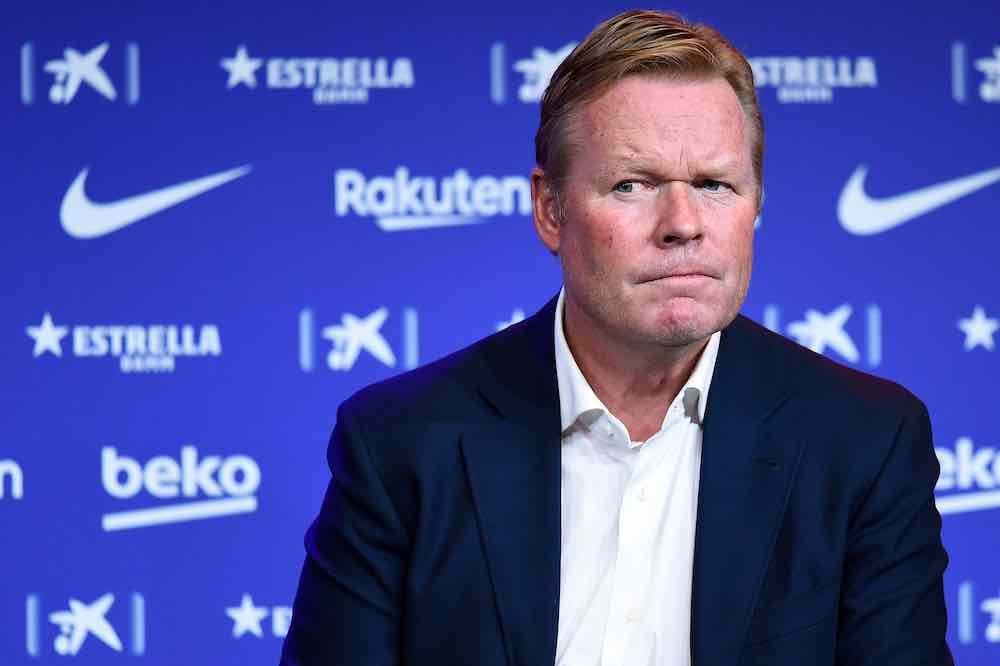 It was embarrassing to see Koeman, the former Dutch national team manager, out-thought and outplayed tactically by Andrea Pirlo, a complete novice who is in the first year in his first-ever managerial job.
He simply instructed Alex Sandro and Juan Cuadrado to play as wing-backs, ensuring that Juventus have two extra wide options should they have to overcome a congested midfield. Danilo was turned into a makeshift centre-half and he did seem to struggle, but the Barcelona attack never posed a serious threat to take advantage of his discomfiture.
In truth, the game resembled a training session. The two heavily mismatched teams were pitted together in what was to be a swansong for the Messi-Ronaldo rivalry. But it looked like the seasoned Juventus players were handing out a lesson to the youthful Barcelona, who relied on the 18-year-old Pedri and 20-year-old Francisco Trincão to man the Blaugrana flanks.
Barcelona, on the other hand, lined up with a forward line in which there was no physical presence. Martin Braithwaite should have started the game. The Dane is in good touch, having already notched up goals against Ferencvaros, Osasuna and a brace against Dynamo Kyiv.
Juventus looked hungrier, sharper and physically dominated the diminutive duo of Pedri and Trincão. More importantly, Braithwaite would have been a direct, aggressive presence who could have bullied Danilo and taken advantage of his awkwardness.
In the end, it was a comfortable night for the Bianconeri defence. Gianluigi Buffon did make a few saves from Lionel Messi, but they were only snapshots and half chances. Any goalkeeper worth his salt, notwithstanding that he is 42 years old, should make those saves. Age may take away your agility and reflex, but not your technique.
Another blunder from Koeman was to assume that the rusty Araujo would fare better than Oscar Mingueza.
Rebuilding a Team Needs Patience and Planning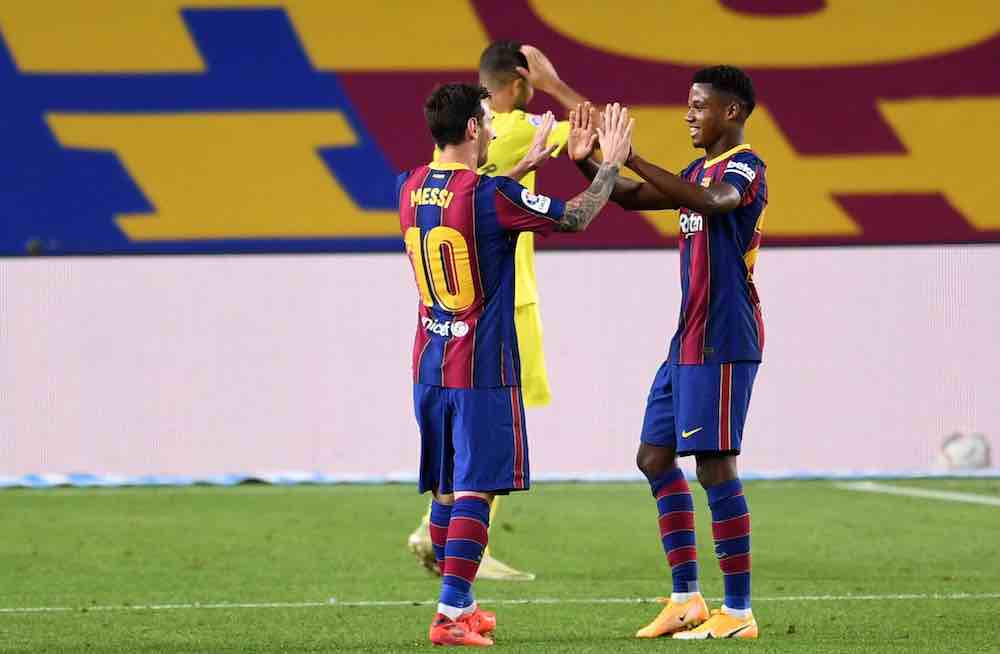 Every few years, a team needs to rebuild itself. Players get old or lose their motivation until a new crop of players emerge to take their spot. The problem with Barcelona is that there is no time for them to build, nor is the rebuilding process overseen by a man who knows what he is doing.
The bid to rebuild Barcelona began under former manager Quique Setien, but it was an event that was initiated not through a desire to rebuild the team, but out of sheer necessity.
We first saw glimpses of Riqui Puig when casualties heavily thinned the Blaugrana midfield, and this young Barça B player was promoted to add some creative spark into the team.
Araújo similarly came when Samuel Umtiti suffered a long-term injury. Ansu Fati made it into the first team primarily because of an injury to Ousmane Dembele and his impressive performances since saw him start matches regularly. Had he not been sidelined on November for a knee injury, he would surely have started for Barcelona in the match.
Rebuilding a team is not easy and there are new complications discovered in every training session. The problem is compounded even more when there is a board-level change, with the arrival of people who may have a completely different outlook on how the team should shape into.
Koeman is at a point where his hands are metaphorically tied. With his own future in doubt, and with the club's perilous financial condition, it is safe to say that there will be no big reinforcements next season. Koeman will have to make do with what he has for as long he lasts in the Camp Nou hot seat.
In a nutshell, Barcelona are stuck. They cannot rebuild properly and effectively, nor can they make the most of the resources they have at their disposal.
Barcelona More Messi-Dependent Than Ever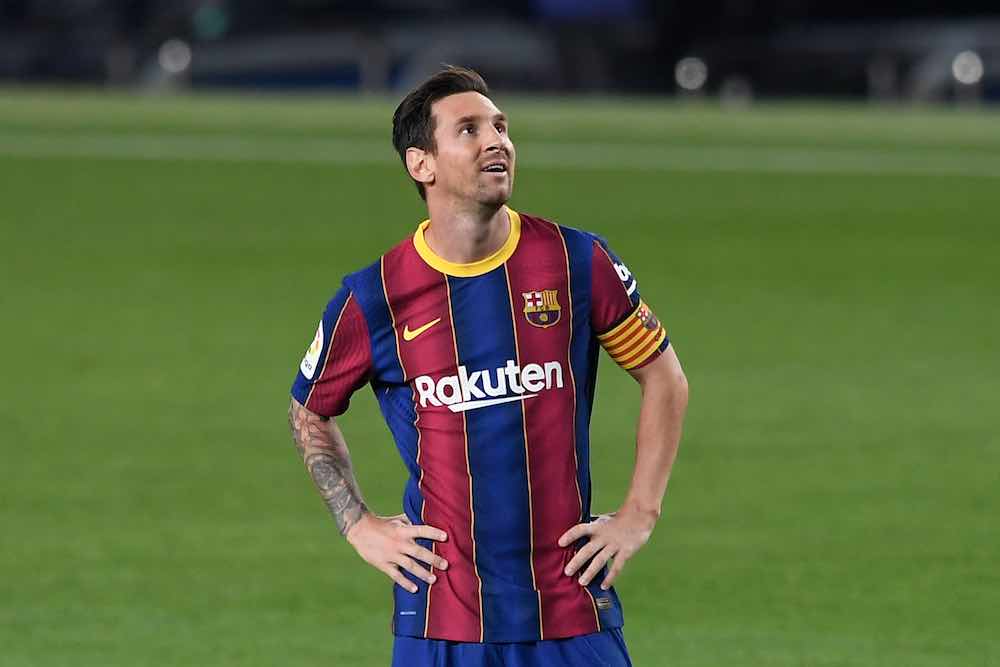 Barcelona have been heavily reliant on Messi for the last couple of years, but against Juventus it was clearer than ever. The Catalan giants only sparked into life in an attacking sense when the club's greatest ever player touched the ball in midfield.
He tried to thread a few passes together, played a few neat one-twos. He slalomed past a few defenders and took a few shots. He tried to create, he tried to score. He looked tired, morose, crestfallen. He wore a constant grimace. Disappointment, disapproval, pain was etched in his whole being. Barcelona are slowly turning into Argentina, a team in which there is Messi and ten other players.
In stark contrast, the Old Lady looked more like a cohesive unit. Their performance was even more impressive because Alvaro Morata played one of the best games of his career. He held up play when he needed to, bullied the Barcelona backline by forcing them to make last-ditch tackles, and finally forced Koeman to replace the starting pair of Lenglet and Araujo.
Morata then got substitute Samuel Umtiti booked when he was hacked down by the struggling Frenchman.
Juventus played with swagger, with a sense of confidence that can easily demoralise a struggling 'big' team who find themselves 9th spot in their domestic league.
Barça Missing Busquets
Sergio Busquets may not be the same player that he was a few years ago, but it is foolish to assume that Frenkie de Jong is his long-term replacement. It is even more preposterous to suggest that Miralem Pjanic can be a good deputy when the 31-year-old Spanish World Cup winner needs a breather.
What makes Busquets unique is that he's more than a good defensive 'destroyer' like Casemiro or N'Golo Kante — he is, or was, an intelligent reader of the game, with a repertoire of passing skills to rival some of the best midfielders of all time. That is not to say that Casemiro or Kante are not good readers of the game. Busquets just mastered this art better than anybody else.
With age, Busquets has slowed and become less agile. Although he reads the game well, he cannot put a stop to the danger quickly enough. He gave away niggling fouls last season and continued to be cumbersome this term when a younger version of the player would have nicked the ball off the opponent.
Perhaps Busquets's biggest strength was that he had the ability to set the tempo of the team. He regally dictated how quickly or how slowly Barcelona would build-up play. He always transmitted the sense to his teammates and the fans that he had the situation under control.
This self-assuredness was after all what made him special. He did, in many ways, deserve the moniker 'the Regulator'.
Now that Busquets is no longer at his best, it is hardly surprising that the Blaugrana midfield has also undergone a gradual decline.
We must realise that De Jong and Busquets are players of a different ilk. One cannot assume the mantle of the other, no matter how hard we want them to. We always get the feeling that to play De Jong as a defensive pivot would be to stifle his vast creative talents. That is because de Jong likes to surge forward, play one-twos with forward players and actively contribute in attack.
The bitter truth is that Busquets is perhaps the more technically gifted of the two. He had the skill and the nerve to manoeuvre out of tight spaces when other defensive midfielders would simply have hacked the ball clear. He was perhaps the most stylish defensive pivot in the game.
Against Juventus, Barcelona missed Busquets, the prime Busquets with the number 16 on his back. Neither De Jong nor Pjanic, or both of them combined, can occupy his place.
Some Positives for Barcelona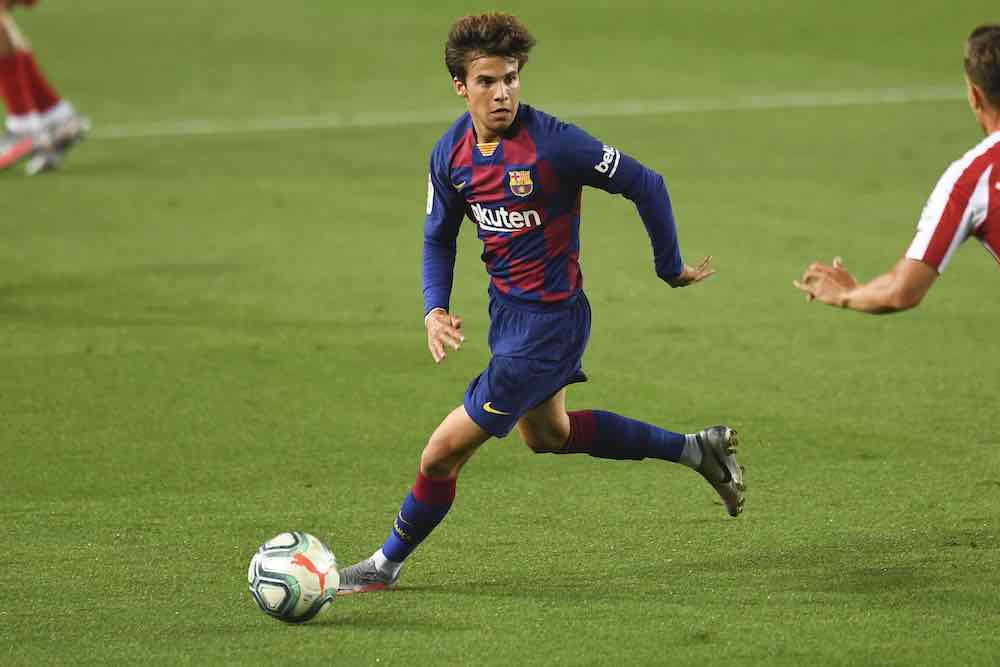 Riqui Puig had found himself out of favour under Koeman. But against Juventus, Koeman had to put his faith in the youngster who had burst on to the scene last season. After replacing Pedri in the 66th minute, Puig looked lively and impressive in the middle, although he did give the ball away once.
Still, seeing Puig play should give some respite to the Barça faithful. He was active in the middle and looked to create chances. He also made impressive forward runs his side could have used from the beginning.
Another positive is that this was a heavily depleted Barcelona side. With no Gerard Pique in the team, and with Ousmane Dembele and the influential Ansu Fati also out, Koeman was, to some extent, forced to play this team.
It is also unfortunate that individual errors cost the Barcelona manager. Although he did get this starting line-up wrong, it is not his fault that his first-team centre-half Clément Lenglet had one of his worst games in a Barcelona shirt. Perhaps he should have begun with Mingueza, but this game could also be a good starting point to assess the quality of Araújo.
The most devastating aspect of this defeat, however, is that the Catalans finished second in Group G, meaning that they would be seeded against a tougher opponent. This would further complicate their progression into the quarter-finals.
With the way things are going domestically, we should not be surprised if Barcelona do not qualify for the Champions League next season.