Bundesliga Zeitung, by Andy Wales.
We've reached that stage in the calendar where, traditionally, the Bundesliga would be starting its winter break. And although we do have a pause before the next round of fixtures, it's usually a month, rather than a week.
The winter break usually comes at the half-way stage of the season, but this year things are anything but usual. Due to Covid, the winter break is as concentrated as the season itself, and the season resumes on Saturday, January 2.
The compacted scheduling has impacted squad fitness. Despite only 13 game weeks being completed, the addition of European and international football has certainly hurt Bayern.
When you factor in the very short break between the end of last season and the start of this one, it's little wonder Bayern aren't quite looking themselves. The loss of influential playmaker Thiago, a relatively small squad, injuries and fatigue have all played their part in testing Hansi Flick.
That being said, Bayern still sit top of the Bundesliga. The last gasp 2-1 victory over Bayer Leverkusen in the most recent topspiel personified their season. They may not be in full flow, or be as imperious as last term, but they invariably find a way to win.
It's that magical ingredient of consistency that I have spoken about recently in this column. Consistency sounds like such a simple thing, but it's arguably the toughest attribute to attain in football.
Leverkusen's recent form had been excellent. The goals were flowing and the wins followed, taking them to the summit of the Bundesliga. As impressive as they were in their ascension, I never believed it would last because of that magical thing called consistency.
Despite losing Julian Brandt, Kai Havertz and Kevin Volland over the past 18 months, Leverkusen continue to unearth gems. The latest is Florian Wirtz. His maturity, composure and vision belie his tender age.
At just 17 years old, he looks to have a very exciting career ahead of him. He has already transitioned from the wing to a midfield role, following in Brandt's footsteps.
RB Leipzig sit third behind Leverkusen on goal difference. Julian Nagelsmann's side also lack the consistency to be considered serious title contenders. On their day they can be brilliant, but when they're not they too often drop points. A goalless draw with Köln in their mist recent game was another example of how frustrating they can be.
The top three currently look odds on to remain in those lucrative Champions League spots. The fourth should be Borussia Dortmund. In fact, they should be challenging for the title. However, their long-standing vulnerabilities have not only cost them points, but also cost Lucien Favre his job.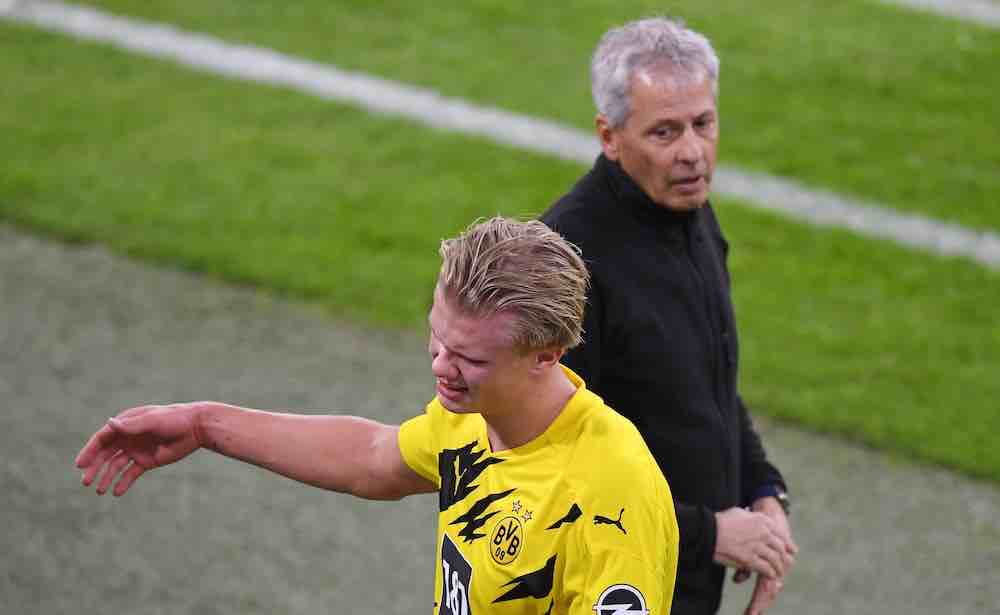 In truth, it was a change that Dortmund needed to make in the summer. For all that Favre is a popular personality and respected coach, his methods had come unstuck at Dortmund. A hugely talented squad underachieved when opportunities came knocking. Some of which can be attributed to individual errors, but mostly it was systemic failing.
Under temporary boss Edin Terzic, Dortmund have already altered their shape and become more aggressive out of possession. However, they still appear to lack the leadership and organisation required to fulfil their squad potential. Salzburg coach Jesse Marsch has long been linked with the Dortmund job, but now Mönchengladbach's Marco Rose has emerged as the leading contender.
Wolfsburg currently sit above Dortmund but it's unlikely they can sustain that position. The same could be said of Union Berlin, but their organisation and spirit could be enough to see them through tricky spells. Getting the evergreen Max Kruse back from injury on time could also have a big say in where they finish.
VfB Stuttgart have exceeded all expectations on their return to the Bundesliga. The fact they sit level on points with Mönchengladbach points to how well they've done. It also demonstrates how Gladbach have, at times, struggled to balance the demands of Bundesliga and Champions League football.
Should Gladbach get knocked out of the Champions League by Manchester City and still remain off the pace domestically, then perhaps Rose to Dortmund might be on early.
At the other end of the table, Werder Bremen and Hertha Berlin are again in an undesired position. Things are brighter this season for Werder than they were last year, but they are still looking over their shoulder. Hertha's greater financial investments mean their expectations and ambitions are higher. I do wonder if the now available Thomas Tuchel might become a target for the ambitious Hertha.
Things are as tough as expected for Köln. If they are to avoid relegation, it will most likely be by a narrow margin in the latter stages of this season.
This could be the season Mainz don't find a way out. They have the ability to score goals, but ship them too easily. That could provide Arminia Bielefeld with an opportunity to pull off a shock and survive.
At the very foot of the table sit Schalke. They have now appointed Christian Gross following the sacking of Manuel Baum, after he replaced David Wagner. The Royal Blues look doomed and need divine intervention more than a left-field coaching appointment.
The long-standing issues at Schalke run far deeper than any of the coaches that have been in charge. Huge debts, internal issues, poor recruitment and a squad that hasn't won a Bundesliga game since January, spells serious danger. With debts of around €200m, the implications of relegation are more than footballing humiliation for such a big club.
So, a very unusual calendar year does end with the accustomed sight of Bayern sitting top of the Bundesliga. But, given the unique set of circumstances, maybe we'll finally get a different outcome in 2021.