Jose Mourinho believes Tottenham need to display a killer instinct if they are serious about winning their first Premier League title in 60 years.
This was after a late strike from Roberto Firmino sealed Liverpool's 2-1 victory over Tottenham recently. The towering header scored by the Brazilian ended the 11-game unbeaten run for Mourinho's side and opened up a lead of 3 points for the Reds at the top of the table.
Liverpool had 76% possession during the game and scored 11 shots on target compared to the Spurs' 2. However, Mourinho was of the belief that if Spurs had taken their chances quickly during the second half, they would have been the deserving winners of the game.
Even a draw would've been disappointing for the Spurs; they were going for victory.
Steven Bergwijn shot hit the post and Harry Kane also missed a very good opportunity with the score tied 1-1.
As per Mourinho, they were very close to scoring win. In fact, he also ended up having a verbal spat with Jurgen Klopp, the Liverpool boss, after the full-time whistle.
The Portuguese manager believed even a draw would have been a bad result considering their performance. He agreed that Liverpool had the majority of the possession, but whenever Spurs had the ball they knew how to make the best use of it.
He emphasised in matches like that you don't get 10 chances, only three or four, which you have to make the best use of. It's like playing poker in an online casino, knowing that you only have limited money, and thus have to use the best strategy to win.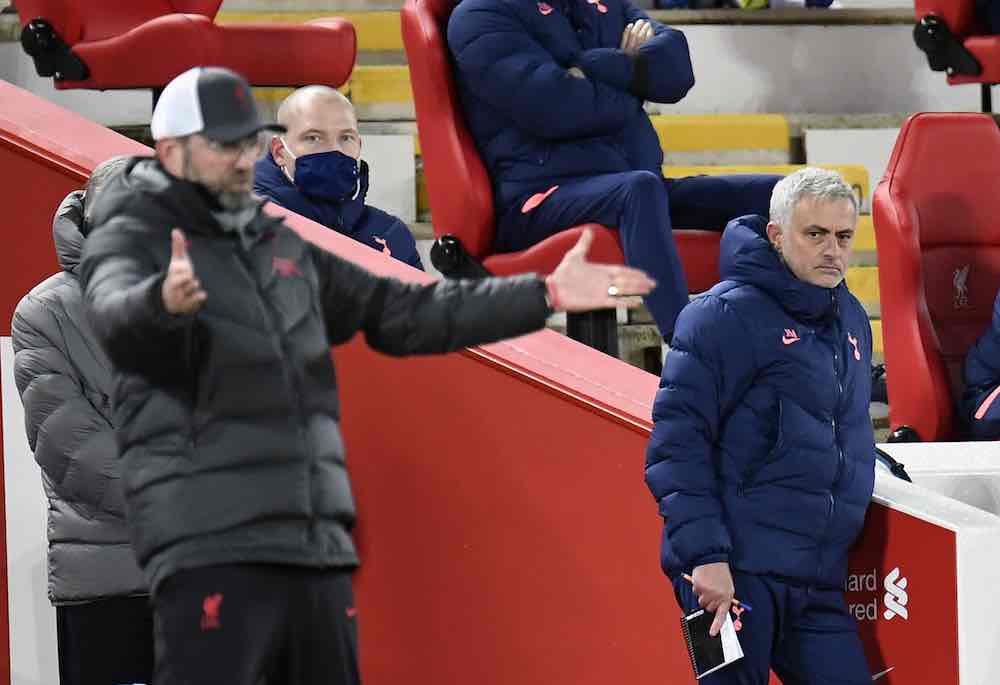 Liverpool now enjoy a 66-game unbeaten run at the Anfield and have proven why they were the deserving winners last season, and are solid contenders this time around too.
Klopp said that the Reds completely deserved the victory considering how they played against a top football team. He too echoed Mourinho's sentiments that Tottenham are a counter-attacking threat, which, if you lose even one ball to, there is an 80% chance of it making its way into your area!
In front of 2000 fans, returning to Anfield after months of behind closed doors football, Liverpool made an impressive start. The Reds scored the opening goal through Mohamed Salah's shot which took a major deflection off Toby Alderweireld, looping past a helpless Hugo Lloris.
Everyone expected Curtis Jones to do better with the chance to score the second goal a few moments later, but Lloris ended up making a comfortable save.
Exactly 33 minutes later came the moment that Spurs had been waiting for.
They successfully launched a counter-attack — that quality which has made them solid title contenders, having beaten the likes of Arsenal, Manchester City and Manchester United recently.
A brilliant pass from Giovani Lo Celso opened up the Liverpool backline, where Son Heung-min coolly scored his 14th goal of the season.
In the end, it was Firmino's header that sealed the fate of Spurs, in one of their most important games of the season.