By Dharnish Iqbal.
'Luck is what we make it, not what is thrust upon us. You've shown initiative and it has nothing to do with luck' – George Bellairs
Gennaro Gattuso would have disagreed with the statement above after his Napoli side became victims of their own misfortune in an undeserved 1-0 loss to Inter Milan on Wednesday.
Part of the crime novelist's statement should resonate with the Partenopei, as Napoli showed plenty of initiative but ended up with no rub of the green.
You'd think two of Italy's finest teams going head to head in possession of illustrious talent meant an enthralling encounter was on the cards.
It was anything but, though there was still plenty of intrigue and incidents worth reviewing.
Inter Lack Link Between Defence and Attack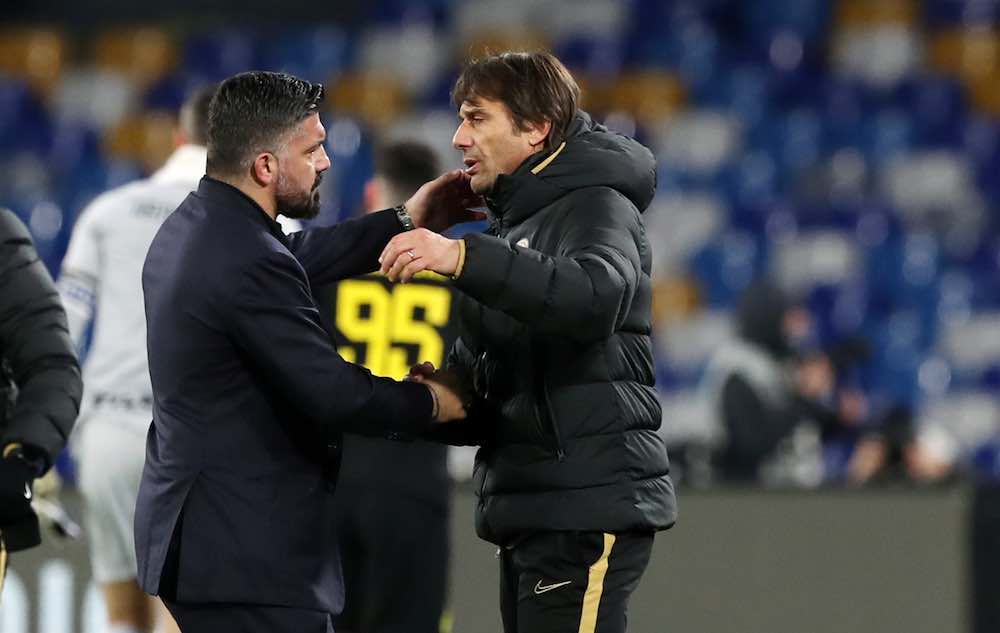 A running theme for Inter this year is how rudderless and lackadaisical they look in attack — at least before they concede.
Inter have made a habit of kicking into gear as soon as an opponent scores, jolting them into life ostensibly luring adversaries into thinking they have stolen a march on them before spurring a comeback.
In terms of title credentials, it is a fabulous trait to have, but Antonio Conte will be more concerned with his team's inability to break teams down until they absolutely have to. Especially when Inter will play the majority of the season as a team that needs to break down robust defences.
An underlying rationale for Inter being slow starters was succinctly displayed against Napoli with an evident lack of potent link-up play between defence and attack.
Despite Marcelo Brozovic and Roberto Gagliardini taking turns to drop into defence, allowing the spare midfielder to push up, Inter were crying out for someone to pick the lock.
It seems as though everything Inter do these days hinges on Nicolo Barella. The midfielder has become undroppable under Conte, developing into one of the league's best players with his versatility in both defence and attack.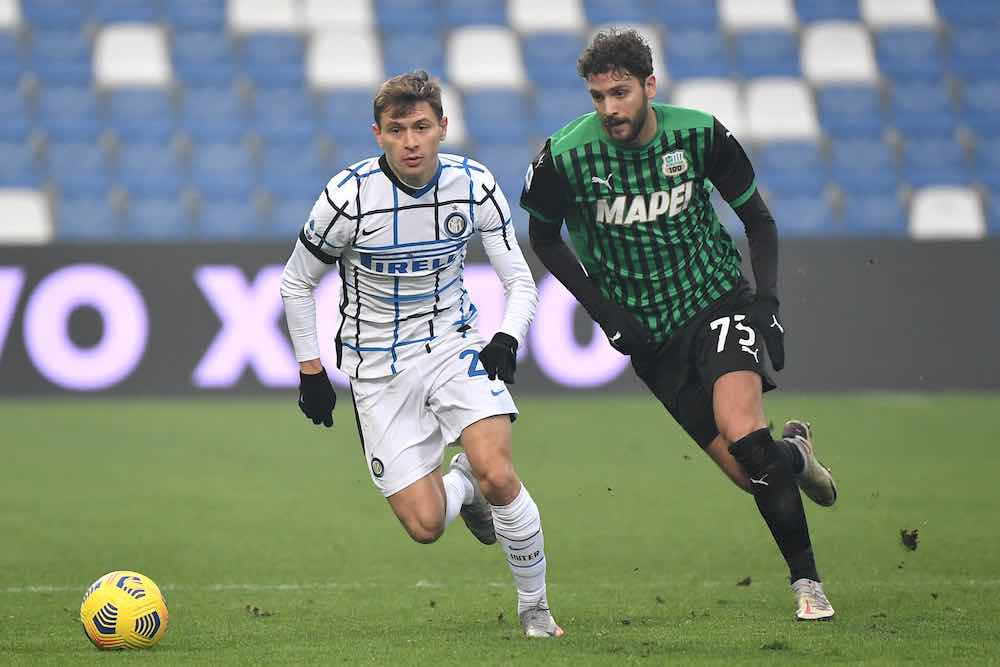 But even in stupendous form, he was unable to provide the creative spark as Napoli's compact shape meant Inter turned to plan B — looking to the wing-backs for width and balls into the box.
Plan B also malfunctioned as first choice wing-back Achraf Hakimi was benched having picked up a niggling injury vs Cagliari.
Inter never looked dangerous from wide areas despite Napoli allowing Ashley Young and Matteo Darmian plenty of space. In fact, the Nerazzurri didn't look too dangerous at all throughout the game.
Ironically, the signing of Christian Eriksen was made to address such a predicament, but it has gone horribly wrong and the Dane is now on the periphery of the squad.
The look of puzzlement on his face as he was brought on humiliatingly in the 90th minute vs Bologna last week with the game already finished sums up the entire situation, especially taking into account how much Inter and Conte pined for him.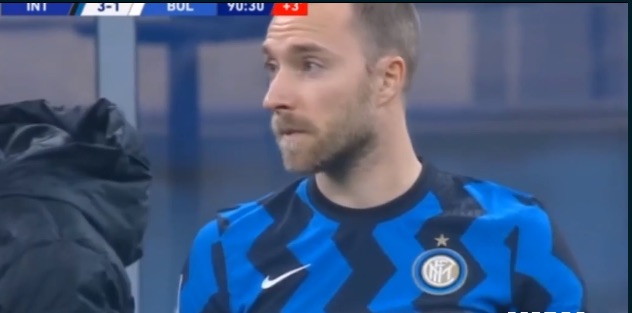 Additionally, top marksman Romelu Lukaku was excellently marked out of the game by Kalidou Koulibaly. Inter never looked like the league's highest scorers.
Insigne from Ace to Joker
Gattuso possessed the kind of weapon Inter themselves required — Lorenzo Insigne. The Napoli attacker classily showcased his ability to find pockets of space that may not be evident to others.
Keeping Napoli ticking, picking players out with laser precision as Napoli looked the better, more fluid side — Insigne was the orchestrator, going extremely close to scoring himself with a delightful flick.
All before the game turned on its head and he got himself sent off by arguing too vehemently against the blatant penalty Napoli conceded in the 73rd minute.
The incident ended up gifting Inter the win as Napoli were never able to recover from Lukaku's spot-kick.
It is worth mentioning that although awarding a penalty was the correct decision, the game was full of mystifying refereeing with wild consistency.
Referee Davide Massa had an error-strewn game and seemed to think a foul was warranted only if there were theatrics involved.
Napoli Rue Missed Chances
Having already lost Dries Mertens to injury early on, the sending off of Insigne meant Napoli were bereft of their two main attackers.
The precarious situation symbolically represented Gattuso on the touchline who was missing a lens in his glasses due to an eye problem.
Despite the setbacks, Gattuso's men battled on valiantly. Even when reduced to ten men Napoli were palpably the better side, having 59% possession and 17 shots.
However, Napoli's superiority, in the end, was for nothing, as rotten luck and missed opportunities, namely with Andrea Petagna hitting the post and Matteo Politano forcing a great save from Samir Handanovic, meant they left the San Siro with nothing.
Gattuso had reason to feel indignant and lambasted the red card decision which flipped the game in Inter's favour.
Conclusion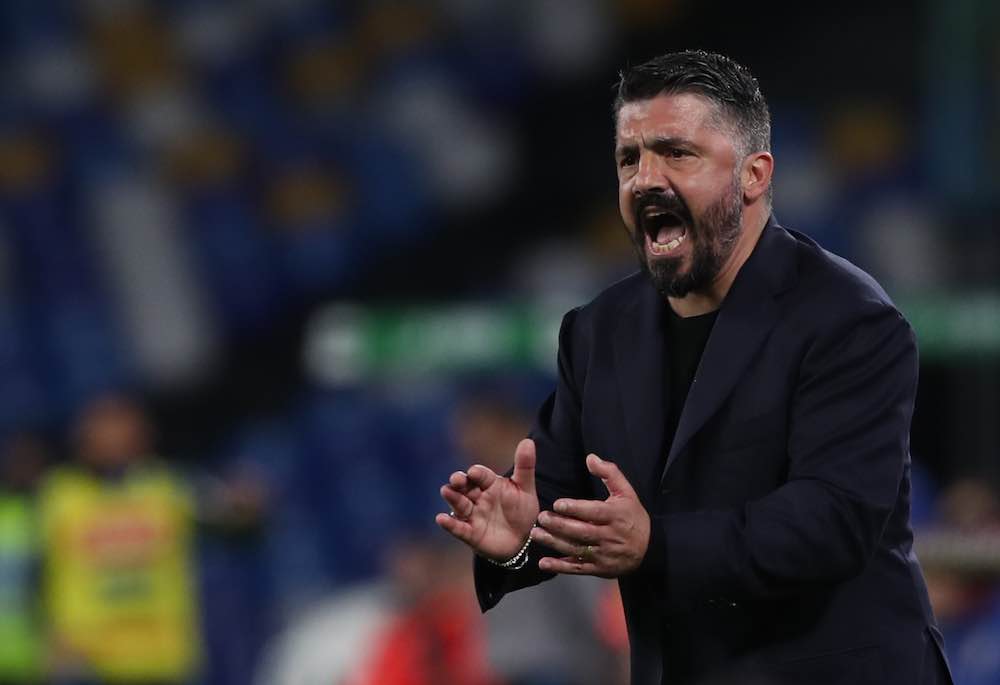 Encouragingly for Inter, they don't seem to be playing at their best, but are still managing to grind out results.
Despite my cries for them needing an attacking midfielder, they are the top scorers in the league and if they can improve their synergy in central attacking areas could score even more.
Conte may have a keen eye on using Stefano Sensi more regularly, whose direct play when coming on was instrumental in winning the penalty. He could also try Alexis Sanchez, who offers an enthusiastic option in attack with the guile to link well, as proven against Sassuolo.
Inter will also be monitoring the Papu Gomez situation at Atalanta, which could be a major coup in January.
Napoli seemed luckless and now face their next fixture without main forwards Insigne, Mertens and Victor Osimhen.
Although Gattuso can take heart from the performance, he will have to heavily reshuffle before a tough trip to Lazio.
Napoli have had an encouraging start to the campaign, but seem to be dealing with unfortunate situations that are pegging them back.