By Daniel Lucci.
On the final day of the 2020 summer transfer window, Juventus made another large splash in acquiring one of Italy's top young talents, Federico Chiesa, from Fiorentina.
The 23-year-old initially joined the Bianconeri on a two-year loan that will become a mandatory purchase for a total cost of around €60m.
It is safe to say many were shocked when the news broke of Chiesa's transfer to Turin. Some believed he was just another overhyped prospect. Others believed the fee being paid to Fiorentina was too much, and it would have been better spent on other players. There were also a few that believed this signing could turn out to be a superb piece of business by Juve's Chief Football Officer, Fabio Paratici.
Although it has been only a few months since Chiesa joined the Bianconeri, the explosive attacker has now shown what he is capable of. In the nine Serie A appearances he has made with Juve, Chiesa has already tallied four assists, along with scoring a wonderful long-distance solo effort against Atalanta.
Additionally, the youngster has gone on to feature in all six of Juve's UEFA Champions League group stage fixtures. In those six games, he's been able to add an additional goal and an assist.
It's certainly not a terrible start for someone who many thought was overhyped and did not have what it takes to cut it at Juventus. Even though this is still early days, Chiesa has been able to do much more than just contribute goals and assists.
One of the most important attributes Chiesa is able to bring is his ability and willingness to take on a defender. Before he joined Juventus, they did not really have a player with such elusiveness, minus of course Cristiano Ronaldo who, at 35 years old, is not as capable as he once was.
Chiesa is able to bring things that defenders hate such as speed, tricky feet, aggression and work rate in and out of possession.
Another important aspect he brings to the game is versatility. Since joining Juventus, Chiesa has played on both the left and right of midfield, and even in more advanced positions in Andrea Pirlo's 3-5-2 formation, which sometimes adapts to a 4-4-2.
During his time at Fiorentina, Chiesa played as a striker and on both wings, with the latter role probably his preferred position.
The versatility Chiesa is able to provide is an added benefit to any team, as it allows them to be creative and flexible in their system throughout a match.
Having such a talented player who is able to play in multiple positions is a large bonus for Juventus, and even Chiesa, as it allows him to get more time on the pitch to further aid his development.
Ever since receiving his very questionable red card against Crotone on his Juventus debut, Chiesa has been a positive influence on this shaky Juventus team. At times he has looked like Juventus' best player and is always willing to run back to help cover defensively. This is something Pirlo has noticed and certainly appreciates.
Pirlo has gone on to say that he asks a lot of Chiesa when he is on the pitch. Furthermore, jumping from Fiorentina to a team like Juventus is not an easy task and it would take him time to adapt, but he is already growing, even with the pressure put on him.
Trying to follow in the footsteps of his father, Enrico, Federico has proven that not only is he able to score, but that he can create plays almost out of nothing. He will now need to show it on a consistently if he wants to have a prolific career like his father before him.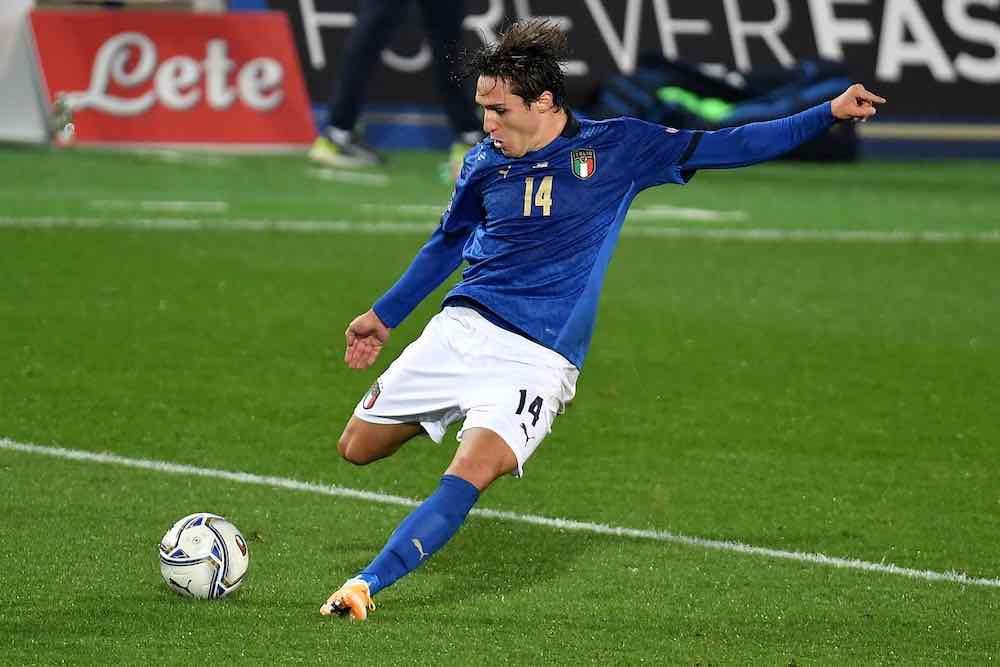 Having made his International debut for the Azzurri as a 20-year-old back in 2018, Chiesa has gone on to feature for Italy 21 times to date. He has been a mainstay in Roberto Mancini's Italy group, with a spot in the squad for this summer's European Championships competition almost guaranteed.
Mancini has stated that Chiesa could be an important player for the Azzurri for many years to come, especially if he is played in the correct position — with the current Italy boss believing he is best deployed on the wing.
Chiesa's coaches have high hopes for him, and training daily with some of the top talents will be of great benefit.
With his best years, and potentially a very long career still ahead of him, the sky is the limit for the youngster.
With that said, it is still too early to fully critique Chiesa's big-money move to Juventus. He has already shown very promising signs that he can live up to the hype, though, and the potential is undeniably there for him to surpass the career of his father. But Juventini must remain patient as their young star develops.