By Andy Wales.
Football is littered with tales of exciting prospects who never fulfilled their potential. Joshua Kimmich is not one of them. And not only is he one of the success stories, but he's set a new standard and already developed into the archetypal modern footballer.
Born on February 8, 1995, in the town of Rottweil just south of Stuttgart, Kimmich joined the VfB Stuttgart academy aged 12. It's the same academy that has produced the likes of Serge Gnabry, Timo Werner, Mario Gomez and Sami Khedira. 
However, he never made it to the senior set-up there and in the summer of 2013 was snapped up by RB Leipzig. They had just been promoted to the 3. Liga and Kimmich soon established himself in the first team that earned promotion. His performances in midfield attracted the attention of Bayern Munich, and in a transfer personally overseen by Pep Guardiola, Kimmich officially became a Bayern player in 2015.
Use your football knowledge to make bets on the football stock market – Football Index
It was the desire shown by the then Bayern boss Guardiola that convinced Kimmich it was the right move to make. Guardiola not only saw the player's technical qualities but also recognised an aptitude. Such faith was soon repaid as Kimmich was successfully deployed in a defensive role. 
Guardiola was asked about him at the time and said: "He's always positive, always focused, always serious. Joshua has absolutely everything. I told him that he is one of the best defenders in the world, but not only that, he can play anywhere."
This versatility helped him gain experience and find his place at Bayern. It would also become a hallmark of a career in which he has yet to reach his peak. 
The 2017-18 season saw Kimmich settle into the right-back role for both club and country. It was here that he combined his defensive attributes with his passing ability and a midfielder's vision of the play around him. 
Kimmich didn't just convert well into a full-back role, he excelled there. Indeed, he was widely recognised as one of the best in the world in that position. The comparisons to Philipp Lahm were inevitable — the versatility at an elite level in the same positions for both Bayern and Germany.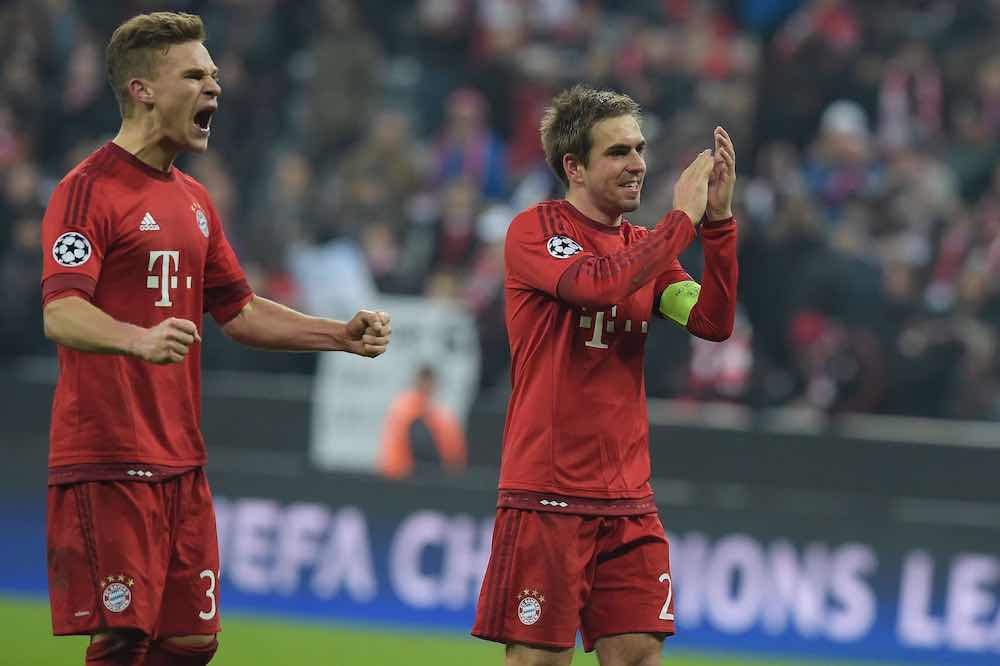 Lahm is one of the players Kimmich cites as influential on his career. Speaking to Bundesliga.com in 2018, he said: "I would like to commit as few mistakes as he did, whether it's in terms of positioning, anticipation, clearances, and to be as intelligent on the field. It's on that level that he is a source of inspiration."
In the same interview, he eulogised over the other major influence upon him, Xabi Alonso. "He's, without doubt, the best player I ever played with. He always knew who he was going to pass to before he even received the ball. He was the brains of the team." 
Kimmich made no secret of the fact that central midfield was the position he always wanted to return to. For a period, the transition there for both club and country was not a smooth one. As well as initially struggling to establish himself in the middle of the field, both Bayern and Germany missed his presence and creativity from full-back. 
The real turning point came with the appointment of Hansi Flick as Bayern boss. The higher tempo, aggressive pressing style of Bayern under Flick suited Kimmich and he began to flourish. In a midfield partnership with Thiago Alcantara and Leon Goretzka, Kimmich's tireless work rate, ball-winning ability and passing helped deliver Bayern a much sought-after Champions League success. 
That versatility was vital in the latter stages of the competition as injuries required Kimmich to cover at right-back. Few players are able to attain world-class levels in one position, Kimmich has done it in two. 
Possessing these attributes is one thing, consistently applying them is another; it's what sets the very best apart. Kimmich is very much a model of consistency and that is underpinned by the distance he covers game after game. 
The high-tempo aggressive style that Flick likes to employ with Bayern depends on players being prepared to work hard. Kimmich leads the way in that regard. In the 2019-20 season, he covered an incredible 398km, averaging 12.7km per 90 minutes played. He has sustained those numbers this season, averaging 12.4km per 90.
In addition, Kimmich has become a leader on and off the pitch. On the pitch, he's seen as a future captain for Bayern and Germany. Off it, he's joined forces with team-mate Goretzka to create #WeKickCorona in order to help people struggling during the pandemic. 
Kimmich's sense of social responsibility is testament to his character and maturity that extends beyond his development as a footballer. In addition to his technical ability is his winning mentality; a willingness to learn and keep working hard. It is what has seen him go from being one of the best full-backs in the world to one of the best midfielders in the world.
A treble-winning season was capped off with him being named in the FIFA team of the year. Given his relatively tender age, there's likely to be much more recognition and trophies to come in what promises to be a legendary career.
Buy shares in Joshua Kimmich on Football Index – bet on the football stock exchange
---
+18, New UK and Ireland customers only, begambleaware.org, T&Cs apply.