By Louis Smith.
Being a goalkeeper is one of the toughest jobs in football. This is more evident in Brazil as clubs often stockpile shot-stoppers to the point where most have three or more senior keepers in their first-team squad.
Rotation of goalkeepers can sometimes be limited to cups or State Championship matches, meaning some goalkeepers can wait years before making a first-team appearance.
John Victor Maciel Furtado, more commonly known simply as 'John', is the current first-choice keeper at Santos.
His journey to the first team started at a young age and was one which required patience, as he waited for the right moment to take his chance.
After several years in the Peixe youth teams, Santos loaned John out to Portuguesa Santista in 2019 in order for him to gain some first-team experience.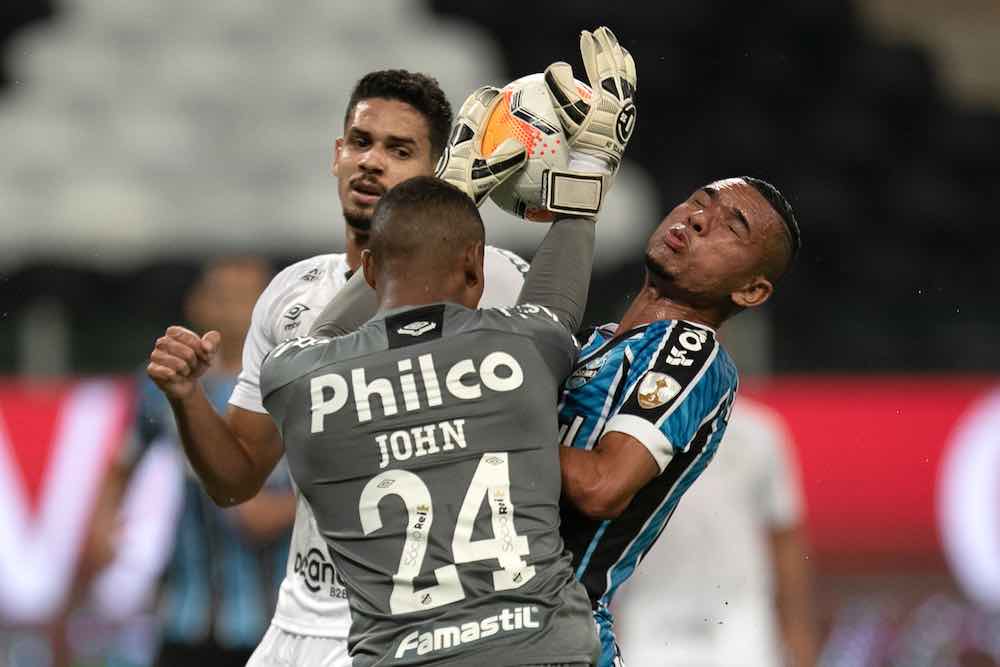 "I started playing for Santos at U15s," John tells WFi. "I think it's a process of preparation. When you're 18, you think you are ready to play, you feel confident, but things are not like that.
"With no doubt, playing in the Santos youth teams made me grow as a player and mostly as a person. I only keep the great times from that period. I had the chance to play a lot, was called up to Brazil U17s, and won titles.
"My loan move to Portuguesa Santista was my first experience with [senior] professionals. The club is in the same city, to be more specific in the same neighbourhood. It was good to have some minutes.
"It's a tough competition and the fans put a lot of pressure on us. I learned how to handle the pressure coming from outside and also to give more significance to the structure I have at Santos."
On his return, John spent several matches watching from the sidelines, before a rare opportunity came his way in November when he made his debut in a 2-0 victory against Internacional.
His performance and clean sheet were enough to convince Santos manager Cuca to put his faith in the 24-year-old to become the number one goalkeeper. John went on to start in a further six games before being rested ahead of an important Copa Libertadores tie with Grêmio.
Santos eventually went on to defeat their fellow Brazilians 5-2 on aggregate in that quarter-final — a result which was seen as a shock across South America.
"My debut game was full of adrenaline," added John. "Unfortunately, my chance came after my teammates got infected by Covid-19, but I was ready.
"At the beginning of the year, I put on my mind that this year was atypical and I would have some chances. I have been working with the first team for five years now and I prepared my mindset to be ready when the chance came.
Em um ano difícil para todos, tive a alegria de realizar o sonho de jogar pelo Santos. Só posso agradecer por tudo que aconteceu profissionalmente em 2020. Que venha 2021 e traga mais aprendizado, evolução e alegrias o torcedor santista. Feliz Ano Novo! ⚪⚫🎆 pic.twitter.com/y0N4ws55DZ

— John Victor (@johngoleiro) December 31, 2020
"To play in the Copa Libertadores was a dream come true. Cuca knows how to work and prepare us for these moments.
"We say that there is no better inspiration than playing for Santos. Especially in the Libertadores. It's been a tough season, we play and live like a family."
Santos will now face Boca Juniors in a Libertadores semi-final which sees two clubs with great history, who have won South America's greatest prize nine times combined, go head to head.
"Games between clubs from Brazil and Argentina are always special," said John. "Santos and Boca Juniors are the two biggest clubs in South America. It's an honour to be part of it and play this game. It means a lot.
"One thing we say is that we can put our names forever in the history of the club, this would be something special."
At the age of just 24, John potentially has a huge career ahead of him. He gave a little insight into his mindset going forward.
"I try not to think much about the future," he said. "I believe that this moment that I am living is very special.
"Of course, I have ambitions. I want to be called to Seleção (Brazilian national team) once again.
"In the future, I don't know when I want to play in Europe. I plan that for the future, I have an Italian passport, I study English and also study the game. But I don't need to rush. I am enjoying what is going on in my life."