By Mike Rice.
A number of reports in France have suggested Toulouse attacking midfielder Amine Adli is drawing interest from Marseille. The 20-year-old's performances this season have shown he is ready for the step up to Ligue 1, whether it is with promotion-chasing Toulouse or a via a summer transfer.
French media have suggested Toulouse president Damien Comolli is asking for €15m for the attacker who has eight goals and five assists in Ligue 2 so far this season.
Building on a handful of opportunities last season as the Toulouse were relegated, Adli has gone on to be a key player in their challenge to return to Ligue 1.
Adli's pace is the first thing that stands out. He can carry the ball and can attack at an incredible speed while also having the coordination and agility to change direction with the ball under close control.
A left-footed player, Adli likes to play from a No. 10 position where he finds areas of space in between full-backs and central defenders, as well as between the lines of defence and midfield.
Toulouse have used Adli as a second striker with the freedom to roam and find space. His pace and agility allow him to find space in areas between defence and midfield to turn and carry the ball forward. He is a big reason why Toulouse are the highest scorers in Ligue 2 this season.
Adli has been directly involved in 13 of the 60 goals Toulouse have scored in 32 matches so far. He times his movements well with, six of his eight goals coming from a through ball or cross into the box where his run has facilitated a pass in his direction.
While dropping into deeper pockets of space, defensive lines come forward leaving space in behind which Adli attacks with great threat and finishes calmly with both his left and right foot.
His first goal of the season came from arriving to head a cross — his timing making this possible as his size and stature is so much smaller than most opposition central defenders. In that same game, his second came from the opposition's corner. Toulouse goalkeeper Maxime Dupé rose to claim the ball and one throw out and one touch from Adli later, and his pace had taken him through 1 v 1 to score.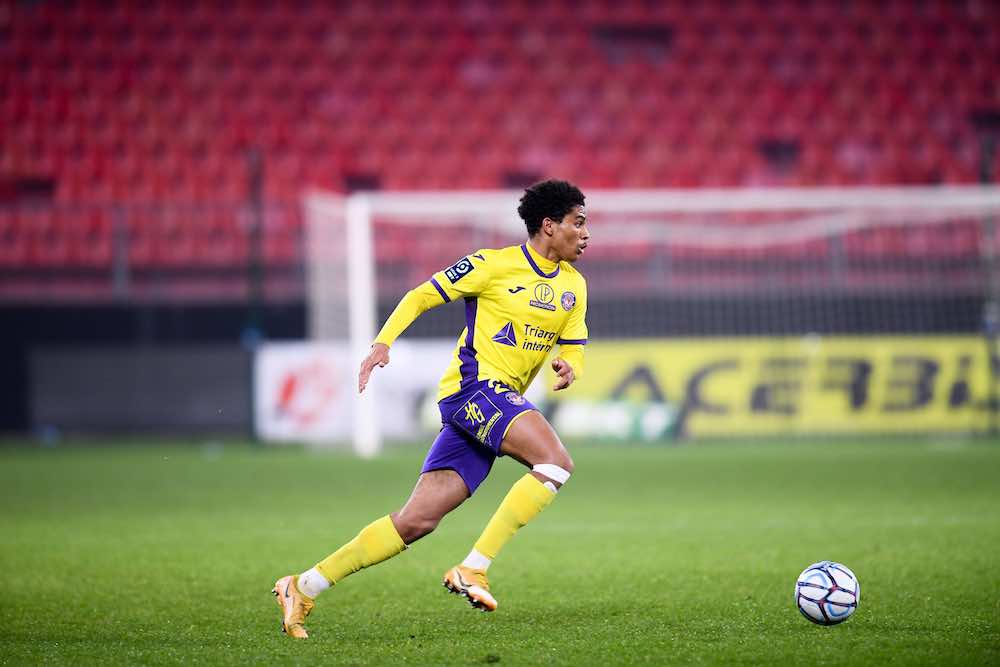 From his 43 shots this season, 27 have been from outside the box with only ten on target. One weakness to his game is that he can be too eager to shoot from distance when there may be better options available.
Playing as a second striker has meant Adli has wide players and a centre forward available to him when he receives the ball.  He often has these options available and, when used, he is able to create good opportunities for his teammates, though at times he will rush to shoot.
Due to his ability on the ball, he can miss opportunities to identify others in dangerous areas, but this is a learning curve he can adapt to in order to continue to improve and become even more of a danger in the final third.
As well as his attacking flair, Adli works hard off of the ball and out of possession. He reacts quickly in transition and will track back and work to stop opposition counter-attacks.
Even with his slim build and average height, Adli will physically compete with any player on the pitch for the ball.
He has been involved in the eighth-most offensive duels per 90 in Ligue 2, averaging 15.64; and of the 16 players with 15 or more offensive duels per 90 in Ligue 2 Adli has the third-highest success rate with 43%.
From this, he has gone on to show a maturity and confidence to carry the attack for Toulouse, and be a focal point in attack. A product of the Toulouse academy, it is clear to see the determination he shows for this club and teammates in his play, while also bringing them all together when celebrating goals.
He is a player with all the attributes for the bigger stage, and Europe's top five leagues should be closely watching this player who is performing well above his years.