By Mike Rice.
Luis Abram's eventful start to the 2021 season continued with transfer rumours linking him with a move to Celta Vigo this summer.
The Peruvian central defender, who is first-choice with his national side, has turned down a contract extension at his current club Velez Sarsfield on more than one occasion in the past nine months — something that has often left him at odds with the board and the fans.
With a contract due to expire at the end of June 2021, Abram made it clear that he did not wish to sign an extension.
Rumours of interest from Europe first circulated last summer, but clubs preferred to wait until his contract expired rather than paying the reported $8m buyout clause.
Turkish media claim that Galatasaray made a $3.5M bid for Luis Abram!!They'll have to a lot better than that as his release clause at Vélez is $8M.#ArribaPerú #TransferTalk pic.twitter.com/VtqPjQrtMT

— Diego Montalvan (@DMontalvan) June 24, 2020
Since Gabriel Heinze left Velez for Major League Soccer side Atlanta United, Abram's performances have not matched his previous high level, especially as it became more obvious he was preparing to leave when his contract expired.
The Velez board were unhappy with Abram's refusal to sign a contract extension and looked to make him train away from the first team.
Despite this, Abram is still featuring for the side, but that is mostly due to the sale of Lautaro Giannetti to Atlanta United and other central defenders leaving the club due to expired contracts.
This is where Abram has shown his quality and strength of character, even though fans were ready to chastise him for any poor performance.
During a 1-0 victory over Talleres Cordoba in March, Abram put in a poor performance and was the focus of supporter's discontent despite the win.
In the following game, Abram scored the only goal in a win over Independiente then helped his side to a 1-1 draw with Defensa y Justicia after his centre-back partner was sent off after 56 minutes.
These performances went some way towards silencing his critics and showing the quality which makes him a key part of the Peruvian national team.
A move to Europe seemed inevitable, and since the start of 2021 La Liga side Celta Vigo have been favourites to sign him.
Now I would love to see Luis Abram at Celta Vigo.

If there is one position in Coudet's Celta that needs reinforcement, it would have to be a new centre back. Would love to see a Nestro Araujo – Luis Abram partnership

And better yet, Abram and Tapia on the same team 👀 👀 https://t.co/DsruRmuJ58 pic.twitter.com/TgXxSHbTa2

— Renato the Sun (@renato_sun) January 7, 2021

At 181cm tall, he is slightly shorter than the usual centre back for a top five European league but despite this he has shown good strength in the air, winning 68% of all aerial duels so far this season for Velez.
He is a left-footed central defender who is ever-present in the Peru national side and has experience playing as part of a two or three in defence.
For Velez and Peru, he remains calm under pressure and is a patient defender. When playing for Peru he is often facing some of the best forwards in the world in one of the toughest qualifying campaigns for World Cups, as well as in the Copa America.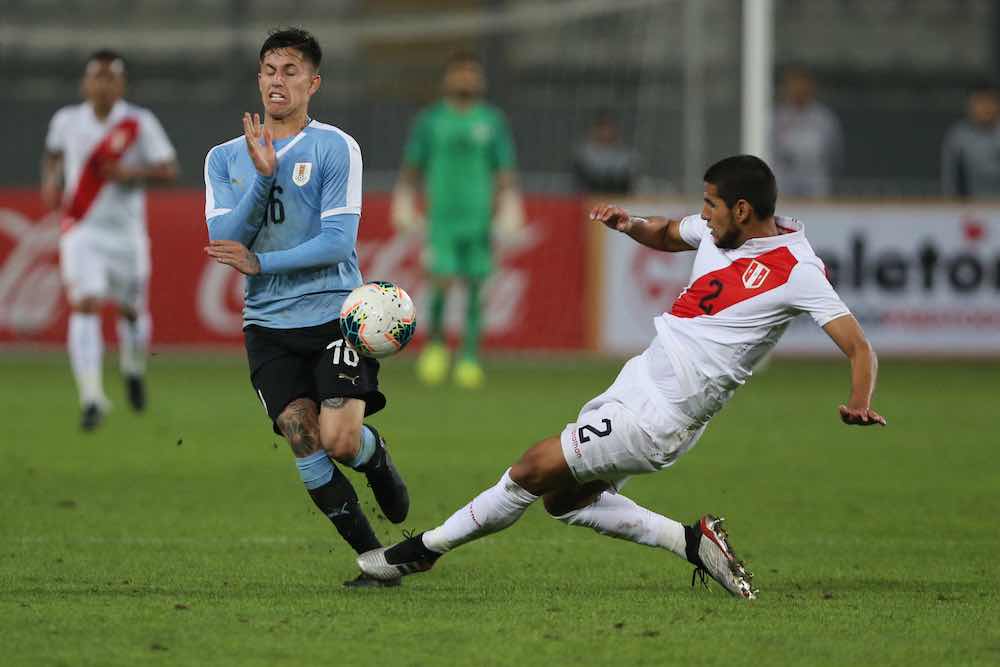 One weakness can be that he tends to go to ground too frequently, though can often be successful. He is quick to recover and times his tackles well, though with the frequency of this type of defending, missed tackles and fouls are often given up. This would be more noticeable in a stronger league.
Abram is used to having the ball at his feet and will fit in well with a side that looks to play out from the back.
He has made the seventh most passes (66.26 per 90′) in the Argentine Primera so far this season, with a 91% pass success rate.  On the ball, he prefers his left foot, and will always look to pass forwards where possible.
He is not a player who will hold on to the ball and bring it out from the back. He averages just 0.47 dribbles per 90 this season with only 33% success. This shows he might be unfit for clubs who look for their central defenders to carry the ball out from the back or would need to be paired with a player more adept in this area of the game.
He is a quick defender, who can recover well and has the ability to continue to perform at a high level in Europe. He holds an Italian passport which aids his movement across to the continent.
For Ricardo Gareca the Peru head coach, it is vital for him to see his key central defender playing regularly. Coming to Europe, Abram will need to settle quickly and continue to see playing time in order to maintain his role in the national team.
At 25 years of age, he would need to find a club that will give him the minutes he needs in order to not take steps backwards in his career at a vital time. Celta could be that club.