By Mike Rice.
Going into the 2021 Copa America, Ricardo Gareca knows that this will be the last competition for a number of his regular players in an ageing Peru squad. One key area of the team where this is most noticeable is the centre forward role.
Gareca often uses a 4-2-3-1 with a lone striker supported by two wide forwards, often Andre Carillo on the right and Edison Flores on the left and Christian Cueva in the #10 role.
In this system, his striker needs to be a strong and competitive forward who can bring others into the game as well as put central defenders under a lot of pressure.
Paolo Guerrero usually fills this role. He is Peru's all-time leading scorer with 38 goals, their captain, and their leader.
For Peru he is irreplaceable, although at 37 years of age and having missed most of the last year with a cruciate ligament rupture, his playing time will likely be limited in the Copa America.
The influence and the respect he carries in the squad will be invaluable, but on the pitch, another centre forward will have to be found for the future.
Jefferson Farfán, now 36, has recently come back to Liga 1 to play for Alianza Lima after his contract expired at Lokomotiv Moscow. He spent six months without a club while recovering from an injury that looked to have put clubs off committing to the wages Farfán would command.
He has since been suffering with pain in the knee which was operated on last year and has ruled him out of the upcoming World Cup Qualifiers and Copa America. Alongside his friend Guerrero, Farfán has been a key player for Gareca, though looks set to call time on his International career.
Other strikers who have played under Gareca include Aldair Rodriguez (26) Raul Ruidiaz (30) and Gianluca Lapadula (31).
Aldair Rodriguez moved to Colombian side America de Cali after a successful period at Binacional during 2019 and 2020. At 26, he is one of the younger forwards, though his career in Colombia has struggled to take off, with him yet to score for his new side, while also being moved out wide in recent matches and being rotated frequently.
Gianluca Lapadula has recently been capped by Gareca, making his debut in the World Cup Qualifier with Chile in November 2020. Though there was a lot of excitement from supporters, his fate may end up being similar to that of Ruidiaz. Both players are more adept at the poacher's role rather than the complete centre forward the system requires.
Ruidiaz, of Seattle Sounders in MLS, has an excellent club goalscoring record everywhere he has played, though struggles internationally, especially as a lone striker.
While, after scoring 30 goals in his 2015/16 season in Serie B with Delfino Pescara, Lapadula has not been a consistent goal scorer since playing Serie A football in Italy.
With the current crop of forwards either coming to the end of their careers or failing to impress at club level, where does Gareca look next?
Santiago Ormeño
There are three names on the 50-player provisional Copa America list who are recognised forwards. The first is Santiago Ormeño of Puebla in Liga MX.
Ormeño is 27 years old and only recently gained extended first-team football. He has 16 goals in 31 games this season for Puebla and in terms of physical attributes, is the closest to Guerrero of players currently in form. He is a strong target man with the ability to receive the ball with his back to goal and bring others into play or turn and create chances for himself.
Orgulloso de este equipo que nunca baja los brazos. Impresionante el esfuerzo y la entrega de todos! Gracias afición por el apoyo espectacular!! Queda poco más para el gran objetivo, a seguir así! SOMOS GIGANTES @ClubPueblaMX 💪😎 pic.twitter.com/gOStH9kJaP

— Santiago Ormeño (@santorme) May 16, 2021
Ormeño has taken a while to find regular first-team football. He has been one of the biggest surprises in LIGA MX having come through the Club America academy but failed to make a first-team appearance for them.
Former first-team assistant Carlos Turrubiates revealed why this happened – "He wanted to be a professional when he grew up. When he was young, he lacked being more professional when it came to taking care of himself."
2020-21 has been his standout year and this could have come just in time for Gareca who might have found his new starter. He appears to be a committed professional for his side and showing signs of being one of the stand out centre-forwards in Liga MX.
Alex Valera
Second is Alex Valera of Universitario. At 24, Valera has moved to La U from Llacuabamba who were relegated from Liga 1 last season.
He is a tall forward, capable of competing physically with defenders, though with little experience in first-team football. Having had one season in struggling Llacuabamba, Valera is competing with the experienced Enzo Gutierrez for the starting spot at La U.
Gaining experience in the Copa Libertadores this season and playing for a stronger team will help his development as a player, though it remains to be seen if he will have the ability to represent his country at international level.
Luis Iberico
The final player on the list is Luis Iberico of Melgar, the Arequipa side who are competing well in the Copa Sudamericana this season.
Iberico is more of an all-rounder at present, playing off of the wings more than in the centre forward role. He is 23 years old and is in his third full Liga 1 season as a starter, which includes one season on loan with UTC Cajamarca.
Iberico is a persistent and highly energetic forward who puts defenders under pressure and also competes well in the air. With more continental experience and continued game time for a strong side in Liga 1, Iberico will need to increase his goal tally and settle in the centre forward role if that is where he will make his career.
As a versatile forward, he has the ability to continue to develop and be part of the Peru squad in the future, but what the national side needs at the moment is an out-and-out centre forward.
Matias Succar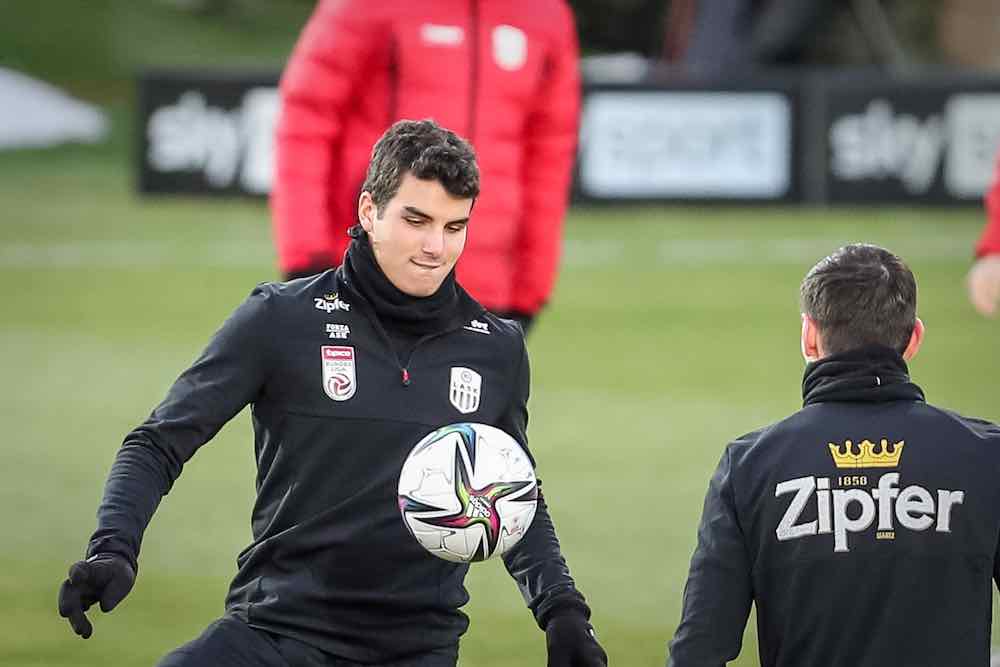 There is one player to mention who has already left Peru for development abroad hoping to work his way into the national side. 22-year-old Matias Succar, who joined LASK in Austria, has been playing in their reserve side to gain match practice while adapting to a new way of playing.
There is a lot of hope around Succar, who broke out at Deportivo Municipal in the final year of his contract, scoring 11 times in the 2020 season.
At 184cm he is able to compete well aerially with a good jumping height and is an aggressive and hard-working forward. His composure and movement in front of goal improved while at Municipal, though these elements will continue to be worked on at LASK.
Should Succar settle and develop as Peruvian fans hope, he will be in a strong place in a side that aim to compete in European competitions on a regular basis.
Adrian Ugarriza
In Liga 1, Peruvian sides often utilise foreign strikers as well as older, experienced players. Adrian Ugarriza is one of a handful of Peruvian forwards under 30 scoring goals in Liga 1 so far this season.
At a Cienciano side showing early signs of being able to compete with leaders Sporting Cristal, Ugarizza seems to be in the perfect place to grab some attention. A tall and mobile forward, Ugarizza scored three times in his first four games of the season after only arriving after a move to York United in the Canadian Premier League was cancelled due to the COVID 19 pandemic.
Prior to the season starting, he had already played 101 times in Liga 1 scoring 14 goals. There is a confidence about his play, stemming from the impressive start Cienciano have made in 2021, and he will need to continue this form to start showing signs he is in national team contention.
He will be in direct competition with Valera and Iberico, due to their ages, and will need to be outperforming both players going forward to be considered once Guerrero and Farfan both retire from international football.
For those young players in Peru looking to gain first-team experience in Liga 1, the options are limited.
Sebastián Gonzáles Zela
21-year-old Sebastián Gonzáles Zela of Alianza Lima started the first three games of the season but has since been used from the bench.
He has received call ups to the Peru U23 side and is physically in the mould of what Gareca will look for from a striker.
He is a young forward who is still adapting to leading the line for his side. He is athletic and able to compete with defenders, though his in possession side of the game needs work.
He has Farfán as a teammate now and will have lots of opportunities to learn and improve with his guidance.
Having had a player like Guerrero for so long as a talisman and superstar in the national side, makes it even harder to replace him. He brings more to the side than just his football ability — he is a leader and inspiration to all.
New leaders will need to emerge, but to replace him at centre forward is not going to be a like for like replacement. Changes may need to be made in the system and tactics used by Peru, especially if players like Lapadula and Ruidiaz are still among the squad.
With Ormeño available, his style of play most suits the system currently being used. If he can continue performing to the level he has this season with Puebla, he could become a key member of Gareca's side. Hopes are high for Ormeño in Peru, but it is important to remember that this is his first full season playing at a consistent level.
Work needs to be done at club level to begin to produce young players with talent in this position who are also able to break into Liga 1 first teams at a young age.
Peru's qualification for the 2018 World Cup was their first since 1982, and without improved development of players at club level, they could be set for another long wait for a return to the biggest stage.