Interview with Manchester United U23 lead coach Neil Wood, by Callum McFadden for WFi.
---
Under Ole Gunnar Solskjær, sixteen academy players have made their first-team debut for Manchester United. How do you help prepare the players for that step up to the first team?
"High-quality training sessions within the academy set up is crucial to that, as is the environment within the academy.
"It is vital that we create positive learning experiences that allow the younger players to flourish and continually challenge themselves.
"We demand high standards at Manchester United, and it is important that as coaches we know the level that is expected from Manchester United first-team players.
"We aim to develop all of our young players as individuals tactically and technically within their position on the pitch and within the team.
"To play at the highest level, you must understand the game and be able to express yourself confidently, so it is vital that each player is confident on the ball and understands what is expected of them off the ball.
"Developing each player as a human being is also hugely important to us. We want our players to back themselves and those around them to excel.
"Video analysis also plays a big part of what we do with the young players. There is so much that goes into my role and it makes me proud to see many of our young players grasp opportunities in the first team when it arises.
"Having a manager who values youth is a great motivation for all of us within the club to nurture and develop the next player who can enhance the Manchester United first team."
---
Your side have had the opportunity to play in the EFL Trophy in recent seasons. What has that challenge been like as a coach and how have the players responded to it?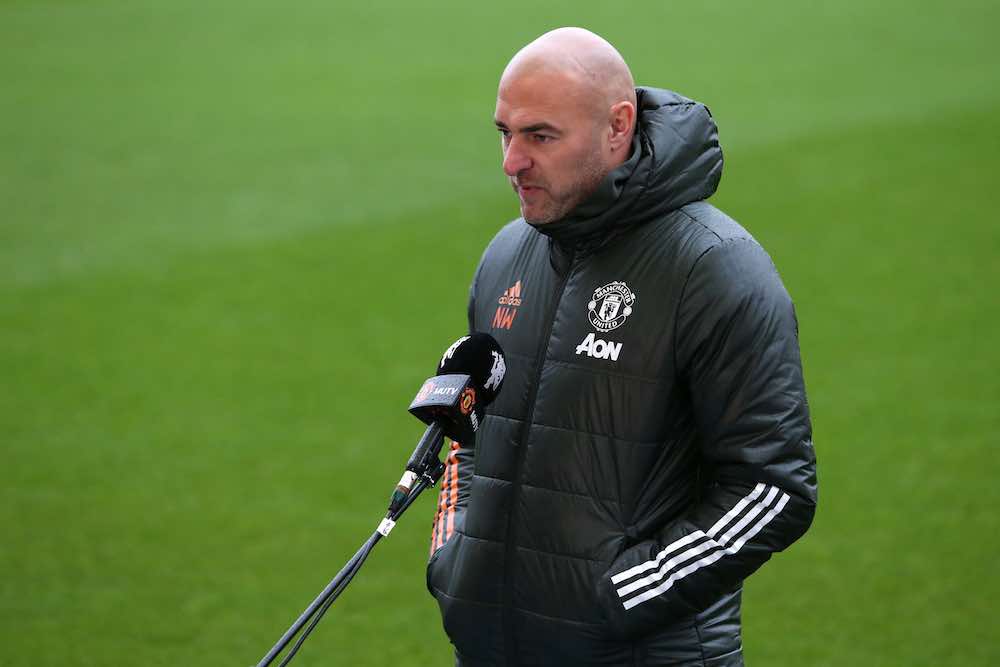 "It has been such an enjoyable challenge for myself and the players. It is a different experience to playing in the under 23 league.
"Every game is incredibly competitive and it is great for the players to test themselves against senior pros and for me to test myself against established first-team managers.
"The players thrive on the challenge of testing themselves and we have had some success playing at that level in recent years, which is greatly rewarding for the players.
"We've beaten Rotherham, Lincoln, Doncaster and Salford in the last few seasons which is a testament to the quality and character of the players.
"Even in the knockout games, we've played well even in the games that we have lost. We led against Tranmere and Accrington and lost the game due to a few errors.
"Although we want to win every game, losing those games is an invaluable learning experience for the players as it enables them to reflect and respond as players.
"Learning what is going well and what is not going so well is part and parcel of being a professional and we see every game and every training session as a learning experience."
---
Several of the players you work with have gone out on loan, including Ethan Laird and Joe Garner. What advice do you give them when they go on loan and are you able to liaise with them when they are at another club?
"We have a loans department at the club that is the main point of contact for our players out on loan. However, I always speak to the players before they go out on loan and regularly go and watch them play whenever I can get to see them.
"I can't get to every single game but I make sure that I get to as many games as possible because tracking each player's progress is a vital aspect of management.
"I speak to the players when they are out on loan, especially when I've watched them, to give feedback on their progress.
"No player is ever alone when they leave the club on a temporary basis. Myself and the loans department make sure that we are available for the players and that we are fully up to date and aware of how they are progressing."