By Jerry Mancini.
It has been quite an outstanding career for Alex Bono at Toronto FC — the Canadian Major League Soccer club that drafted the goalkeeper sixth overall in the 2015 MLS SuperDraft.
He was considered the highest-rated goalkeeper in his draft class, and the 26-year-old, who was born and raised in Syracuse, New York, has gone on to spend the past seven seasons with TFC.
Bono's journey with Toronto has had its fair share of ups and downs, but that has never affected his commitment to the club and desire to reach his potential.
In his first season, he struggled for playing time with the first team and instead made appearances for Toronto's 'reserve' side, TFC II. He played 12 matches and managed to pick up some valuable experience.
In Bono's second season with the club Toronto's first-team goalkeeper, Clint Irwin, picked up an injury and the then manager, Greg Vanney, turned to Bono to become the team's number one goalkeeper.
During the 2016 MLS season, the American made 16 appearances and started in the second leg of the 2016 Canadian Championship final against Vancouver Whitecaps which Toronto won on away goals. Although Bono made a good impression, Irwin regained the starting spot for the remainder of the season and playoffs.
The following season, Irwin picked up another injury in Toronto's season opener and Bono was promoted to the starting lineup again. This time, he managed to cement himself as the club's number one goalkeeper and has become one of the best in his position in MLS.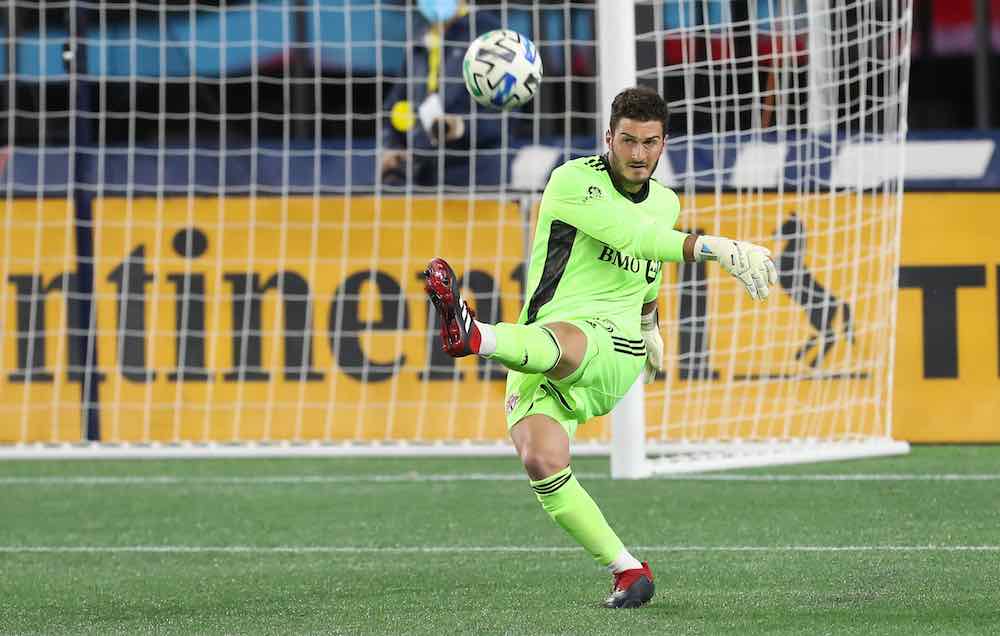 Bono went on to be the starter for TFC and helped his side achieve numerous accolades. His most notable season was in 2017 where they earned the treble as they won the MLS Cup, Supporters' Shield and the Canadian Championship.
Quite the first season to have as a starting goalkeeper, and it saw him finish in fourth place for the MLS Goalkeeper of the Year Award, behind Tim Melia, Andre Blake and Stefan Frei.
In 2018, Toronto struggled to follow up on the success of their previous year. They went from finishing first overall with a league-record 69 points, to 19th with just 36 points.
During that season, Toronto conceded a franchise-worst 64 goals in league play. It was up by 37 goals compared to 2017 and they kept just three clean sheets.
The blame shouldn't be squarely placed on Bono during a poor season. Injuries hurt the defence and competing in numerous competitions made it difficult for Toronto. They did manage to defend the Canadian Championship and made it to the finals of the CONCACAF Champions League.
In 2019 Bono lost the regular starting position due to the arrival of Quentin Westberg. Of the first nine league matches, Bono started in six. For the next 23 games, he sat on the bench before making a brief appearance in September.
The next time Bono started in a match was in July 2020 at the MLS is Back Tournament. Last season he played three matches during the 2020 MLS season proper, yet this limited game time hasn't stopped him from becoming a leader and giving his all when called upon.
"I've been here for six years now," Bono said back in 2020. "If you told me six years down the road, I would have started 100 games when I first walked into the training facility, I probably would have thought you were crazy.
"I'm so honoured, I'm so blessed to be part of this organization and so grateful for this opportunity they've given me."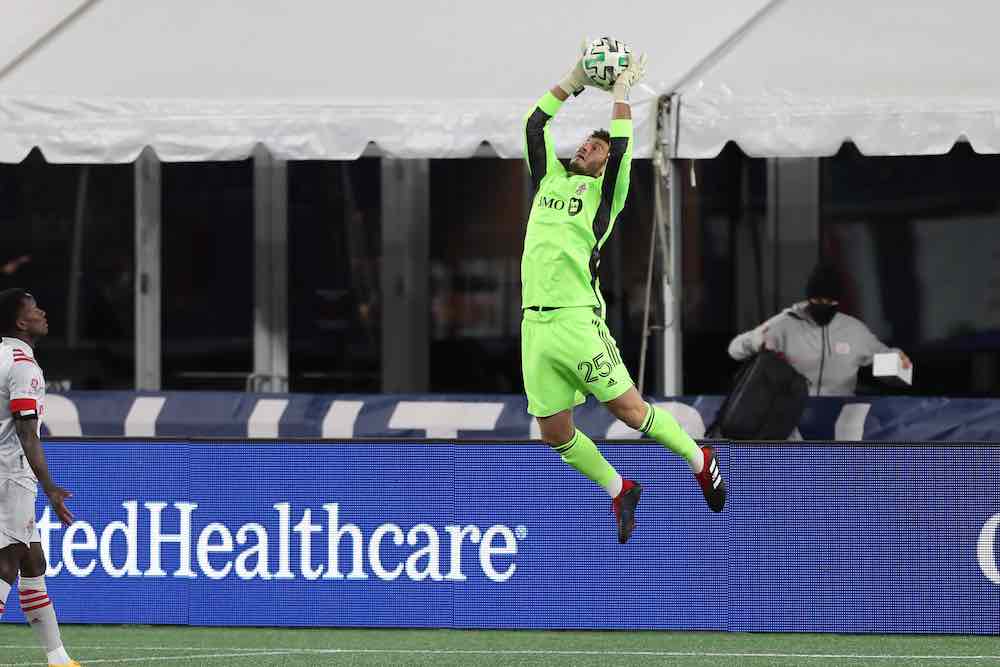 Fast forward to 2021 and Bono has started 24 matches for TFC, seeing his playing time increase under Chris Armas and current head coach, Javier Perez.
While it's been a frustrating season for Toronto as they are second-last in the Eastern Conference and eliminated from playoff contention, Bono has been one of the bright spots.
It could have been easy for him to request a transfer at a time where he didn't know if he would be the starter again, but that was never an option for the American. Instead, he has worked hard to regain his status as the club's number one goalkeeper. He's shown great leadership, perseverance and determination at the lowest peak in his career.
In Bono's seven seasons with Toronto, he has set records and established himself as the best goalkeeper with this team.
He has the most clean sheets by a goalkeeper in a single season with 10 and won more games than any other MLS goalkeeper during the 2017 season with 19. In addition, he surpassed Frei's mark for most career MLS wins by a Toronto FC goalkeeper.
Toronto has always been home for Bono and will continue to do what he can to help his side win.