An interview with German coach and former player Gert Engels, by Callum McFadden for WFi.
---
During your playing career, you played for the all-conquering Borussia Mönchengladbach side of the 1970s. What are your memories of that era?
"To be honest: Not so much to talk about! I was a hopeful U19 national team player for Germany, but was not really 'influential' at Borussia!
"However, I am proud that I was there and it had a big impact on my career.
"I had two(!) great coaches: not only [Udo] Lattek, who was one of the greatest managers ever and I think we don't need to talk about him because he was just a legend, but also Karl-Heinz Drygalski was an outstanding athletic coach and football specialist and most of all a great person.
"I am talking about 'only' two coaches managing one of the best teams at that time, so you see how times have changed.
"Also to be on the pitch together with a bunch of top-level players like [Berti] Vogts, [Jupp] Heynckes, [Herbert] Wimmer, [Wolfgang] Kleff, [Uli] Stielike, [Allan] Simonsen, [Henning] Jensen, etc. meant something special and was a huge experience for me."
---
You moved to Japan in 1990 and you are still coaching in Japan today. What inspired your move to Asia and how quickly were you able to settle in the country?
"Actually I am in Germany and looking for new challenges, but you are right, till this year March I was in charge in Japan (my last Team was INAC Kobe, women's 1. division).
"Before I went to Asia, I spent my entire life in my hometown Düren in Germany, so I would like to put it like this: I was starving for a new challenge. It was the best that I could have done, and I tell everyone to try to spend some time abroad!
"I went there as a player and a coach and I really adapted quickly. It helped that the language of football is international and it helped also that I didn't start at a high professional level, which means that I had no interpreter!
"I was on my own and I had to learn and adapt quickly.
"Besides this, it was the friendliness of the Japanese people which made it easy for me."
---
You won the Emperors cup twice in Japan – in 1998 with Yokohama Flügels and in 2002 with Kyoto Sanga FC – are those achievements the highlight of your career?
"Talking about titles as a manager – yes! Two major titles are something special and there are quite some famous coaches who didn't!
"But it is not only about titles. To be a coach, to stand on the pitch every day, to communicate with players and to improve them — these are the daily highlights.
"Preparing one week for a difficult game and to win this game can be a highlight. To stand second line as an assistant and to win titles, to build up a friendship with your manager — all these are highlights, and much more.
"Of course as a coach, you are fired once in a while, but it is a passion and I love it."
---
You coached the Mozambique national side for two years. What was the experience of coaching at international level like?
"It was my first experience with a national team, so I had to adapt.
"Besides having some real good players in my former teams, I was till then very much focussed on educating players, especially young players.
"I love the idea of spending time on a training pitch on a daily basis to continuously develop a team.
"At national team level, you have not so much time to spend together with the team, so not only training and developing team and players but also communication becomes a bit more difficult.
"But again it was a huge experience and a lot of fun, although I had to cope with some organization problems, and looking back I might say that these problems were much bigger than the problems on the pitch.
"But I loved the country and I met some really good players and good people, and still have contact with some of them.
"The passion for football in Mozambique (maybe all over Africa) is unbelievable. We had some big wins which made the people proud and all in all it was a great time."
---
You worked at Vissel Kobe when fellow German Lukas Podolski was at the club. What was he like to coach?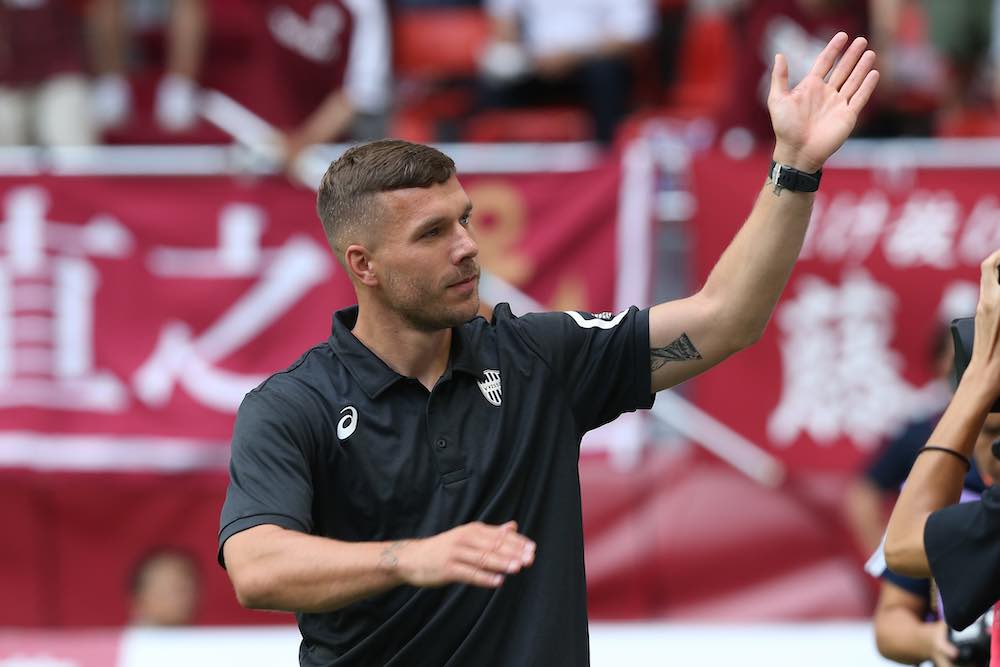 "Easy going, he is a highly focussed professional, always out for training and always ready for a joke! And he still showed some of his extra class.
"He was the captain of the team and quite influential, but in my opinion, the team and the franchise would have done better to listen to even more of his ideas about football and about the club."
---
Last but not least, In 2018, you were awarded German Football Ambassador Award for sporting and social commitments abroad. How proud are you of that recognition for your work?
"So, so proud!!
"I am clever enough to know that I have no chance to compete against coaches like [Jürgen] Klopp, [Thomas] Tuchel, [Jürgen] Klinsmann, etc. if we are only talking about success on the pitch.
"But this award is also about the social commitment and about being a part of the country you are living. Not only working abroad and going back when your time is over.
"Most of the foreign coaches in Japan e.g. are leaving the country right away when their contract is finished. I usually stayed.
"My Japanese friends call me a 'Japanese' or at least 'half Japanese', and after Fukushima, I was one of the first going there and playing football with kids and trying to do at least a bit.
"Very soon I realized that it was not about money (Japan has enough), but about mental support and spending time with the kids or the people.
"So again, I am very proud, especially because this award is not only about football!"