By Louis Smith.
Flamengo will play in their second Copa Libertadores final in three years when they take on Palmeiras in Montevideo later this month, when they will be hoping to emulate the success of 2019. A key player in their side, both then and now, is bushy-haired defensive midfielder, Willian Arão.
Arão joined the club from Corinthians in 2016 and hasn't looked back since, picking up several individual and team accolades in the years following.
Arão was part of the Corinthians squad who lifted the Libertadores in 2012, but didn't get a chance to feature in the tournament.
2019 was much different as he featured in 11 Libertadores games (prior to the final) and for the first time in his career, had to prepare for a continental showpiece event knowing he had an essential role in the side.
"Going into the final, despite it being a different [big] game, I tried to do everything I was used to and not change my routine," Arão tells WFi.
"It was a final the club hadn't played in for a long time, but my preparation was the same as I do in every game."
The final in 2019 saw them take on River Plate in Chile. After going 1-0 down in the first half, Flamengo showed strength, courage and determination to not panic.
They snatched victory from the jaws of the defeat in second-half added time, thanks to two goals from their talisman, Gabriel Barbosa.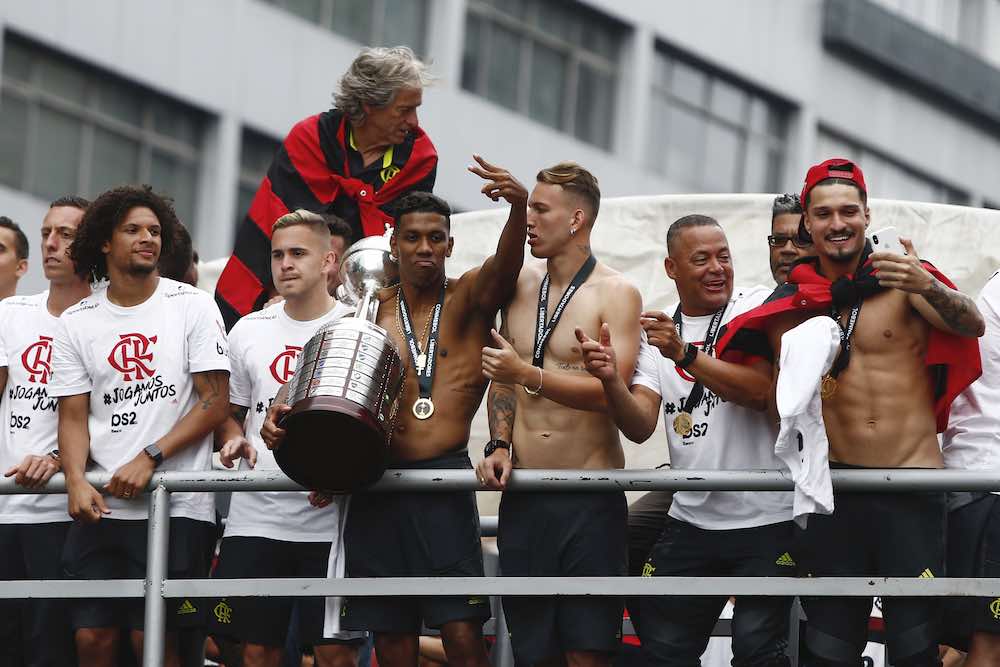 "It feels terrific, knowing that you are part of the best team in South America and at the same time, qualifying for the Club World Cup is wonderful," says Arão. "I'm a two-time champion and I want to live it again."
In 2019, Jorge Jesus took charge of Flamengo and helped transform the side into serial winners in just months. Arão, a holding midfielder had an important role in that side as he often sat in between the centre backs, frequently picking out his attacking teammates with stunning passes from deep.
With Arão slotting into the defence when Flamengo broke forward, this allowed them to attack in greater numbers, which saw them rack up an impressive 150 goals across the season.
Flamengo's 2021 Libertadores campaign has been just how they would have wished going into the tournament. After 12 matches they remain unbeaten and have found the net on 32 occasions, and conceded only 12 on their way to the final.
Going into the final against River, Flamengo hadn't been in a Libertadores final for nearly four decades, but now the players have experience of reaching and winning South America's greatest prize, something which they are likely to benefit from.
"It certainly helps to control the pressure a little, to understand better to what's going on," adds Arão.
"In 2019 it was new, that group had not yet gone through that situation. The expectations were very high as Flamengo returned to a Libertadores final after 38 years.
"Now, we know how things are, how the game is, which does not mean we are going to win for these reasons, but it means we're going to be calmer and more focused — but the pressure to win is the same."
Since Jorge Jesus left Flamengo to re-join Benfica in 2020, Domènec Torrent and Rogério Ceni have come and gone after not being able to replicate the high-energy attacking football Jesus brought to the Rio side.
Following the appointment of Renato Gaúcho in July, Flamengo have improved on the attacking front and become a more consistent team.
Under Gaúcho, the Brazilian giants have played 36 games, winning 25, drawing seven and losing just four. In this period, the Rubro Negro have found the net on 91 occasions and conceded just 29 times.
On being asked the similarities and differences between the Gaúcho and Jesus, Arão said: "It's hard to answer that question. They are two winning coaches, who see the game differently and who have a very different style of play.
"Both are eager to win and know how to handle external pressure very well. He [Gaúcho] has his own ideas and he's been able to pass that on to us. We try to carry out what he asks.
"With me, privately, he gave a few ideas, explained what he does and doesn't like. I believe that the team and I have accustomed these ideas and executed them well."
The Libertadores final in 2020 between Palmeiras and Santos saw only 5,000 people allowed inside the famous Maracanã Stadium, which holds a maximum capacity of 78,838. This time around the Estadio Centenario will be 70% full.
"It's wonderful, without a doubt," Arão says of the return of fans. "We are privileged to play for Flamengo and have a huge and passionate crowd, which is present in all games in large numbers, wherever it may be.
"They help us a lot and are very important to us. Being able to count on their support again is sensational."
In contrast to the last time Flamengo were in a final against Argentine opponents River Plate, this time they will play a more familiar foe in Palmeiras.
Although the pair are not from the same city, they do have an interesting ongoing rivalry.
In the last few years in this fixture, Flamengo have been the more dominant side and are unbeaten in the last nine meetings, the most recent being a 3-1 victory in Palmeiras' backyard back in September.
"Playing a known opponent adds extra meaning because it is a national classic, a great rivalry," says Arão.
"So, obviously, it becomes a different game. It's dissimilar from playing against a team from another country, in which, in the event of a defeat, there is practically no daily contact.
"I believe it will be a great game. Brazil, South America and, I believe, even the world will stop to watch because it will be a great show."
Finally, we asked Arão what it would mean for him to lift a second Libertadores title with Flamengo: "It would be a wonderful feeling. Being a two-time champion with Flamengo would make us even more marked in the club's history.
"Being able to enjoy again all those moments we spent in 2019, with a parade in an open bus through the city, a lot of happiness, having the chance to play the Club World Cup, a tournament so dreamed of by us — it would be sensational."