An interview with former Celtic and Scotland defender Jackie McNamara by Callum McFadden for WFi.
---
You started your career at Dunfermline Athletic following in the footsteps of your father who was also a professional footballer. How do you reflect on your time at East End Park?
"I have great memories of Dunfermline and my time playing at East End Park. The club took a chance on me when a lot of clubs had disregarded me due to my size. I was signed by the club at the age of sixteen under Jim Leishman.
"I was able to work my way through the age groups and get opportunities within the first team. That led to me having five great years at the club which were invaluable for my development as a professional footballer.
"The club treated me very well and I have nothing but fond memories of Dunfermline and the staff who worked with me at the club."
---
You joined Celtic in 1995. How did the move come about and were you nervous or excited?
"I was linked with moves to a few clubs. My move came around before the Bosman ruling so any interested club had to pay a fee for me.
"The first I had heard of Celtic's interest in me was when I found out that the club had rejected a bid of around £500,000 from Celtic.
"The club wanted closer to £1m which I was understandably gutted about because I felt like that was crazy money for me at that stage of my career considering my age and the fact that I was playing in the Championship.
"However, a few hours later, a deal was done for around £650,000 with a further £50,000 should I go on to represent Scotland at senior international level.
"I was told that I was to go to Celtic Park for my medical the next day, which I did. I was excited and nervous and before I knew it, I made my debut for Celtic that evening against Falkirk at the old Brockville stadium.
"That is how quickly it all happened for me.
"The senior players at the club were a good bunch and they looked after me well. Paul McStay and Peter Grant looked after me in particular.
"For example, Peter Grant put little toy Power Rangers at my space in the dressing room after the Falkirk game to wind me up for looking so young.
"John 'Yogi' Hughes was great with me too. I travelled in with him and Gordon Marshall from Edinburgh each day and I got on very well with them. All of those players really helped me settle and feel like I belonged at Celtic."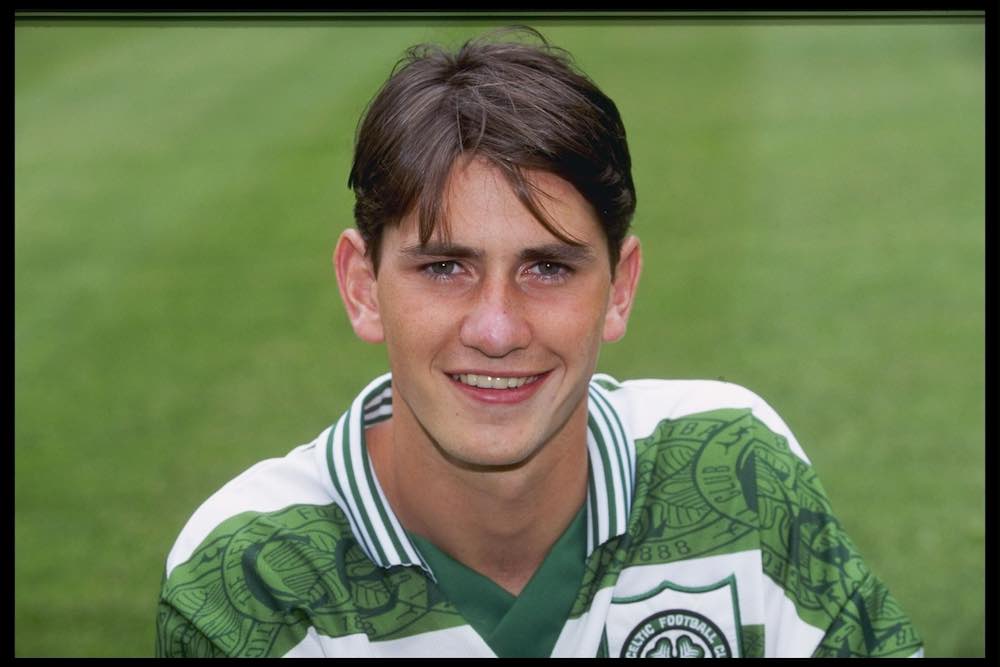 ---
As well as those players, did you lean on your father [Jackie McNamara Snr] for support during the time of your move from Dunfermline to Celtic given that he was a professional footballer in his own right?
"I was actually speaking to my son about this recently. My dad was quite quiet, to be honest. He was a positive but quiet influence. He would never go over the top or try and tell me how to play the game.
"There was one instance that he got heated and that was at Dunfermline. One of the assistant coaches had a real pop at me and my dad wanted to go and, let's just say, have a go back at him.
"I worried that could jeopardise my Dunfermline career but fortunately the coach understood and explained his view to me at training the next morning."
---
You played in the Celtic team under Wim Jansen that stopped rivals Rangers from winning ten titles in a row. What are your overriding memories of that season given how important it was to the club's history?
"It was a fantastic season for the club and for myself personally. We had a rough start under Wim and I lost my place in the team at right-back.
"I had to force my way into the team over time and play further up the pitch to get into the team.
"The game against Liverpool in the UEFA Cup was a big turning point for me. I played in the game from the start and scored a great goal which cemented my place in Wim's plans.
"From there, I went on to win Players' Player of the Year despite playing in a new position. That season was vital for the club as we had no choice but to stop Rangers from winning ten in a row.
"They were a very strong team with the likes of [Brian] Laudrup, [Ally] McCoist and [Paul] Gascoigne at the time but we got the job done in the end by winning the league on the last day of the season.
"We thought we had won the league the week before when Simon Donnelly scored against Dunfermline in the penultimate game of the season. Unfortunately for Simon, they equalised and it was all down to our last home game against St Johnstone.
"Simon actually came off for Harald Brattbakk in that came and I set Harald up to score the all-important goal to stop ten in a row in front of a full house at Celtic Park."
---
What was it like when Martin O'Neill came into Celtic? He won a treble in his first season. How did that achievement compare to stopping the ten?
"It was a very good feeling but a different feeling to stopping the ten. Martin was totally different to Wim Jansen, Tommy Burns, John Barnes and Dr Josef Venglos who I had worked with previously.
"He brought in terrific players like Chris Sutton, Alan Thompson and John Hartson who made an immediate impact on the team. He also instilled a real winner's mentality into the group which was vital after the previous twelve months that we had.
"He was professional in how he dealt with everything at the club. He was an intelligent man who commanded respect from everyone as did his staff that included John Robertson and Steve Walford.
"John would join in during training and have a laugh with the squad. Martin and John weren't always hands-on coaches but that's where the other coaches excelled.
"That era was not like it is now where players want to be told where to stand on the pitch and what to do in certain scenarios.
"Martin and his staff set us up in a way that worked for us and trusted our ability to get the very best from each other. The three of them worked very well together and all of them were great guys."
---
You played alongside Henrik Larsson and many other top players at Celtic. In regards to Henrik, what was he like to train and play alongside?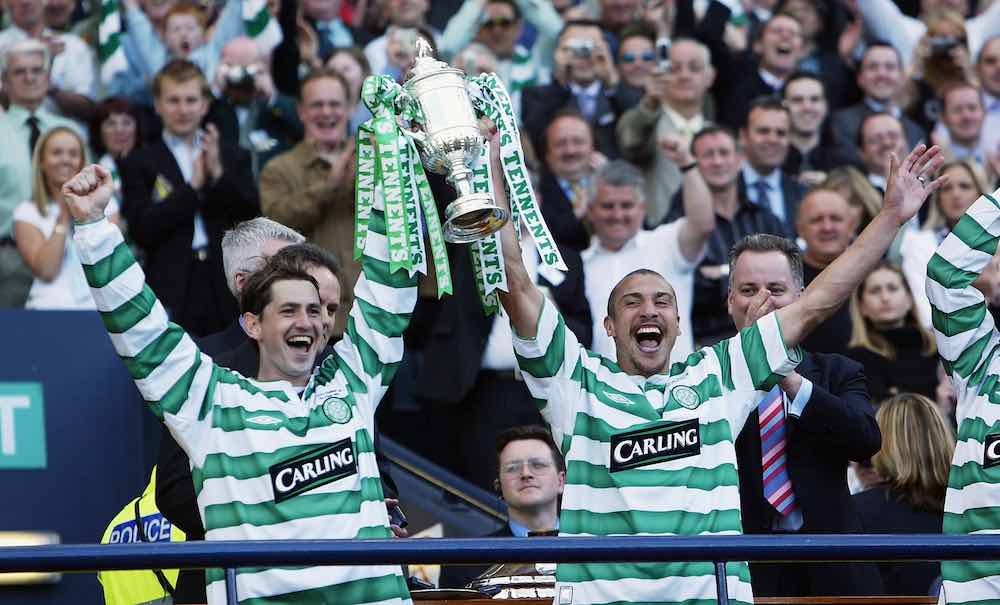 "Henrik was phenomenal and such a clever and classy footballer. He got better with each year. His movement and the goals that he scored were ridiculously good.
"We had the pleasure of training with him and he was a terrific player as well as being a terrific human being too."
---
Henrik has written the foreword to your book. You have played a lot of golf with him over the last five years. I have to ask, is his golf as good as his football?
"Henrik actually jokes about that himself. He is a very good golfer. When he first came to the club, he was rubbish, to be honest. He had a very high handicap but within a year he was in single figures.
"Henrik got better and better with each passing year whereas, unfortunately, mine stayed at the same level [laughs]."
---
You played many games in European football for Celtic, reaching the UEFA cup final in 2003. How tough is it to think back on that final given how close it was?
"To be honest, it was different for me because my mum was very ill. Ordinarily, it would have been a very low point that would have really frustrated me.
"I came on for Paul Lambert in the game but my thoughts were first and foremost with my mum who sadly passed away soon after the final.
"It was not as sore for me as other lads due to the circumstances in my life at the time but of course, it hurt to lose in the way that we did.
"Although, it is important to say that representing Celtic in Europe was such a proud feeling for me. Playing in front of a full house at Celtic Park is what football is all about. Those are the nights that you miss in retirement.
"I missed the atmosphere that the Celtic fans generate when I left the club. It is a very special club and I have nothing but fantastic memories of Celtic. The club means so much to me."
---
You left Celtic for Wolves in 2005 and also played for Aberdeen, Falkirk and Partick Thistle. What was life like post-Celtic for you?
"Life was different. I did not plan to leave Celtic. When you are at Celtic, you are expected to win every single game that you play in whereas at other clubs, a draw can be seen as a good result. That took time to adjust to.
"I enjoyed Wolves under Glenn Hoddle but I was unfortunate with injuries. I ruptured my cruciate ligament and was out for six months which made things challenging.
"I then went to Aberdeen and I have to be honest and say that I did not enjoy it. My experience there was not what I expected it to be and not what I was promised. I was played out of position at times which was strange.
"I walked out on my contract with the club after one season to go and play under John Hughes at Falkirk. I thoroughly enjoyed working under Yogi and he gave me a new lease of life at 35.
"I won player of the year at the club and we reached the Scottish Cup final which unfortunately we narrowly lost to Rangers.
"The second season was different after Eddie May replaced John. I got on well with Eddie but once he left, I knew it was time for me to move on.
"From there, I joined Partick Thistle and teamed up with Simon Donnelly. Unfortunately, I broke my leg early on into my time there but I battled back to fitness and ended up taking charge of the team when Ian McCall left the club.
"Partick then gave me my first managerial job by trusting Simon and I to take the club on a permanent basis."
---
What was the toughest aspect of being a manager?
"It is such a consuming job. There is no denying that. There is so much that comes with the job that goes beyond picking the team on a Saturday.
"It can be very frustrating dealing with situations behind the scenes particularly what I had to endure at Dundee United.
"You also have to deal with tough emotional situations. For example, one of my young players at Dundee United had cancer.
"That was so challenging and to be honest, it put football and life into perspective. There I was worrying about results and performances when this young boy was worrying about his life.
"We gave him all of the support that he needed and thankfully, he is still doing well today after a few operations."
---
Last but not least, you have just released your book 'His Name is McNamara'. What can fans expect from the book as a whole?
"I've been asked to write a book numerous times but now felt like the right time to do one. People have a perception of you as a player and as a person but it is important to put across your version of events.
"I wanted people to understand my career, my battle with illness and my experiences in life from my perspective.
"I worked with Gerry McDade on the book and he was excellent at ensuring that I got over my story in my own words."