An interview with former Hartlepool, Derby County and Nottingham Forest midfielder John McGovern, by Callum McFadden for WFi.
---
You played at Derby County from 1968 to 1974 winning the First Division title in 1972 under Brian Clough. How would you sum up that period? 
"It was as impressive as what we went on to achieve at Forest in many ways. We won the Second Division championship in 1969 by seven points then within a few seasons, we win the First Division championship.
"That rise from the Second Division to becoming champions of England in three years was mostly down to Clough's burning ambition and Peter Taylor's remarkable recruitment.
"The signing of Dave McKay was massive and that was down to Taylor. He was the talent scout as well as being assistant manager.
"Clough did recruit players too such as Colin Todd and John O'Hare. They were also great players who were brought in by Clough who had known them from Sunderland, but most of the recruitment was down to Taylor.
"As well as achieving domestic success at Derby, we also reached the semi-final of the European Cup which wasn't bad for the first attempt."
---
You joined Nottingham Forest under Brian Clough in 1974 however Peter Taylor was not with him initially. Did you notice a difference in Clough? 
"I did. I said to John O'Hare that it was as if Brian was going through the motions. There was not the same venomous verbals if a player did something that they shouldn't.
"Eventually, Peter joined Brian after a year then as a team we really took off. Again, the recruitment of players was very good, but they were also fortunate to have players like Ian Bowyer, Tony Woodcock, Martin O'Neill, Viv Anderson and John Robertson already at the club. Those five players went on to be international players, so they had the basis of a side.
"With that basis, they still had to get the best out of them, which Clough was an expert at doing.
"We scraped promotion to the First Division on the last day of the season then we went on to sign Peter Shilton, Archie Gemmell and Kenny Burns.
"When you add that kind of quality to a young, hungry team and you've got the perfect formula.
"We then go and sign the first £1m player in Trevor Francis and people ask if he was worth it? My response is that he scored the winner in the first European Cup final and that he repaid the £1m as soon as he scored that goal.
"We then go on to achieve the miracle of retaining the European Cup at the first attempt."
---
Forest's European Cup success is widely considered to be one of the greatest achievements in football history. Would Clough change his approach for a European game at all?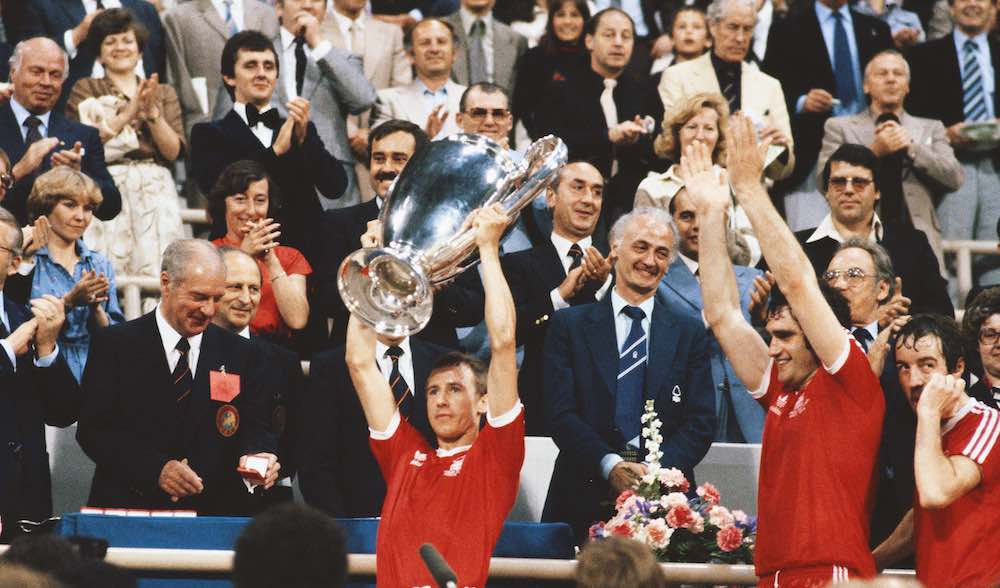 "No, he would never change. We never changed the tactics much under Brian. He always put you in the right frame of mind so that when you went out on the pitch, you knew that you were expected to do your job and know your job.
"For example, in my early days of working with him, he would tell me 'I pay you to play midfield and if you can't play in midfield then I'll find someone else!'
"He wanted you to do what you were good at and try and improve the things that you weren't so good at. He didn't mind you making mistakes if you took responsibility for them and always tried to help the team.
"I look back on my career and know that I lived the dream as a professional footballer. I loved every minute of it and I was very fortunate that Peter Taylor liked the look of me and told Brian Clough that I could play."
---
Finally John, what do you believe it was that made the Clough and Taylor partnership so successful? 
"My take on it is that you have two ambitious people that have different assets and are brilliant at what they do.
"If they were both brilliant instilling discipline and managing a side, then you would only need Clough.
"However, you need good players to build a successful team and Peter Taylor was brilliant at identifying players that were an ideal fit for the team.
"Sometimes signings cost next to no money, so they were also able to build sides on a budget. They spent money at times too and broke transfer records on Trevor Francis and others, but there are also many examples of players like Dave McKay who they signed for next to nothing.
"They were both brilliant at different things so when they were united, it made them incredibly strong.
"The sad part of their story is that they then fell out after we won the European Cup for the second time. That partnership was never repaired, and I don't think they ever spoke again after that fallout."