An interview with Huddersfield Town striker Jordan Rhodes, by Callum McFadden for WFi.
---
You are currently in your second spell at Huddersfield Town. How would you sum up the season so far?
"It's been frustrating for me due to my injury this season. I fractured my back in pre-season which set me back for months.
"Despite that, I love coming into training every day and I cannot wait to get back playing regularly for the club.
"It is a great environment to be in for a player. We have great staff at the club in all departments who look after us very well so I hope to repay them with minutes on the park and by scoring goals."
---
You came to prominence as a footballer in your first spell at the club where you scored goals prolifically in League One. There was a lot of interest in you at that time. How did you handle that mentally?
"It seems like such a long time ago now but I took it in my stride at the time.
"I like to think that I've taken my career as a whole in my stride. I try not to be fazed by football as I know how lucky I am to play the game at the level which I do.
"It was flattering to be linked with many clubs back then. It meant that I was doing my job right and when I look back on those years, I have nothing but fond memories.
"We were successful as a team and put together some very impressive unbeaten runs. It was a great time and one that you probably don't fully appreciate when you are in the moment."
---
You swapped Huddersfield Town for Blackburn Rovers and continued to score regularly in the Championship. What are your memories of representing Blackburn?
"I have very good memories from Blackburn Rovers too. Great facilities and a top group of lads in the dressing room.
"We had quality Premier League level players such as David Dunn, Morten Gamst Pedersen and Scott Dann playing for us in the Championship.
"I watched them play in the Premier League on Match of the Day and suddenly I was a teammate of theirs which was a bit mad at first to be honest.
"We came close to getting to the Premier League under Gary Bowyer. We had some tricky times off the field but it never affected us on the training pitch. We were always well organised under Gary.
"We tried our very best to get back to the Premier League and unfortunately, we just fell short."
---
You won promotion to the Premier League with Middlesbrough but your opportunities in the top flight were limited. Was that a frustrating time for you?
"It would have been nice to have been given more opportunities in the Premier League because as a striker you always back yourself to score goals.
"David Nugent and I had scored many goals in the promotion-winning campaign for the club but did not receive the same levels of game time in the Premier League to show what we could do.
"We would love to have been given more starts but it was not to be. I worked as hard as I could every day to force my way into the team but I moved on in the January — as did David — when it was clear that the opportunities were not going to be coming for me.
"Things do not always work out as you want them too but that is football. Unfortunately, Middlesbrough were relegated during that season after I had left.
"Overall, my time there was good and I made some friends for life at the football club."
---
You have represented Scotland on fourteen occasions scoring three times. How do you look back on your international career?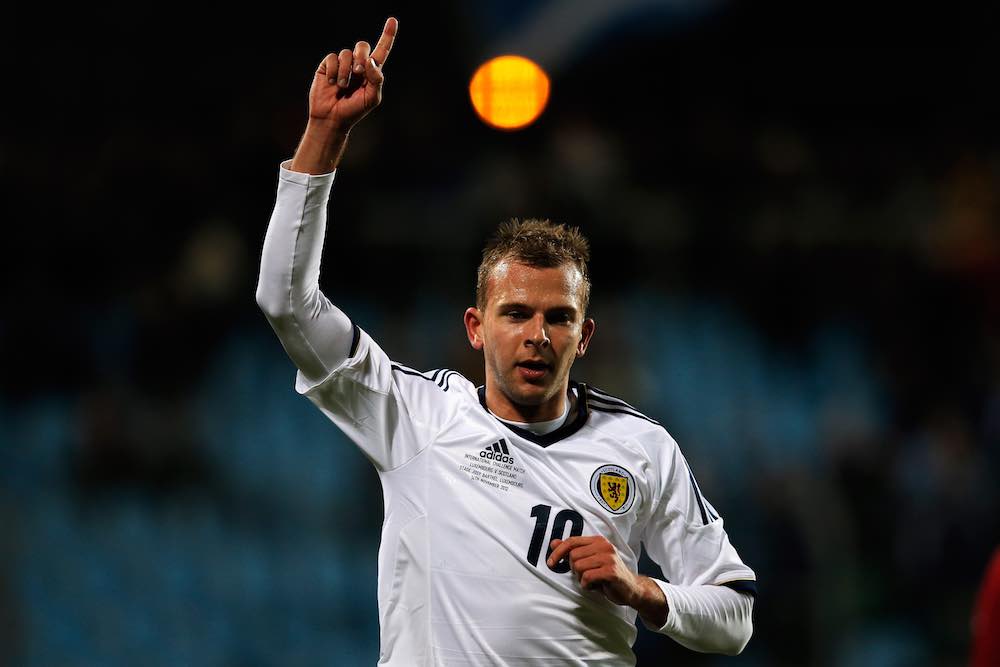 "It fills me with immense pride. It was a dream come true.
"We had an amazing team at under 21 level under Billy Stark. The likes of John McGinn, Tom Cairney, James Forrest, Paul Hanlon and Grant Hanley were in the side. We just missed out on qualification for the European Championship which was a real shame.
"Playing for Scotland on as many occasions as I have makes me and my family very proud. Hopefully, I can get back to full fitness and score regularly enough to merit an opportunity again one day.
"However, if that is not to be for me then I loved every minute of my Scotland career and the memories of pulling on that dark blue shirt will always stay with me."
---
Which defender stands out as your toughest direct opponent?
"Jonathan Woodgate. He was an incredible defender.
"He was always one step ahead and more. He did not have great pace but he was a terrific defender.
"I never seemed to get the better of him."
---
Which manager got the best out of you on a personal level as well as a professional level?
"Gary Bowyer at Blackburn. His man-management was excellent. He would chat to me regularly and he knew when you needed an arm around the shoulder or a reminder of what he expected.
"He was a very good coach too. He got the best out of me and if I ever go into coaching then I would like to think that I would approach things in the same manner as him."
---
Last but not least, you turn 32 next year, what are you looking to achieve in the next few years of your career?
"I want to get as fit as I can and score goals regularly for Huddersfield Town to try and get myself back into the Scotland squad.
"Ultimately, I want to do the very best that I can in every game that I play and in training each day.
"If I can apply myself well and get back into the international squad then it would mean that I'm maximising myself at club level which is the main motivation for me on my return from injury."