An interview with Glentoran and Burundi midfielder Gael Bigirimana by Callum McFadden for WFi.
---
You are currently playing for Glentoran. How would you sum up your time at the club so far?
"It started well and it has been a positive time in my career. I am enjoying life at the club.
"Last season, we could have won the title but unfortunately just fell short and we finished 3rd in the end.
"We have carried that form into this season and we are pushing hard for the title against strong sides around us such as Linfield, Cliftonville, Crusaders and Larne.
"I had a calf injury which halted the first part of the season for me but I am back fit now and raring to go."
---
You started your career at Coventry City and were a highly rated youth product at the club. How do you reflect on your time at the club because you made an impact at such a young age?
"It was a great place to learn how to play football. I arrived in Coventry in 2004 with my family from Africa having been born in Burundi and spent time living in Uganda.
"It was a very interesting time for me and my career looking back but every memory that I have of Coventry is a happy one.
"The club means a lot to me and gave me many opportunities. I played regularly for the first team in the 2011/12 season in the Championship and was enjoying my football."
Gael Bigirimana @Coventry_City under 16's 2008 pic.twitter.com/2Vx2lQVymy

— Deano's Sky Blues memories (@deanocity3) November 16, 2015
---
You attached attention from clubs in the Premier League and joined Newcastle in 2012 after an impressive debut season at Coventry. Why did you choose Newcastle?
"To be honest, I didn't. I wanted to stay at Coventry because I was happy at the club and I was playing regularly in the Championship at a young age.
"I knew who Newcastle were as a club because they are a big club in English football but I had never been to the city and I was reluctant to move on my own as a teenager.
"I made the move after being advised to and to be honest, I was not advised in the right way when I look back at that time.
"Things started well at Newcastle for me and I played games in my first season at the club in the Premier League.
"I played in Europe and I scored against Wigan Athletic in the Premier League in the same game that Demba Ba scored two goals. That was a highlight.
"However, after that first season, things started to slow down for me at the club which was frustrating because all I wanted to do was play."
---
What was it like to work under Alan Pardew and train with players such as Yohan Cabaye, Hatem Ben Arfa and Fabricio Coloccini?
"Despite my frustrations about not playing at times, I enjoyed working with Alan Pardew. He saw something in me that I liked and he treated me and the younger players well by giving us opportunities in the first team.
"The senior players at Newcastle were also good with me. We had a talented and experienced squad at the time who looked out for each other. Fabricio Coloccini was a great leader who we all looked up to.
"In terms of ability, Yohan Cabaye was a key player and someone I learned a lot from. I also think back to playing and training with Hatem Ben Arfa. He had all the ability in the world and he was a truly special talent.
"I also want to pay tribute to Cheick Tiote who has sadly passed away now. He had the most incredible desire for every training session and every game. He was a top player and someone who is missed by everyone who knew him."
---
You returned to Coventry in 2015 following a loan spell at Rangers. Was it a great feeling to return to the club that mean so much to you?
"What happened during my time at Rangers was deeply frustrating on so many levels however the ins and outs of that story is for another day.
"Following a few deeply testing years of my career, I was delighted to return to Coventry. I needed to go and play regular football.
"Clubs knew about me but due to my lack of games, I fell under the radar at the time so I was grateful to Coventry for bringing me back.
"I settled in well at the club and I felt at home immediately. I was able to play with Joe Cole for a short time at Coventry which was nice.
"Obviously, he was at the end of his career then but you could tell that he was a top footballer. He could produce moments of magic that reminded you of the player who was a superstar at Chelsea.
"My second spell at the club was up and down. The club was struggling off the field and we were relegated from League One during my second season back at the club.
"Amazingly, in that same season, we won the EFL Trophy at Wembley. I scored in the final and to win a trophy for Coventry in front of over 70,000 fans at a stadium like Wembley is something that I will always cherish.
"We took 43,000 fans to Wembley that day and I just wish we could have avoided relegation in the same season but I know that winning at Wembley is something that they'll never forget particularly given the troubles that we had off the field."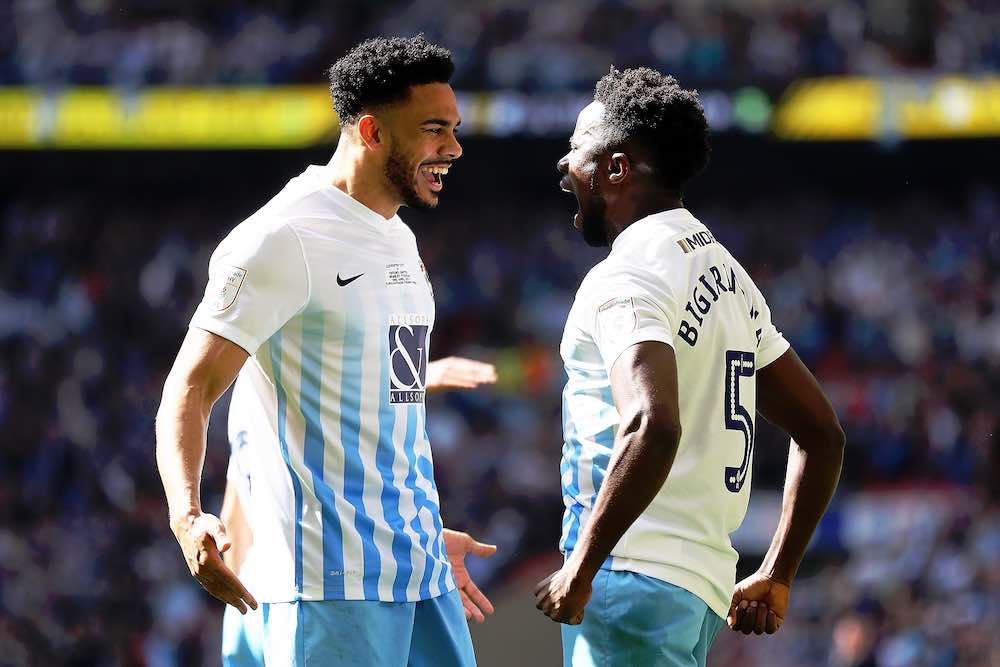 ---
You returned to Scottish football in 2017 with Motherwell. Was there any apprehension on your part given what had gone on at Rangers?
"Not at all. I was looking forward to going to Motherwell.
"I loved my time at the club and playing in Scotland was something that I wanted to do.
"We reached two cup finals under Stephen Robinson who was a very good manager. He knew how to get the best out of our group by demanding high standards at all times and challenging you to achieve more.
"We all bought into his methods and put everything that we had into being successful for the club. Stephen will be successful wherever he goes in management because he commands respect.
"Losing in the cup finals was a great shame but we were up against an all-conquering Celtic side who had a world-class manager in Brendan Rodgers at the time. We certainly gave it our all and unfortunately, it just was not meant to be."
---
You swapped Fir Park for Easter Road by joining Hibs in 2018. From the outside, it appeared to be another frustrating time for you. Is that a fair summation?
"Absolutely. It was another bizarre time, to be honest. The club was struggling at the time and they wanted to start pushing for the top six before the split.
"I thought I was joining the club under Neil Lennon but he left days before the end of the transfer window. The club were manager-less when I signed which was strange.
"They called Stephen Robinson and he told me that it was up to me if I wanted to go. Even though they did not have a manager, I assumed because they wanted me that it would be a good move so I joined the club and thought it would be a good move.
"Then, Paul Heckingbottom came in as the club's new manager and he told me that I was not in his first-team plans. It was the right move but at the wrong time, unfortunately."
---
Finally, Gael, you have represented Burundi at international level in the African Cup of Nations. What was it like to represent your country on the biggest stage in African football?
"It was another wonderful experience for me. Different demands compared to club level to some extent but winning is still the main expectation.
"I play with Saido Berahino at international level and he is a very good player. He has had some difficulty in his career like all footballers have at some stage. I back him to get his career back on track in English football.
"I enjoy every opportunity that I have to play for the national team and I have to be honest and say that I never thought that I would have the opportunity to play at Afcon.
"To go from being a normal child in Burundi to playing in the Premier League and representing my country in a major tournament. That was a dream come true and I am not finished yet.
"I want to play for many years to come and I hope that I can achieve more special moments and that I can continue to make memories for club and country."