An interview with Halifax Town manager Pete Wild, by Callum McFadden for WFi. 
---
You are the manager of Halifax Town. How do you reflect on your time in charge of the club so far?
"When I came in the club had implemented a hybrid model — a mix of full-time and part-time professionals — and over my time here, we have been able to take the club full-time.
"My staff and I have worked hard to establish a way of working and a style of play. The club have also worked with us to build an infrastructure behind the scenes and we have a club that from the outside in is ready for the football league."
---
The club aspire to the Football League as do you as a manager. You are currently playing in the National League. There are many historic football clubs within the division who are also desperate to get back to the Football League. How would you sum up the competitive nature of the division?
"I honestly think that the National League rivals League Two in terms of quality. There are clubs with financial clout in our league and there are now players dropping out of the Football League to play in our league.
"It is League Three in many regards now. Teams are increasingly going full time and the professional standards are very high.
"As a young manager learning my trade, it is a fantastic environment to learn and strive for continual improvement. The National League is one that I would recommend to coaches and players to work and play in."
---
If you had to pick one highlight from your time in charge of Halifax so far, what would you pick out and why?
"Developing a team that people want to watch and developing players to their full potential so that they can move on and have long careers are the two main ones.
"I wouldn't pick out a result or a group of results because those are a byproduct of what goes on each and every day in training and behind the scenes.
"The highlight for me is seeing the club and the players develop and improve to where we are now from where the club was when we walked in."
National league is crazy this season 😅🔥. 6 points separates 1st to 7th.

You've got county making waves. Hollywood in the mix and of course @OakesGs and Pete Wild doing an unbelievable job at Halifax. 💪 pic.twitter.com/4RSKXOJ6u2

— Marc Wright (@MarcWright33) January 29, 2022
---
You worked at Oldham Athletic for numerous years in the academy system and as first-team manager. How much emphasise do you place on developing young footballers given your academy background?
"It is vital. My grounding was in youth development and I've always wanted to produce young players who can reach their full potential. That is the biggest kick that I get out of management.
"Players need to be able to grow, develop, listen and learn because nothing is handed to them on a plate in football and nor should it be.
"We all need to have a strong work ethic and desire to improve in order to succeed in any aspect of life.
"Nothing gives me great pleasure than picking up a team sheet and thinking that we had a small part to play in that lad's development."
---
You came to prominence in the mainstream media when your Oldham team defeated Claudio Ranieri's Fulham in the FA Cup in 2019. How do you sum up that moment in your career?
"Everyone draws on that and it has probably given me half the career that I've had in football (laughs). It sums up the magic of the FA Cup.
"I look back on it with pride and I am thankful for it as it was vital in enabling me to carve out a career in the pro game.
"Oldham is my club. I'm an Oldham boy and to be able to celebrate that day with 4,000 of our fans was incredible. I knew most of them or someone who knew them such is how tight-knit the town is.
"It was not a bad first week in management."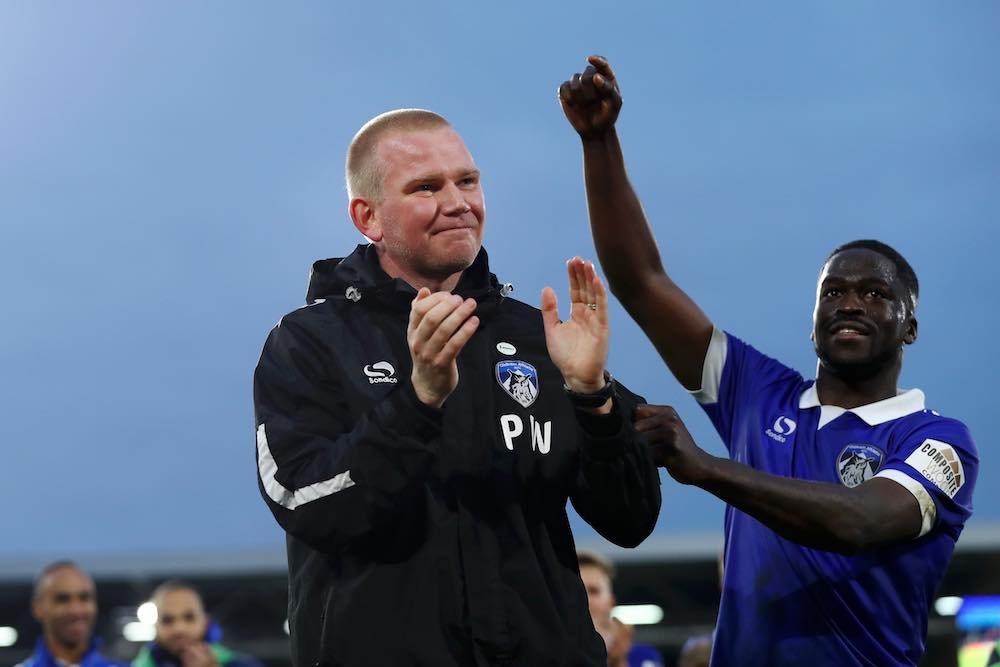 ---
You worked with Manchester United icon Paul Scholes during his short spell in charge at Oldham. What was Paul like to work with on the coaching field?
"I knew Paul before he came in because he would always do coaching with our younger teams and players when asked. He is a local Oldham lad who made it and he has never forgotten his roots.
"He had an unbelievable career at the highest level of football and I thoroughly enjoyed my short time working with him.
"He gave me great nuggets of information and shared my thirst for producing young footballers. He was a perfect match for me as academy manager and he always took the time to work and talk to young players and help them in any way that he could.
"Unfortunately, he was not at the club for a long time and I fully understand the reasons why it did not work out.
"I took over as caretaker until the end of the season and the reason that I took the job was simple. The club employed me and if you are asked to take on a role then you do it. That is how I've been brought up and that is what I did."
---
Finally, Pete, you have attracted attention from numerous clubs across the UK during your time at Halifax so far. What do you hope to achieve in the next five years or so as a manager?
"If I am getting linked to jobs then it is because my team are doing well and we cannot get away from that.
"It is about the players on the pitch. They deserve all the credit for me being spoken about for different roles.
"My aim as a manager is to coach at the highest level possible for as long as I can and if the highest level that I coach at is the National League then that will be fantastic.
"I want to listen, learn and embrace the rollercoaster of management for as long as I can at the highest level that I can.
"All I want from management is to be able to look back when I finish and say that I gave everything to be the best that I could be. That is my main aim now and into the future."