By Steve Johnson.
With Galatasaray losing their opening four games under new manager Domènec Torrent and slipping to 15th in the Süper Lig table, it is hard not to reflect on his predecessor, the legendary Fatih Terim, and his immense success with the club spanning fourteen seasons over four spells in charge of the club.
A former defender who spent eleven years at the Ali Sami Yen from 1974 to 1985, Terim won three Turkish cups and one Turkish Super Cup, his time with Galatasaray also coincided with his run in the national team where he scored three goals in 51 appearances.
His playing style as a sweeper was, according to former Yugoslavia and Turkey national manager Abdullah Gegic, 'Beckenbauer-like'. The German was another sweeper who also had some impressive success with coaching after hanging up his boots.
Fatih Terim would go on to prove his football credentials managing the Turkish national team himself, as well as amassing a club record 17 trophies in 14 seasons with Galatasaray, including eight league titles, three Turkish cups, and most surprisingly a UEFA Cup win, won on penalties at the expense of Arsenal, making him by far the most successful manager in the club's history.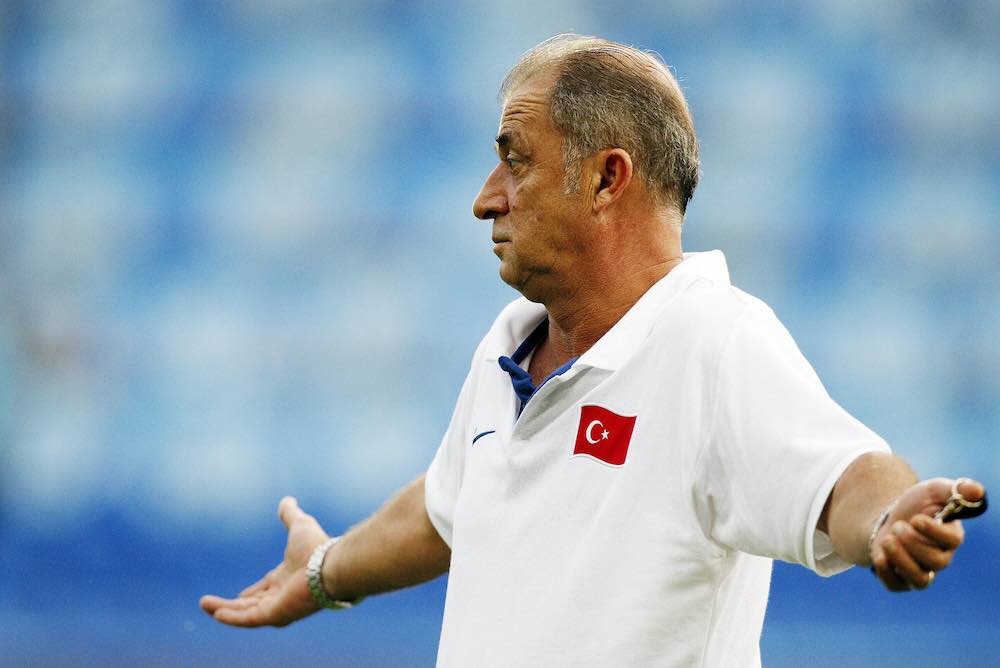 Taking over from Graeme Souness after Euro 96, Terim was quick to clear out the former managers remaining foreign contingent of Dean Saunders, Ulrich Van Gobbel and a young Brad Friedel.
In their place came Adrian Ilie, Iulian Filipescu, Gheorghe Hagi, to play alongside Umit Devala and Bulent Kormuz and goal machine 'the bull of the Bosphorus Hakan Sukur.
Experience was added in subsequent seasons with the likes of Gică Popescu, Claudio Taffarel, and Hakan Sas, all helping to cement four straight league titles, the first of which was won with only two losses in the whole league campaign with the team finishing eight points clear of fierce city rivals Besiktas.
After a brief and ultimately unsuccessful stint in Italy — – where he still gained many plaudits — Terim returned to a club struggling with financial issues.
Despite recognisable names like Abel Xavier, Haim Revivo, Elvir Baljic, and Frank de Boer strengthening the side, league results declined from a distant second place to Besiktas, to a disastrous sixth-place finish. Terim resigned in March of his second season and after a sabbatical went on to manage Turkey again.
Appointed for a third stint the club won two back to back league titles at a canter, as well as bringing in some household names: the likes of Emmanuel Eboue, Fernando Muslera, John Elmander, Tomáš Ujfaluši, Felipe Melo, Albert Riera, in the first season; with Didier Drogba, Wesley Sneijder and Hamit Altintop all arriving in the subsequent season. Terim was unceremoniously let go after rejecting a two-year contract extension to his current deal.
Replacing Igor Tudor for his final tenure, Terim's return heralded two consecutive league titles, albeit with the points gap to second places very much reduced from previous seasons. A sixth-place finish and a second-place finish followed before Terim was finally sacked with the club languishing in mid-table obscurity in the present season. He posted a photo on Twitter of both his first and final signatures for the club.
Galatasaray'daki ilk imzam ve son imzam… pic.twitter.com/Iqf4FUOxRP

— Fatih Terim (@fatihterim) January 13, 2022
Not surprisingly, Terim has gained the nickname the 'Emperor', and this is in large part down to his impressive win rate at Gala with 335 victories from 584 matches, as well as his legacy of a semi-final placing in the 2008 European championships.
With fans already calling for him to be elected club president, it would be foolish to think that his lengthy association with the club has truly come to an end.