An interview with Ross County's Jack Baldwin, by Callum McFadden for WFi.
---
You joined Ross County in August of 2021. The move marked your first experience of Scottish football. How would you describe life in Scottish football so far?
"It's been a fresh start and a great challenge for myself. It has been great to play in new stadiums against teams that I have never faced before.
"My eyes have been opened to Scottish football and I have enjoyed every moment so far. Being brutally honest, there can be an attitude and a stigma towards the Scottish game in England but I've now experienced it and that should not be the case at all.
"I have relished the challenge and I look forward to the months and years ahead up here.
"At Ross County, we have a strong dressing room and a good group of players and staff who are all pulling in the same direction.
"There are no egos within the club and we understand that we all need to play our part in taking the club forward. I have loved every minute of being here so far."
DONE DEAL 🤝 Jack Baldwin joins Ross County as Malky Mackay secures long-term target

⬇️⬇️⬇️https://t.co/aVsWNiD8VC pic.twitter.com/NhNOOt9FV0

— Daily Record Sport (@Record_Sport) August 25, 2021
---
We are speaking in the week that you were named in the SPFL team of the week. What do you hope to achieve at Ross County in the months and years ahead?
"In the summer, we had a large turnover of players and it showed in the first few months of the season in all honesty.
"However, once we settled as a group, things improved for us as everyone can see now. The start of the season feels like a distant memory to me.
"Our recent form has been strong and it is no real surprise to me because the coaching staff work hard to improve the group and as players, we are eager to learn.
"The club is close to the local community and we have bought into that too because everyone is tight-knit up here.
"I think we are heading forward in a promising direction and I will do my all for the club in the years ahead because I am loving life in Scotland and at Ross County at the moment. I am excited to be here for the next few years at least."
---
You started your senior career at Hartlepool United. What was it like for you to start your career in League One of the EFL?
"Hartlepool taught me a lot. I will always be grateful to the club for giving me an opportunity to make my way in the game. It is a great club and I have nothing but fond memories of my time there.
"They were patient with me because I signed in the summer and did not make my debut until Christmas time of the first season.
"I enjoyed playing in the EFL at a young age because it was a great place to learn my trade. I had never been at an academy growing up so Hartlepool was the perfect place to experience a professional footballing environment for the first time.
"I grew as a person as well as a player by moving up to Hartlepool by myself which taught me how to live by myself and mature. I took the opportunity with both hands and it has helped me get to where I am today."
---
You earned a move to Peterborough United in 2014. During your time at the club, you worked with a few managers including Darren Ferguson and Grant McCann. What were both of them like to work with?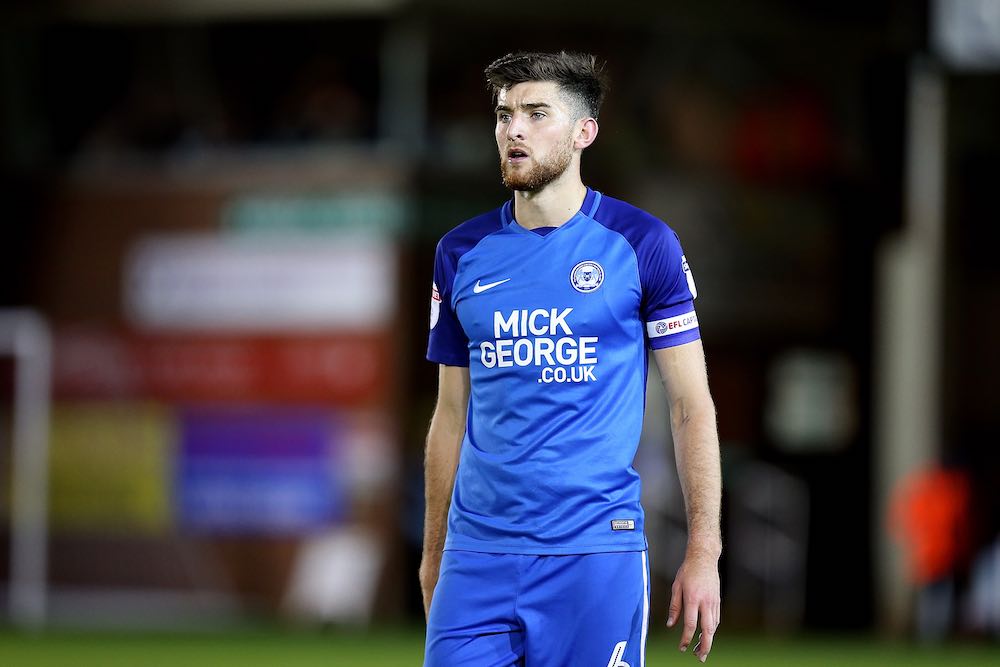 "As a footballer, you are going to experience a few managers if you want to have a long career in the game so I did not mind working with various coaches over my time at the club.
"The move was the logical next step for me because Peterborough have a reputation for developing players and moving them on to a higher level which is what I wanted to achieve in my career.
"The club and the town mean a lot to me and my family because both of my children were born there and we made friends for life in the area.
"I learned a lot from all of my managers at the club and I took something positive from each of them."
---
Your consistency at Peterborough for a number of seasons lead to Sunderland sealing your signature in 2018. You joined the club as they entered League One and during the second series of the Netflix production the club had entered into. With the benefit of hindsight, how would you reflect on your time at Sunderland and how would you summarise the impact filming had on yourself and your teammates, if any?
"Hartlepool to Peterborough was a step up for me and moving to Sunderland was another big step up in my journey as a footballer. Everyone can see how big the club is and how much it means to the city.
"The fanbase is huge and the infrastructure is good as you would expect from a former Premier League club.
"The expectation on our group of players was that we would bounce back straight away to the Championship. Unfortunately, things did not go to plan for us in that regard.
"I won't lie, the media attention was difficult to deal with at times because it was a new experience for me to have cameras on us every day at training and in the cafeteria at lunch too.
"I had only ever dealt with the media in pre or post-match press conferences prior to arriving at the Stadium of Light.
"It was a strange experience for myself and for many of the new players to the club. I was told that the club had scaled back the access that Netflix had in the season that I was there in comparison to the previous season.
"They had access to the dressing room before games when the club was in the Championship which was not the case when I was there thankfully.
"You have to try and adapt as a player to the constant attention that you are under and learn to deal with which I tried my best to do."
---
Last but not least, Jack, which sides have been the toughest to face in your career in football so far?
"Without doubt, Celtic and Rangers. They are both massive football clubs and have teams stacked with international footballers.
"They make every game difficult for you and I would pick those two sides out even over any of the teams that I faced in English football."