An interview with Paul Merson, by Callum McFadden for WFi. 
---
You started your professional career at Arsenal and won two league titles, an FA Cup, a League Cup and a European Cup Winners' Cup during your 15-year association with the club. Can you put into words what life at Arsenal was like during your era?
"Arsenal is a Rolls Royce of a club. A truly great club. Everything was perfect at Arsenal.
"You don't fully appreciate how special the club is until you leave, to be honest, because you are spoiled at the club and it becomes the norm to you.
"I played for some special clubs after Arsenal but nothing will top Arsenal. The club was incredible from top to bottom."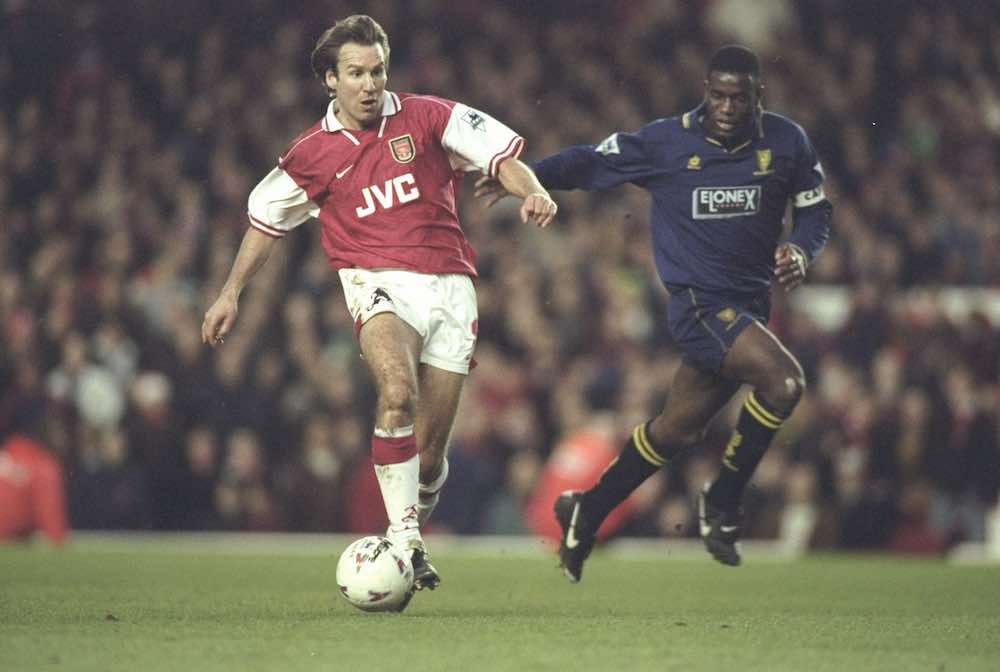 ---
I recently spoke to Alan Smith about your Arsenal side from 1989 and the famous title victory at Anfield. He said that it probably won't ever be topped. Would you agree with that view?
"I read that interview and I agreed with Smudge when he said that our victory was bigger than the Aguero moment. For me, it was 100 times bigger.
"The Aguero moment was an end of Premier League card where every other side was playing within the league on that date whereas our game was a stand-alone game where the winner would take all.
"QPR knew they were staying up when Man City scored the equaliser, and no disrespect to QPR, but they are not in the same league as the Liverpool side we had to face to win the title on their own patch. Nothing like it.
"Our game was the top two on a Friday night where both sides could win the league in an era where there weren't dozens of live games on television like there is now. All attention was on that game.
"It was like a football JFK moment as fans of that generation can remember where they were that night. It was that big an occasion.
"Winning the title in that fashion will live with me and my teammates forever. A true moment in history at Arsenal."
---
George Graham had a reputation in some quarters for being a tough taskmaster. How would you describe your relationship with him and his impact on you as a person and a professional?
"We had great teams under George and our defence was so good that if we went a goal ahead then the game was as good as over.
"George was a superb tactician. Different class in my opinion. We would not have won anything without him at the helm.
"If we would have had another manager, we wouldn't have been anywhere near as successful in my opinion.
"He always treated me well and with respect during my struggles. I've told the story before but he pulled me aside when I was at my lowest point with drinking, drugs and gambling to tell me that he was standing by me.
"I was stunned but his reasoning was clear. He said, 'If you have a Rolls Royce and it breaks down you get it fixed. If you have a Morris Minor and it breaks down you get rid of it without thinking twice.'
"He took risks which any successful manager has to do. He got rid of big names such as Charlie Nicholas, Graham Rix, Steve Williams, Kenny Samson, Viv Anderson and others so that he could bring in young, hungry players to take over the mantle.
"He brought in the likes of Lee Dixon, Nigel Winterburn, Steve Bould, Alan Smith and Perry Groves who were up for the battle and desperate to improve and develop as players too.
"His risk paid off because the lads that he brought in were very good players and we were successful."
---
As I mentioned earlier, you were a part of the Arsenal side that won the Cup Winners' Cup against Parma in 1994. How did playing in European competition with Arsenal compare to domestic football?
"I thought our side was perfect for European football because our defence was solid which enabled us to fancy our chances in knockout competition over two legs. We knew that we would never be blown away by any side.
"We beat some good sides as well during my time in Europe with the club such as PSG, Torino and others.
"The biggest disappointment that I have with Arsenal is the European Cup. Going out to Benfica still rankles with me to this day because I felt that we deserved to win rather than go out in extra time as we did."
---
You've mentioned numerous times over the years that Dennis Bergkamp was the best player that you ever played with. What was your initial reaction to his arrival at Arsenal?
"As you say, I'm open about it when I say that Dennis Bergkamp was the best player that I ever played with by a million miles.
"I honestly did not think that a professional footballer could be that good. He was on another level. He had everything that as a player you wanted to have.
"His arrival gave the group confidence, as did the arrival of Arsene Wenger a few months later.
"Arsene was miles ahead of time as he proved in his first seven or eight years at the club. He was the master until everyone else caught up with him."
---
You swapped Arsenal for Middlesbrough in 1997. You have talked openly that money was a big factor in that move and that with hindsight it was a regret. However, I want to ask you about your England career during your time at Boro. You played at World Cup as a Championship player.
"That is something that doesn't happen a lot in football, does it?
"It doesn't and it won't happen again (laughs). It hasn't happened since and it won't happen ever again.
"Who is going to play in the Championship now and represent England? The example that shows it won't happen is [Kalvin] Phillips at Leeds.
"He was great in the Championship and never got a look in but once Leeds gained promotion to the Premier League he was in the England setup straight away.
"The gulf is too big between the Premier League and the Championship in this era in my opinion.
"You might get someone who makes the squad and doesn't play but I honestly doubt we'll ever see a Championship player go and play at a major tournament with England again.
"However, I have to say that you are only as good as the players around you and I played with very good players at all of my clubs.
"I was fortunate to play with very good Championship players or very good Premier League players in good teams."
---
From the Riverside to Villa Park when you signed for Aston Villa in 1998. What are your highlights from your time at Villa?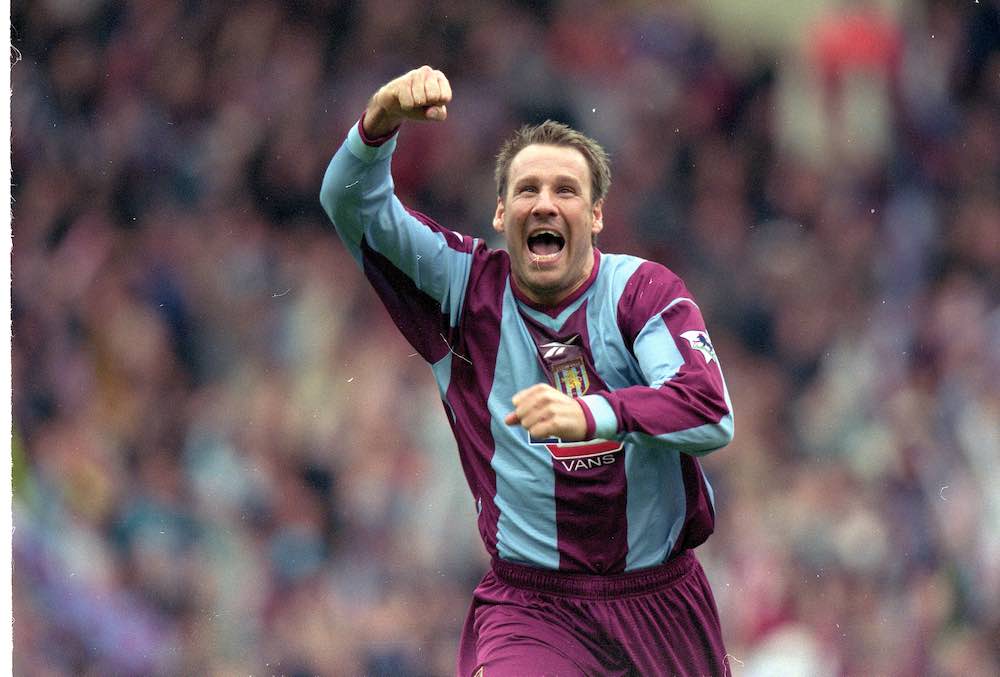 "I absolutely loved Villa. That was the club that I played my best football at. For that four year spell, I was at my most consistent and a much better player than I was even at Arsenal.
"I was older, I understood the game more and I can honestly say that I was devastated to leave the club.
"When Graham Taylor got rid of me, I was devastated. I only have happy memories from my time at the club and the fans were as good as gold with me. They still are to this day."
---
Post-Villa, why did you decide to drop down to the Championship again with Harry Redknapp at Portsmouth, who were not fancied to challenge in that league at the time of your arrival?
"Well for a start, Harry told me that I didn't have to train (laughs).
"Harry was one of the best managers that I played under. He does not get the credit he deserves. It annoys me when people say 'wheeler dealer' because it's incredibly disrespectful.
"The man has scary levels of knowledge about football and his man-management is second to none.
"Modern football revolves around man-management, especially at the top level, and Harry was great at that. He was also clever tactically too which he doesn't get enough credit for.
"My season at Portsmouth was unbelievably good. The fans made great noise at Fratton Park and it felt like we were playing in front of 100,000 every week.
"I still speak about how good it was to Tim Sherwood today when we are doing Soccer Saturday together.
"We were such a superior team to the others in the division that season, due to Harry's recruitment and management, that it was ridiculous."
---
Following your season of success at Pompey, what made you leave the club after just one year?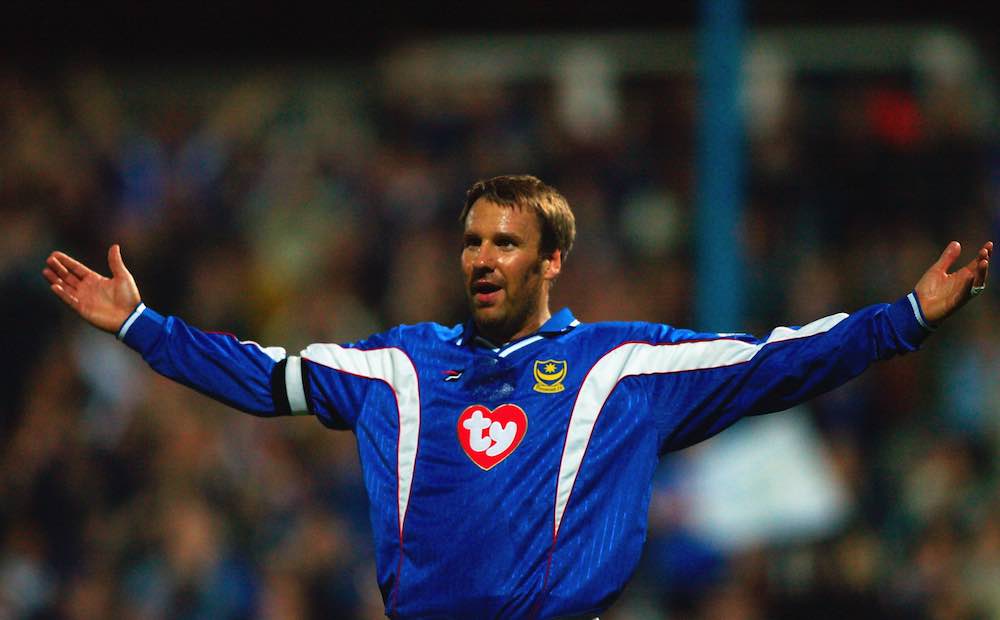 "I had found my standard of football by then. The Championship was my standard then if I'm being honest with myself.
"I was about to turn 34 and I knew my limitations. I was never going to mug myself off by going back into the Premier League again at that age.
"I was not ego-driven. I could easily have taken the money at Portsmouth in the Premier League for another year but I knew it wouldn't be right for the club or myself.
"I always played football as if someone was coming to see me play for the first time. I always wanted to perform for the fans in the stadium. That's how I worked.
"If someone came then I knew I had the ability to leave a lasting impression. I did not want to finish my career and have people sitting in 20 years' time saying: 'I watched that Paul Merson and he was not as good as people say he was.'
"I never wanted to finish like that, so I went to f***ing Walsall and finished like that instead (laughs)!"
---
Did you ever anticipate you would become a manager while at Walsall? Was management always an ambition of yours?
"I always wanted to be a manager — from about the age of 28, I wanted to go into management.
"Unfortunately, management was a bit let down for me because I was drinking and gambling like a maniac at the time. I let myself down miserably.
"That is my only regret in football and in life. I have no regrets bar that because I really wanted to be a football manager.
"I worked under many top managers, played at a high level and I know the game of football.
"I believed that I could be a good manager. I really did have that belief in myself but my addictions had taken a hold of me in a bad way at that time.
"In the end, due to those factors, I failed miserably in management."
---
You've spoken eloquently and openly about your battles with addiction over the years on television and in books. I am not ashamed to admit that I suffer from depression and that for me, hearing someone like yourself, who I and many other football fans admire, speak about your battles has been inspiring. Based on your experiences, how important is it that people speak out if they are struggling with addiction or their mental health?
"It is vital. It is massively helpful.
"Addiction and depression want you on your own. It stops you from talking when you are battling it. You must fight against that.
"It is incredibly important to talk and if you can pick up the phone and talk then you are three-quarters of the way to help.
"I know how difficult it can be with addiction and speaking out, trust me. It can be unbelievably hard and I have times that it pulls me away from those closest to me very easily.
"I don't underestimate how tough it is to speak out but believe me, it is so important.
"Many former footballers have spoken out about struggling mentally upon retirement from football due to missing the dressing room environment and the competitive edge that football can bring."
---
Did your transition from player to pundit on Soccer Saturday help you maintain relatively good mental health when your playing career ended?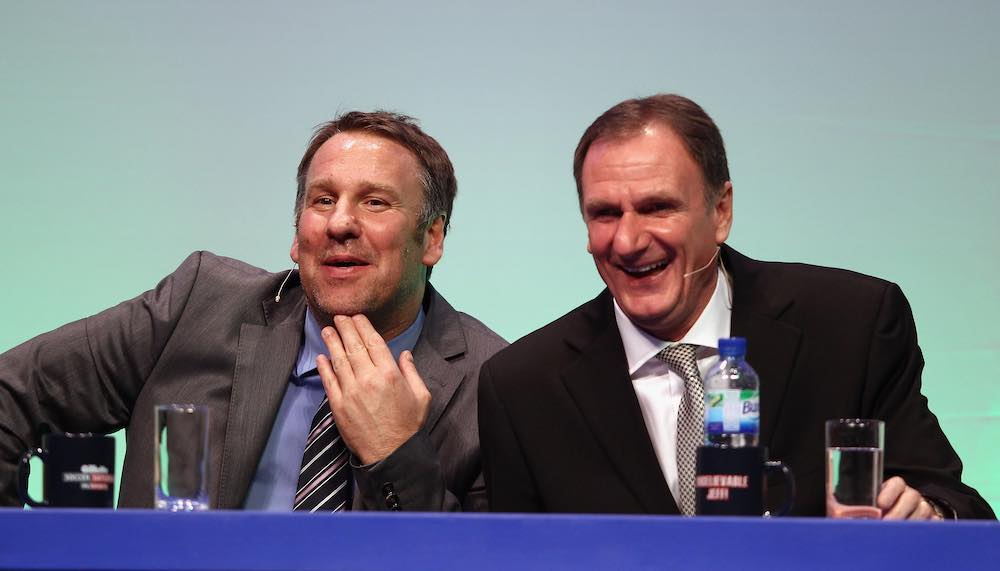 "Absolutely. 100%. When you finish playing, you know it's the time to end because you come up against players who — no disrespect — wouldn't have been on the same pitch as you ten years ago and now are running past you as if you haven't played the game before. That's when you know you've had your time.
"You miss that first fifteen minutes in the dressing room and the way that everyone takes the piss out of each other after training.
"It's hard to replace those things so I know just how lucky I am to have those things at Sky, with the laughs and jokes that I have with Jeff and the guys that I have worked with on the show over the years.
"Even today, fifteen years on from joining the show, I cannot wait to go in each and every Saturday. I am fortunate to feel that way about my job because I realise that is not the case for everyone in life. I am lucky.
"The show itself is great. We are live for six hours and I think people watching at home must sometimes think that it must be a doddle.
"However, live television is hard. If you can get through the first two months then you'll be there for as long as you want to be.
"You need to know your football and you'll get left behind if you do not know your football. I love football and you have to love football to do the show because you can't fake it for six hours. You don't come across well if you try to.
"It's our job to tell someone what is going on at a game that they aren't watching and that is tough because you really need to be as descriptive as possible."
---
One of the things that I want to ask you Paul is the reaction on social media to yourself and pundits in general. You made a comment when Harry Maguire signed for Manchester United that you did not think that he would prove to be worth £80m and that he may not necessarily suit the club. You were ridiculed online by sections of football fans on Twitter for that view, but that has now changed in recent weeks. Do you believe that sometimes your views aren't taken as seriously by some people because of your humorous personality?
"Believe me when I say this but I didn't want to be right on Harry Maguire. It was simply my opinion at that time.
"I'll talk to anyone about football and back my knowledge of the game. I know my football.
"I've been in the game a long time and I give an honest opinion based on my knowledge and experiences within the game.
"I would much rather that you were able to tell me that I got that one horribly wrong about Harry Maguire in all honesty, Callum. I never want to see anyone fail but I am paid to give my honest opinion and I called it as I saw it at the time.
"The best thing about football is that it is a game all about opinions. It doesn't matter if you are talking to a milkman, a postman or a former footballer. Everyone has an opinion.
"I've got it horribly wrong many a time before as well as getting it bang-on at times too. That's football.
"I have no hidden agenda with players. I have to be honest and I have not got any mates within the game so I can be as open and honest as I like.
"My pet hate in punditry is when a player scored a hat-trick and a pundit says that they should have scored four or five. Much easier said than done. That's bad punditry in my opinion."
---
A few quick-fire questions for you. Who is the most underrated player that you played with?
"Alan Smith. Smudge was an intelligent footballer. Two golden boots tell you that he was a top striker."
Who was the best English player that you played with?
"Paul Gascogne. He was a special footballer. Bergkamp was the best player that I ever shared a dressing room with but Gazza was the best English player, for sure. He had it all."
Toughest opponent faced?
"Paolo Maldini. By a million miles. I could not handle him at all.
"I always backed myself against any opponent and I could see things quicker than others on a pitch. That was my game but he was one step ahead of me every single time.
"That's why I always pick him out. If he turns up that night and is disinterested then I'm not talking about him thirty years later.
"He was immense and I'll be talking about him until the day I die. He was the best."
---
Last but not least, you are a father and your kids play the game. Are you their biggest supporter or their biggest critic?
"You know what, I have to be careful because I want my kids to love the game like I did.
"My youngest is at Chelsea and Fulham at the moment. I love watching him. He is bright and he does things on a pitch that impress me.
"I must say that I cannot believe how many parents talk to their kids during a training session. It is mind-blowing to me.
"I stand and watch. My motto is: let them play. I'm not playing, he's playing. He doesn't tell me how to drive to the training ground so I don't tell him how to play. Why should I?
"Of course, I speak to him afterwards but I let his coaches work with him because that's why they are at these clubs.
"I always look for the positives. It is harder to become a Premier League footballer than it is to become a brain surgeon. That sounds mad but it's true.
"If you want to become a brain surgeon then you get the qualifications you need and on you go but football is not like that.
"You could be a top footballer and still not make the grade because the competition is so high. It's happened before and it'll happen to players again.
"You could do every little thing right and a career at the top level is not assured."