An interview with Jamie Carragher after his Liverpool legends side defeated Manchester United legends 3-1 at Old Trafford, by Callum McFadden for WFi.
---
How did it feel to get one over Gary Neville and Manchester United as captain of a 3-1 winning Liverpool legends side?
"It was lovely (laughs). I was fearing the worst before the game when I saw the United team and considering we had a few players playing for the legends team for the first time.
"However, it was a great performance from ourselves really. I am very pleased."
---
Gary even went up front towards the end of the game to try and compete with you directly. You must have relished that individual battle?
"Instead of confusing me with that, I think he only confused himself. That's what he was doing.
"Basically, at the end, United lost all hope and belief by starting to play like they were back in the schoolyard but shoving everyone up front including Gary.
"It helped him as he didn't have to run back which is a big thing as we saw today that he has a big issue with running back at the moment does, Gary.
"I had the edge over him today. He approached me in the first half and backed away. I think he saw who was coming.
"He was getting up and down the channel in the first half but those legs don't move as quickly now so they? (Laughs)."
---
What was it like to play under Sir Kenny Dalglish again?
"It was great even if I still can't understand what he is saying. Maybe that is a good thing. I don't know.
"In all seriousness, Kenny is fantastic and he always wants to win in these sorts of games."
---
Do you enjoy playing in these sort of legends/exhibition matches?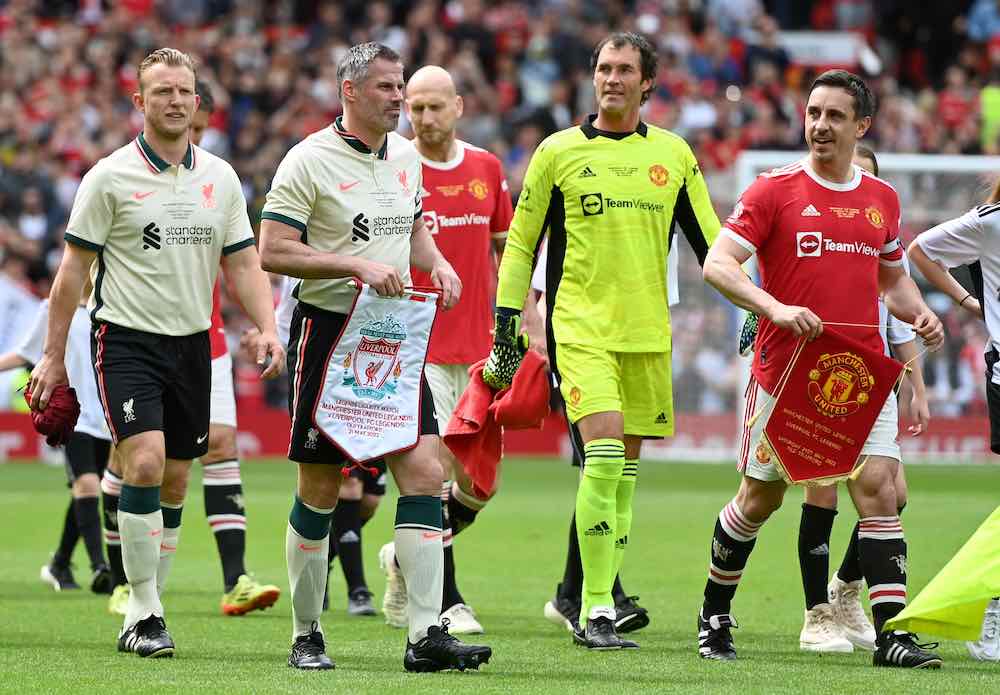 "I do, it's always good to play football. It's not as serious as a competitive game but you still need to perform well. You don't want to embarrass yourself.
"There is also a part of you that thinks, I'm playing with my mates again so I've got to show that I've still got it.
"It is equally nice to come out on top and there will be a return leg at Anfield to look forward to in future.
"I'm still claiming away goals for today by the way (laughs). That still counts in legends football for me."
---
What is your verdict on Kylian Mbappe staying at Paris St Germain when he looked destined for Real Madrid?
"I am surprised by that but I am sure that he will have an opportunity to play for Real Madrid again in the future.
"I have to be honest and say that is a player that I would love to see in the Premier League one day. I really would."
---
Finally, Jamie, how hopeful are you that Liverpool can defeat Real Madrid in the Champions League final and secure their 7th Champions League trophy in Paris?
"I am confident because I think that Liverpool have the edge on Real Madrid as a team.
"That is not to say that Madrid can't do special things because they've shown many times that they can, especially in this season's tournament.
"However, I just think that if you match Liverpool and Real Madrid up as teams then Liverpool would be slight favourites going into the game.
"I believe that if Liverpool play to their potential then they have a great chance of winning."