An interview with Dave Bassett, by Callum McFadden for WFi.
---
I have to start by speaking to you about your success at Wimbledon. You are one of the club's greatest ever managers by leading them to three promotions in four seasons. What were the key factors that helped you enable that period of success?
"Hard work and organisation were key to everything that we did. The players also have to take immense credit.
"We had a great team spirit and we always played to our strengths. Added to that was our resilience which was crucial for us.
"In the final year, we finished sixth and got to the quarter-final of the cup with a 23 man squad of which 13 had come through our youth set-up. It was an amazing feat.
"It is one of the great success stories of football but it doesn't get the credit that it deserves in my opinion."
---
Do you think the 'Crazy Gang' image could be a reason for the lack of credit in your view?
"No, I don't think so. I'd like to think that was not the reason why.
"When we came on to the scene, it was a fairytale but whenever we upset the odds and defeated a big team, they would complain that we kicked them off the park. Unfortunately, that was reflected in the media who could be anti-Wimbledon at times.
"They linked us to violence and all sorts of things rather than giving us the credit that our final positions in the table merited.
"However, we did not care too much. We thrived off of that and we stuck to our guns. It was a tremendous time of my career as we went from being a club who entered the football league to finishing in the top six of the First Division within a decade."
---
Many of the players that you recruited, such as Dave Beasent, Nigel Winterburn and Dennis Wise (to name just a few) went on to have strong careers in the game. What were they like to work with and how did you manage that dressing room?
"Our dressing room was great. They respected the team ethic and were always together in aiming to do well for the flub. Our team was never about one star man. They all had to contribute to be successful.
"They did not all get on off the field in all honesty but that did not matter. They put that aside when they came together to play football.
"Everyone was fully committed and no one was ever allowed to cause problems in the dressing room. The players would not have anyone who was not all in for the cause.
"That was key to us having a great bond with the fans as well. We would regularly mix with the fans and sometimes would have a drink with them in a club called Nelson's. That would not happen nowadays, would it?"
---
You have been on record in the past stating that you never wanted to leave Wimbledon. In hindsight, do you regret moving on to Watford?
"It was not the best choice going to Watford. I made a mistake.
"I was forced out by Sam Hammam who felt that he was not getting enough credit for Wimbledon doing so well. He wanted the fans to acknowledge him and for him to be the hero. That was not the case.
"My relationship with him was not the same after I went to Crystal Palace for three days before changing my mind. I felt like he held that against me and as a result, he would not give me the contract that I wanted.
"That was what led to me joining Watford and I jumped in thinking it was ideal. I thought it would be a similar sort of club to Wimbledon but it was not and I admit that I made a mistake.
"Following Graham Taylor at Watford was a bit like following Sir Alex Ferguson at Manchester United. He was the God at Watford and I underestimated that as did Sir Elton John who was chairman of the club at the time.
"Elton was terrific to work for but he was going through a tough time in his life at that time with a divorce and alcohol and drug addiction.
"He loved his football and would never interfere with a manager's work but ultimately, we had to part ways after six months. It was the right thing for both parties.
"It was one of the things that turned out for me in the end as it enabled me to join Sheffield United with whom I had a great eight years."
---
I spoke to one of your former players at Sheffield United, Mark Todd. He described your era at Bramall Lane as a rollercoaster as you turned the club around. Is that a fair description in your view?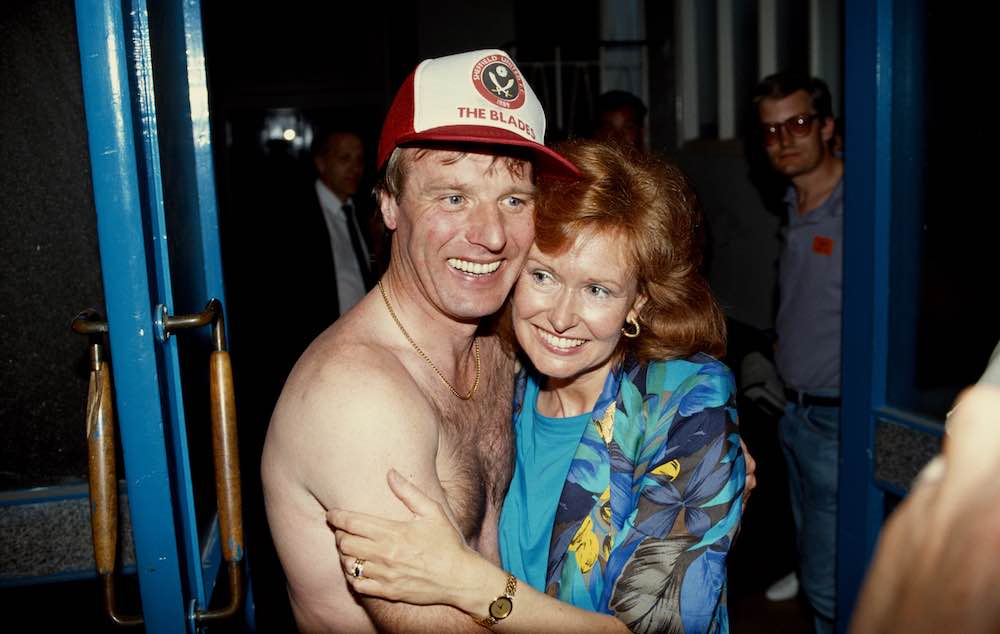 "Sheffield United was a roller coaster. We got relegated to the Third Division when I went in initially but then bounced back and built the club in the next few years to reach the Premier League. We stayed there for four years until Brian Deane was sold against my wishes by the owner.
"He played Russian roulette with that decision and we were relegated by one point so it's safe to say that it never worked out. That decision ultimately did for us because Brian was impossible to replace in many ways, such was his importance to the team.
"Overall, I am proud of my time there because we built a strong atmosphere to which the players and the fans responded.
"I inherited an old side and then was able to build a young, hungry side that could take us on. The staff at the club were also all brought into how we did things. It was a family atmosphere.
"We went from the Third Division to playing the likes of Manchester United and Liverpool in the top flight in a couple of years. It was an impossible dream in many ways considering what I inherited when I walked through the door."
---
You reached the play-off final with your next club, Crystal Palace in 1996. How do you reflect on the disappointment of being so club to taking Palace into the Premier League?
"It was a tough one to take because we lost in the last minute of extra time to a Steve Claridge goal when the game looked destined for penalties.
"I picked up Palace when they were 17th in the Championship and I was able to turn it around and take us close to a Premier League return.
"Ron Noades was not particularly forthcoming with me which led to my departure in 1997 for Nottingham Forest. I went into Palace on a low salary because I knew Ron and once I proved myself, I felt that I was due a new contract based on what I had done.
"Ron was not sure and kept me waiting while in the meantime Manchester City came in for me. I decided against City and stayed at Palace until Nottingham Forest came in for me.
"It was a shame how it worked out in the end as I enjoyed my time at Palace. Thankfully, they went on to win the play-off final after I had left so I was proud to leave them in good shape.
"I then won the Championship at Nottingham Forest the following season as Palace were relegated which shows you how strange football can be in terms of throwing up storylines."
---
The Championship is a notoriously tough league to win. What was the key to your title success with Forest in 1998?
"I was the first manager after Brian Clough to win silverware with the club.
"I have to be honest and admit that it was a difficult club to work with as the owners were going through a tough time.
"They sold Kevin Campbell behind my back and then Pierre Van Hooijdonk went on strike which was a disgraceful thing for a professional footballer to do.
"Those two players were the key to our goals so it got tougher when we reached the Premier League and lost both of them.
"I was sacked in the January of our Premier League campaign which I do not think was fair given the fact that I was not making all of the key decisions. We did not get stronger when we got up which often leads to a struggle for any team."
---
You are one of only a select number of managers to manage over 1,000 games in English football. How proud are you of that achievement given the company that you are in?
"I am delighted to be a part of it. However, I have to say, there are a few very good managers who did not make 1,000 which I think is harsh because they had a lot of ability.
"I guess that shows how hard a milestone it is to reach. To manage that many games is nice to have on your CV."
---
Last but not least, Dave, given your experience in football, what are the hardest aspects of management that fans are not necessarily fully aware of?
"You have to man manage at all levels. It is your job to get the best out of everyone around you from the players to your staff.
"You need a good knowledge of football and know how you want to play as well as being flexible to know how to play with the players that you have at your disposal at any given time.
"Hard work needs to be commonplace and it is important that your staff can complement your work. Have staff who have strengths that are different to yours to add more to your work.
"If you can do that then you can create an excellent atmosphere at a club and have your players and staff wanting to go in the direction that you are going in.
"If you can do that then it is a combination that leads to success more often than not."