By Mike Rice.
It doesn't take long to get the ball from one end of the pitch to the other. The speed and technical ability of players enables coaches to play with a direct, attacking philosophy to create chances within seconds.
The six sides in Major League Soccer with the lowest ball possession as of May 26, 2022 are:
| | | | |
| --- | --- | --- | --- |
| Team | Ball Possession | Position | Conference |
| Philadelphia Union | 41% | 1st | East |
| Vancouver Whitecaps | 41.3% | 14th | West |
| Real Salt Lake | 42.6% | 4th | West |
| FC Cincinnati | 43.8% | 6th | East |
| Nashville SC | 44.2% | 6th | West |
| New York Red Bulls | 45.3% | 4th | East |
Philadelphia Union
With the least possession, Philadelphia Union are the side sitting top of the East and have conceded only nine goals in 13 games.
The Union have a clear identity that translates through their academy to the first team. They have the second-most defensive actions of any side in MLS, with 1048, which is only bettered by New York Red Bulls (1055) and well above the league average of 863.
Having one of the best goalkeepers in the league, Andre Blake, helps with giving confidence to the defence. Although, how Jim Curtain organises his side gives them the best chance of defending.
They are aggressive and have set areas of the field where they allow the build-up to begin before putting pressure on their opponents.
This physical pressing style would not be possible all over the pitch for 90 minutes a game, so they set a deep/mid-block at times depending on the type of build-up from their opponent.
Once they begin to enter more crowded areas, Philadelphia go into full press mode and don't allow sides thinking time in and around the box.
The success of this can be seen in their game away at Portland Timbers on May 22. They both managed 12 shots each, though 58% of Portland's shots came from outside the box while Philadelphia managed 8% in the six-yard box and 50% in the 18-yard box.
Philadelphia made only 276 passes compared to 525 for Portland who saw most of the ball but couldn't break down the Philadelphia defence.
In midfield, the four players play in a diamond formation, moving across the pitch together rather than spread out with two particularly wide players. As the opposition builds play down one flank, they will look to move together as a group to block them in and limit space for the opposition.
Setting these areas to press gives the Union the opportunity to transition quickly when the ball is won.
With two willing runners in the front line, they can put defenders under pressure and build attacks without fear of being isolated. They are the league leaders in interceptions with 652, (39 per 90) which gives them the chance to transition quickly.
Real Salt Lake
Eight of Real Salt Lake's 14 games have had less than three goals, and apart from their capitulation against New York City FC they have only conceded two or more goals on three occasions.
Head coach Pablo Mastroeni has shown flexibility in formation to prepare for different opposition. But however they are set up, the same style of play is evident.
They have been successfully achieving playoff positions on a mostly regular basis, as a somewhat unfashionable but hard-working side.
What separates Real Salt Lake's style from Philadelphia and New York Red Bulls is that they have given up the fifth least fouls in MLS with 126 (9 per 90). The league average is 159 and the Red Bulls are top with 223 and Philadelphia second with 192.
Real Salt Lake don't hurry and pressure teams like the Union and the Red Bulls, they organise and slow the game down, force teams to build play slowly without being able to disorganise their defensive structure. They allow the sixth-most passes per defensive action with 13, higher than the average of 11.
What Real Salt Lake need to do is find a way to improve their attacking transition. With 14 goals in 13 games, only Vancouver on the list above have scored fewer. This requires a bit more adventurous attacking when they win back the ball.
FC Cincinnati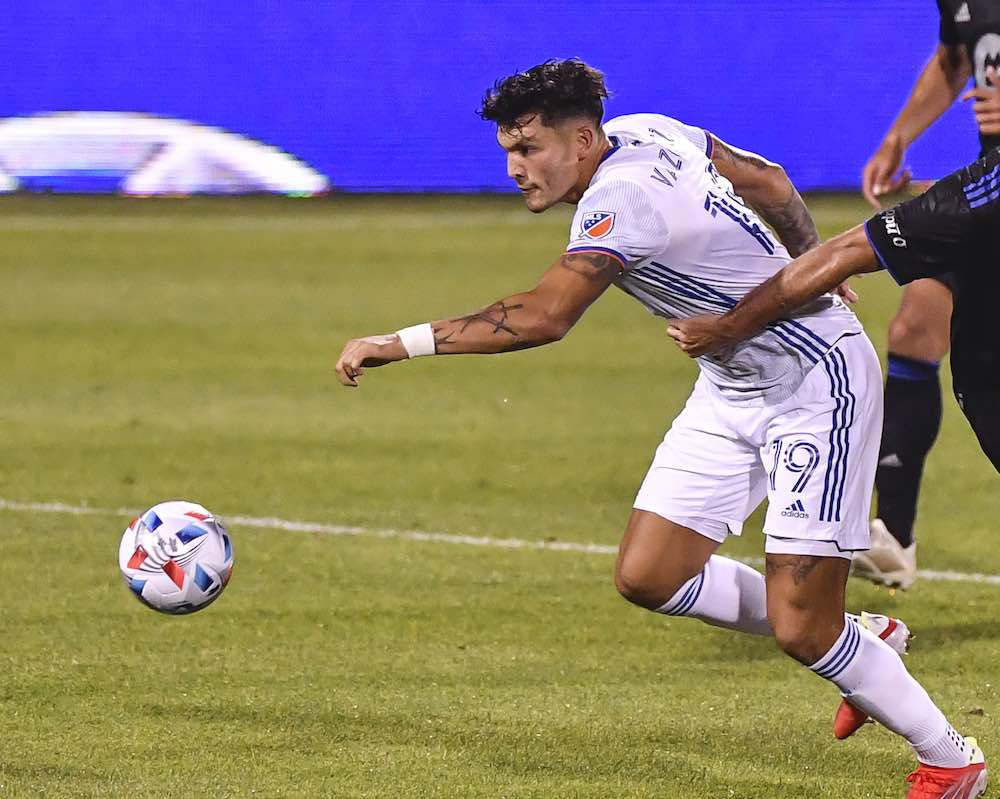 From perennial wooden-spoon winners to finally finding their feet and sitting in the playoff places after 13 games. Pat Noonan is changing the culture at Cincinnati and there are promising signs for the fans to get behind.
They are a side who are looking to contain and sit deep when out of possession, utilising wing-backs in a back five have two central midfielders who also provide cover to the defence.
Noonan has at times moved to a back four where those two central midfielders continue to provide a screen in front of the defence. With this system he has moved Dominique Badji to a wide forward role; he is a player of tremendous hard work off the ball and this is what Noonan is instilling on his team.
Brandon Vazquez has been providing goals and he has been showing good work off of the ball to put defenders under pressure, while Luciano Acosta provides the creative spark to the side in transition and attack.
Cincinnati are the side who seem the least settled in their system and still a work in progress. This in Noonan's first season with the side and is showing signs of securing the teams defence which has been woeful in the past.
They look to attack in possession and are not afraid to transition, though may need to at times consider how to balance this as at times their games can become quite free-flowing, where they don't control the game like some of the sides on this list are able to.
Nashville SC
Their third year in the MLS started with a lot of road games while their new stadium was completed, and fittingly a low scoring draw with Philadelphia was it inaugural game.
In their expansion season Nashville invested heavily in defence, bringing in Walker Zimmerman in a huge trade deal with LAFC. He has since committed his long-term future to the club as a designated player, as well as Hany Mukhtar extending his DP deal.
In their previous full seasons, they have conceded less goals than games played; in 2020 they played 23, conceded 22; in 2021 they played 34 and conceded 33.
Manager Gary Smith has made changes to his system over the past two-and-a-bit seasons, using a back four at first before moving to a back three with wing-backs this season. Despite the changes in formation, the system has remained mostly the same.
Using players like Hany Mukhtar, Randal Leal and now wing-backs like Alex Muyl, Nashville can attack sides in transition while also using a hard-working centre forward, previously Dominique Badji, now C.J. Sarpong.
Defensively they push their opponents wide and force them to deliver crosses as much as possible, and with the likes of Zimmerman and David Romney at the back, this is often their favoured way of defending.
Nashville have been involved in the third most aerial duels in defence this season so far with 497. The two above them are also on the above list, New York Red Bulls (571) and Philadelphia Union (564), while the league average is 419.
By remaining deep and compact they make it hard for opponents to work the ball into the box, there is little space for combination play and are forced into crossing the ball.
Their central midfield is hard-working. Dax McCarty provides the leadership and players like Sean Davis have slotted in seamlessly to the combative midfield who can also distribute the ball accurately and quickly.
New York Red Bulls
This season the Red Bulls have set themselves up as the showcase for being the visiting side. Setting up in an aggressive and hard to break down way, they transition with so much pace and movement from all over the pitch.
They give up the second least passes per defensive action with 7.79 per 90 and give up the most fouls with 223. They don't not give their opponents a moment of peace on the ball.
They are the youngest team in the league at 23.5, way below the league average of 26.59. This youthful side is full of energy and looks to break down opponents attacks before they can gain any momentum.
Committing tactical fouls when necessary to stop attacks before they are started. When they win the ball, they have players who get forward and support their centre forward, usually Patryk Klimala, by having players like Lewis Morgan and Omar Fernandez as supporting runners in a fast, transitional style.
Despite being a side with only on 45.3% possession on average, they have still managed the fourth-most shots in the league with 171. 156 of these shots have been from open play — again over the league average of 138.61.
What is interesting about their transition is that only 16 of those 171 shots have come from a header. They are able to break down sides so quickly and work the ball into dangerous shooting areas quickly, not allowing defenders to get in position and form a defensive block.
Vancouver Whitecaps
The Whitecaps are the only side on the list at the wrong end of the table.
For a side with limited possession, they are below the league average of 862.86 on defensive duels with 793. This has also translated in a high number of shots against with 152 from their 13 games.
They, like FC Cincinnati (174 shots against) are both sides who are unable to control their games like the others on this list.
They are looking to evolve and create an identifiable philosophy. They have brought Ryan Gauld who provides quality on the ball to be a useful player in the attacking phase as well as Brian White and Lucas Cavallini as forwards.
Vancouver are trying to maintain a solid defensive structure, but this needs more work and possibly some additions where possible in the transfer window.
They are still building their identity under Vanni Sartini who took over from Marc Dos Santos in August 2021 as interim head coach before getting the role permanently three months later.
Vancouver and Cincinnati are both looking to build sides that can defend and control games while catching teams on the break. They are in process of creating their playing styles under new/relatively new head coaches.
Conclusions
The others on this list have had their playing philosophies in place for a while and have become adept at carrying out their roles as a group and as individuals on the pitch.
Possession heavy sides still maintain success in MLS. New York City FC and LAFC, for example, are both high on the list for ball possession (59.2 and 54.2 respectively) and are second and first in their conferences.
Each head coach and back office needs to identify the system that most represents their team. How they see success and the best ways to achieve it.
If you have the ball, the opponent can't score, though you can't have it for 90 minutes. With the speed players can transition from defence to attack, they don't need huge amounts of time on the ball.
To deal with the possession heavy sides, by making the most of the little possession you have is vital and teams like Philadelphia have managed to master this and remain a top side in MLS.
The creative coaching and tactical understanding of the players has led to a more varied tactical approach to matches from each team to add to the excitement of MLS.