An interview with Aaron McLean, by Callum McFadden for WFi.
---
You started your career at Leyton Orient as a teenager. How do you reflect on your formative years in football at Orient? 
"I loved my time at Orient. I was in the youth team for two years at the club then I played for the first team for two years.
"It was a great learning experience for me and my first taste of full-time football. Proper football.
"I spent six years as a scholar at Chelsea prior to Orient, so it was an eye-opener to life outside the Premier League when I moved to the club. 
"Looking back, it helped me prepare for life and a career in football because I had to look after myself for the first time."
---
You dropped down to Non-League after Orient with Aldershot then Grays Athletic. Did you always back yourself to return to the Football League one day?
"I did not, to be honest. Being released by Orient was a huge disappointment for me.
"However, I was determined not to let it define me and so I wanted to continue to give football my very best at wherever level I could. 
"I did not know a great deal about Non-League at the time so when I dropped down, it was scary at first because I thought that any hope of a career in the Football League could be over. 
"With hindsight, dropping to Non-League at that time really was the best thing to happen to me."
---
You were prolific in both spells at Grays Athletic as a young footballer. What was it about yourself and Grays Athletic that just seemed to click? 
"The move to Grays was perfect because I am able to work with a brilliant manager in Mark Stimson. He really helped me improve as a footballer whilst also giving me the belief in myself to succeed. 
"He built a brilliant team featuring the likes of Michael Kightly, Dennis Oli and Glen Poole to name just a few. 
"So many of our players were well equipped to go on and play league football and many did. 
"I was fortunate to join Grays at that time because it was the right club for me to be able to put me on the map."
---
Peterborough United signed you from Grays in 2006 to offer you a return to league football. The move was a roaring success for you and the club, as you went from League Two to the Championship within three seasons under Darren Ferguson. How do you reflect on your time at Peterborough overall?
"It was an incredible few years for me and for the club. Darragh MacAnthony bought the club and I was his first signing.
"As soon as I met him and Barry Fry, they made a lot of promises that the club would go in the right direction, and you never really know what will happen in football until people back it up. 
"Full credit to them because they certainly backed up their words with actions. 
"I joined the club when the late Keith Alexander was manager. God bless him. 
"Then, Darren Ferguson came in and he brought in quality players and made high demands of the team immediately.
"He instilled great professionalism and an attractive style of play which enabled us to flourish and become a winning team. 
"It was an amazing period. I scored 29 goals in League Two and followed that up with 17 in League One which was a nice feeling because I did not consider myself to be a natural goalscorer as such.
"Thankfully, I had a great partnership with Craig Mackail-Smith and if I was not scoring then he was and vice versa."
---
What do you think it was that made that strike partnership so special?
"Our work rate was pivotal to our success. I built my game on working hard, as did Craig. 
"We would create chances thanks to our work rate because we could force teams into making errors. 
"We were also good friends on and off the field so it did not matter who scored. We drove each other on and we wanted the best for the team. 
"That was the key to it."
---
The Championship season was difficult for the club and ended in relegation to League One. Why do you think that was?
"The step up from League One to the Championship is a big one. Not as big as from Championship to Premier League but it is noticeable right away. 
"We had gone from League Two to the Championship in a short space of time with many of the same players. 
"Not every player is capable of making the step up from level to level. That is just the reality of football, so it is always difficult to progress with the same group of players across multiple divisions as you step up.
"We found it difficult to play the same style of football that we had success with in Leagues One and Two due to the quality of opposition in the Championship.
"There was also a lot of instability in the club that season with a few managerial changes which has an impact on any team. We struggled to build any sort of momentum.
"Even though it was difficult, I learned a lot from it as did the club as a whole."
---
Upon the club's return to League One, you start the season in strong form which leads to interest in you from multiple clubs. You joined Hull City in the January transfer window. What attracted you to Humberside?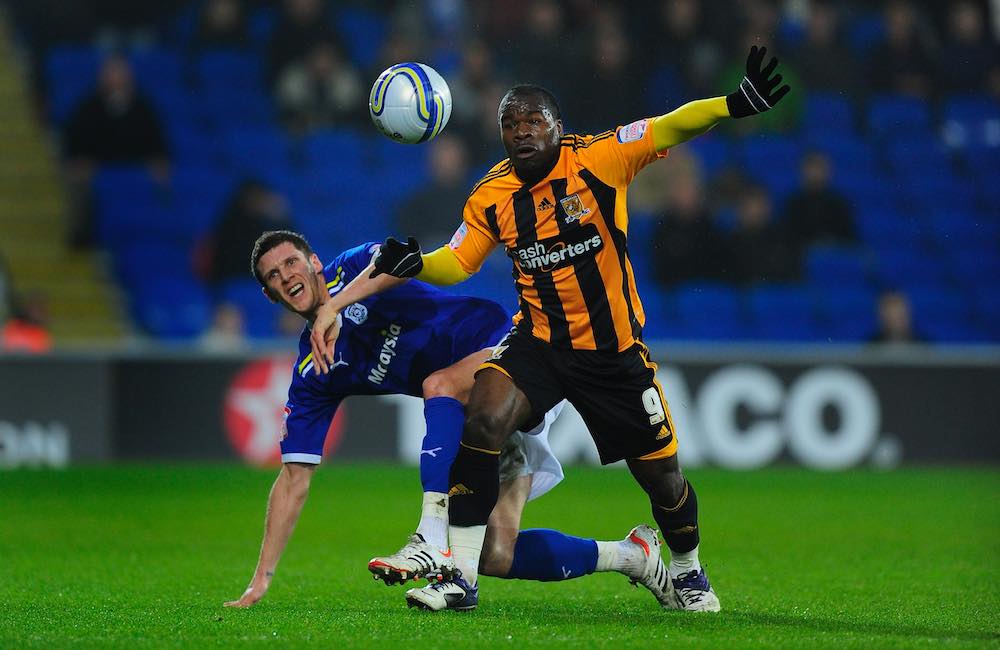 "Hull was a team with ambitions to return to the Premier League. That was a big thing for me because I wanted to play at as high a level as I could for as long as I could.
"Playing for a team who has ambition is what every footballer wants because you want to compete for promotions and trophies wherever possible.
"The club had many players with Premier League experience such as Kevin Kilbane, Jimmy Bullard and others so it was a bit daunting to go into the dressing room initially. 
"Having said that, they were a great group of lads and that feeling quickly evaporated. 
"I was made to feel welcome immediately and fit in as part of the group."
---
You won promotion to the Premier League with Hull under Steve Bruce, however only made one appearance in the top flight. How did it feel to win promotion to the top flight and feature in a Premier League squad having been in Non-League football only a few years previously? 
"It was amazing to reach the Premier League because it is what every football based in England wants to achieve. 
"Promotion was a wonderful feeling, even though I knew that my opportunities in the top flight would probably be limited given the money that the manager would be given to spend. 
"Despite that, I worked as hard as I could to impress him and even though I only played once in the Premier League, I still got an opportunity to do it and I am grateful for it."
---
You also had loans at Ipswich Town and Birmingham City. What was it like going on loan as an experienced player?
"I enjoyed it because all I wanted to do was play football. 
"It was interesting to be able to help younger players, particularly at Birmingham City where I played alongside the likes of Demarai Gray and Jesse Lingard who were only making their way in the game at that time.
"As an older professional, I did my best to help them and give them advice whenever I could. I enjoyed that aspect of my loan spells in particular."
---
Towards the end of your career, you played under Martin 'Mad Dog' Allen at Barnet. Was Martin exactly what you expected him to be like? 
"He certainly was (laughs). He was exactly that, but he was brilliant. 
"He had that reputation for doing weird and wonderful things in training and he did that but it worked for us. 
"As a man, he was an amazing human being who would do anything for you.
"It was a privilege to get to know him because he has a huge heart. I thoroughly enjoyed my short time working under him."
---
Since retirement, you have worked as a coach and are now a pundit on EFL and Non-League football for a number of media outlets. Having coached at Ebbsfleet United and Peterborough, could we see Aaron McLean the manager one day?
"I have to be honest and admit that I prefer the media side of football now, although, coaching is something that I love too. 
"I enjoyed working at Ebbsfleet and Peterborough because working with players day in, day out is very rewarding, as is the feeling of winning on a Saturday. 
"However, I love what I am doing now as a pundit because I am incredibly passionate about football, and I love going to games across the country and analysing different players and managers. 
"If I was pushed to choose between management and punditry, I would choose punditry."
---
Finally, Aaron, given that you have played in all four professional leagues in English football, who was your toughest direct opponent as a striker?
"Without doubt, Rio Ferdinand. He was the best player that I have shared a pitch with.
"He read the game so well and never really got into a race with you because he was always one step ahead. 
"There were lots of different battles in each of the divisions that I played in but I have to pick out Rio as being the standout player that I went directly up against. 
"I also found in my career that some of my biggest battles were with other strikers. 
"The reason I say that is because I always wanted to be in contention for the golden boot so I would always be looking at other forwards in my division and doing whatever I could to outscore them. 
"I never set a specific target for a number of goals that I wanted to score each season. I approached each game as a fresh opportunity to score goals however it also depends on which position you are playing in.
"At Peterborough, I was a centre forward so winning the golden boot was always my aim whereas at Hull, I played wide a lot of the time so I was focused more on crosses than assists then overall goals given the nature of my role in the team."