By James Nalton in Gdynia, Poland.
It was always going to be the quarter-finals, wasn't it?
This talented group of potential future USMNT stars impressed, but didn't progress, at least not as far as they wanted.
They reached the quarter-final stage for the third consecutive tournament, coming up against an Ecuador side who are also in the midst of a good generation of players at this age group.
That it was one of the most entertaining games of the tournament is credit to this United States side, and testament to the quality within it.
Head coach Tab Ramos said he wanted to attack the South American champions, and knew his team could give as good as they got. They played well, and from a US point of view it's a compliment to these players to say that they could have played even better.
"I don't think that was our best performance, unfortunately," Ramos admitted.
"We've played better games, even the one we lost in the group stage [against Ukraine] we played better, but we still arrived in quarters and lost against the South American champions."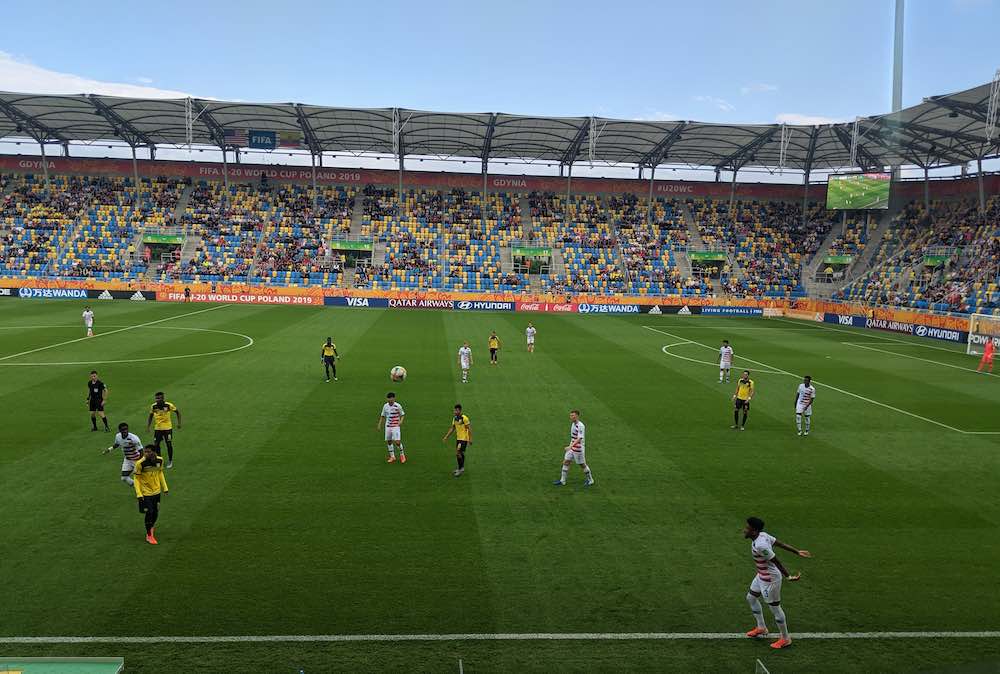 Since defeating the United States in the group — which at the time seen as a very disappointing result for the US — Ukraine have gone on to prove they are one of the most well organised teams in the tournament, and will face Italy in the semi's.
The United States' plan was to go at least one further and join Ukraine in the final four, but they came up against a strong Ecuador side. It could be argued that these were the two best teams in the tournament and this would have been a worthy final.
Ramos' side created chances to level the game with the scores at 2-1, and there was a period in the second half when they deserved to be level, such was the attacking verve in their play.
"What we wanted to do was attack," said Ramos.
"If we were defending we knew Ecuador had great players and they would have hit us. We wanted to attack them.
"We struggled at times but the second half was better. We were more organised."
The finishing of Sebastian Soto has been a feature of the United States' play in this tournament, but it just wouldn't go for him in this game.
The impressive Ully Llanez set up the Hannover striker in the second half but he poked into the side netting with the outside of his boot, when a left-footed effort may have had more chance of finding the net.
Alex Mendez and Tim Weah both saw efforts from distance fly off target, while another chance for Soto from Weah's cross was missed by the striker as the Ecuador defence did just enough to put him off.
There is no doubt this group had the talent to go further, but losing to this Ecuador side is nothing to be ashamed of.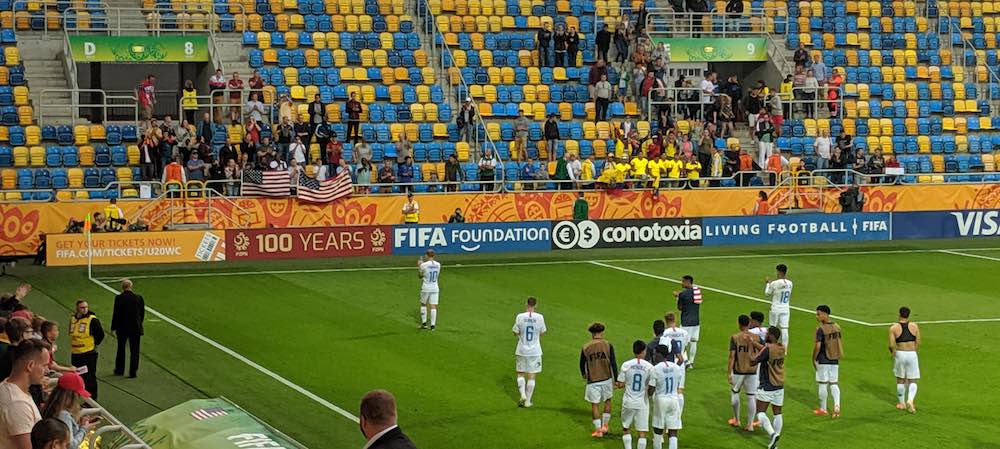 Overall it wasn't quite the tournament for the United States it was hyped up to be, but they now have diverse groups of players coming through at this level which could bode well for the future of the USMNT if these players, and the ones coming up behind them, can continue their progress.
There were a number of very promising displays throughout this tournament.
Chris Richards – FC Bayern
Keeps his head when those around him are losing theirs. Can make the occasional error, but so will any centre back will at this age — even Matthijs de Ligt carelessly gave away a penalty against England this week — and these errors are few and far between.
Though the Bayern reserve team are now in the third division of German football, ideally he should be being tested at a higher level. Hopefully he can get some first team experience sooner rather than later, and it would be good if that was with Bayern.
Paxton Pomykal – FC Dallas
You don't need to watch Pomykal for long to realise why he is the captain of this team. He's tireless and tenacious, but on top of that he has a considerable amount of skill.
Good press resistance through dribbling and quick passing, and the vision to pick out players further up the pitch. His engine is always full of fuel, and can often be seen covering for full-backs or other defenders. It would be no surprise if he one day captains the senior side.
Ully Llanez – Wolfsburg
His appearances off the bench always added more directness and attacking verve to proceedings, and his impressive cameos make you wonder why he didn't start any games at this tournament.
One of the United States' best players despite his limited appearances, he's always willing to run at the opposition, be direct, and try to make things happen.
Sebastian Soto – Hannover
Gave a superb display of finishing in each game he played, except the quarter-final where he failed to take a couple of half-chances.
A hard working forward who will be hoping to feature more for his club side next season, which might not be his most recent team Hannover after contract talks broke down.
Sergino Dest – Ajax
The explosive Ajax full-back proved a few doubters wrong with the defensive side of his game. After an error in the opening match, he went on to put in some excellent performances on that side of the game as the tournament progressed.
He needs to be a bit tidier as he advances up the pitch in attack, but when he can link up with his team-mates the results can be devastating.
Chris Gloster was also involved in some good moments down the left flank, and it will be interesting to watch the development of these two full-backs in the coming years.
Alex Mendez – Freiburg
Came in for a bit of criticism during the tournament, but that's probably because so much is expected of him as his natural talent puts him at a high level by itself.
The time in Germany seems to have done him good and there are already signs his pressing and defensive work have improved. He's battling more in midfield, and is still difficult to dispossess.
Richie Ledezma – PSV Eindhoven
The 18-year-old midfielder was another who impressed when given the chance, but didn't feature regularly in the starting XI.
Tab Ramos commented that though he was fit to play, he was severely lacking in match fitness and perhaps only ready to play 30 minutes in each game. But a 60 minute stint against France showed what he's all about, with some neat touches, drives forward, and clever play in midfield.
An encouraging outing for the Phoenix, Arizona native.
Tim Weah – Paris Saint-Germain
The only player in this group who has already been capped at senior level, Weah improved after moving out wide having spent the first game up front before making way for Soto.
Has a great touch and turn to beat a defender and move into space. Will be disappointed not to get on the scoresheet, even though he was impressive when it came to creating chances for Soto, finishing the tournament with two assists.