Playing out from the back, or POFTB as it isn't known, has become the go-to phrase for coaches, pundits, or fans for a style of football which isn't really a style of football.
POFTB is only one part of a bigger plan — a small piece of the tactical puzzle — but it is regularly spoken of as if it is the be-all and end-all, as teams attempt to play in what's perceived as the right way.
It's fashionable for teams and coaches to profess their allegiance to this style of play. Statements are made, usually accompanied by phrases such as "attractive attacking football" or "fluid possession football", but given the amount of times this is said, it now feels more like PR.
POFTB is effective when performed by the right players in the right circumstances. One of its biggest proponents was one of Pep Guardiola's mentors, Juanma Lillo.
The well-travelled manager is one of the more important modern day coaches when it comes to this style of play.
After Lillo's La Liga sides had faced Guardiola the Barcelona player, he was eventually his manager at Mexican side Dorados de Sinaloa. This period of time was important in shaping Guardiola the manager and his subsequent, now world-renowned, style of play.
Speaking to the New York Times, Guardiola's team-mate at that time, Ángel Morales, gave an insight into its origins.
"Guardiola said that his ideal goal was a move that involved every player on the pitch," said Morales.
"From the goalkeeper to the striker, everyone would touch the ball once, and then, at the end: goal."
Lillo, their manager, believed that the quality of the "first progression" of the ball from the back plays a major part in each attack.
He is quoted* as saying: "Everything is much easier if the first progression of the ball is clean."
In a possession based style each new action is as important as the last, but the first actions generally shape the success of the later ones.
They are all connected, as is more evident in sides such as Maurizio Sarri's Napoli, where the direction and directness of this short passing play was the most important aspect of Sarri's style. Possession for possession's sake doesn't achieve anything.
As with many 'new' styles, they are actually old tactics recycled and adapted for the modern game.
Possession football can be traced back to clubs in Scotland and the north of England, with Scots Robert Smyth McColl, Peter McWilliam, and Englishman Vic Buckingham all playing their part in the early development of the passing game.
Buckingham took these ideas from Scotland and England to the Netherlands as manager of Ajax, playing what was a precursor of Total Football.
Fittingly, Buckingham also managed Barcelona, where possession football's most popular reference points — the Barcelona sides of Johan Cruyff and Guardiola — would later emerge. Although some of Guardiola's success there was as much down to dribbling as it was passing…
The best tactics are those which borrow from the past but also look to the future, combining them with something else.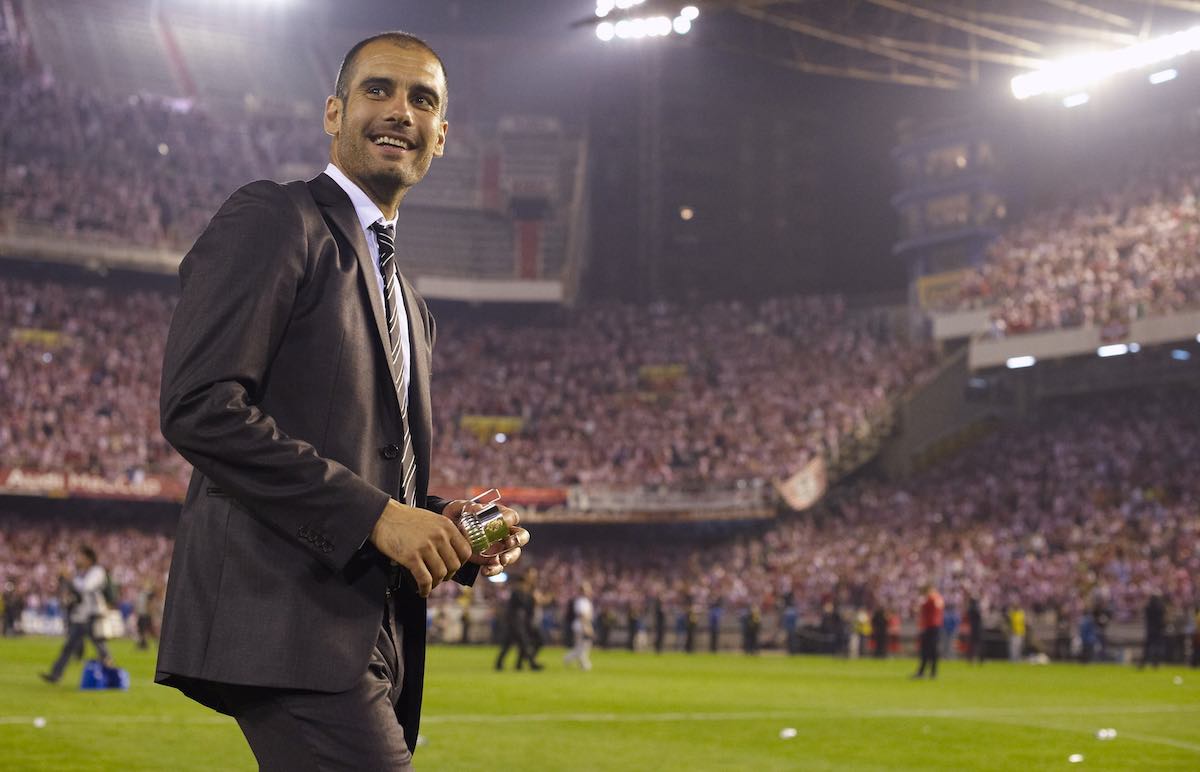 Even Guardiola doesn't always play out from the back, and if needed will have his goalkeeper hitting the ball long to literally go over the press rather than around it. This places doubt in the mind of the opposition as to whether they are better off pressing high, or sitting back.
It helps that his goalkeeper, Ederson, can kick the ball further than most footballers, and that players cannot be offside from a goal kick. Regardless, this is an example of Guardiola using a situation to his advantage rather than sticking to some fashionable notion that everything should be passed short from the goalkeeper and defenders.
This is the difference between those who look ahead to find the next tactical advantage in football, and those who merely follow a certain way of playing because it seems popular at that time. If a manager is only trying to create a carbon copy of something else, without adding new ingredients, they are already behind the times.
POFTB can be a really effective part of a tactical system if executed properly. It allows the team in possession to maintain control of the ball, and at the same time it can draw the opposition onto them, creating space further up the pitch in attacking areas.
It doesn't necessarily mean short passing. The first pass from the back is often a lofted ball out wide from the goalkeeper, especially if the opposition is utilising a high press.
"Sometimes people are misunderstood when we talk about build-up that it always has to be short passes," says England U15 head coach, Kevin Betsy.
"If we want to play the ball into our front three from goal kicks or into the space with a longer quality pass for them to receive in a 1v1 and it's on to do so, then we will take that.
"However, we do a lot of work with individuals and units to ensure we will be in positions to control the ball and not allow the ball to be a 50/50."
If the opposition does play a high press, it makes playing out from the back riskier, but provides a bigger reward if the movement of the ball between the players in possession is quick, accurate, and breaks the lines. Then there will be more space and more likelihood of attackers being in one-on-one, or even two-on-one situations further up the field in the real danger areas.
As high presses have become more organised, and as the new goal kick law means moves can literally start from deep inside a team's own penalty area, then these moves need to be even more controlled and precise.
Against less adventurous teams, playing out from the goalkeeper happens as a matter of course, and the real quick, intricate passing needs to take place in the opposition half.
It's the same style, just shifted further up the pitch, and the risk then comes not from the high press, but the threat of a counter-attack.
As well as being dependent on how high the opposition press is, POFTB is also dependent on the quality of the players in possession, or the quality and style of coaching they receive.
Players can be trained to play this way, but they need to have extremely good touch, technique, and bravery on the ball to perform the task at the highest level.
Even players who've been trained in this since their youth might never be able to do it to a high level, but they should at least know the reasons for doing it, and the coach needs to be able to explain their reasons.
"Helping players to be comfortable in the build-up phase is important for the long-term development of England players and teams," adds Betsy.
"Goal-kicks are key moments where you can tempt the opposition into false hope.
"You're sucking the opponent onto the ball with the aim of playing through them to create overloads higher up the pitch.
"We want our players to be comfortable and composed at receiving the ball under extreme pressure and be able to find solutions in any scenario."
It also depends on the strength of the opposition, and a quality team with a well organised high press might need to be approached differently, as not all players will be able to play out effectively in this scenario.
It's easier for a manager like Guardiola who has almost unlimited resources to acquire the best players and coaches, but other coaches and teams may need to compromise on certain aspects of this style.
When Guardiola arrived at Manchester City, the (very popular) first choice goalkeeper at that time, Joe Hart, didn't suit his style. His decision to send Hart out on loan and buy two more goalkeepers over the course of the next year drew critics at the time. Two league titles and three domestic cups helped silence them, and the style of play influenced by Ederson between the posts further justifies his decision.
Speaking of English goalkeepers… When speaking about his time managing in Spain with Valencia, Gary Neville commented on why English goalkeepers have lacked the ability to play out from the back compared to their Spanish and Latin counterparts.
"I remember speaking to Ocho [Jose Manuel Ochotorena], the Valencia goalkeeper coach, and he told me the goalkeepers would come out [to train] at the exact same time as the players.

"They will then take part in the small possession games, the 8v2s. When I played, we didn't want the goalkeepers in those, because they'd mess it up! In Spain, they'd partake and get their feet moving.

"They'd then go into a possession practice, maybe a 4v4 with two spare, and the two spare would be the goalkeepers on the edge of the pitch, serving in. They would get used to serving the ball in, one or two touch, under pressure.

"You'd then go into your small-sided game or practice match and they would continue. At the end of the session when the footballing work was done, they'd then go to do their goalkeeping work at the end of the session, when they were more tired. It was a complete transformation and change in the way I saw goalkeeper training.

"At the end I thought there was no wonder that the Spanish goalkeepers are better with their feet. They have an hour extra every single day playing with their feet.

"That's why you then see English goalkeepers over the last five, 10, 15 years who are not as good with their feet as their Spanish counterparts."

— Gary Neville
There are many examples of teams playing out from the back successfully, even in divisions below Europe's 'big five' which is often considered the top level of the game, but there are also many examples of it going wrong — teams who get themselves into trouble trying to play this way, or teams who don't know what to do once they've played out from the back.
At international level especially teams need more than one plan as the quality of opposition can vary greatly from game to game, but at club level coaches need to find a way which suits their players, their level, and their opposition.
POFTB is beginning to be coached in youth academies around the world, rather than than just in countries such as Spain and the Netherlands where the style originated, but these players also need to be taught long passing, how to beat a defender, how to win second balls (something both Guardiola and Jürgen Klopp worked on when arriving in the Premier League), and how to play football in the air as well as on the deck.
What makes football attractive, what makes it the beautiful game, is that there are many ways to play it, and regardless of how certain styles are perceived, each is its own form of entertainment.
POFTB can be the most boring, and ineffective way of playing if it's not done properly, just as long balls into the opposition box can entertain if they aren't merely aimless punts.
Maybe one day a team or coach will come out and say 'we aim to find our target man with aerial balls into the box then capitalise on any loose balls before the opponent has time to think.'
Although to get into a situation to find their big striker in a prime position score, they might first have to play out from the back.
---
*The original source of this Juanma Lillo quote is not known. Though it is used in articles on These Football Times, and Total Football Analysis, the original source is not stated.